By Rosalio Ahumada
The Sacramento Bee
Thank you for reading this post, don't forget to follow and signup for notifications!
SACRAMENTO, Calif. — The murder of Nancy Marie Bennallack, a 28-year-old court reporter who was brutally stabbed to death in October 1970 in her Sacramento apartment, remained a cold case for nearly 52 years.
Her family and friends, including her fianc? she was supposed to marry about a month later, spent decades wondering if investigators would ever find the person who killed her.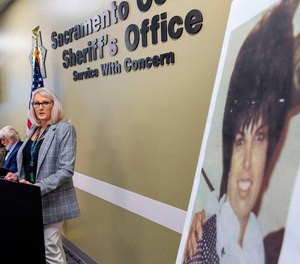 Using the same DNA genealogy techniques used to identify and capture the Golden State Killer and the NorCal Rapist, investigators at the Sacramento County Sheriff's Office and the Sacramento County District Attorney's Office have now identified Richard John Davis as the man who stabbed Bennallack more than 30 times and nearly decapitated her.
"We have a relative that was gracious enough to provide their DNA. And we were able to confirm that he is our suspect," said Detective Micky Links, who retired from the Sheriff's Office in 2010 as a sergeant supervising homicide investigations. She started working on the Bennallack cold case in 2005.
News of the breakthrough in the 52-year-old homicide investigation, the oldest cold case solved in county history, was announced in a news conference Wednesday at the Sheriff's Office.
He lived in the same apartment complex
At the time of the murder, Davis was 27 and lived with a roommate in an apartment across from Bennallack in the same Bell Street complex.
Davis continued to live there until 1974 or 1975, his former roommate told investigators. Davis died at the age of 54 from complications of alcoholism on Nov. 2, 1997, Links said.
Bennallack's sister, Linda Cox, and her husband, Tom, sat next to Links at the news conference. Cox appeared overwhelmed with emotion as law enforcement officials described the homicide case and the search for the killer.
[RELATED: The untold story of how the Golden State Killer was found: A covert operation and private DNA]
"Sadly, there won't be any form of legal justice," Links said before turning to the couple. "But Linda and Tom, I hope this brings you, Nancy and your family some peace."
Cox and her husband did not speak to reporters but instead wrote a statement that was read by Sheriff's Spokesman Lt. Rodney Grassmann.
Cox said her family owed a lot of gratitude to Links for pursuing this investigation and had nearly come to the point of giving up hope the case would ever be solved.
"How many times my husband, Tom, and myself have said: 'Nancy would love our ranch, all our animals and land with wide open spaces," Cox wrote in her statement. "We have missed sharing our children and grandchildren and so much more."
The crime scene
Sheriff's Chief Deputy Fred Reese, at the time, said evidence at the crime scene showed Bennallack put up a fierce fight against her attacker, according to an Oct 27, 1970, story published in The Sacramento Bee. Reese said the suspect may have left with a knife wound, since investigators found a trail of blood leading out of her apartment that indicated a cut on the hand or arm.
Reese also explained that the killer had to be agile to climb from a fence onto a balcony at the rear of Bennallack's second-floor apartment, before jumping down to flee.
Reese said cuts on Bennallack's hands showed she grabbed the murder weapon while fighting her attacker, but investigators did not find it at her apartment.
[RELATED: 5 common myths about genetic genealogy investigations]
On Wednesday, Links said investigators initially believed the attacker must have driven away from the area after killing Bennallack. Davis and his roommate were among 500 people sheriff's investigators questioned in the weeks after Bennallack was killed.
Davis and his roommate confirmed each other's alibis, Links said, and there was no indication the investigators spotted a wound on Davis' arms or hands during the 1970 interview.
Farris N. Salamy, then Sacramento County's chief public defender, was Bennallack's fianc?. Salamy and Bennallack were to marry on Nov. 28, 1970. Salamy died of leukemia at the age of 84 on Feb. 2 , 2014.
About 11:30 p.m. on Oct. 25, 1970, Salamy left Bennallack's apartment to go to his own home. He told investigators his fianc?e was asleep in her bedroom. Links said the sliding glass door in the apartment was left open just slightly, so Bennallack's cat could go in and out of the apartment overnight.
Some time later that night, Davis climbed onto the second-story balcony and entered Bennallack's apartment through the open sliding glass door, Links said.
When Bennallack did not show up for work the following morning, Nancy's co-worker and friend, Joella Moncrief, telephoned her son, Jack, to check on her, according to The Bee's 1970 story. He went to the home with the apartment manager and they found her body.
Crime scene science had to evolve
District Attorney Anne Marie Schubert said crime scene investigators in October 1970 were limited to "modern technology of 50 years ago." They could determine someone's blood type, and that was about it, she said.
Schubert said it would take nearly another 40 years after Bennallack's murder for DNA in genetic genealogy investigations to come around. The county's top prosecutor said perhaps Bennallack's family thought news of an identified suspect would seem like a miracle after waiting for 52 years.
"It's been said that justice can sleep for years and awaken when it is least expected. A miracle is nothing more than dormant justice from another time arriving to compensate those it has cruelly abandoned," Schubert told reporters. "It has also been said that time is the justice that examines all offenders."
It was these genealogy investigative techniques that were used to identify Joseph James DeAngelo as the Golden State Killer, also known as East Area Rapist, and Roy Waller as the NorCal Rapist. Both men were prosecuted in Sacramento County.
Case solved by 'passion and persistence'
Schubert remembers many times county courthouse staffers would ask her about the status of the Bennallack cold case, and she always had the same answer: There's a lot of people working on it right now. She said it was their "passion and persistence" that led to Wednesday's announcement.
"Nancy was never forgotten," Schubert told reporters. "As I told Linda and Tom, she was always at the top of the list at the Sheriff's Office and our office and the crime lab and so many other folks."
In 2004, a DNA profile was developed from drops of blood found at the crime scene. For the next 18 years, Links said investigators ran the DNA profile through state and national databases every week, but never found a match with convicted offenders.
[RELATED: Leveraging forensic genetic genealogy to solve cold cases]
In November 2019, the Sheriff's Office and the District Attorney's Office launched a forensic genetic genealogy investigation. A DNA profile was loaded onto the open-source genealogy website to find people who might be related to the suspect and narrow their search until investigators can confirm a match.
On July 21, investigators used DNA evidence to identify Davis as the suspect in Bennallack's murder.
Success since the Golden State Killer case
Since the April 2018 arrest in the Golden State Killer case, 150 cases across the United States have been solved due to forensic genetic genealogy investigations; 34 of those in California, Schubert said. Many of these cases are rapes and homicides, many with multiple victims; crimes that go as far back as 1968 with victims from 11 to 79 years old.
There have been 11 solved cases in Sacramento County since 2018, including Bennallack's murder. Those cases involved 17 murders, 59 rapes, three unidentified human remains, along with nine times Schubert's office assisted investigators in other counties.
"I am so proud of the teams that we have built to solve these cases and leading this country and this state," Schubert said.
Cold cases and violent crimes changes the way people live, how they raise their children or their choice of profession. Schubert said one of DeAngelo's victims chose to become a teacher, because she at least wasn't afraid of children.
"And for many of them, what they often will tell you is that it changes the way they look at the sunlight the day after that crime occurred. It's never the same again," Schubert said. "So my hope today by this commitment of this incredible team for this family is that maybe the sunlight looks a little bit better today."
____
(C)2022 The Sacramento Bee. Visit at sacbee.com. Distributed by Tribune Content Agency, LLC.