GRAB YOUR SIG AND HIT THE RANGE
Something new and fun from SIG Sauer comes Shoot SIG! A nationally organized competition event designed to get you to the range and practice some fundamental shooting skills. 
Thank you for reading this post, don't forget to follow and signup for notifications!
Designed to be welcoming for beginners but still enough of a challenge for practiced shooters to enjoy, Shoot SIG is a membership-based program with a long list of benefits. 
The membership fee is $50 per year. Membership gets you access to SIG Sauer Shoot SIG events held across the country, a welcome pack with an exclusive hat and stickers, discounts on a long list of SIG firearms, and access to purchase a customized exclusive Shoot SIG Gun Of The Year. 
There are also quarterly prize drawings and a yearly grand prize drawing for an MCX-SPEAR with SIG Tango6T LPVO and SLX suppressor.
GET SHOOTING
The shooting part of Shoot SIG is competition events put on by SIG Sauer throughout the year and across the nation. The events are 3 stages, require only 2 boxes of ammo total, and 3 magazines.
We got to shoot two of the Shoot SIG Stages at the SIG Range Day before SHOT Show 2023. The stages are pretty simple and modeled after a Steel Challenge-type course of fire for two of the stages, with one paper stage to score precision. 
Safety is a high priority for these events, and SIG knows there will be a lot of beginner shooters and/or shooters new to competition. Because of this, the safety rules are strict but simple to follow. 
The ranges are cold (meaning no loaded weapons except on the firing line), and each squad of shooters will be assigned a dedicated Range Safety Officer to act as a mix of RSO and "Squad Mom" to help herd shooters from stage to stage.
While the events have no entry fee, membership in Shoot SIG is required. Memberships can be bought at the door of the events. 
NON-SIG SHOOTERS ARE WELCOME (KIND OF)
Members who shoot the events with a SIG firearm (pistol or PCC) will be eligible for prizes. While non-SIG shooters are welcome to shoot the events (with a Shoot SIG membership), and their scores will be posted, they will not be eligible for prizes.
Is it really necessary for SIG to exclude its competitors like this? Not really. But maybe part of the attraction of this event will be for SIG owners to flex on their non-SIG shooting friends. 
LIST OF EVENTS
Currently, only 3 events are listed on the Shoot SIG site, but more will be added soon. If one is planned for an area I'm in, I look forward to shooting it. The demo SIG offered at their Range Day was fun, simple, and a great way of hitting the range.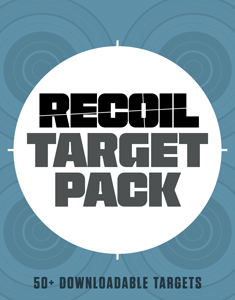 NEXT STEP: Download Your Free Target Pack from RECOIL
For years, RECOIL magazine has treated its readers to a full-size (sometimes full color!) shooting target tucked into each big issue. Now we've compiled over 50 of our most popular targets into this one digital PDF download. From handgun drills to AR-15 practice, these 50+ targets have you covered. Print off as many as you like (ammo not included).
Get your pack of 50 Print-at-Home targets when you subscribe to the RECOIL email newsletter. We'll send you weekly updates on guns, gear, industry news, and special offers from leading manufacturers – your guide to the firearms lifestyle.
You want this. Trust Us.