As a seasoned shooter with a passion for optics, I've always been on the lookout for the perfect riflescope and the Trijicon ACOG 4×32 caught my attention. It's a compact, lightweight optic specifically designed for the M-16/M4/AR 15 platform, making it an excellent choice for AR 15 enthusiasts like me. With its reputation for exceptional clarity, unbeatable durability, and battlefield-proven performance, it's no wonder the ACOG is highly regarded. In this review, I'll share my personal experiences and insights, along with some tips and real-life examples to help you decide if the Trijicon ACOG 4×32 is the right choice for your needs.
Thank you for reading this post, don't forget to follow and signup for notifications!
ACOG 4×32 Specs
Magnification 4x
Objective Lens 32 mm
Tube Diameter N/A
Eye Relief 1.5 in
Weight 15.1 oz
Specifications and Purpose: Why the ACOG 4×32
Before I share my experience with the ACOG, let's examine its background and specifications to understand the purpose behind designing this optic. Trijicon, a renowned American manufacturer of self-luminous firearm optics, introduced the ACOG (Advanced Combat Optical Gunsight) in the early 1980s. The development of the ACOG was primarily driven by the need for a reliable, rugged, and advanced combat optic for military and law enforcement use.
Let's delve into the specifics now. The ACOG features a fixed 4x magnification, which strikes a balance between providing a clear sight picture and maintaining a wide field of view. This magnification level is well-suited for engagements at intermediate distances. They also equipped it with a 32mm objective lens. This size allows for excellent light transmission, contributing to a bright and clear image, even in low-light conditions.
The ACOG offers a range of reticle patterns, including the classic chevron, BDC (Bullet Drop Compensator) reticles, and more. These reticles are designed to cater to various shooting applications and ammunition types. But the key to the ACOG's success lies in the Bindon Aiming Concept, a revolutionary design that allows for both-eyes-open aiming. This concept enhances target acquisition, situational awareness, and the ability to stay engaged with your surroundings while maintaining a clear sight picture.
Trijicon offers a variety of ACOG models, each with slight differences in specifications, including field of view and eye relief. Shooters can choose the model that best suits their specific needs and preferences. Now, let's dive straight into my Trijicon ACOG review. 
ACOG 4×32 Features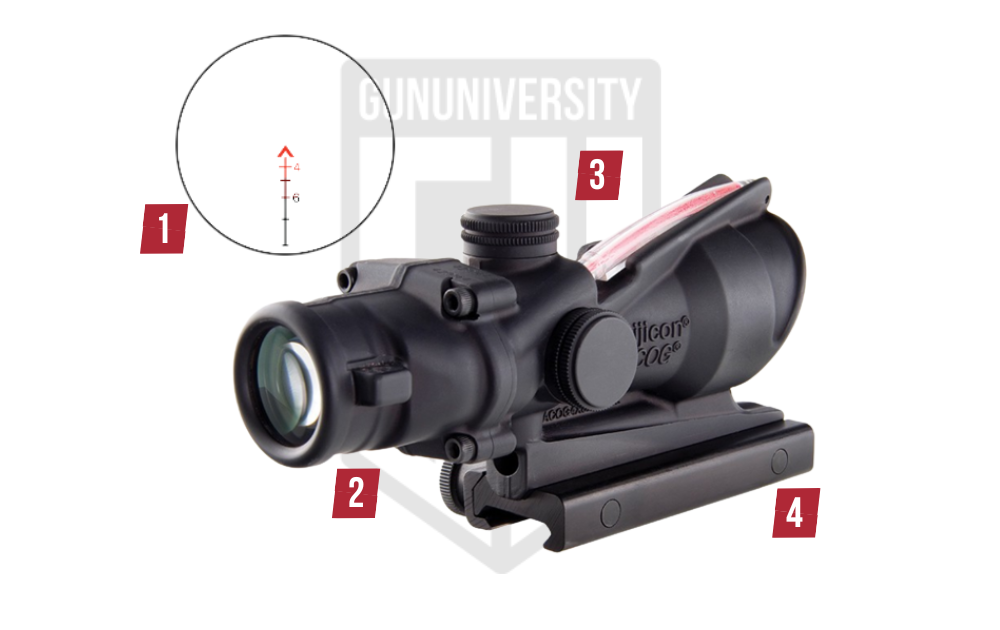 1 Reticle
The ACOG features bullet drop compensating (BDC) and target-ranging reticles.
2 Rugged
Proved by years of military service, the housing is nearly indestructible with minimal moving parts.
3 Tritium/Fiber Optic
Battery free with a tritium and fiber optic illumination system automatically adjusts brightness based on available light.
4 Mounts
There are many aftermarket mounting solutions for the ACOG so you can get it mounted to your preferred firearm.
The first time I peered through the ACOG's lens, it left me utterly amazed. The clarity and crispness of the image are unparalleled. It's like having the world's best HDTV for your rifle. The optic's ability to gather light is exceptional, making it suitable for various lighting conditions. However, there's one caveat: the ACOG does have a shorter eye relief, which can be a drawback for those with less than perfect vision. But here's the twist–I wear glasses for distance vision, and with them on, the reticle is absolutely perfect and crystal clear. Without my glasses, it loses some of its clarity. However, when I'm out on the range, I always wear my glasses, and this turns out to be a plus. Unlike other scopes, I don't need to fiddle with adjustments to make the reticle crisp with my glasses on. The ACOG's clarity has significantly improved my shooting precision, and that's a testament to its quality.
They designed the ACOG for quick target acquisition, and it doesn't disappoint. When you're in a high-stress situation, the Bindon Aiming Concept shines. Having both eyes open allows you to stay aware of your surroundings while maintaining a clear sight picture. It's a game-changer for rapid engagements. However, the fixed 4x magnification might not be ideal for close-quarters combat. For this, I would opt for a different optic with lower magnification. Nevertheless, if you're shooting at intermediate distances, the ACOG is a superb choice. Its shootability is excellent for ranging your target and consistently hitting it.
Reliability is where the ACOG truly excels. This optic has been battle-tested and has proven its mettle in the most extreme environments. The use of tritium for low-light visibility without the need for batteries and fiber optic for daytime use adds to its unwavering reliability. When you're out in the field, the last thing you want to worry about is a dead battery or a fogged-up lens. The ACOG eliminates those concerns. The rugged design and durability make it a dependable companion for any shooter. It's not just a combat optic; it's a reliable partner for hunters, too, especially in low-light conditions.
The ACOG comes with a range of features that cater to different needs. There are various models available, each with slight differences in field of view and eye relief. You can choose the one that best suits your requirements. They designed the reticle patterns for different applications, from the classic chevron to BDC reticles. While the ACOG's features are top-notch, it's essential to consider the cost. Some users might find it expensive, and it's not in the same league as high-end civilian optics like NightForce or Swarovski. Moreover, the tritium's half-life, which gives the reticle its glow, is about 12 years, and it's not covered by Trijicon's "lifetime warranty." This is something to keep in mind if you're planning for the long haul.
In conclusion, the Trijicon ACOG 4×32 is a battle-tested optic that excels in clarity, shootability, and reliability. While its features are top-notch, it's not exactly the most budget friendly product out there. Whether you're a civilian shooter or a military professional, the ACOG offers a dependable and rugged solution that ensures your rifle is well-equipped for any situation. My experience with the ACOG has left me thoroughly impressed, and I would wholeheartedly recommend it to anyone considering it for their firearm. Its steep price and the design intended for combat are the only reasons I ranked it third in my article on the best optics for AR 15–you can check it out here. 
So, if you're in the market for a premium optic that can stand up to the harshest conditions, the Trijicon ACOG 4×32 is a choice you won't regret.
Trijicon ACOG 4×32 Pros and Cons 
Rugged with years of military service
Tritium and fiber optic lighting system
BDC reticle
No magnification adjustment
Report Card

Clarity

The clarity of the ACOG is outstanding with good light gathering capability.

A+

Shootability

Shootability is good with a simple BDC reticle but the eye relief can be restricting.

B+

Reliability

Years of military service have proven the reliability of the ACOG.

A+

Features

What makes the ACOG reliable, also make it simple. Simple controls are nice but one magnification range is a limitation.

B+
Our Grade
A
Reviewed by Dave Chesson
Reader's Grade
TBD
Based on 0 Reviews
Your Grade
Do You Own This Accessory? Leave A Review
Success Your Grade Has BeenAdded To Our Reader's Score
Trijicon ACOG 4×32 Gun Deals
Gun Deals

$984.35

Check Price

Sportsman's Guide

$1,079.99

Check Price

Eurooptic

$1,018.99

Check Price

Primary Arms

$1,099.99

Check Price

Optics Planet

$1,097.99

Check Price
Is the ACOG suitable for civilian use? 
Absolutely, the ACOG is a versatile optic that works well for civilian shooters, especially those who appreciate its ruggedness and low-light visibility.
Is the ACOG worth the investment? 
While it might come with a higher price tag, the ACOG's reliability and performance justify the cost, particularly if you're seeking a long-term optic solution.
Can the ACOG be used for hunting? 
Yes, the ACOG is a reliable choice for hunters, especially in low-light conditions. Its tritium illumination is a significant advantage for nighttime hunting.
ACOG 4×32 by Trijicon
Trijicon ACOG 4×32 User Manual