Standard Manufacturing makes some neat and rather atypical firearms. Their main lines are reproductions of 1911s, single-action revolvers, and a clone of the Colt Woodsman — and each is better than the originals upon which they were based. However, their unusual offerings are always favorites. Not just because they're different than the status quo, but also because they usually actually work.
Thank you for reading this post, don't forget to follow and signup for notifications!
Standard Manufacturing are also purveyors of some of the world's finest shotguns under their parent company Connecticut Shotgun. Standard has a huge factory and multiple talented gunsmiths who get virtually free reign to produce what they want. When company president Lou Frutuosa says he has something new, it usually pays dividends to perk up and see what's coming.
When a shotgun manufacturer uses the word "jackhammer," it can spur thoughts of something like the gas-operated, blow-forward, revolving bullpup shotgun that never made it beyond the prototype stage in the early '80s, the Pancor. But no, our anticipations were dashed, and we learned this was something quite different. 
It's a futuristic-looking .22 semi-auto pistol fed by a 50-round drum with a threaded barrel and no sights kind of different.
Originally, this gun was referred to as the Jackal. Apparently, that was a slightly older model with a shorter non-threaded barrel. The Jackhammer is the improved version with a longer threaded barrel. 
At first glance, many may be tempted to say, "Nice range toy," and move on. But there's absolutely nothing wrong with a self-aware range toy. Plus, the more time you spend shooting and handling it, the more you start seeing additional applications like varmint shooting and small game hunting. There's always hesitation to recommend .22LR as a self-defense option for a myriad of reasons, but if that's your bag it may be warranted in this case.
High-capacity rimfire isn't a new concept. The 1960s brought us the American-180, a full-auto .22LR with drums up to a 275-round capacity. Unfortunately, the plastic drums tended to crack if you looked at them sideways. With the 1980s came a similar concept, the Calico M100. It featured not only a 100-round helical-feed magazine but was also mentioned in several rap songs. The M100, too, had feeding issues with the novel magazine. But a small round, even the lowly rimfire, in high quantities is perhaps a concept worth further consideration.
DETAILS
The Jackhammer has an odd-looking grip, based on the stock and grip of the company's rifle version of the same pistol known as the G45. There are no fixed sights on the Jackhammer — rather there's an extended Picatinny rail section to attach an optic (or irons) of your choice. 
Its safety is in the front of the trigger guard and takes a little getting used to, but after a while it becomes second nature.
Of course, there's a threaded barrel. The threads are ½x28 and concentric to the bore. It's perfect to mount the little Bowers Bitty silencer to keep the noise down.
One thing most people will notice is that the stick and drum magazines load sideways into the magazine well rather than inserting vertically like most pistols. This is very similar to the classic Thompson submachine gun, and clearly that's the look they were going for. This isn't surprising; very early in Standard's history, the company offered a half-scale semiautomatic Thompson replica chambered in .22LR. The drum and stick magazines look identical to the ones that were made for those guns and are likely more than simply inspired by them. The sides of the receiver have alternating M-LOK and KeyMod slots to mount lights and lasers or other accessories.
The trigger broke at approximately 5 to 6 pounds. Not terrible, but not particularly memorable, either.
The Bowers Bitty is one of the smallest mass-produced commercially made silencers on the market at slightly smaller than a 50-round box of .22LR ammunition. It's surprisingly quiet and is very effective on .22 Magnum as well. Additionally, an old Gemtech Outback II was used for suppressed shooting.
For an optic, we pulled out the discontinued Nikon P-Tactical Spur with a 3-MOA dot. It's unfortunate that Nikon exited the sporting optics industry, because this sight is a real performer. You can find them as old stock with some dealers at a relatively low price, but its quality is up there with the best of them. If the rumors are correct, the same optics are available under another name and are similarly priced.
Ammunition was chosen from a mixed bag on hand and included Winchester Silvertip, Federal Punch, CCI Stinger, and Norma Match. The first two were chosen to see if it could be reliable and accurate in a small game hunting or even a personal defense role. The CCI was to test its reliability as a plinker and the Norma to test the Bowers Bitty.
Accuracy was consistent, regularly patterning groups of 2 to 3 inches at 50 yards from an improvised position. Those results may not sound great, but that was with a 3-MOA dot in 103-
degree Nevada heat. It's good enough to bring curiosity of the accuracy potential of the G45 rifle with a traditional crosshair scope down the road.
It was fun nailing golf balls and clay pigeons at 50 yards. This could play hell on rats, rabbits, squirrels, and raccoons at the dump, too.
There was one stoppage in the drum with the Norma Match ammo about halfway through it. It could've been an underpowered round at fault as opposed to the pistol; such is life with rimfire. The largest issue was removing the drum to clear it while still being a little unfamiliar with the unique manual of arms. The spent casing came free with the help of a .22-caliber cleaning rod and the rest of the drum fed without incident. Make a mental note to only run subs out of the stick magazine.
The Bitty and the subsonic ammunition made it as quiet as an airsoft gun. We did run a stick mag full of Norma through a Gemtech Outback II to see if a bigger can would make it quieter, but it seemed to sound identical.
If there were one gripe, it'd be the pistol grip, as it felt a bit small due to the thumbhole design. This is to help balance the pistol, but it could use a little inletting if you wear XXL-sized or larger gloves.
Apart from that, it has a unique enough look to qualify it for a role in a science-fiction movie as a prop blaster — maybe more Total Recall than Star Wars, though.
The Standard Manufacturing Jackhammer makes for a fantastic plinker and definitely has the potential to take out squirrels, rabbits, and other varmints. 
Standard Manufacturing Jackhammer
Caliber: .22LR
Barrel Length: 5.4 inches
Overall Length: 16.5 inches
Weight: 2.5 pounds
Capacity: 10-round stick, 50 round drum
MSRP: $625
URL: stdgun.com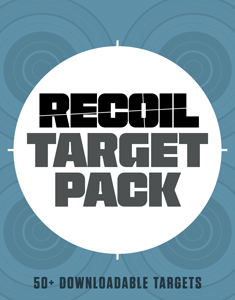 NEXT STEP: Download Your Free Target Pack from RECOIL
For years, RECOIL magazine has treated its readers to a full-size (sometimes full color!) shooting target tucked into each big issue. Now we've compiled over 50 of our most popular targets into this one digital PDF download. From handgun drills to AR-15 practice, these 50+ targets have you covered. Print off as many as you like (ammo not included).
Get your pack of 50 Print-at-Home targets when you subscribe to the RECOIL email newsletter. We'll send you weekly updates on guns, gear, industry news, and special offers from leading manufacturers – your guide to the firearms lifestyle.
You want this. Trust Us.