The 2023 International Law Enforcement Educators and Trainers Association (ILEETA) conference was the best training event since the pandemic began, and it may even be one of the best ILEETA conferences of all time.
Thank you for reading this post, don't forget to follow and signup for notifications!
The St. Louis Metropolitan Police Department welcomed the ILEETA conference attendees to the Union Station Hotel by providing their range for live-fire classes and committing academy cadets to assist with set up.
Most attendees arrived at the hotel Sunday afternoon before the official start of the conference. The first big event was a fundraiser for the Jessica & Kelli Uhl Memorial Foundation, Bourbon & Bites. This event included food, a raffle that included bourbons from all over the United States, and a silent auction. If you're not familiar with Jessica and Kelli Uhl, please take note. On November 23, 2007, the sisters were killed by an officer traveling at an estimated 126 mph reportedly while using his mobile data computer (MDC) and talking on a cell phone. Their mother, Kim Schlau, works closely with Below 100 and travels around the country speaking with recruit classes and officers about the dangers of unnecessarily high speed and distracted driving. A very important program and a worthy cause.
ILEETA Executive Director Harvey Hedden started things off Monday morning at the opening ceremonies addressing the logistics of navigating such a large event. The opening ceremony is always exciting because this is where the ILEETA Trainer of the Year is announced. This year, Brian Hill received the award. Brian has over 20 years of experience as a law enforcement trainer, is a former enlisted Marine, a charter member of ILEETA and a sergeant at his agency. He was vice-chair for Colorado P.O.S.T. Arrest Control Subject Matter Expert Committee and is the editor of the Officer Safety/Use of Force section of the ILEETA Journal. He is also an advisor to Blue H.E.L.P., the moderator of the ILEETA Facebook page, the moderator of the ILEETA Live podcast and the owner of the Mental Ammo training company.
Then it was onto the educational sessions. Here's a roundup of what I attended this year.
Drone use capabilities
Immediately after the opening ceremonies, I attended a class completely outside my comfort zone taught by Billy Etheredge from the Potter County (Texas) Sheriff's Office titled "Get Your Department Flying High into the 21st Century." This class discussed some of the capabilities and mission opportunities for drone use including accident reconstruction, SWAT overwatch, building searches, crime scene documentation, 3D mapping, surveillance, and search and rescue. It also covered ways to maximize drone capabilities such as linking drone cameras to cell phones or smart televisions for remote viewing by supervisors, SWAT command and others.
Pushing performance limits during firearms training
Monday afternoon, I was on the SLMPD range presenting a live-fire class called "Just Be Better." This live-fire class was meant to be a challenge to my fellow firearm instructors. Many instructors and shooters have been saddled with the curse of low expectations. They don't understand the performance levels they're capable of because no one has allowed them to safely push their limits. Instead, law enforcement firearms training has been boring, redundant and slow. This class was designed to push their personal limits and show them what they can do to push the performance limits of their students.
A challenge to be better
One of the highlights of the ILEETA conference each year is the Emerson Hour. Ralph Waldo Emerson was known to greet friends with the question, "What has become clear to you since we last met?" Each Emerson Hour speaker has nine minutes to answer this question without the use of PowerPoint, video, or any other visual aids. Participants are kept secret with only the moderator, Joe Willis, aware of who will be speaking. This year, I joined Traci Ciepiela, Michael Warren, Kim Schlau, Tim Janowick and Oleksandr Liubychenko from the Ukrainian National Police as the speakers. Each delivered an emotional and thought-provoking presentation challenging each of us to be better and to focus on what really matters in our personal and professional lives.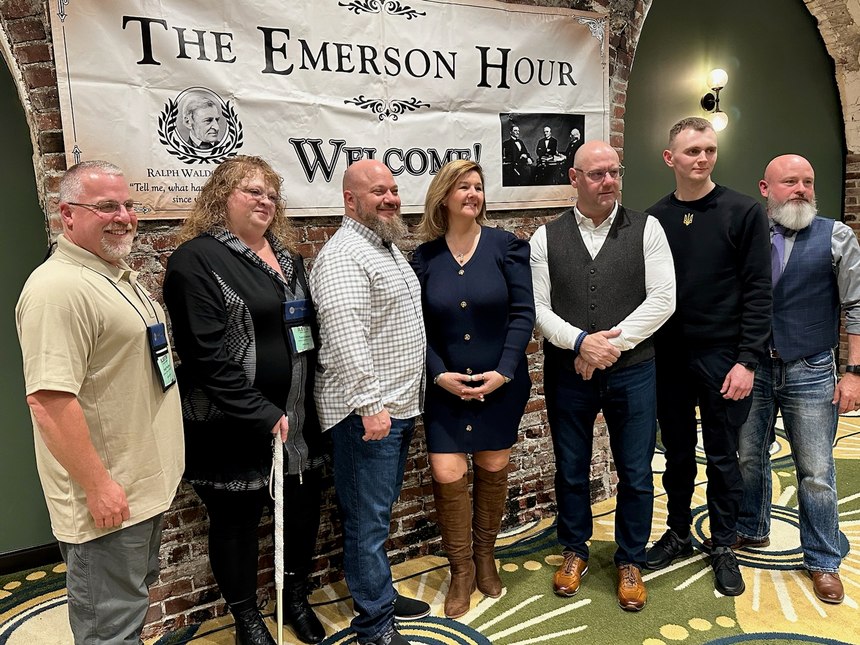 International perspectives
Tuesday morning, I attended Tim Janowick's class, "Living the "I" in ILEETA: An Expat's Journey in Ukraine and Beyond." He covered his experiences through ILEETA that led to him working as a patrol police academy advisor in Kyiv, Ukraine. Tim told the story of signing up for one year, and how it led to his work there for the past five years. When he arrived in May 2018, he didn't speak the language, couldn't read or recognize any words in Cyrillic, and didn't expect a war to be a part of his experiences. His work includes trying to understand Ukrainian culture and history to provide the best leadership and strategic planning he can for police training and reforms.
Vendor booths
I spent Tuesday afternoon perusing the 2023 ILEETA Expo. It featured 100+ vendors showing off everything from firearms and firearm accessories to clothing, duty belt gear, training mats and interactive training simulators. This is an amazing part of the conference experience because it provides an opportunity for instructors to make connections with the people who supply our equipment. This benefits our departments, our officers and our police training programs.
Understanding how the brain works
I attended a fascinating class by Kerry Mensior called "Brain-centric Design (Intro)." This class was developed to help instructors understand how the brain processes information so they can communicate more effectively with students. Kerry provided attendees with specific exercises and examples that could be integrated seamlessly into their existing curriculum. Whenever I see Kerry present a class, his information is always first-rate, but his presentation skills set him apart. He is a master of combining the ideal amount of entertainment, drama, music, body language and storytelling to get his message across.
Battling imposter syndrome
Prior to the conference, I learned Kim Schlau was going to present a class called "Fraud Alert: How to Recognize and Overcome Imposter Syndrome. Many of the best and brightest have experienced imposter syndrome. As Kim put it, there is an inherent danger in believing you are not good enough because it can become self-fulfilling. She suggested that when your imposter syndrome starts whispering that you're not good enough, smart enough, or brave enough, do it anyway. We can either use those feelings to be our best cheerleader or to sabotage ourselves leading to additional anxiety. She discussed how we can manage the anxiety caused by imposter syndrome by talking about it with someone we trust, being kind to ourselves and keeping things in perspective.
Combating traumatic stress ahead of time
Dr. Phil Baquie presented a class called "Tactical Presilience" that stressed the importance of teaching tactics to combat traumatic stress before an intense event. We tend to focus on treatment and intervention after an event, but he showed the need to begin directing time and resources to prevention before an event. A point he made during class that really stuck with me was that our experiences don't cause trauma; it's how we interpret them and deal with them that is the problem.
Trauma-informed training
Alexandra Nelson, a sergeant from a suburb of Chicago and a tactical operations group supervisor, moderated a group discussion that included Nicole Florisi, Lewis "Von" Kliem, Lynn Westover, Jeff Johnsgaard and Ken Murray. Titled "Traumatic Training: Stop Hurting My Brain," the panel was a conversation about the potential of training adding to cumulative trauma experienced by officers during their careers. It primarily focused on scenario-based training because it has the greatest connection to real-life situations. The panel brought together subject matter experts in trauma psychology, scenario-based training and self-care to explore the subject. Ultimately, the group concluded that trauma-informed training can help officers from further critical event trauma and can be combined with teaching officers techniques to build resilience for real-world events.
Why attend ILEETA?
When people ask me why I'm always excited to attend the ILEETA conference I tell them it's like being the worst house in the best neighborhood. The 2023 ILEETA conference was no exception. At the conference, I am simply a knuckle-dragging firearm instructor surrounded by some of the best and brightest trainers in law enforcement. Hopefully, some of their solutions, experiences and wisdom rubbed off on me. There are non-stop training opportunities from the arrival at the hotel until it's time to go home. You will make some lifelong connections in the classroom and in the hallways. If you're a law enforcement instructor, you owe it to yourself, the people you train and your department to join ILEETA and attend the 2024 ILEETA Conference in St. Louis on March 17-23, 2024. It will be another amazing event that changes the lives of the people we train.