The V7000 camera integrates with Motorola Solutions' command center, in-car video and radio solutions to offer agencies enhanced awareness before, during and after an incident
Thank you for reading this post, don't forget to follow and signup for notifications!
---
By Police1 Staff
CHICAGO — Motorola Solutions has launched its next-generation V700 body camera with mobile broadband capabilities to provide public safety agencies with critical real-time information.
The V700 integrates with cloud-based platform Aware, the M500 in-car video system, APX radios and Holster Aware sensors. This combination can improve officer safety and response by providing officer location and multiple points of view of an incident as it unfolds.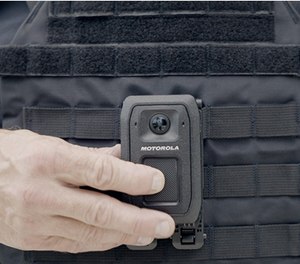 If an officer is down or unresponsive, the APX radio feature will cause the V700 to begin recording the officer's situation so immediate assistance can be dispatched.
The V700's precision high-definition sensor adjusts to low-lighting like a human eye. It also includes a high-capacity battery that can record up to 14 hours and is replaceable in the field.
The mobile broadband capabilities allow officers to upload time-sensitive evidence into VideoManager EL without returning to the station. Critical evidence can also be recovered after an incident, even if a recording wasn't initiated, through the camera's Record-After-The-Fact feature. AI can be applied during evidence analysis to transcribe footage for a clear record of events.
The V700 is now available to order in North America.
Thank You!
Tags
Body Camera
Motorola Solutions
Product Brief