What's the best .22 Magnum rifle? There are plenty, but these top-of-their-game irons make a strong case for being part of the upper crust.
There are quite a few fine .22 Magnum rifles out there today. Of course there are classics, like the Winchester 61, but those are a mite hard to find and are usually passed down from one generation to the next. Suffice to say, there are plenty of new options that you can readily purchase, these five standing out in of what is currently available.
Thank you for reading this post, don't forget to follow and signup for notifications!
BEST .22 MAGNUM RIFLES
Ruger American Rimfire Target
As far as features and classic lines go, the Ruger American Rimfire Target is about as classy and functional as a .22 Magnum rifle gets. The MSRP is a very affordable $619, making it an attractive option for a budget while sacrificing nothing to more costly guns. While it isn't the lightest .22 Magnum rifle out there, it certainly has the proper balance for a variety of shooting positions in both range and field conditions.
Why this rifle is at the top of the list is that, for the price, it has truly great features that set it apart from the pack. It uses Ruger's Power Bedding system and adjustable trigger, both of which allow great consistency, something that is occasionally an afterthought for a rimfire meant for inherently shorter ranges on smaller game.
The stock is laminate, and the barrel is a truly heavy .860-inch contour. This, combined with a threaded muzzle for a suppressor or brake, make it an accuracy machine that resists heat buildup and weather conditions.
I really like that Ruger makes this gun, it's classic and modern in all the right ways and can take full advantage of the .22 Magnum's abilities.
American Rimfire Target Specs:
Type: Bolt-Action
Magazine Capacity: 9
Barrel Length: 18 inch
Overall Length: 37 inch
Weight: 6 Pounds, 11 Ounces
MSRP: $619
Savage A22 Magnum
This has to be one of the ultimate modern .22 Magnum rifles out there today. Savage introduced this rifle to much fanfare and it offers a very unique and handy feature set. Not only is it semi-automatic, but it is also surprisingly light at just 5.6 pounds and has a 10-round rotary magazine.
Like every Savage I've used, it is very easy to shoot with and prints some seriously tiny groups at 100 yards. Firing this rifle is a bit different than a bolt action; the recoil impulse is somehow more and less at the same time. I believe that this feeling comes from the movement of the bolt itself, but it is not violent or harsh, just a bit more noticeable than a similar rifle in .22 LR.
There are a variety of versions of this rifle available, some of them in .17 caliber as well. I hope to see what else Savage releases in this category. For the avid rimfire hunter, this rifle makes an exceptional backup to a heavier varmint-style gun, especially when there are coyotes moving in close quarters that make a heavy gun slow.
Some folks don't like a semi-auto .22 Magnum rifle, but I think that's because they haven't tried this delayed-blowback beauty.
A22 Magnum Specs:
Type: Semi-Auto
Capacity: 10
Barrel Length: 22 inch
Overall Length: 41.5 inch
Weight: 5 Pounds, 10 Ounces
MSRP: $539
Browning T-Bolt Sporter
For those looking for something a bit more classic, say function with a dash of nostalgia, the Browning T-Bolt Sporter is going to be your .22 Magnum rifle of choice.
The T-bolt is an American tradition itself, having been the first rifle for many a boy and girl all across the country. Browning is a brand with a very loyal following, and that loyalty comes with a slightly higher price than the rest at an MSRP of $839.
For the money, the T-Bolt Sporter doesn't come with many of the features of other rifles on this list. It lacks the modularity and customization features of the Ruger and, while slightly lighter than the Savage, isn't as weatherproof or fast firing.
There are other versions available from Browning, however, I've not had the pleasure of firing those. The T-Bolt Sporter is one hell of an accurate rifle and is quite easy to use and understand, especially for younger shooters. It is capable of accuracy on par with heavier target-style rifles and is light enough to tote around all day.
T-Bolt Sporter Specs:
Type: Bolt-Action
Capacity: 10
Barrel Length: 22 inch
Overall Length: 40 1/8 inch
Weight: 4 Pounds, 14 Ounces
MSRP: $839
Henry Frontier
Lever action rifles have always been dear to the American heart. Not only are they a foundational element of our modern history, but they also have never lost relevance in our modern day.

The lever-action continues to be a choice for big game hunters and sportsmen; the .45-70 and .30-30 being ever-present in the woods even in the era of 6.5 Creedmoor and .300 PRC. The popularity of the lever-action extends to rimfire rifles as well.
In fact, my very first rimfire was a Henry .22 LR. This version is a full-size .22 Magnum rifle and has a 24-inch barrel… with a threaded muzzle.
The lever action is faster firing than a bolt gun by a mile, yet offers the same suppression qualities when outfitted with a can. I've had the pleasure of firing suppressed lever actions and they are among the handiest, quietest, and most pleasurable rifles to use.
On a gun like this Henry, you'll be able to take game with a tiny 'pop' and enjoy lightning-fast follow-up shots.  At an MSRP of $688, you get a .22 Magnum rifle you can carry and shoot all day without hurting your wallet- or ears!
Frontier Model Threaded Barrel Specs:
Type: Lever Action
Capacity: 8
Barrel Length: 24 inches
Overall Length: 42.5 inches
Weight: 7 Pounds
MSRP: $688
Vudoo Gun Works Ravage
I had a blast shooting one of these .22 Magnum rifles last fall… at 800 yards! Vudoo makes incredible rifles for some of the most demanding customers on planet earth: people that shoot rimfire at centerfire distances.

While this seems wild to some, Extreme Long Range (ELR) Rimfire and NRL22 competitions are becoming extremely popular and are drawing a following from centerfire competitors. In the post-Covid world, ammunition, powder, bullets, and even brass are hard to come by and are guarded closely. Rimfire ammo is still widely available in most places and new ways to shoot have been invented as a result.
Vudoo's average price for their incredible bolt guns is around $3,100, though you can build your own if you want just the action. They offer standard options to the customer for complete rifles, ranging from about $2,700-$3,500.
While this may seem too expensive for a rimfire, the people buying these rifles intend to use them in a sport where even a cough downrange is the difference between a hit or a miss. The action, while chambered for rimfire cartridges, including our subject .22 Magnum, is the same footprint as a Remington 700, making it compatible with full-size stocks, optics, and accessories.
These rifles are very specialized, but if you consider the cost and volume of ammunition to be competitive in long-range sports, you only have to shoot for a season or two to break even if you're using the same amount of ammo in 6.5 Creedmoor.
Ravage Specs:
Type: Bolt-Action
Capacity: 10
Barrel Length: 16.5-22 inches
Overall Length: Varies
Weight: ~10 Pounds
MSRP: ~$2,700-3,500
More on Rimfire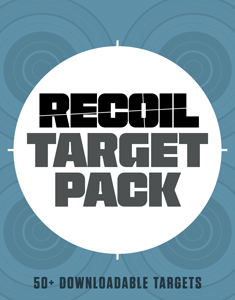 NEXT STEP: Download Your Free Target Pack from RECOIL
For years, RECOIL magazine has treated its readers to a full-size (sometimes full color!) shooting target tucked into each big issue. Now we've compiled over 50 of our most popular targets into this one digital PDF download. From handgun drills to AR-15 practice, these 50+ targets have you covered. Print off as many as you like (ammo not included).
Get your pack of 50 Print-at-Home targets when you subscribe to the RECOIL email newsletter. We'll send you weekly updates on guns, gear, industry news, and special offers from leading manufacturers – your guide to the firearms lifestyle.
You want this. Trust Us.