Today we have a special gun and one of the newest from Taran Tactical Innovations, the Glock 34 Copperhead Combat Master. This gun is completely built from the ground up, making it one of the best Glock variants you can buy from an aftermarket retailer.—
Thank you for reading this post, don't forget to follow and signup for notifications!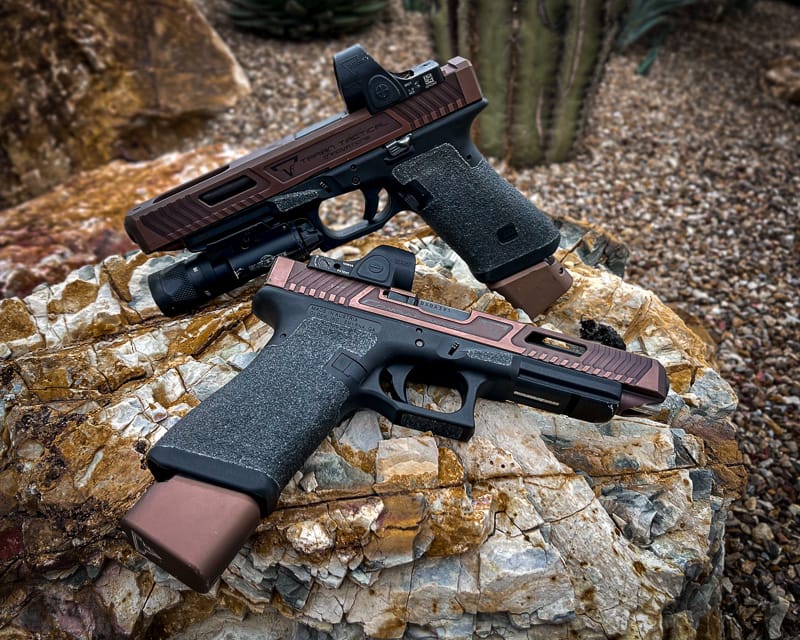 I am sure you have heard of Taran Tactical Innovations (TTI) before if you've enjoyed customizing your guns or looking to get extra capacity in your magazines. Taran Butler, the founder of TTI, is a world-renowned competition shooter that uses his skill to make some of the finest firearms you can buy. He also trains your favorite Hollywood actors. His excellent team keeps pushing the envelope on perfecting different platforms like the ultra-reliable TR9 9MM carbine, or the new "John Wick: Chapter 4" pistol, the Pit Viper.
This Glock 34 holds its own as a striker fire pistol. They have gone through this gun to make it one of the smoothest, most consistent, and most comfortable Glocks I've ever shot. Let's go over why this gun differs from your off-the-shelf Glock 34.
Slide Cut

This gun comes directly from TTI with a slide cut for RMR footprint optic. What makes it different than other optic cuts is the optic sits a few thousandths lower than a standard optic cut. This helps with indexing the red dot sight when aiming. They also added some windows and front serrations. The windows help reduce the slide's weight, which translates into less felt recoil. The front serrations are great because they give you extra texture when racking the slide. Under stress or in a match setting, this extra grip of the serrations can help you perform at the highest level.
They finish the slide with a two-tone High Polish/Matte finish that resembles the Sand Viper pistol they released in 2022. This is one of the key features that makes the gun stand out because it looks like nothing else is offered on the market. TTI also DLC coats the barrel, which is Diamond Like Carbon coating. This coating reduces friction and is one of the hardest coatings you can apply to protect the component. It uses physical vapor deposition to adhere the coating to the barrel and is only 3-6 microns thick. DLC is my preferred barrel coating material because it will stand the test of time.
Grip Work

This gun comes with three options from TTI as far as grip customizations. One is their laser stippling that incorporates a custom logo. Hand stippling allows for an even more aggressive pattern. Then, finally, my favorite, silicon carbide, which is the most aggressive grip pattern you can get.
Some other frame modifications include an undercut on the trigger guard so you can get your strong hand as high up on the grip as possible, grip reductions to reangle the Glock, accelerator cuts to act as thumb rest for better recoil control, and much more.

Other Notable Options
The customization doesn't stop there; the gun comes with the TTI magazine extensions in Coyote Bronze: Fiberoptic Green Sights and the Timney Alpha Competition Trigger. All of these modifications come together to make a dialed-in performance pistol.
On the two Copperheads I got, I wanted to create my perfect version of a Carry Optic Division Glock 34, so I went with personal preferences regarding sights and triggers. I decided to run no backup iron sights to my Trijicon SRO to keep the gun as sleek as possible. I also used a factory trigger polished and reangled. I am used to the trigger from my other Glocks, so I wanted to stay with the same trigger pull I am used to. I also went without the magwell since running it in USPSA Carry Optics division is prohibited. However, it is legal in IDPA, so it's a good idea to keep it in your range bag if you want assistance seating your magazine.
5,000 Rounds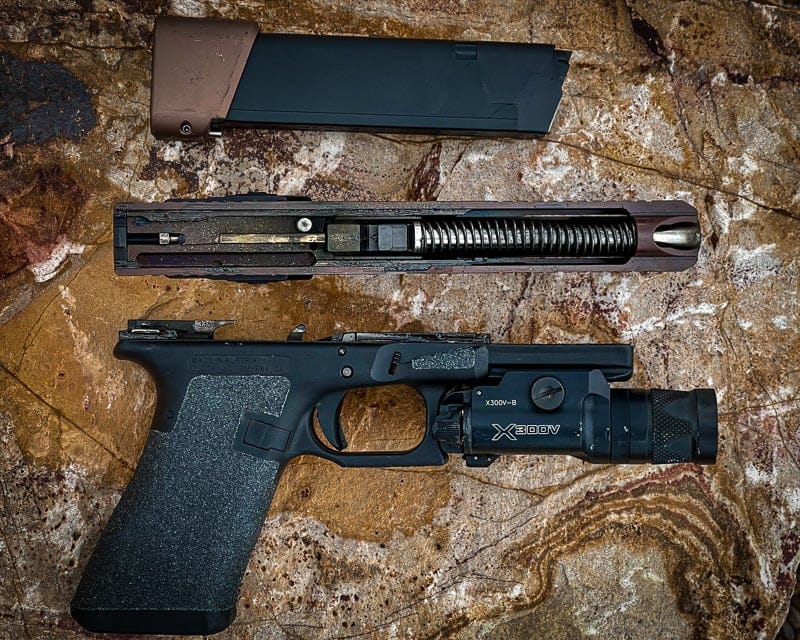 I am not your average shooter, I shoot A LOT. I compete all over the country and will typically be at the range 3-5 times a week. I've had these guns for around four months and shot about 5,000 rounds through them. I've used them in matches, teaching classes, EDC practice, and causal range days thus far.

These guns keep hammering and I am blown away by their accuracy. I could get around two-inch groups at 25 yards right off the bat and I bet that if I shot from a bench, we could dial it in even tighter. I always zero and group my guns freehand because that is how I will shoot them. I've had little to no malfunctions on them. I ran into some ammo issues using remanufactured 9MM. That is on ammunition manufacture, not TTI. I tested the ammo in two other platforms to rule out it was ammo and induced the same malfunctions. As long as you're feeding properly loaded ammunition, these guns will eat it up!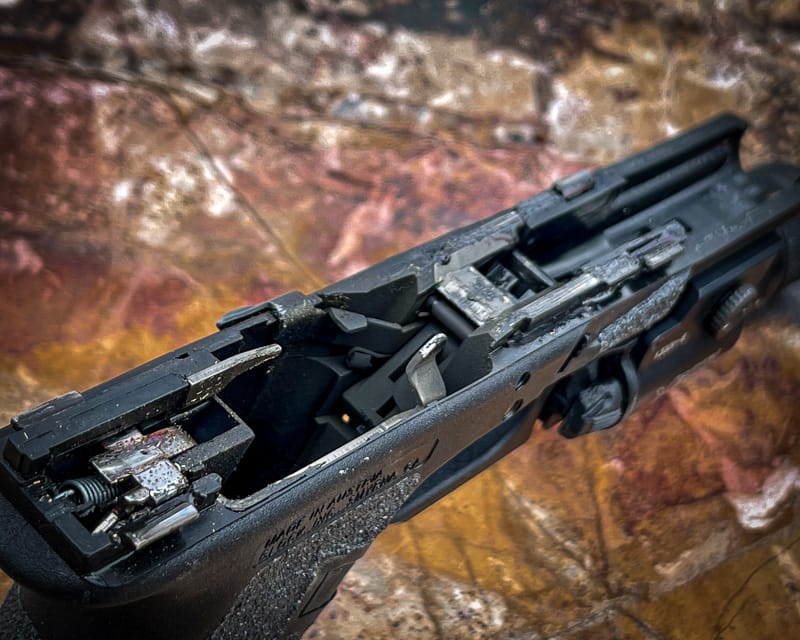 These guns had little to no wear after 5,000 rounds. There was one cleaning between that firing schedule, and they are just starting to get broken in. The DLC coating held up to the strenuous round count. The silicon carbide still looks fresh, and the exterior slide coatings look brand new. I was surprised not to see any holster wear because most of my Cerakoted guns started to show signs around the same time I had these guns.
Final Thoughts
Look no further if you are looking for a dialed-in race gun out of the box. I love customizing my guns and building specific use case firearms, but it is nice being able to get one right out of the box. Frankenstein-ing Glocks can lead to reliability inconsistencies. I have taught dozens of pistol courses over the last few years, and I've seen many students' guns go down when they don't understand the modifications they've made. Reliability is my priority when it comes to owning a firearm, then it trickles into tuning the gun for your use case needs. No matter what I feed these guns, they continue to run and continue to impress.
Aesthetically, the Taran Tactical Combat Master Copperhead is one of the most pleasing. It is different from anything on the market; they always turn heads when I bring them to the range. If you want to spice up your factory black Glock, the Combat Master package would be an excellent choice.
My final thought is how well the gun tracks. I am always interested to see how the Red Dot tracks under recoil and if the platform is easy to control. I want the dot to track in a uniform pattern in an upward direction and then snap back down to where I was aiming. Now, this is also heavily influenced by the shooter's skill, but if you know your skill level, you will be able to identify how different guns react under a firing sequence. This Copperhead can do it.
I noticed there was much less felt recoil than my factory Glock 34. This led to some wicked-fast shooting. Some examples: 10-yard Bill Drill – 1.55 seconds, all alphas; 2.40-second Plate rack at 12 yards; and slipped in some .13 splits on the clock at matches. Even at speed, the dot remained in the optic window. That is what sold me on this gun. Nothing feels better than being able to run a gun fast and accurately.
Although people say, "It's the shooter, not the gear," having the right equipment can certainly help. I can't wait to get another 5,000 rounds on these guns.