Trending: Best Ammo In Stock, Best AR-15, & Best 9mm Pistols
The AR market is absolutely flooded, and that seems to be a good thing for most American shooters.
Thank you for reading this post, don't forget to follow and signup for notifications!
If you want an AR-15, you can get one in nearly every combination of parts and pieces possible. From the ultra tactical modern URGI wanna-be to a growing retro market.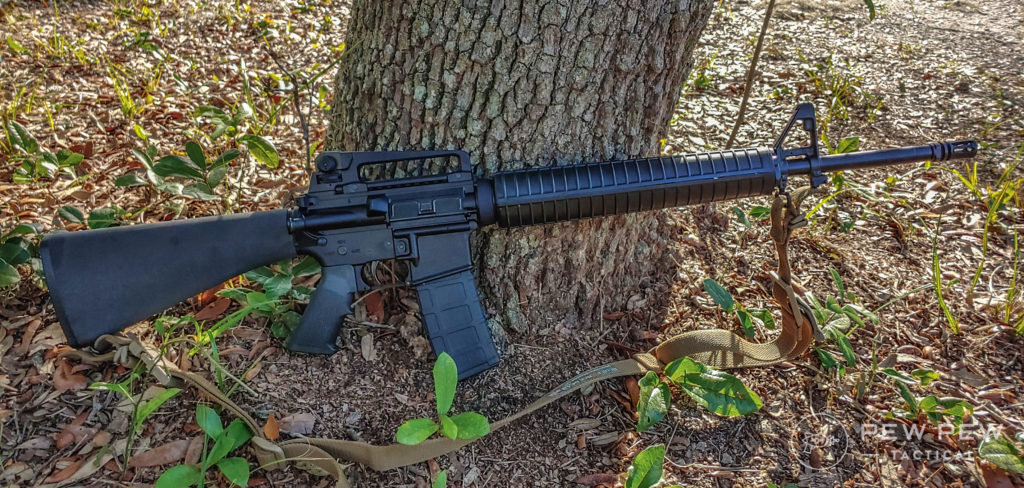 Today we are talking about the latter. Most current gun owners weren't born early enough to experience the guns of old, and besides, who doesn't love retro guns?
But affording something like a real Colt SP-1 can be tough…
Luckily, the retro market has been growing, and with the AR-15's popularity, there are some great options for those who want to experience the classics.
Summary of Our Top Picks
Best Retro Rifle

Harrington & Richardson Retro M16A1 Rifle, Gray

These faithful reproductions are reasonably priced and extremely well-executed.

$1299 at Palmetto State Armory
Jump to Details

Best Retro Carbine

Harrington & Richardson Retro 654 Slick Side 14.7″ Carbine

These slick-side carbines are an awesome look into what the short AR-15 was before the days of the M4.

$1199 at Palmetto State Armory
Jump to Details

Best Budget Retro AR

Windham Weaponry A1 Government Rifle

Prices on these fluctuate, but if you can catch them for under $1000, these rifles are fun while providing that retro vibe.

$1169 at GrabAGun
Jump to Details

Best Optics-Ready Retro Rifle

DSA AR-15 20″ Service Series 5.56×45 NATO A4 Rifle

This clone-correct flat-top A4 gives you the ability to shoot with classic irons or mount a cool era-correct optic for full LARP.

$1199 at DSA
Jump to Details

Best "Modern" Retro Rifle

Brownells BRN-180

It may not be a true retro rifle, but its design cues and operating system borrowed from the original AR-18 make this a cool one.

$849 at Brownells
Jump to Details
Table of Contents
Loading…
Why You Should Buy a Retro AR
One of the biggest reasons the retro AR market is so dominant is because a variant of the AR-15 has been the service weapon for the United States military for decades.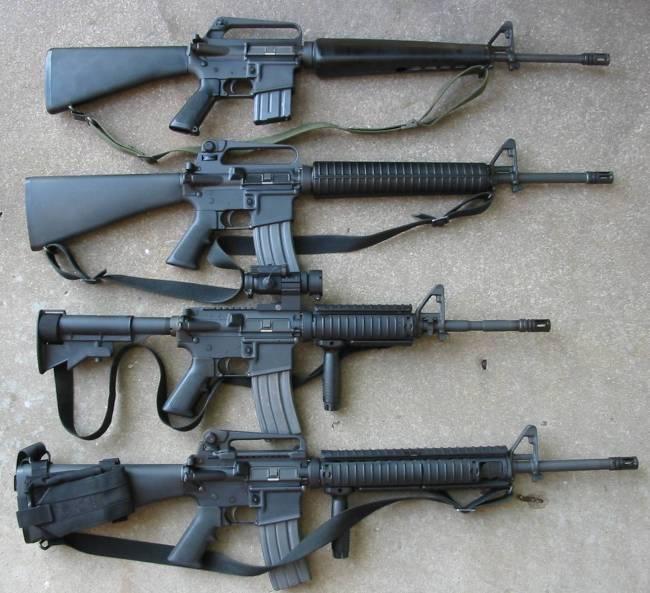 You and I could find a pile of modern AR-15 rifles at any gun shop or gun show in about five minutes, but a retro AR is something special — It's like a living piece of history. 
It might not have been made in '68, but it's the closest you are going to get without paying the price. You'll be able to embrace the original platform and experience what generations of Soldiers, Marines, Sailors, and Airmen did.
Modern optics help enhance your accuracy and your speed, but if you want to have a little fun, then iron sights are the way to go.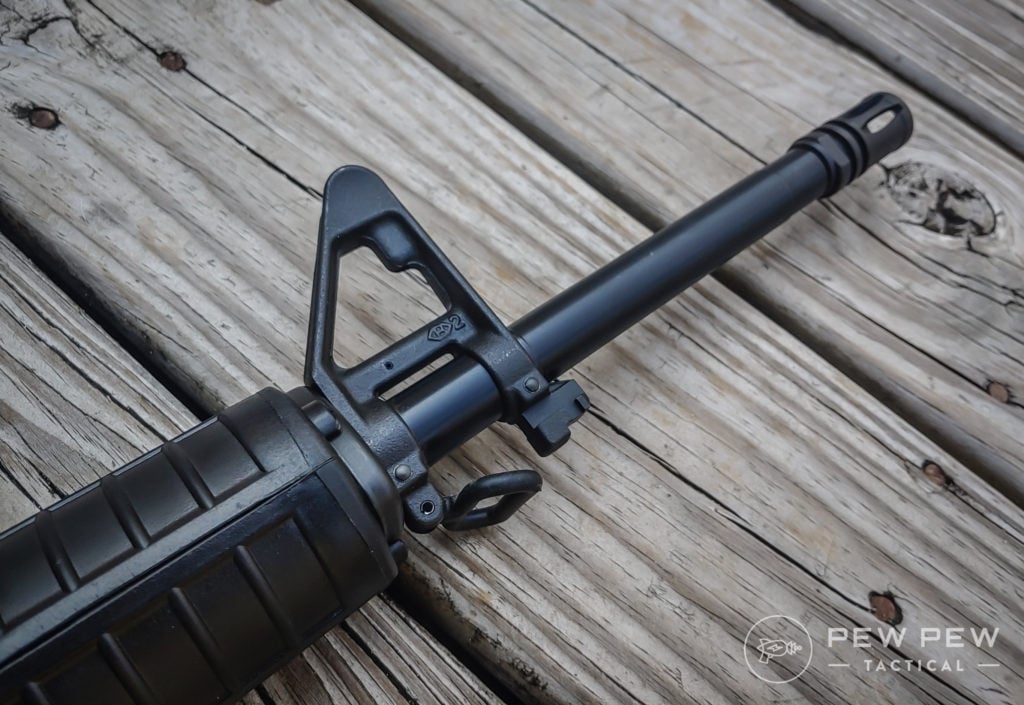 Even with just iron sights, these guns can be enough for most practical uses and make for handy, lightweight semi-auto rifles.
Pick up an authentic M16A1 clone, and you'll be amazed at just how light the gun is. Additionally, many retro ARs have a 20-inch barrel, which means they use a rifle-length gas system.
What does this mean? It means if you've never shot one, you are in for a treat. These rifles are super smooth shooters with minimal recoil and minimal muzzle rise.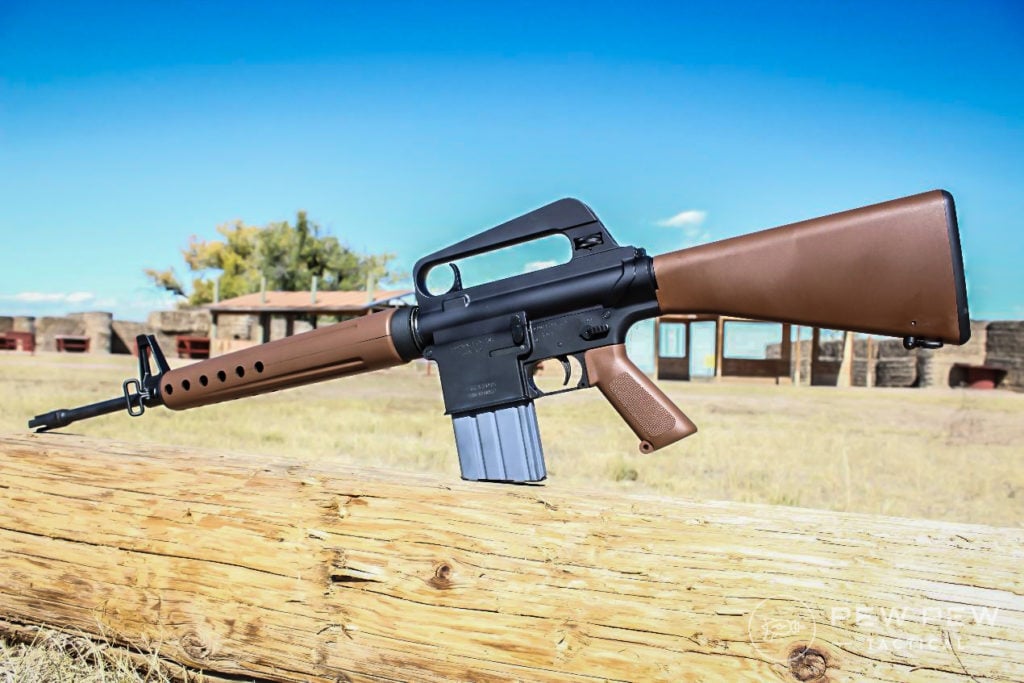 There is something to be said for a gun designed essentially to fun plinking gun. You can step back from serious training and embrace the fun of shooting an old gun without all the bells and whistles.
Now that we know why retro ARs are so much fun, where can you get one? I've gathered a few companies making moves in the retro market.
Best Retro ARs You Can Buy
1. Harrington & Richardson / Palmetto State Armory
Corporate structuring is weird. Palmetto State Armory bought Harrington & Richardson when Remington finally went under.
Then, PSA purchased the premier retro receiver and rifle manufacturer NoDak Spud. Now, the guys at NoDak work for PSA under the H&R label.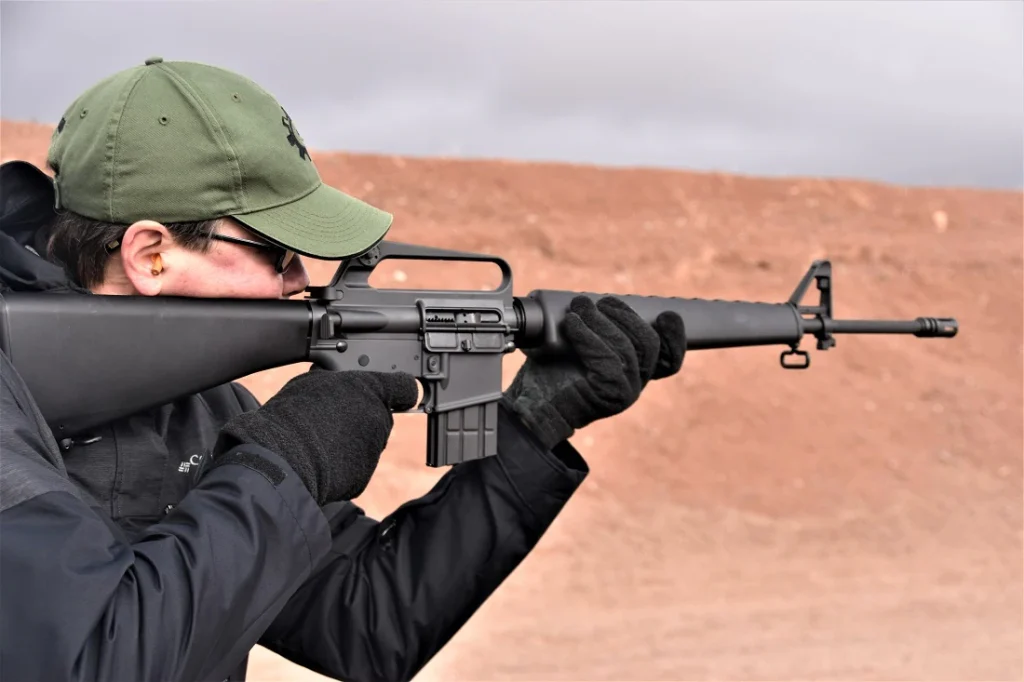 NoDak Spud's fame came from their attention to detail. Since they transitioned the owner of NoDak into the CEO role at H&R, he's been bringing that same expertise to a larger market and company capable of high-volume production.
H&R already has various models listed for sale, including the M16A1, 604, 654, 711, and 723. More variants are expected to be available as production ramps up.
Best Retro Rifle
1299
at Palmetto State Armory
Prices accurate at time of writing
Prices accurate at time of writing
Available Coupons
25% off all OAKLEY products – OAKLEY25


Copied!
Visit Merchant
As always, PSA also focuses on the builder and has already released barrels, uppers, lowers, as well as retro rear sights and parts.
PSA has been known for making affordable AR-15s. While the H&R line is a little more expensive than I had hoped, they are still reasonably priced, especially considering the quality, variety, and attention to detail.
Best Retro Carbine
1199
at Palmetto State Armory
Prices accurate at time of writing
Prices accurate at time of writing
Available Coupons
25% off all OAKLEY products – OAKLEY25


Copied!
Visit Merchant
What do you think of H&R? Rate them below!
2. Windham Weaponry
Windham Weaponry is a rebranding of the original Bushmaster company. They are still going strong and produce some awesome rifles, including the Windham Weaponry A1 Government.
As the name implies, you're getting an M16A1(ish) clone with all-new everything.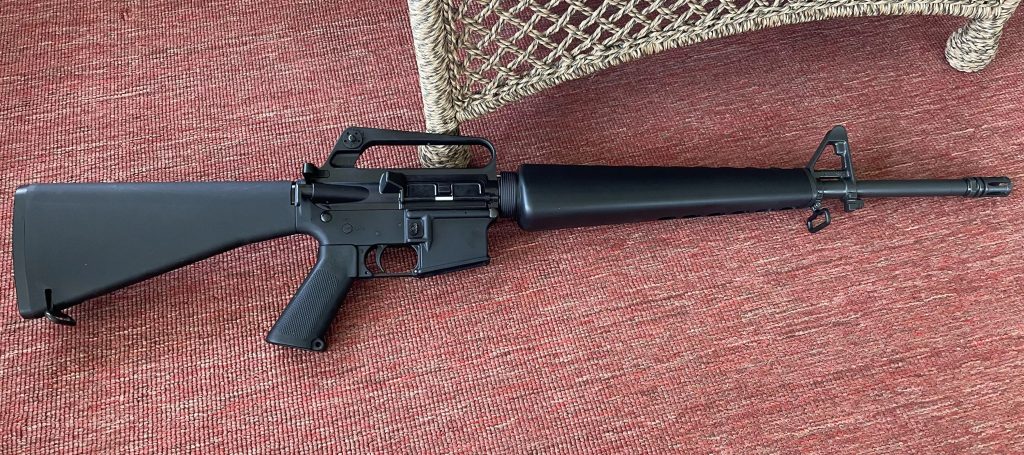 It's a buy-it-now option that won't require you to hunt down triangular handguards or a fixed carry handle upper. With the A1 Government, you get a straightforward rifle, similar to what the Army used.
The A1 Government uses an A1-style rear sight, A1 grip, A1 handguard, A2 buttstock, A2 Government profile barrel, and an A2-style lower.
Admittedly, it is a bit of a mish-mash of A1 and A2 parts, but it still exudes the classic feel and performance of the ARs of old.
Best Budget Retro AR
1169
at GrabAGun
Prices accurate at time of writing
Prices accurate at time of writing
Available Coupons
25% off all OAKLEY products – OAKLEY25


Copied!
Visit Merchant
The A1 Government represents that and shows you that even back then, the M16 and AR-15 series were destined for greatness. The Windham Weaponry model is fairly affordable and looks and feels great.
Windham Includes a hard case and an old-school black web sling to ensure you're ready to patrol the jungles of your backyard.
3. DSA M16A4
DSA is well known for producing high-quality FAL clones and various upgrades to the FAL platform. They have since expanded into the AR market and have tapped into the retro market.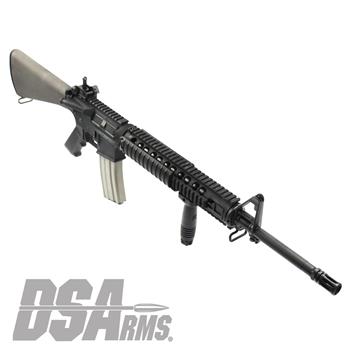 When you think of a retro AR, you likely picture an M16A1 or A2. But how do we define retro? Well, my definition happens to include the M16A4.
The M16A4 was the last of the M16 series and served both the Army and Marine Corps during the GWOT. I qualify it as retro because it's out of combat service and mostly seen among reservists and recruits these days.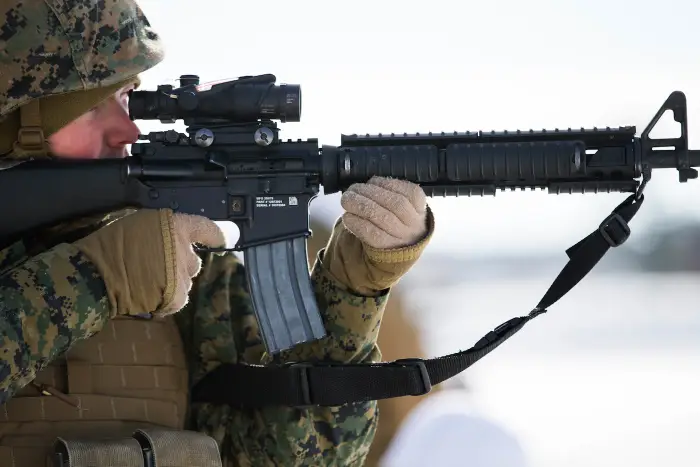 This big rifle is complete with all its faults and advantages. The shortcomings mainly include the long length of pull and off-balanced design due to the heavy Knight's Armament quad rail.
Yep, DSA includes the famed quad rail for attaching the brightest 200-lumen light 2008 had to offer. Your rail won't be bare because you also get the OG forward grip from Knight's and a rear sight…until you get your ACOG, of course.
Unlike other retro guns, this one was designed to accept optics. Like all rifle-length AR-15s, it's a very smooth shooter, recoil is basically nil, and the concussion is much calmer.
Best Optics-Ready Retro Rifle
1199
at DSA
Prices accurate at time of writing
Prices accurate at time of writing
Available Coupons
25% off all OAKLEY products – OAKLEY25


Copied!
Visit Merchant
Add a three-point sling and those ridiculous spare mag holders on the buttstock, and you're ready to step back 15 years in time.
4. Colt Retro Reissues
Is Colt doing something cool? What! No way!
Colt has stagnated for years, relying on their history, AR-15s, and 1911s to keep them afloat. But a few years back, they finally gave in to creating something new (well, old) with their Retro Reissue and AR-15 Military Classic line.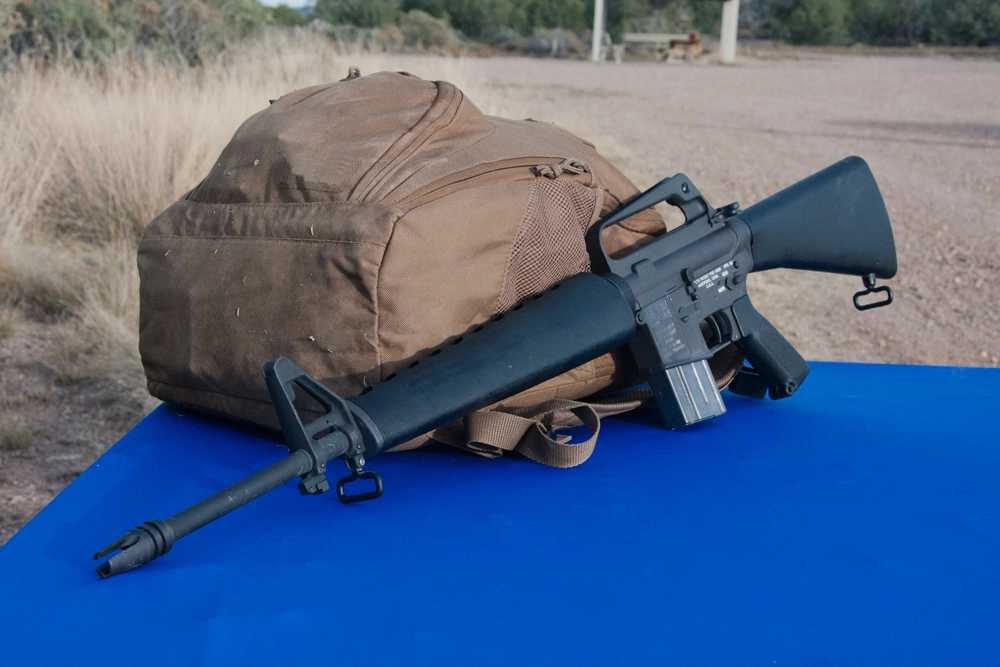 This includes the most accurate representations of the M16A1 out there. Colt held nothing back with this gun. You get exactly what you expect; they even scored right with the little details.
The Colt M16A1 retro reissue comes complete with a 20-round magazine and a 1:12 twist rate. On the outside, everything is correct, including the forward assist, the sights, the handguard, the lower, and the stock.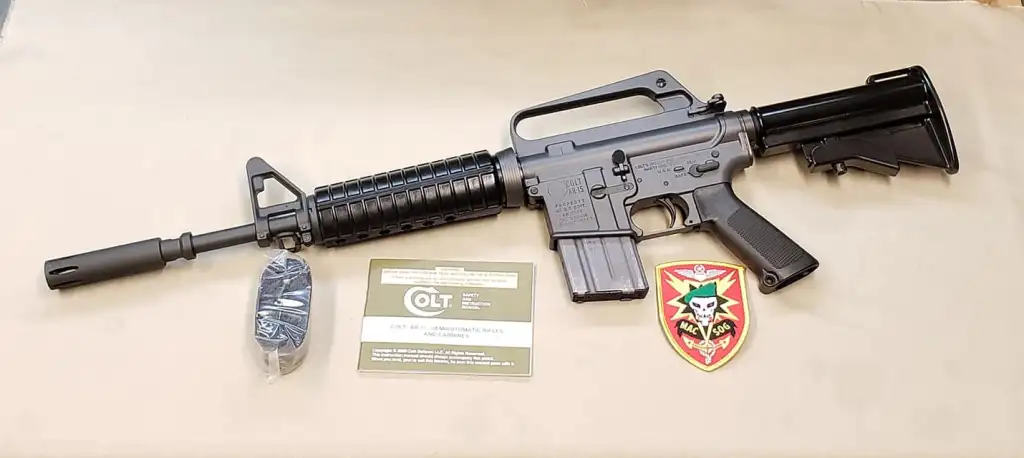 Aside from the M16A1, they also produced an XM177E2 "Commando" variant. This includes an NFA complaint pinned and welded extended flash hider designed to look like the original moderator.
Colt built the XM177E2 with the classic telescoping stocks, the original 1:12 barrel twist rate, and A1 sights. The stock is even theproper vinyl-acetate-coated aluminum design. It's the grandfather to what would become the iconic M4.
These guns even feature authentic roll marks and typefaces from the era. It's only missing that third selector position.
2499
at Palmetto State Armory
Prices accurate at time of writing
Prices accurate at time of writing
Available Coupons
25% off all OAKLEY products – OAKLEY25


Copied!
Visit Merchant
So, what's the downside? Well, Colt being Colt, apparently only made 2,500 of each, and they cost $2,500 each.
Hopefully, with CZ taking over Colt, we'll see some more retro reissues so we can continue to LARP Vietnam with Colt-stamped guns.
5. Brownells BRN-180
When I said Retro ARs, I didn't specify AR-15s, now did I?
Brownells used to partner with NoDak to make a ton of retro AR-15s, but they left that market. Although they still produce parts and accessories for retro rifles.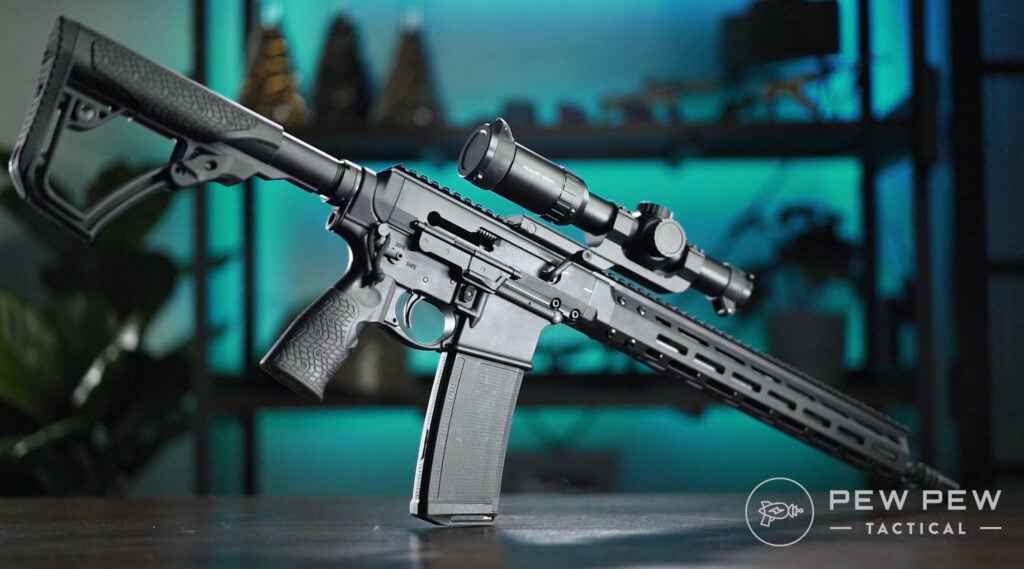 However, as far as complete rifles go, they produce a modified version of the AR-18 that's admittedly been modernized.
It might not count as a retro rifle to some, but the BRN-180 is my wildcard choice.
This short-stroke gas piston gun comes in both .300 Blackout and 5.56 and is available in various barrel lengths.
Best "Modern" Retro Rifle
849
at Brownells
Prices accurate at time of writing
Prices accurate at time of writing
Available Coupons
25% off all OAKLEY products – OAKLEY25


Copied!
Visit Merchant
True, the guns have M-LOK handguards and optics rails, but they stick to the dog leg charging handle and early flash suppressor design of the AR-180.
Additionally, these guns come in true rifle-length variants, and Brownells released a folding stock that resembles the original.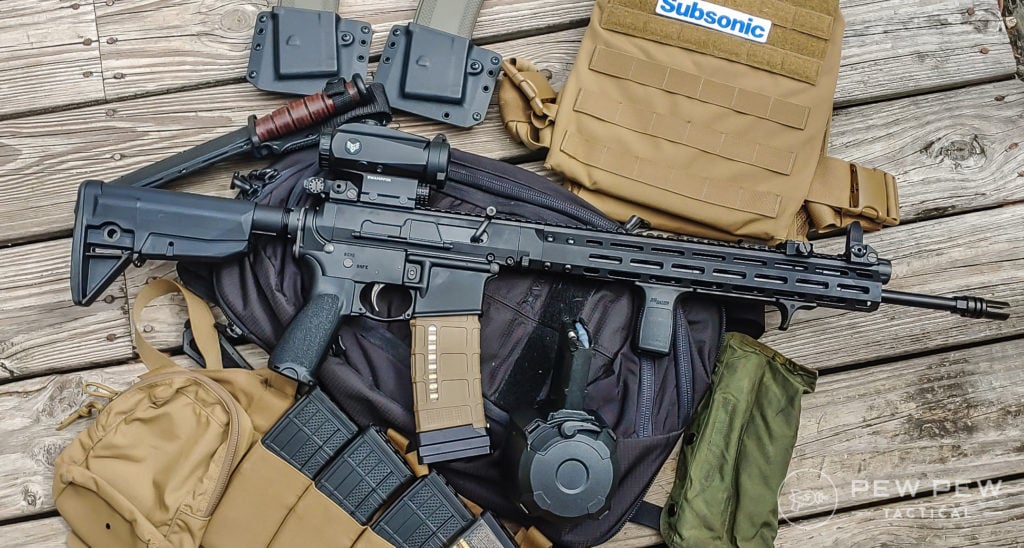 It's not quite retro, and I hear that argument, but maybe we can very nicely bully Brownells into making a more retro variant.
We have a full review of the BRN-180 packed with more details!
Final Thoughts
I personally love the retro market…I love retro shotguns, handguns, ARs, and I like it when a company returns to its roots and produces something a bit different from the modern fold.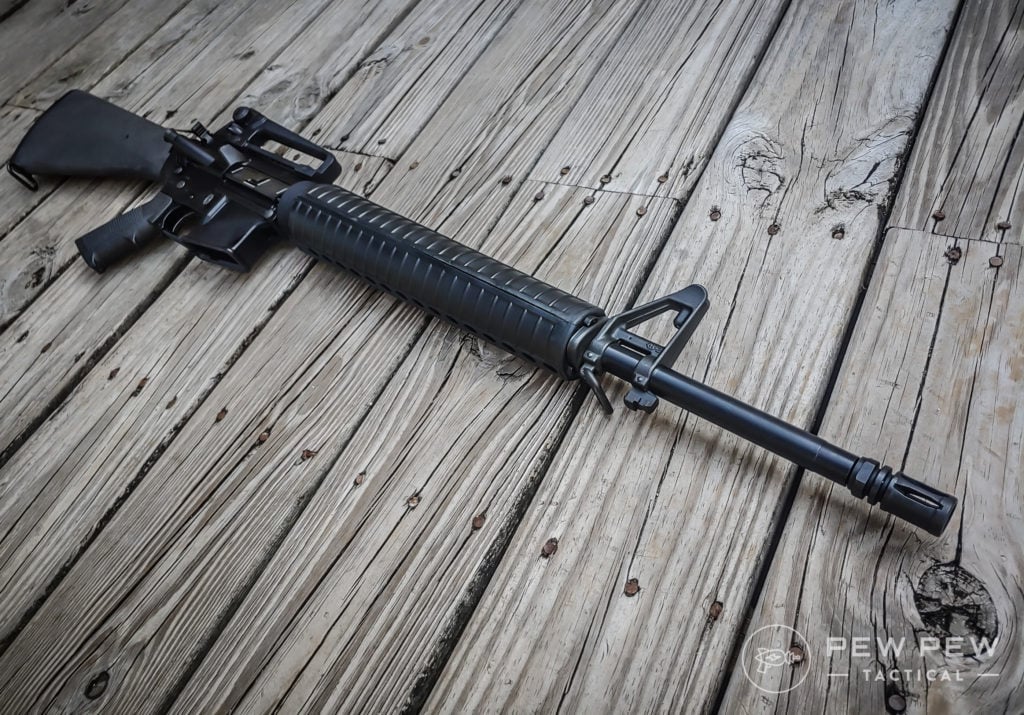 Retro firearms deliver a different experience. If firearms are a hobby for you, then these guns are a great way to experience the past without potentially spending crazy money on something that is more fit for a museum than a gun range.
Which guns would you like to see make a comeback? Let us know your thoughts and favorites in the comments below! Interested in retro guns other than ARs? Check out our article on the 7 Best Retro Reproductions: Classics Reborn!