NEW from Vortex comes the Defender-CCW micro red dot! Vortex was nice enough to send a pre-release unit out for review that I've been running for a couple of weeks, both EDC and in a local pistol competition.
Thank you for reading this post, don't forget to follow and signup for notifications!
While only time will really tell how good these red dots are, I have some insights, and first impressions that I think will help you choose your next dot.
SPECS & FEATURES
Footprint: Shield RMS
Dot Size: 3 or 6 MOA
Battery Type: CR1632
Battery Life: 9,500 Hours @ Setting 6
Auto Off/Turn on: 14-hour auto-off, motion-activated auto-on
7075 Aluminum Housing
Included In The Box:

Picatinny Mount
1-Degree Shim Plate
Common Mounting Screws
Rubber Cover
CR1632 Battery
Custom Tool

"ShockShield"
"Fast-Rack Texturing
Top Mounted Battery
8 Daylight, 2 Night Vision Brightness Settings
Waterproof
Parallax Free
Vortex has had micro red dots for a long time, but this is the first that I've actually liked. The Defender has some great features and design overall, with one drawback that I'm not crazy about.
Top of the list for the good stuff is the lens itself. First off, it's incredibly clear. With barely any filter tint to it at all, this is one of the clearest micro dots I've used. This makes looking at your target feel more natural and helps when you're on the clock. 
The dot is also bright and crisp, more so than a lot of other micro dots on the market. Even with my not-perfect eyesight, the Defender-CCW is still sharp and clean to use.
On the box, Vortex says, "Most Common Mounting Screw Set" is included, and they really mean it. 6 different sets of screws are included, which covers at least 15 pistol models. And best of all, every set is a 4 screw set – so you have extras when you lose or break screws. This is one of those little customer service details that I love to see.
The texturing on the front of the dot is nice for racking your slide, but I don't think it's a huge game-changer. Vortex proudly notes the "ShockShield" polymer inset on the top of the dot housing, but how much that actually matters is something only time and drop tests will tell.
Emitters Hertz
One thing I don't love about the Defender-CCW is the red dot emitter itself.
The red dot, for lack of a better term, has a low refresh rate. The more technical term would be the Hertz of the dot or the number of cycles per second the dot operates at.
I don't know the exact rating, but I know it's lower than a lot of other red dots on the market. What this means is that when the dot is moving, you don't see a clean red line as the dot moves. Instead, you see a series of dots.
One of the major benefits of using a red dot is the ability to see and react to what your gun is doing between shots. Tracking your red dot is a powerful and useful tool that results in better accuracy and faster follow-up shots.
This is best done when your red dot has a high enough hertz rate that the dot makes nice clean lines for you to see. The stuttering dots of a lower hertz rate is, at best, annoying and, at worst, harder to use and track. In my book, using an emitter like this was a big miss on Vortex's part.
That's my main beef about the Defender-CCW, and it's honestly not a deal breaker. But it was worth talking about.
With a slightly larger window than most micro red dots of this foot print, the Defender-CCW is a little easier to pick up and get back on target with. It's not as fast and easy as a larger window dot, but that's normal.
After a bunch of rounds down range – I don't have anything brilliant to say about it. It's a red dot. It works. That's not exciting to report, but it isn't a bad thing.
I wrote about the emitter already, but that is the only "problem" I ran into. I wish it was a higher refresh rate emitter and had a nice smooth line to track recoil with, but the lack of that isn't a huge deal breaker either.
For a competition dot, this isn't my top pick, but that's not surprising since this is the Defender-CCW. Small is easy to carry and easy to conceal. For that role, the dot is great. Small, and compact, but works.
WOULD I BUY IT?
I've owned other Vortex micro red dots in the past and was mostly unimpressed with them. The Defender-CCW is a solid dot that I think has some great potential.
MSRP is $350, so I would expect to see a street price of around $250. That's well in line with other options on the market, like the Holosun 507k. Given that the Defender-CCW also comes with Vortex's legendary warranty and you have an amazing value for the cost. And that's before you consider all of the extras like the screws, 1-degree shim, and rubber cover.
Bottomline, I think this is a good buy.
LOOSE ROUNDS
It's great to see Vortex taking a huge leap in micro red dots. While the Defender-CCW doesn't break new ground, it does mark a major improvement for Vortex. This is a microdot that really lives up to the expectations I think most of us have come to have for the brand.
Time will tell how much abuse these dots can take, but for the price, there is a lot to love.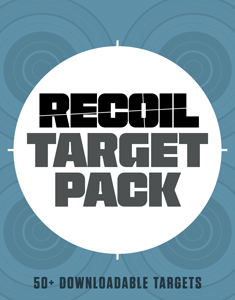 NEXT STEP: Download Your Free Target Pack from RECOIL
For years, RECOIL magazine has treated its readers to a full-size (sometimes full color!) shooting target tucked into each big issue. Now we've compiled over 50 of our most popular targets into this one digital PDF download. From handgun drills to AR-15 practice, these 50+ targets have you covered. Print off as many as you like (ammo not included).
Get your pack of 50 Print-at-Home targets when you subscribe to the RECOIL email newsletter. We'll send you weekly updates on guns, gear, industry news, and special offers from leading manufacturers – your guide to the firearms lifestyle.
You want this. Trust Us.