The Sig P320 is a revolutionary platform that uses what's called a fire control unit (FCU) as the legal firearm. The FCU is a small piece of metal that houses the internals of the firearm and allows it to be popped in and out of a frame with absolute ease. Thus, the FCU, the legally serialized portion of the firearm, can jump between frames and slides to form entirely new weapons without issue. This allows you to convert your P320's size and caliber and a noticeable aftermarket has taken shape that capitalizes on the P320's design. One company is called FLUX, and they produce a frame known as the Flux Raider.
Thank you for reading this post, don't forget to follow and signup for notifications!
The Raider goes beyond your normal pistol frame and integrates a spring-loaded quick-deploy brace, as well as a spare magazine holder, an optic rail, and so much more. It's a truly unique piece of gear that takes the P320 out of the pistol realm and into the PDW field. Well, almost. Let's talk about a few accessories that make the Flux Raider a true PDW.
What's the Flux Raider?
At the end of the day, the Flux Raider is essentially a P320 frame. You drop your FCU into the frame and attach your slide, and you are good to go! The frame integrates a brace or stock if you take the SBR route. This brace collapses to sit flush with the frame. A lever on the right side instantly deploys the brace. It flies rearward for quick and easy stabilization.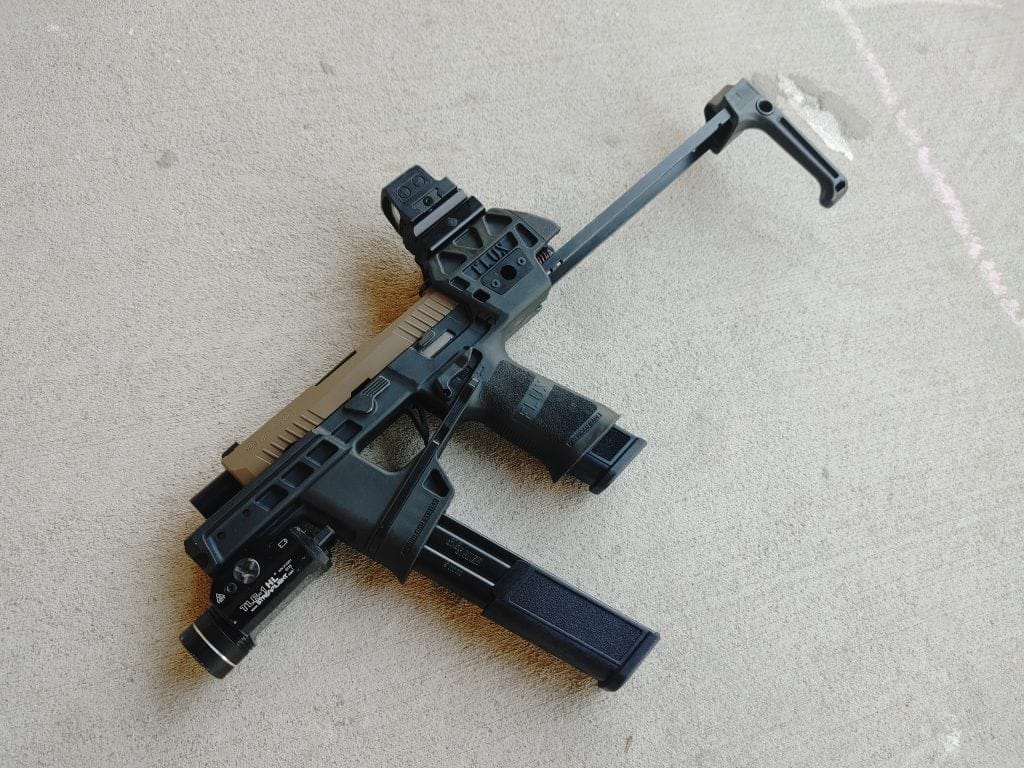 There Flux Raider does use a manual safety because it becomes a bit less hoslter-able than the standard pistol. Across the top rear sits a section of the rail to allow a wide variety of optic options. Up front, under the slide, sits another rail for accessories.
Additionally, the means to swap magazines changed significantly. The Raider has two ways to release the mag. The first is a lever on the left side you can press forward with your thumb. The second is a button on the right side you can press with your trigger finger. In front of the trigger sits a magazine holder that allows you to carry a spare. It releases via a tab behind the mag carrier. This tab will release both magazines. When used correctly, it can make reloads super fast and easy.
The Flux Raider makes a full-sized handgun even larger.
How To Turn Your Flux Into a Proper PDW
Now that we have a Flux Raider, how can we make it into a versatile weapon designed for defensive shooting? It needs to remain compact but also easier to use in all environments. It should stay concealable to a degree but also take advantage of what the Flux has to offer. The addition of a few accessories can take it to the next level.
You'll Need an Optic — Holosun 509T
You can look underneath the optics rail and use the iron sights, but you're just committing heresy. Why not add an optic? Specifically a red dot. This gun is still designed for relatively close-range firefights. A red dot just makes sense. The Holosun 509T is an enclosed emitter optic that is more reliable, especially when used on a PDW.
Rain, dirt, and snow can get between the emitter and glass of a normal optic. That's not an issue with the 509T. Since the Flux Raider is likely going to be out and about more like a subgun than a traditional pistol, the enclosed emitter design just makes sense.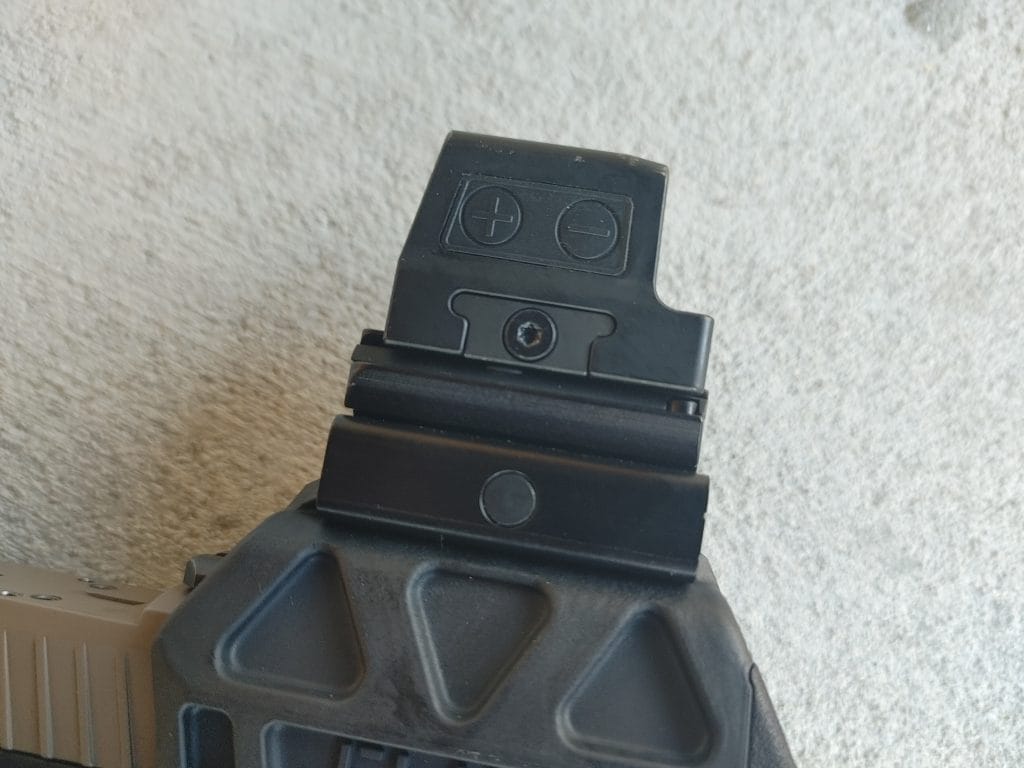 The 509T multiple reticle display allows you to choose between a dot and a circle or a dot. The 32 MOA circle-and-dot is perfect. Since the optic sits somewhat high, you'll need to account for height over bore, and at ultra-close ranges, you can aim with the bottom of the circle for precise shots. At longer ranges, say close to 100 yards, you can also use the bottom of the circle to account for bullet drop.
It's the perfect optic for a budding PDW.
A Light Too — TLR 1 HL
Any proper self-defense weapon should be equipped with a light, especially when they are this size. The TLR 1 HL is traditionally a pistol light, and it works fine on a PDW too. It's one of the most widely used lights on the market and offers 1,000 lumens of power backed by 20,000 candelas.

It remains compact and fits nearly flush on the Fluix Raider frame. The little light ensures you can establish PID regardless of where you are and what the lighting conditions entail. The TLR 1 is tough as nails and provides a fair bit of power for its small size.
A Little Extra Ammo — 30 and 21 Round magazines
PDWs should be low profile and designed to be discreet and easy to carry. For less overt roles, the 21-round magazines are perfect. They cut down on some of the weapon's overall size while providing 42 rounds of ammo on the gun.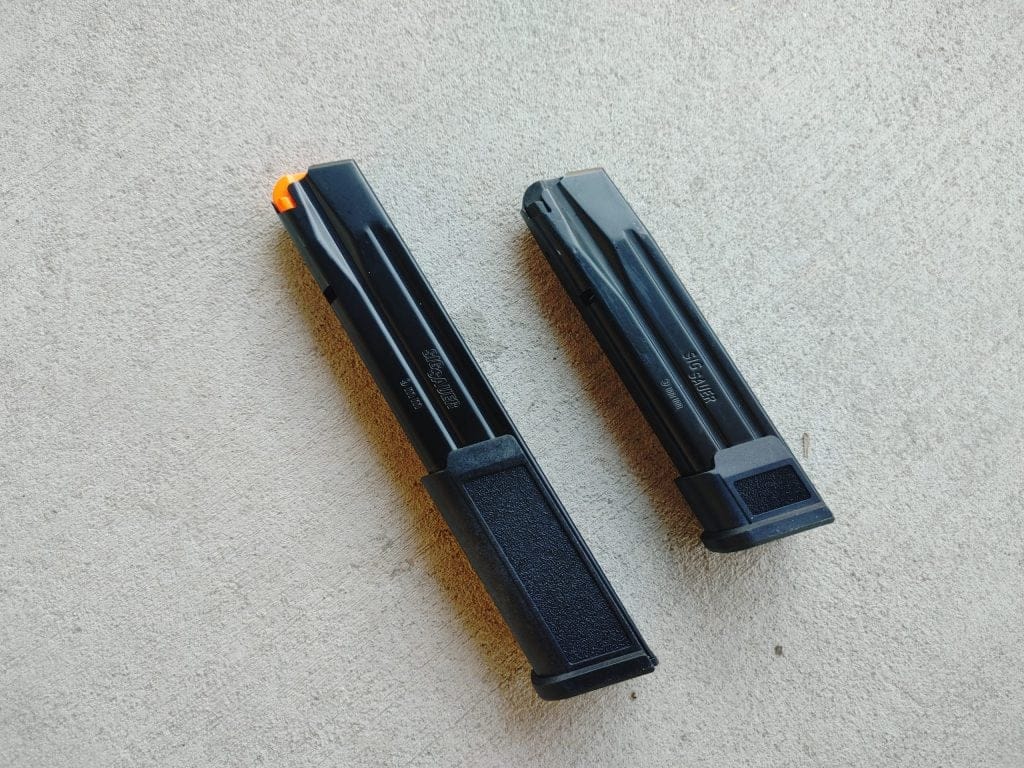 SIG also recently released a 30-round P320 magazine that I think is perfect for the Flux in a more active defensive role. If it's your bedside security gun, more is better than less. With 60 rounds on the gun, you'll have more than enough ammo to solve a personal defense problem.
Depending on how you carry the Flux Raider, the 30-round can serve as a backup mag if things get really ugly. It can ride in your bag and be gabbed when things start looking grim.
Covert Carry With the Vaultek Tactical Slingbag
You can't exactly carry this thing appendix, well, not easily. I think Post Malone carries one openly, but that's not for all of us. Instead, we have to rely on off-body carry. Typically I'm not too fond of off-body carry, but the Vaultek Tactical Slingbag sells it to me. When a gun-safe company makes a sling bag, you know it should be secure.

This bag offers a built-in cable-guided system to secure the SlingBag and lock it down. The zippers are also lockable if need be. The bag is water resistant and uses anti-pick pocketing zippers to keep the unauthorized out.
The main pouch can easily conceal the Raider, and the two rear pouches allow for the storage of extra goodies, including a medical kit, magazines, and more. It's a well-put-together option for carrying the Flux Raider concealed and securely.
The Concealable PDW
The Flux Raider is a very interesting take on the PDW concept, and it takes full advantage of the modularity of the P320 design. With a few accessories, you can turn your Flux Raider into a proper PDW, making it easier to use, more effective, and more prepared for whatever lies ahead.