7.62×39 ARs are all the rage right now and are an absolute blast to shoot. Of course, it's hard to shoot without mags, and it's a pain in the ass to shoot with bad mags, so we wanted to take a look at the 7.62×39 AR mags to find the ones that actually work.
Thank you for reading this post, don't forget to follow and signup for notifications!
And maybe separate them from the ones that won't feed worth a crap. 
Let's talk about what you should look for in a magazine, and which 7.62×39 AR mags are worth your time and money. 
WHAT MAKES A MAGAZINE GOOD?
If it feeds reliably, it's good. 
Seriously, aesthetics aside, which aren't an issue for most people (unless you really want some Marine-themed mags or something) that's all you really need a magazine to do. Right?
Of course, it's easy for a magazine to feed well out of the box, but what about when it gets out into the real world and actually gets used? Getting dropped, kicked around, filled with dust and dirt, left loaded in the back of the safe for 8 months, and otherwise mangled through real-world use? 
Does it still work? Can it handle actual field use, or does it only work a couple of times and then crap out on you? 
The real test is in the design of the feed lips, and the overall construction of the mag, both of which should be focused on durability and reliability, even (or especially) in adverse and suboptimal conditions. 
We're all rougher on our gear than we should be, and while every magazine is a consumable that will eventually wear out, obviously, we all want them to last as long as possible. 
Finally, the taper of 7.62x39mm rounds means that there's some careful engineering involved in getting it from the mag to the chamber of an AR upper smoothly, so we paid close attention to that as well.
BEST 7.62X39 AR-15 MAGAZINES
Duramag Stainless Steel 7.62x39mm
If you're a fan of old-school GI mags and classic AK mags, or you just like the look and feel of steel, these Duramag Stainless Steel mags are a great option. In our testing, they fed well, survived being run hard and dropped in the dirt, and the feed lip design is solid.  
These are a little bit expensive, but not too terribly bad for a steel mag for such a niche caliber/rifle combination. For something like a STANAG 5.56 mag, this would be a little much, but they're actually priced very reasonably for what they are, and the amount of extra issues a 7.62x39mm AR-15 presents.
D&H Industries 7.62x39mm AR15 Magazine
If you're looking for something a little more robust than the stainless Duramag models, then D&H Tactical is a great place to start. Their mags are heat-treated high-carbon steel, corrosion resistant, and use a proprietary limited-tilt follower, so they will feed well in adverse conditions.
They are each coated in a nitrocarburized (QPQ) "Hostile Environment Finish" to help keep rust and corrosion from spent powder at bay and to help resist scratches, dents, and dings as well. They feed reliably, have a nicely engraved caliber logo, so you don't get them mixed up with other mags, and are each built like a tank. 
E-Lander 7.62x39mm AR15 Magazine
If you want (or are legally limited to) a 10 or 15-round magazine, then E-Lander has you covered. Another steel option, coated with a KTL Maritime finish that has been tested to withstand 96 straight hours of abrasive salt spray. That's pretty extreme, but perfect if you live in that kind of environment.
They also feature an anti-tilt follower, and a reinforced floor plate to keep the mag from taking damage and deforming even if you're doing a malfunction clear and dropping a full mag straight onto a hard surface. 
E-Lander also sends their stuff out to military and police units for testing and feedback and then incorporates that into every design, so you can be sure that these mags have been beaten all to hell in real-world field conditions and still managed to hold up.
And, if you're in one of those states that have opinions about mag size, these are perfect for you on that score, as well as you can get them in 5, 10, 15, and 30-round sizes. 
Franklin Armory DFM 7.62x39mm AR15 Magazine
Franklin Armory is most well-known for its binary triggers, but they make a host of other accessories as well. These DFM mags are specifically restrictive-state compliant, so if you're somewhere that doesn't allow drop-free mags like CA, CT, or NY, this is probably the best option for you.
The mags have limiting tabs that require you to disassemble the action to remove them, making them compliant in those states that don't like push-button magazine releases. You have to pull the rear receiver pin and let the rifle pivot open, then you can pull the mag up and out of the lower receiver from above. 
It's a bit of a faff, but it's the only way to comply with rulings in states with very restrictive detachable mag rules, so it is what it is. It's still a well-made mag and functions flawlessly for all that, so Franklin Armory did a good job on this one.
ASC 7.62x39mm AR15 Magazine
If you're looking for a more budget-friendly option, or you just want to buy in bulk, then ASC might be the way to go for buying cheap and stacking deep. You can get a 5 pack of blem mags (superficial scratches only, no functional issues) for about $17/each, making them one of the cheapest options around.
They're available in coated stainless, usually black or FDE, though we've seen a few others come up from time to time as well, usually all standard "gun" colors that you've seen in other mags and popular furniture. 
You have 5, 10, 20, and 30-round options available, and all the ones we've tested have functioned absolutely flawlessly despite getting kicked around on a concrete range floor and stepped on in a dusty field in Western Tennessee. 
LOOSE ROUNDS
There aren't a lot of options out there for 7.62x39mm AR-15 mags, certainly nothing like what you'll find for a more popular caliber like 5.56 or .300 Blackout. Still, there are some great choices out there that will work for everything from hunting to home defense.
You should now be armed (pun intended) with everything you need to know in order to pick the right one for you.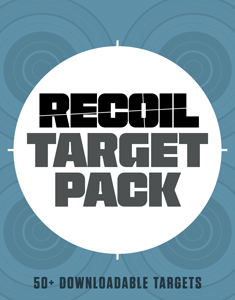 NEXT STEP: Download Your Free Target Pack from RECOIL
For years, RECOIL magazine has treated its readers to a full-size (sometimes full color!) shooting target tucked into each big issue. Now we've compiled over 50 of our most popular targets into this one digital PDF download. From handgun drills to AR-15 practice, these 50+ targets have you covered. Print off as many as you like (ammo not included).
Get your pack of 50 Print-at-Home targets when you subscribe to the RECOIL email newsletter. We'll send you weekly updates on guns, gear, industry news, and special offers from leading manufacturers – your guide to the firearms lifestyle.
You want this. Trust Us.