Trending: Best Ammo In Stock, Best AR-15, & Best 9mm Pistols
Pocket pistols have somewhat fallen out of vogue since the arrival of single stack 9mms, newer high-capacity micro compacts, and loads of modern concealment holster options.
Thank you for reading this post, don't forget to follow and signup for notifications!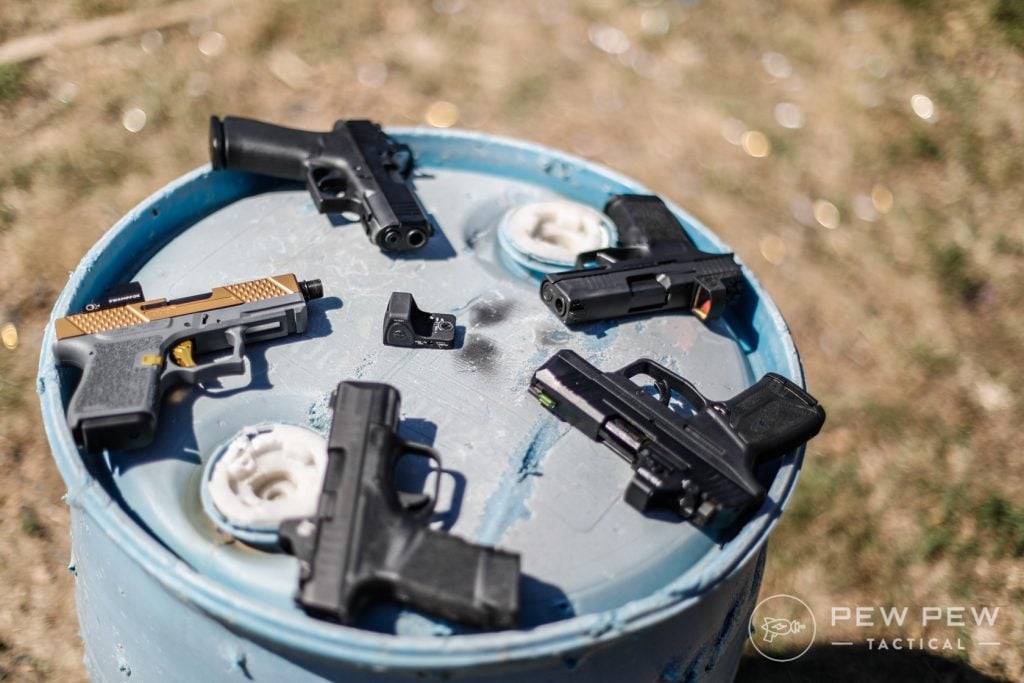 Many people that bought older pocket .380s fired them a few times and realized they suck.
Thus, the pocket pistol genre slowed down in sales as people realized slightly bigger was much better.
However, maybe they just had the wrong caliber. What if we ditched the .380 ACP and looked at something in .32 ACP?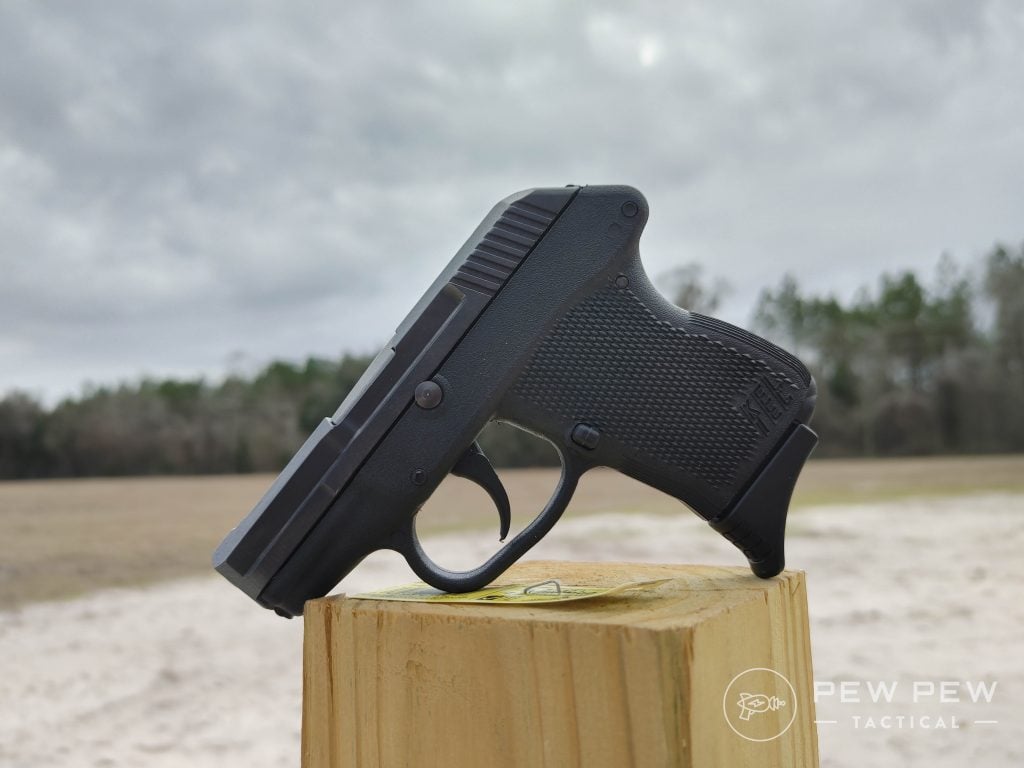 Thinking just that, I recently went searching for a .32 ACP pocket pistol and settled on the KelTec P32.
If you are wondering why I picked this one, read on as I run you through its specs/features and take it to the range.
Table of Contents
Loading…
KelTec P32 at a Glance
Pros 
Ultra-light at 6.6 ounces
Only .75-inches wide
7-round flush fit magazine
Full-length slide rails
Short recoil operation
Cons
The Bottom Line
The KelTec P32 offers shooters a micro-sized pocket pistol in a much lower recoiling caliber than most. It's very simple and works perfectly for pocket carry. The caliber may seem anemic, but it will reach the necessary penetration requirements with the proper ammunition, making it a viable deep concealment carry gun.
299
at Sportsman's Warehouse
Prices accurate at time of writing
Prices accurate at time of writing
Available Coupons
25% off all OAKLEY products – OAKLEY25


Copied!
Visit Merchant
Specs & Features
Specs 
Width: 0.75″
Length: 5.07"
Barrel Length: 2.68"
Height: 3.5"
Weight (empty): 6.6 ounces
Capacity: 7+1
Features
Short recoil operation
Rear slide serrations
External extractor
5-pound DAO trigger
Source: KelTec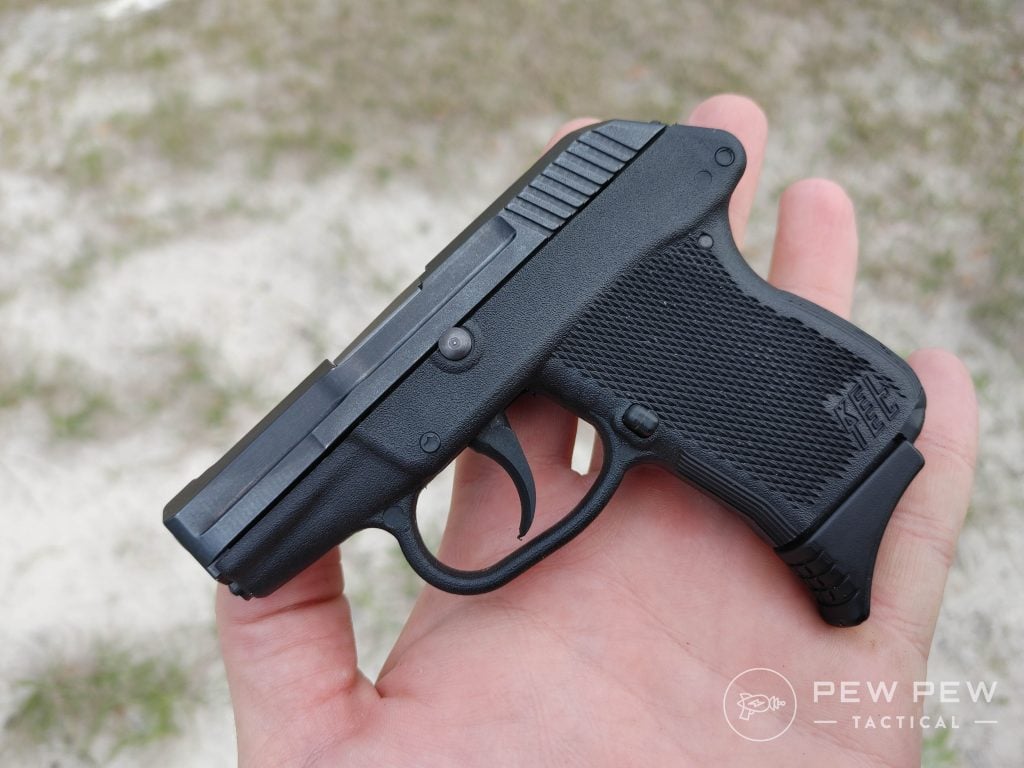 Background
There seems to be a total of three concealed carry .32 ACPs on the market today: the Seecamp, the Beretta 3032, and the subject of today's article, the KelTec P32.
As much as I wanted a tip-up Beretta, the reputation for cracked frames scared me away. The Seecamp is heavier, lacks sights, and is thicker.
Thus I settled for what appears to be the thinnest and lightest .32 ACP, the KelTec P32.
The P32 is a very simple pistol. Extra features are limited; no rails or optics here. The P32 comes in two generations. Mine is the first-gen model with a rather interesting set of sights.
They are milled into the slide and sit flush. The front sight is a white triangle, and the rear is a white rectangle. Put the triangle on top of the rectangle, and you have your sight picture.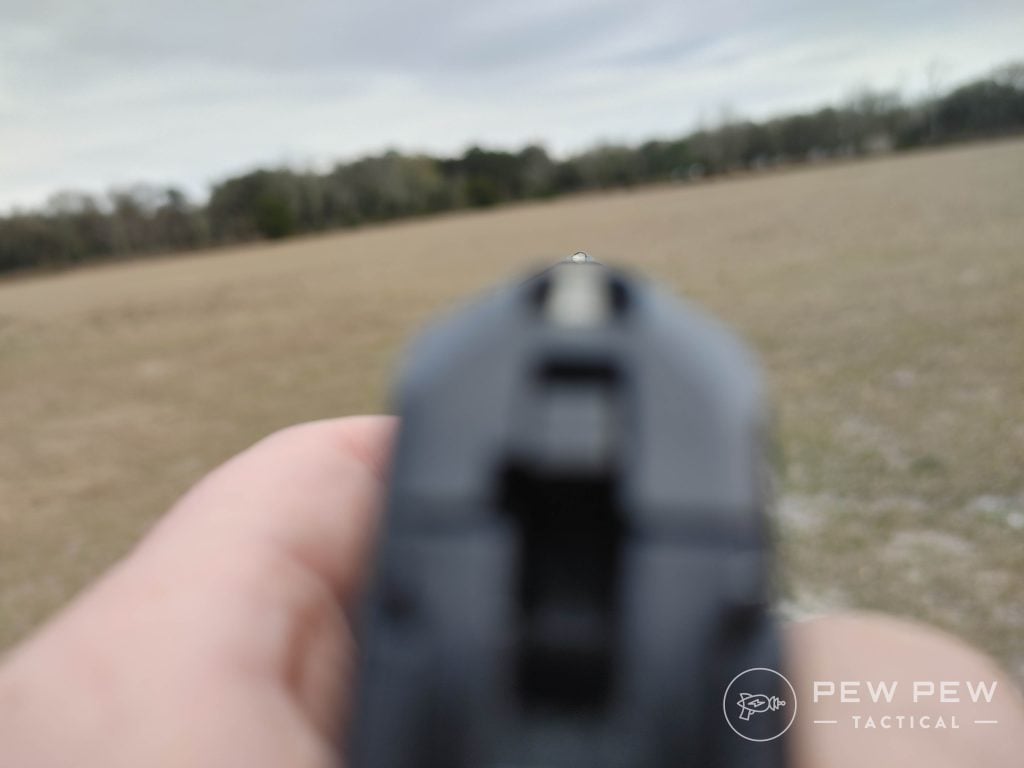 The second-gen guns use a much more traditional notch and post.
The P32 uses a double-action-only, hammer-fired design. While the trigger pull is somewhat long, it's light. However, it doesn't offer restrike capability because the trigger is partially cocked by the slide traveling rearward.
Another interesting design idea was to use a short recoil operation. While commonplace on larger pistols, most pocket pistols are direct blowback. Short recoil helps reduce overall recoil.
Who Is It For?
KelTec initially designed the P32 as a backup gun for law enforcement, debuting in 1999. It was small, easily carried, and convenient.
With the rise of concealed carry, it took a new life as an ultra-small and easy-to-shoot option for self-defense.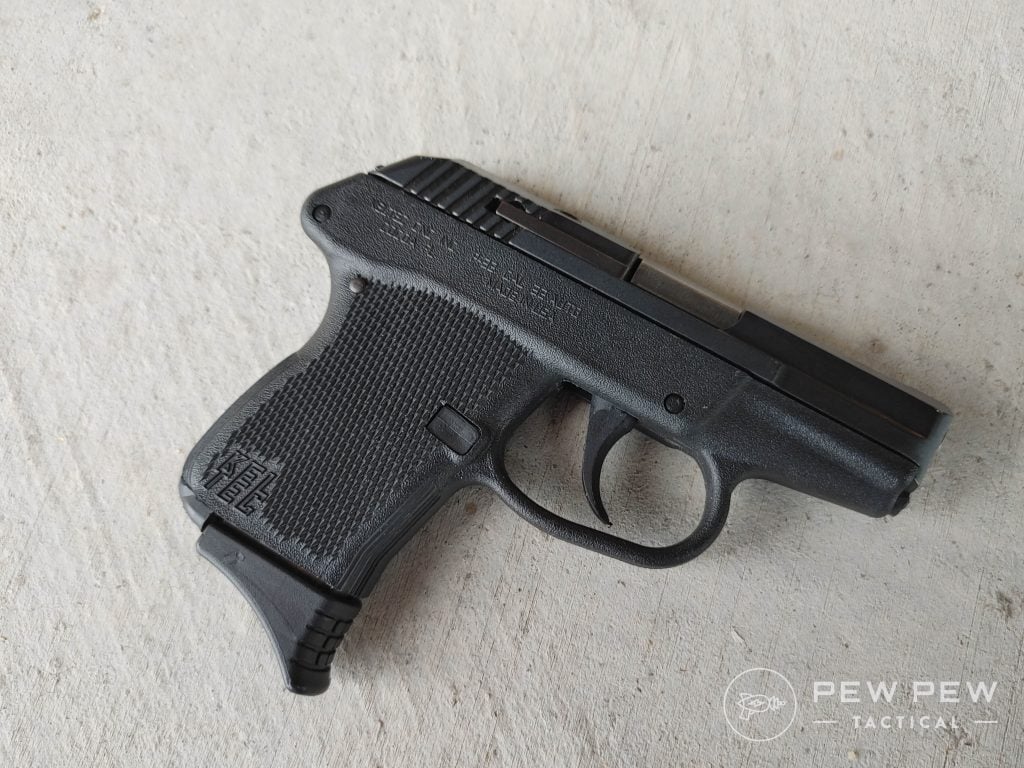 I typically advocate for something more akin to a P365 or Hellcat for concealed carry. I find these to be the perfect size for concealed carry and a great compromise of size, power, and capacity.
Maybe you have to dress fancy, your work uniform isn't conducive to concealed carry, or you just can't carry a larger gun. That's where the P32 shines.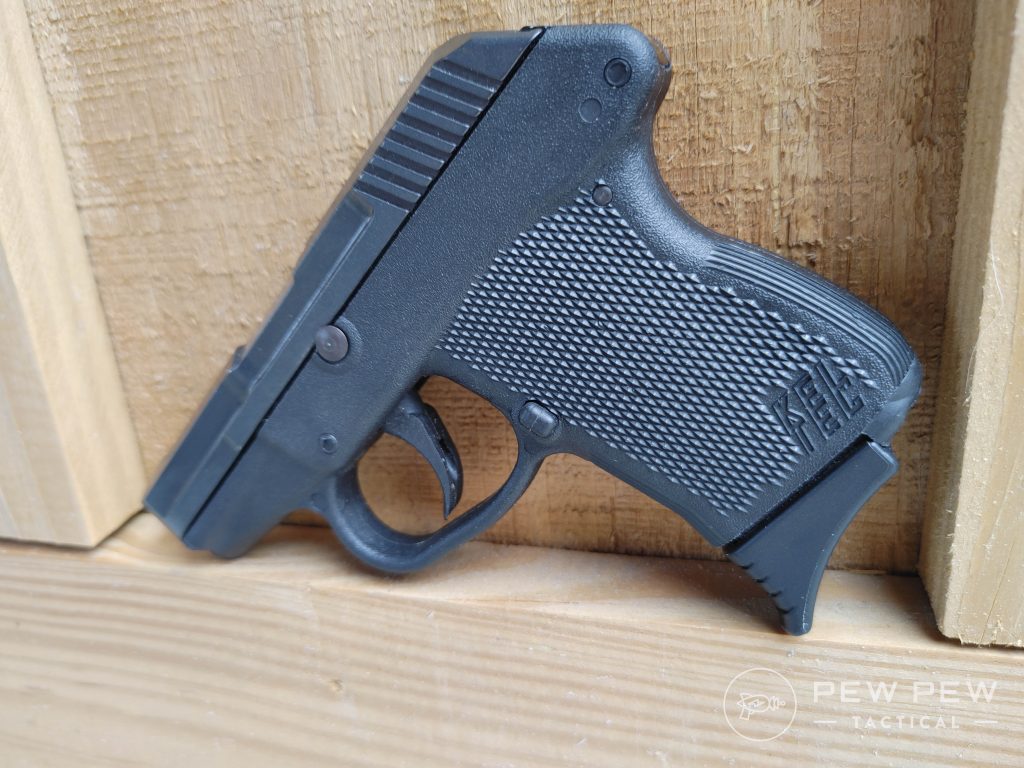 At .75 inches thick and weighing in at insanely light 6.6 ounces, the gun can be carried anywhere in any position. You can tuck it in your pocket, on your ankle, or in a belly band, and it absolutely disappears.
While close in size to some other tiny .380s, those guns also have about twice the recoil energy. With the P32, shooters get a much easier-to-shoot weapon in a caliber still capable of adequate penetration.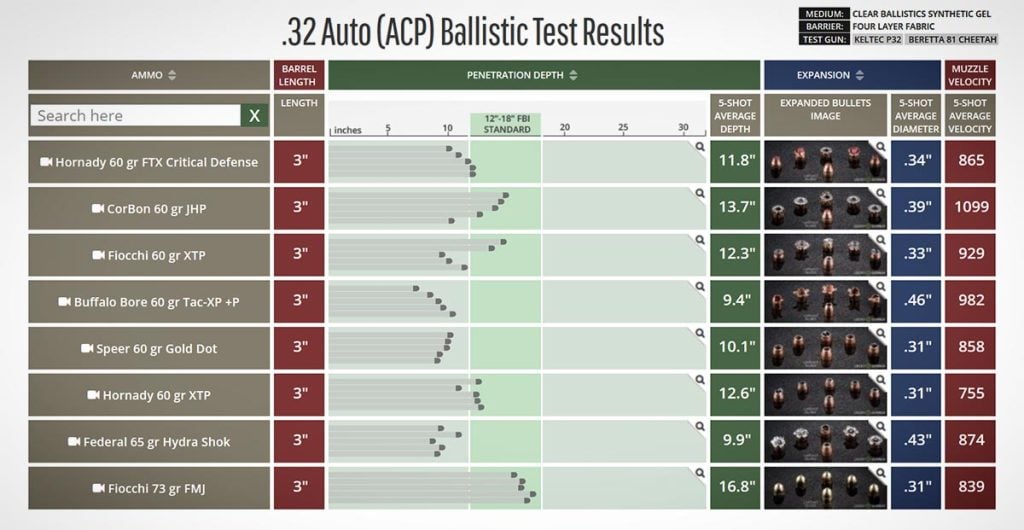 It would appear that KelTec makes the P32 in batches, so they can be a struggle to find at some times.
Fit and Feel
KelTec doesn't make fancy guns. They make workable and affordable firearms. Sometimes they make creative firearms as well.
It's no secret that KelTec firearms, especially early designs, weren't always up to snuff. Old KelTec forums are full of information on how to fluff and buff early pistols to make sure they run.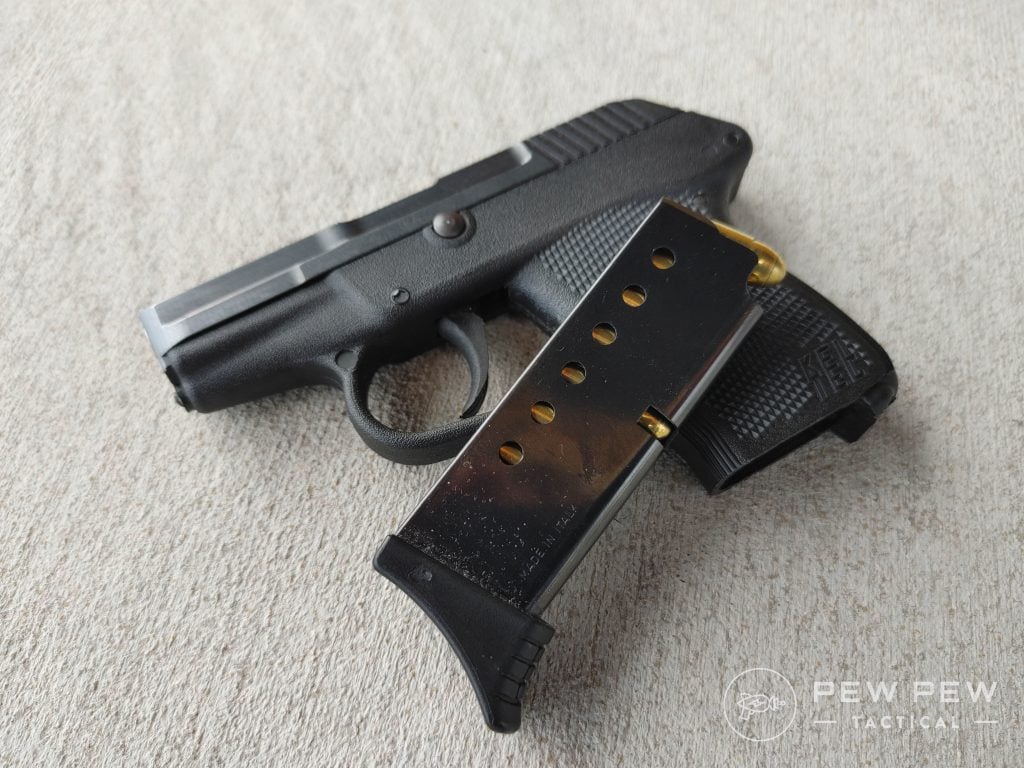 Luckily, my Gen 1 runs great. Gen 2 P32s don't require this fancy treatment to work and work without issue.
Remember, when you pick up a P32, don't expect to be blown away. You can see the seams in the polymer frame. The slide looks fine, but the finish is lackluster. It won't win any beauty contests.
Once it's in your hand, you begin to make a few discoveries about how it functions. The slide is small, but the serrations at the rear make it easy to manipulate. The light recoil spring also makes it very easy to rack.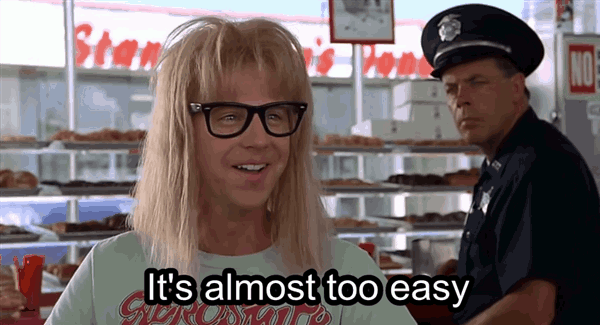 The magazine release button is placed well for easy access, and when hit, the magazine ejects with good force. While the grip texture is butt ugly, it's aggressive and sticks to your hand fairly well.
I suggest a grip extension if you wear XL gloves like me due to how extremely small and thin it is.
At the Range
Finding .32 ACP isn't too hard if you don't mind shopping online. Even locally, I found four boxes of it for a reasonable price.

A little warmup with the FMJ ammo instantly showed the gun was a soft shooter. I'm used to guns this small in centerfire calibers giving me that slap-high-five feeling — that's not the case here.
Getting round after round onto a target at 10 and 15 yards isn't hard. It's surprisingly easy to keep the gun under control. It doesn't try to fight its way out of your hand as many small .380s do.
In terms of accuracy, the gun won't win any bullseye contests. The sights are a little wonky, but once you get over the learning curve, they work.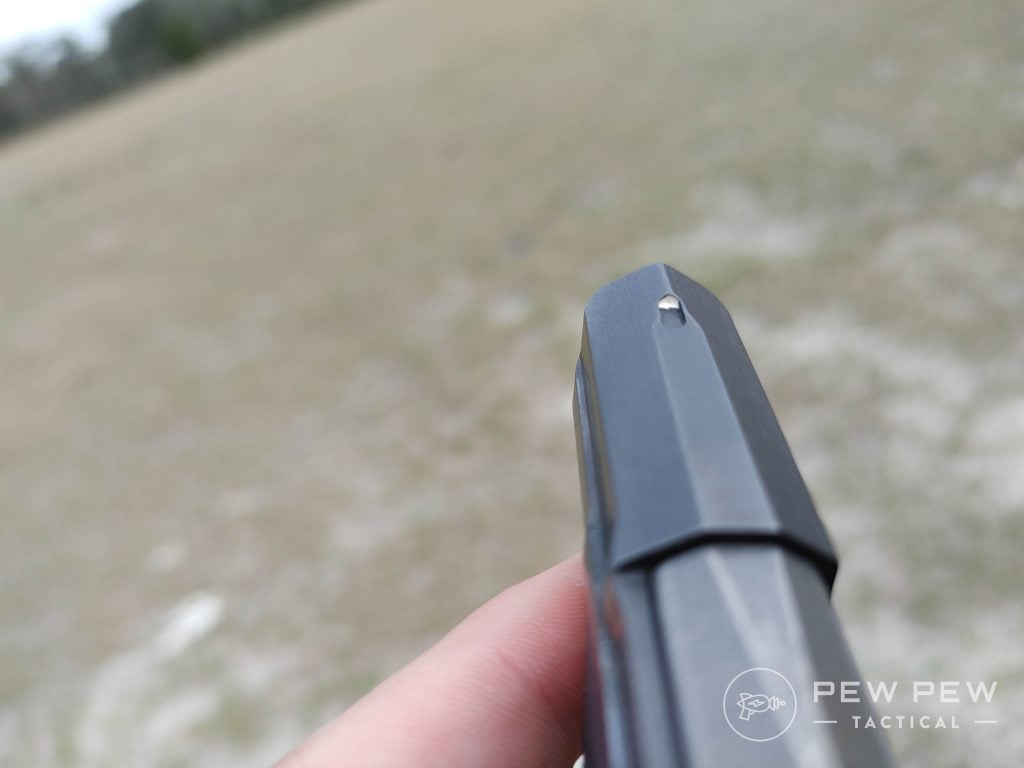 I did a modified 10-10-10 drill with the eight rounds I had in the gun. I kept six in the black and two in the eight ring at first. By the end of the day, if I used all 10 seconds, I could occasionally get an all-black run.
These guns are often called belly guns, and most people think they cannot be effective past something like seven yards. I beg to differ. I stepped back to 25 yards and took aim at an IPSC target.
I took my time and landed eight shots in the C and A zone of the target. That's not too bad as far as I'm concerned.
The trigger is a DAO in length but not in weight. It breaks at around 5 pounds and is not terrible by any means — you just have to get used to riding the reset entirely out.
KelTec's P32 does lock the slide open when the last round is fired, but it does not have a slide release. Shooters have to slingshot the slide to release it.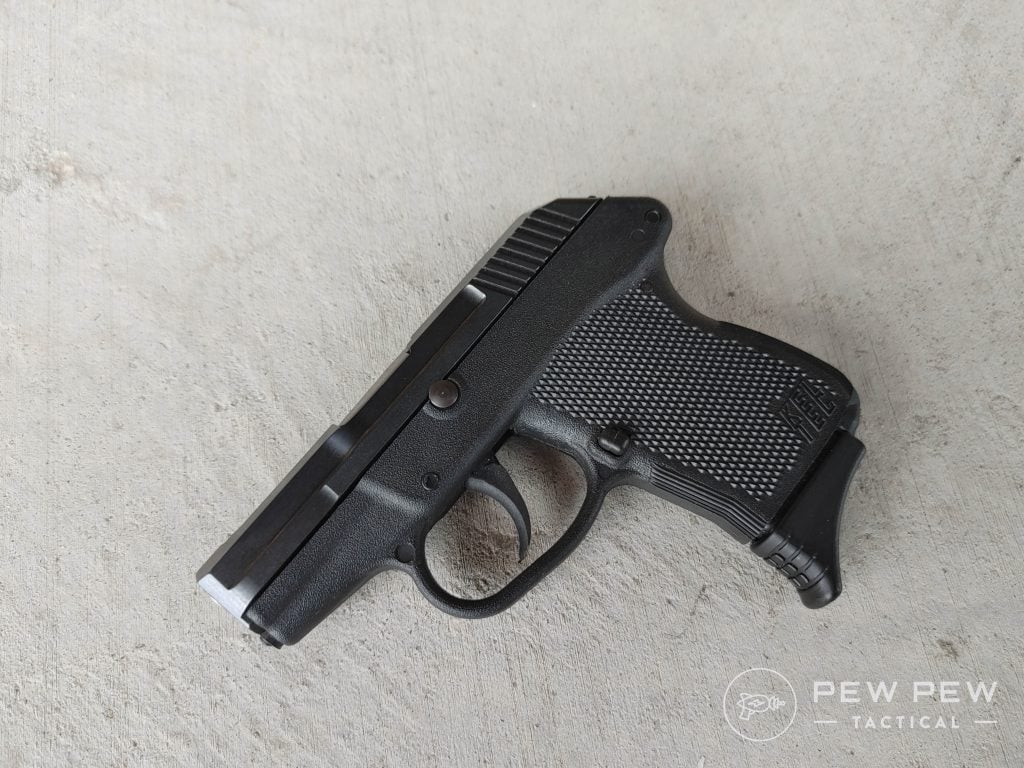 In the reliability department, the gun ate through all 320 rounds over three days without issue.
I ran 300 rounds of Fiocchi FMJ and 20 Federal Personal Defense JHP rounds. I would have liked to run more JHP rounds, but they are neither cheap nor easy to find all the time.
What Sets It Apart
The P32 is not only a tiny gun but a very easy-to-shoot gun. The lower recoil of the .32 ACP makes it one of the few pocket pistols I'd describe as pleasant.
While it still has some of the pocket gun issues, it's really the only one I've ever enjoyed shooting.
24
at True Shot Gun Club
Prices accurate at time of writing
Prices accurate at time of writing
Available Coupons
25% off all OAKLEY products – OAKLEY25


Copied!
Visit Merchant
Its size and weight also make it the lightest, thinnest, non-rimfire handgun on the market. It's super easy to conceal and allows it to work around all manner of dress.
By the Numbers
Reliability: 5/5
Pull the trigger, and it goes bang — not much to it.
Ergonomics: 4/5
A tiny grip is necessary for concealed carry but not great for your hand. The weapon is simple, with just a magazine release to speak of. The last-round hold open is a nice touch, as is the lightweight racking slide.
Accuracy: 3/5
For a little gun, it's easy to control, and that helps with practical accuracy. Don't expect to win any contests, but it's no belly gun by any means.
Customization: 2/5
You can add a magazine extension, a laser, and grip texture, but not much else. A company called Performance Shooting Enhancements makes some ingenious replacement sights that I might have to invest in.
Value: 5/5
The modern, brand-new P32s can still be had for less than $300, and the magazines are not terribly priced either, often selling for less than $20.
Overall: 4/5
The P32 is my favorite pocket pistol. It's so easy to shoot and enjoyable that I'll likely never look at a pocket-sized .380 ACP again. It's small, reliable, and easy to shoot.
299
at Sportsman's Warehouse
Prices accurate at time of writing
Prices accurate at time of writing
Available Coupons
25% off all OAKLEY products – OAKLEY25


Copied!
Visit Merchant
Final Thoughts
I wouldn't carry the P32 as an EDC. It does, however, serve well as a special-purpose carry gun.
When you need something extremely tiny and crazy lightweight, the P32 is tough to beat. Drop it in your pocket, load it with FMJs, and you're good to go.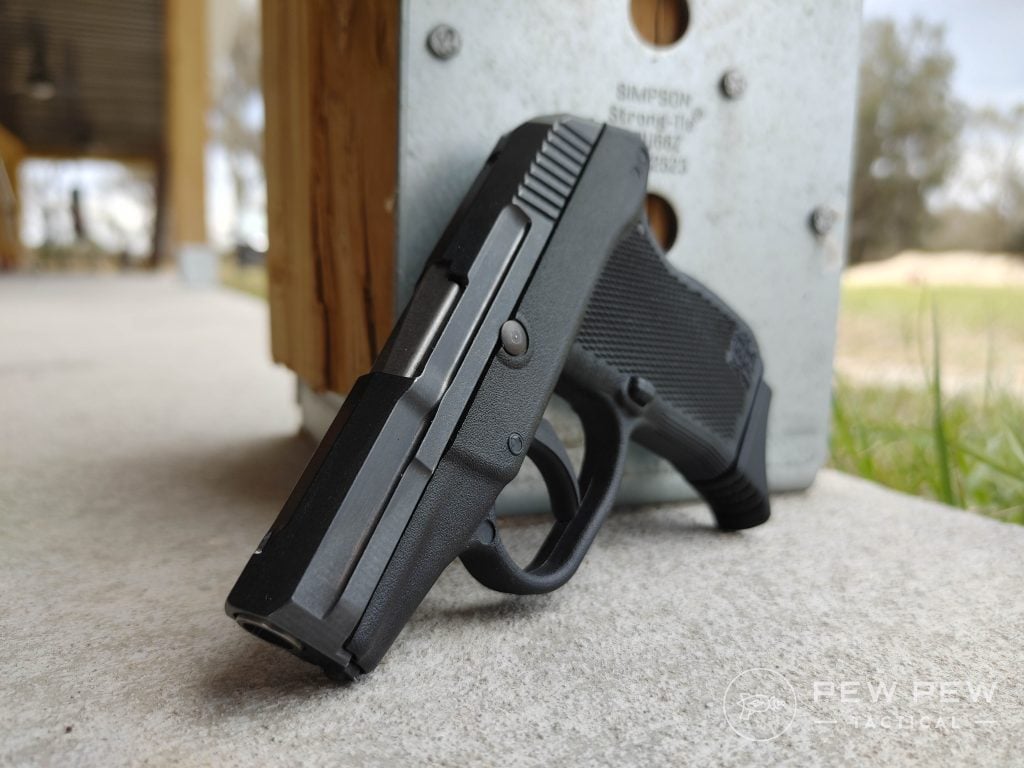 What are your thoughts on the P32? Let us know in the comments below! Still not sold on .32 ACP? That's alright; you can check out our article on the 8 Best Pocket Pistols for Concealed Carry!