Trending: Best Ammo In Stock, Best AR-15, & Best 9mm Pistols
Another year, another SHOT Show. This annual pilgrimage begins in mid-January and lasts five days. We get miles of aisles chock full of guns, gear…and sometimes beef jerky.
Thank you for reading this post, don't forget to follow and signup for notifications!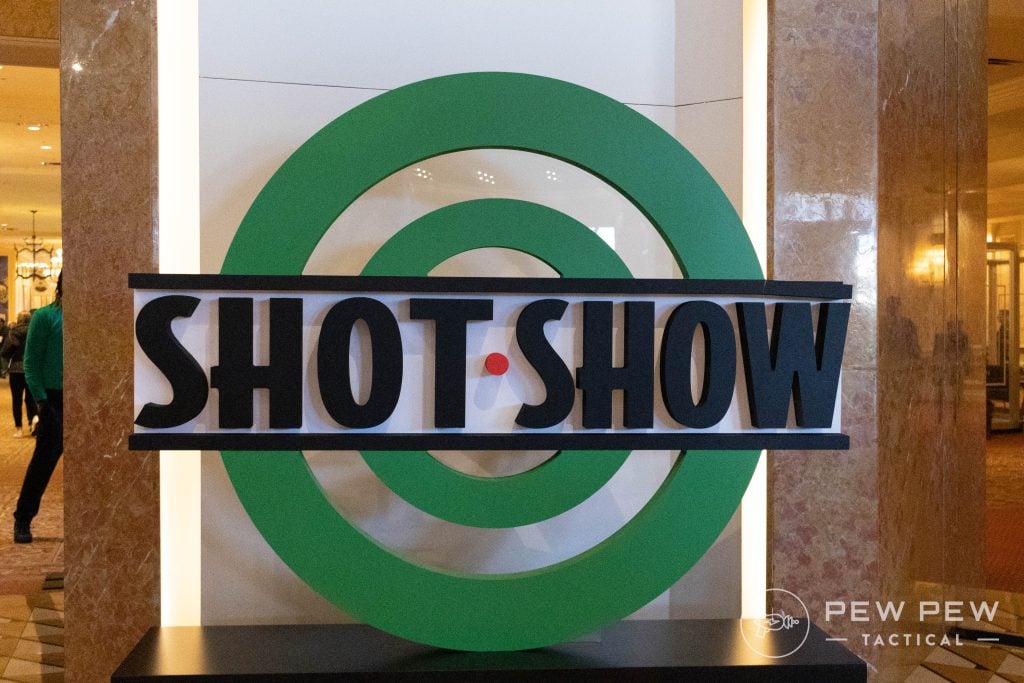 This year I was tasked with finding the best new weapons for home defense, concealed carry, and personal protection.
So, I walked the floor and gathered the coolest defensive weapons I could find! Keep reading!
Summary of Our Top Picks
Beretta A300 Ultima Patrol

The A300 Ultima Patrol is a great defensive option that comes in at a lower price than its brethren, the 1301.

$900 at Bereli
Jump to Details

Best New Duty Rifle

IWI Carmel

Intuitive controls and a true ambidextrous platform make the Carmel the new rifle to beat.

$1699 at GrabAGun
Jump to Details

Most Interesting New Rifle

Patriot Ordnance Factory Tombstone

No one was expecting a 9mm lever-action rifle, but after seeing it, we are glad it is here.

$1962 at Guns.com
Jump to Details

Best New Duty Revolver

Taurus 605 TORO

It odd to think of a revolver as revolutionary, but Taurus is treading new grounds with its micro-dot capable carry revolvers.

$412 at Guns.com
Jump to Details

Editor's Pick

Smith & Wesson M&P 5.7

Smith and Wesson implemented awesome operating technology to create an ultra-low recoil, easy to shoot handgun.

$649 at Kygunco
Jump to Details
1. Beretta A300 Ultima Patrol
Beretta dominates the shotgun market through ownership of Benelli, Stoeger, and Franchi.
Their 1301 is considered the bee's knees of combat shotguns, competing with the like of the Benelli M4.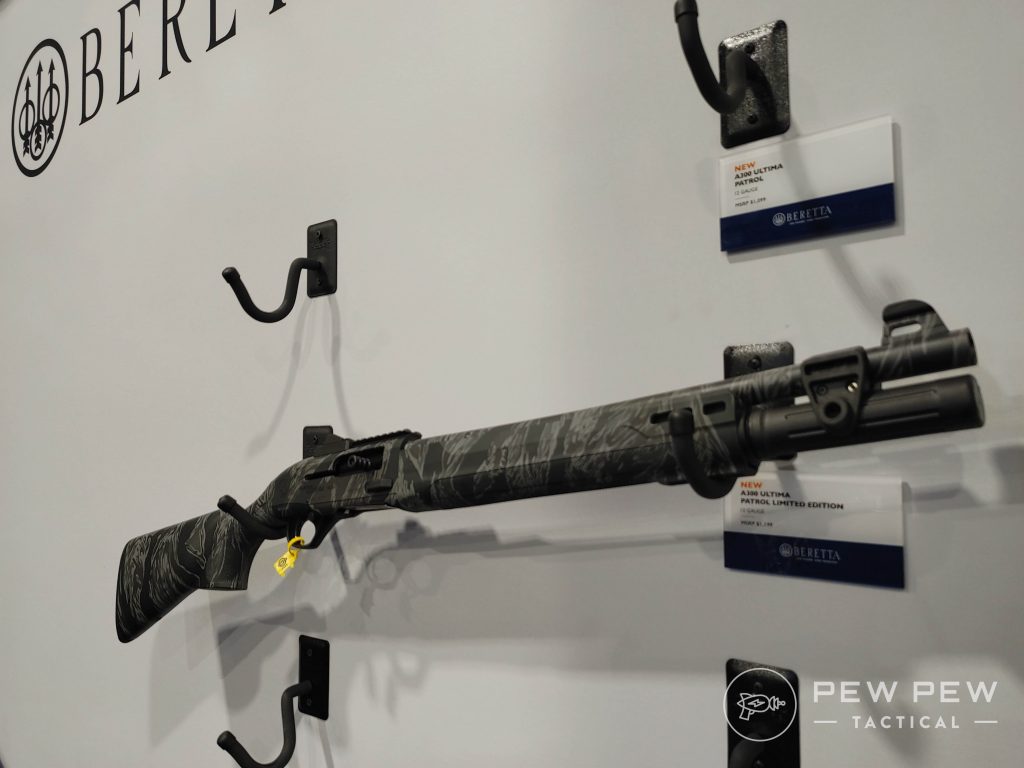 Unfortunately, It's also expensive, so Beretta wisely decided to release a more affordable alternative in the form of the A300 Ultima patrol. For a shotgun nerd like me, this was a big draw.
Like the 1301, it is a gas-operated, semi-auto, 12-gauge shotgun. But to save on costs, it uses a different gas system, non-rotating bolt head, and is made in the United States instead of imported.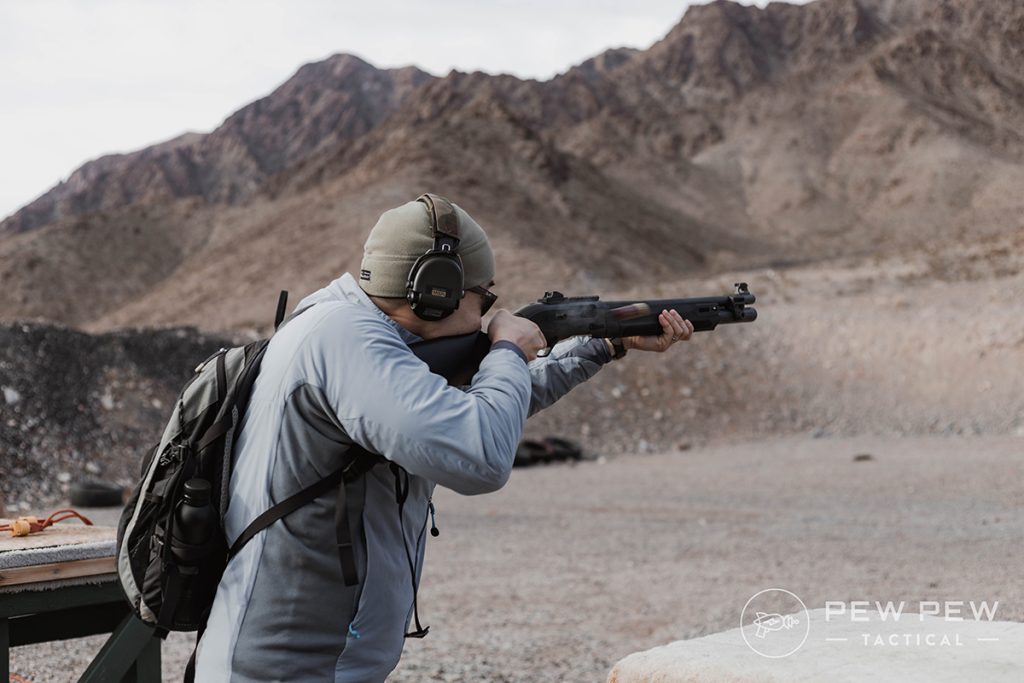 The A300 has been a successful series of sporting shotguns and has proven to be reliable and easy to use. Changes for the Patrol include a barrel trimmed to a hair over 19 inches, enlarged controls, a set of ghost ring sights, and an optics-ready rail on top.
Up front, we have several M-LOK slots for accessories and, along the side, a bit of loop material to toss a side saddle on. The result is a seemingly well-thought-out package.
900
at Bereli
Prices accurate at time of writing
Prices accurate at time of writing
Available Coupons
25% off all OAKLEY products – OAKLEY25


Copied!
Visit Merchant
It is fairly light in terms of weight and has a short length of pull at 13 inches. I can see why plenty of shooters may be drawn to the gun's capabilities in combination with Beretta's outstanding reputation.
It seems like they have a real winner at a price point of less than $1,000.
2. IWI Carmel
If you prefer a rifle for home defense, then IWI has you covered with the new Carmel. This new rifle joins the ranks of the Galil, Zion-15, and Tavor as a very modern defensive option.
The Carmel is a 5.56 rifle that uses standard AR-15 magazines and utilizes a short-stroke gas piston operating system.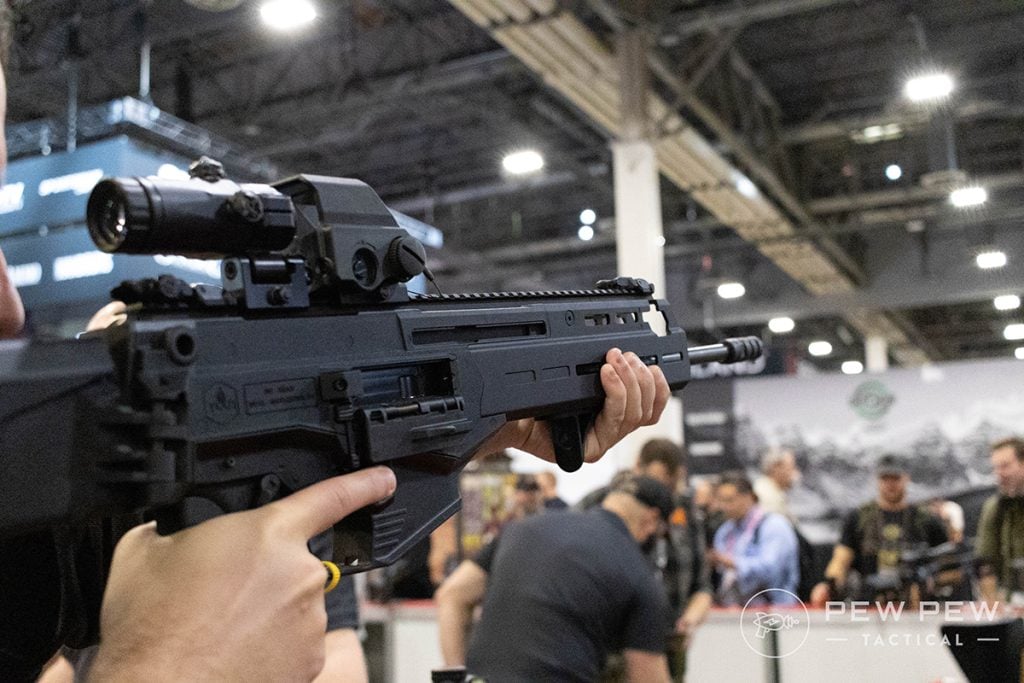 It features a standard 16-inch barrel, but the military and law enforcement variants have several different options. It wouldn't be crazy to think that more barrel options will be available to the general market in the future.
The rifle is ambidextrous to its core. Changing the gun from right to left-handed use can be easily done at the range or in the field.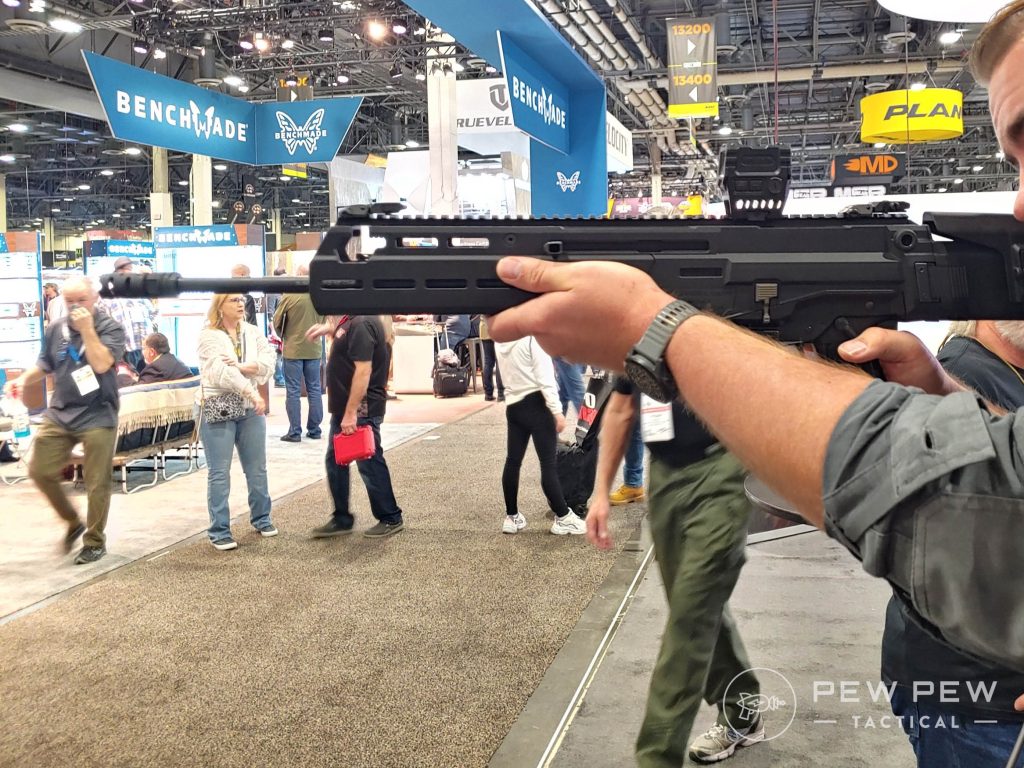 Thanks to its bufferless design, it makes use of a folding and collapsing stock. A nice long optic rail and M-LOK handguard complete the package.
Best New Duty Rifle
1699
at GrabAGun
Prices accurate at time of writing
Prices accurate at time of writing
Available Coupons
25% off all OAKLEY products – OAKLEY25


Copied!
Visit Merchant
Built to be a modern and modular gun, the Carmel is sure to serve well in the home defense role. Toss an optic and light on, and you'll be ready to defend what's yours.
3. Ruger Security-380
The Ruger Security series offers shooters a modern take on the old Security 6 revolvers but reimagined as affordable semi-auto handguns.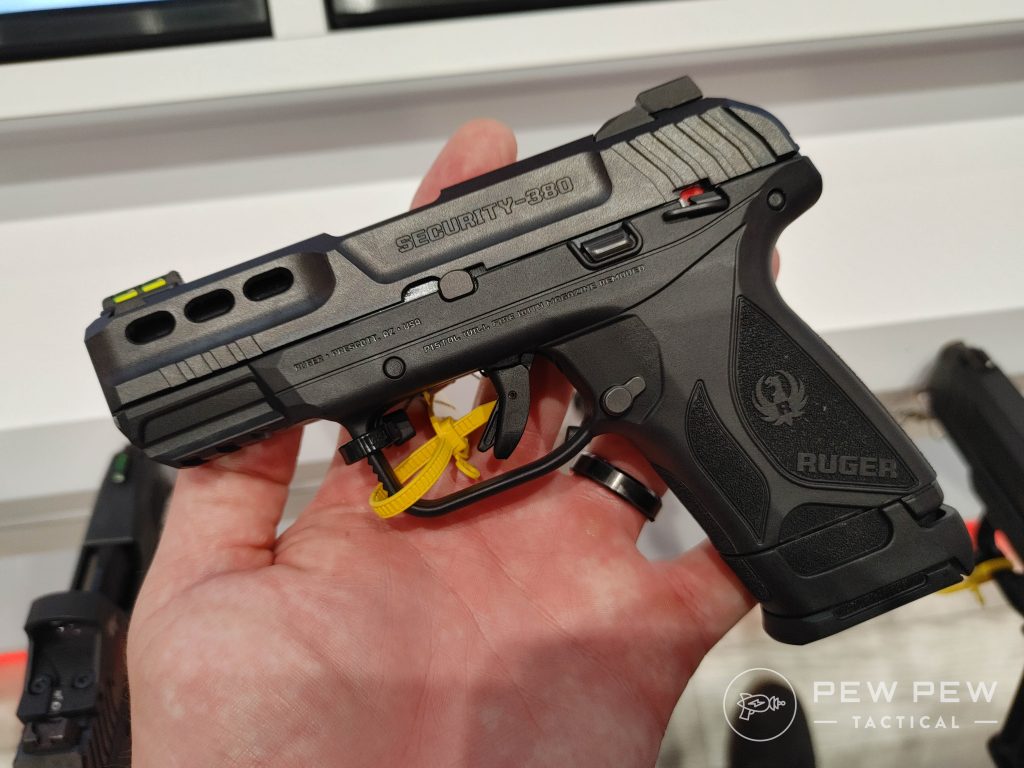 Ruger revamped the design once again, creating the Ruger Security-380 Lite Rack. The new Security-380 joins a class of firearms I often tout as perfect for beginners.
While it is not a pocket pistol, it is sized neatly between a subcompact and a compact. A pistol this size in .380 ACP means minimal recoil and ease of control.
Add in the fact it's a short recoil design and not a blowback, and the recoil is cut even more. The Lite-Rack feature also means it requires very little effort to manipulate the slide.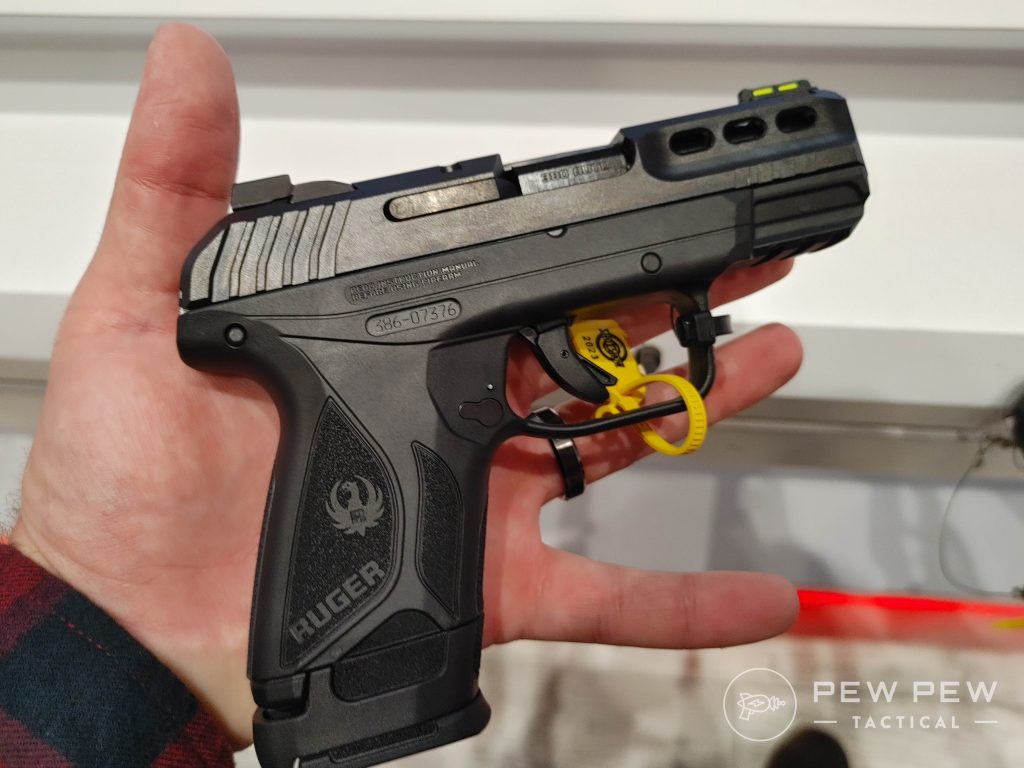 With hardly any resistance, folks with weaker hands won't have to fight much with their gun to get it ready, clear jams, or reload.
It uses a double-stack magazine to hold 15 rounds and features an excellent trigger. Combined with a nice set of sights, it makes the gun an easy shooter all around.
297
at Kygunco
Prices accurate at time of writing
Prices accurate at time of writing
Available Coupons
25% off all OAKLEY products – OAKLEY25


Copied!
Visit Merchant
The Security-380 isn't for everyone, but it appeals to a group of people that's largely underserved by the gun-producing industry.
4. Avidity Arms PD10
The PD10 has been in development since 2014. Helmed by firearms instructor Rob Pincus, the gun was designed around a shooter's need for an accurate, easy-handling, ergonomic, and reliable concealed carry pistol.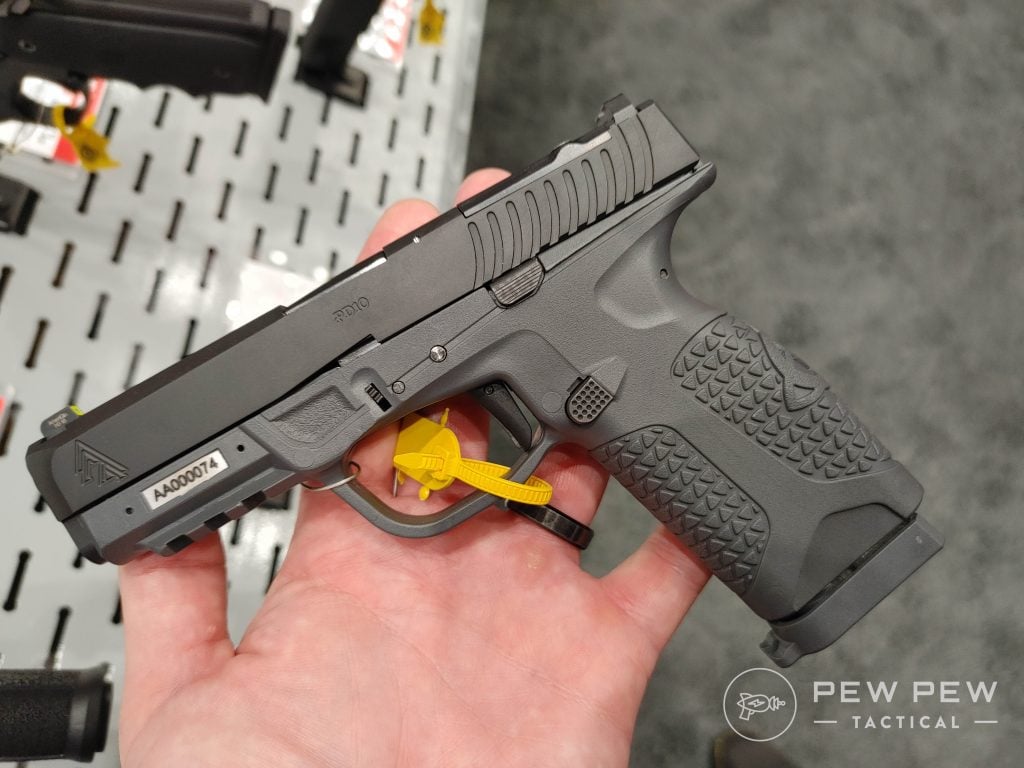 His original idea was to produce a pistol that was roughly the same size as a Glock but make it a single stack. In 2014 that was a novel idea, but as time passed, a few guns have met that goal.
Despite this, the PD10 has finally launched, and I think it will be an awesome competitor.
The PD10 delivers a thin, ergonomic package, holding ten rounds in a 9mm 1911 magazine. It utilizes a polymer frame with an aggressive grip and a three-slot Picatinny rail, with a design that emphasizes a high grip on the gun.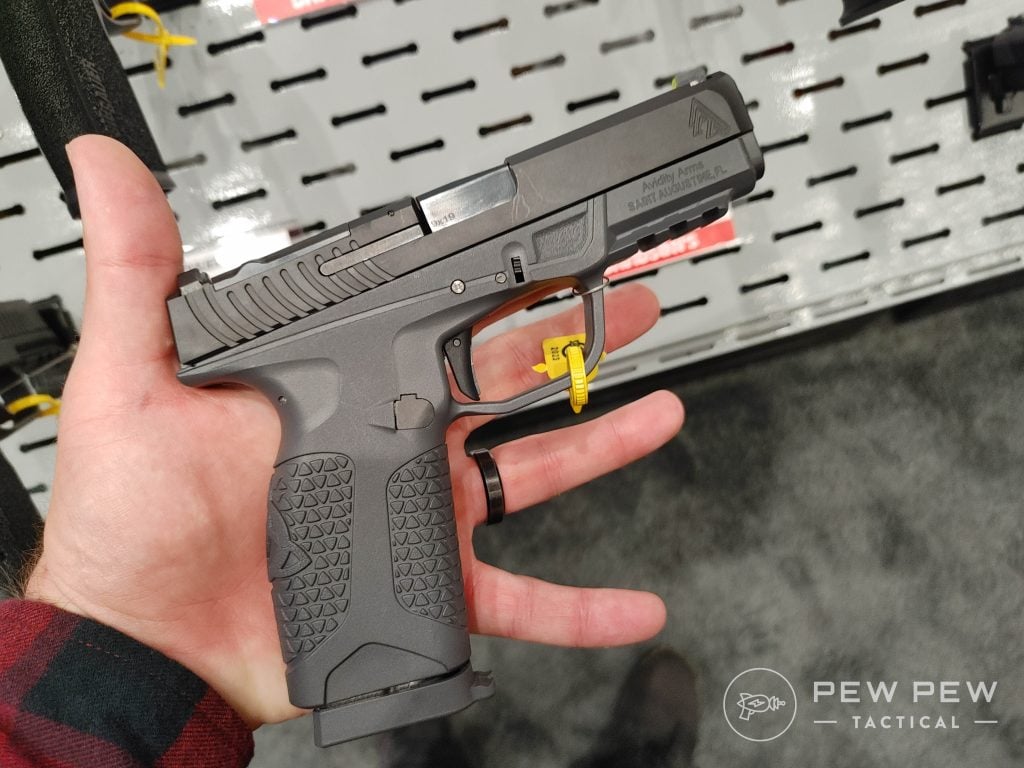 Shooters get an optics-ready gun that fits the Shield RMSc footprint. The iron sights are the ICE Claw sights from Ameriglo that help supplement one-handed racking.
Avidity Arms went with an interesting trigger. It rolls rearward with a light and crisp pull. It isn't as short or light as others and would be difficult to pull accidentally.
449
at Sportsman's Warehouse
Prices accurate at time of writing
Prices accurate at time of writing
Available Coupons
25% off all OAKLEY products – OAKLEY25


Copied!
Visit Merchant
I think the PD10 will be a great option for concealed carry, especially in the current market that's not afraid of a gun slightly larger than average.
5. POF Tombstone
The POF Tombstone was a show-stopper. It mixes some very odd features to produce a very odd lever action rifle, but it's not your grandpa's lever gun.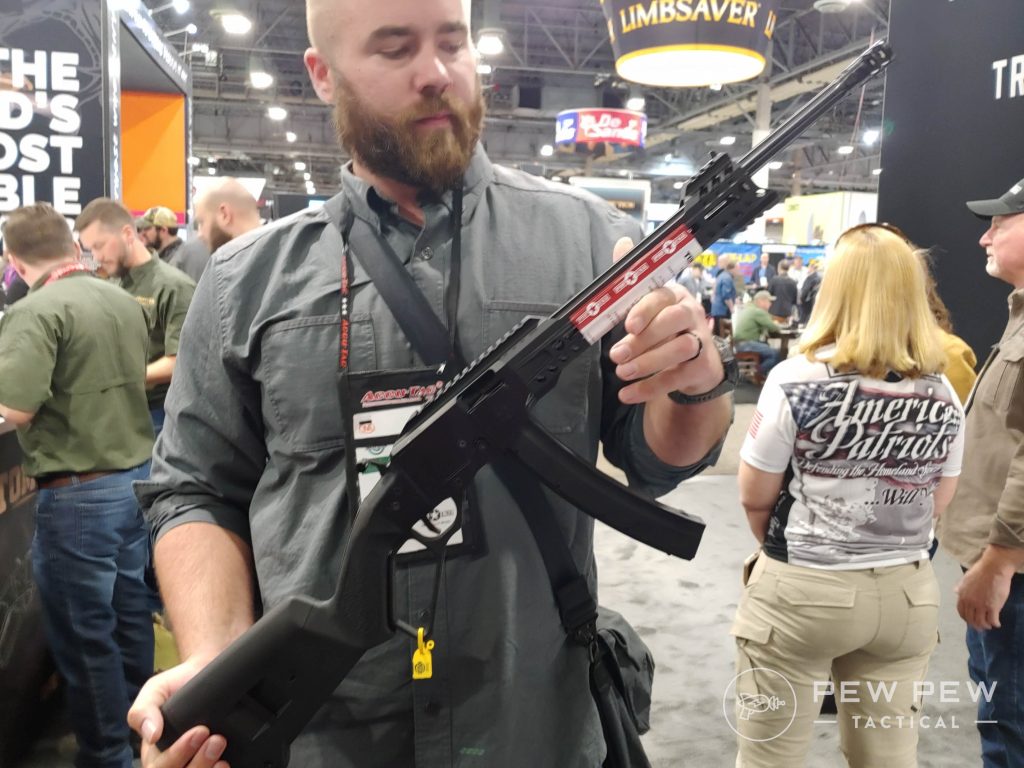 It's a 9mm lever gun that feeds from an SMG-style magazine. The Tombstone uses the same magazine as POF's Phoenix PCC, and they are available in various capacities.
If an AR-15 isn't an option due to your state laws, then the Tombstone would be an excellent alternative. I've never seen lever guns banned, and one offers all the modern features that make it easy to add lights, optics, and other accessories.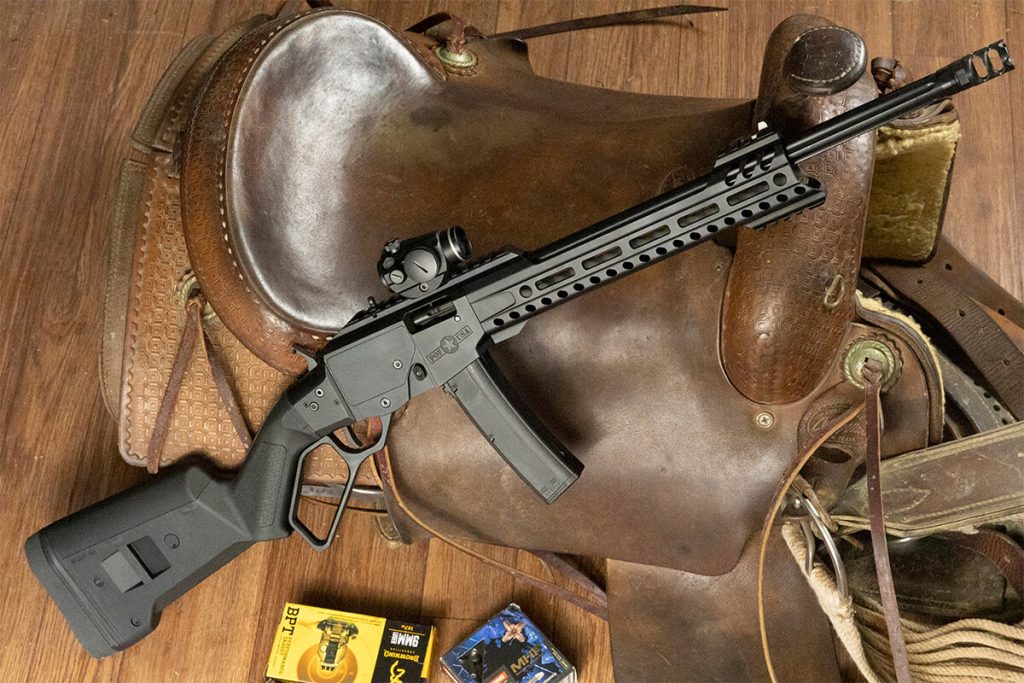 As a 9mm lever gun, recoil is extremely manageable, and it's quick and easy to reload even if you are stuck with 10-round magazines.
The Magpul SGA stock makes it quick and easy to adjust the length of pull and make the weapon fit you, and the Winchester-inspired action is quick and slick.
Most Interesting New Rifle
1962
at Guns.com
Prices accurate at time of writing
Prices accurate at time of writing
Available Coupons
25% off all OAKLEY products – OAKLEY25


Copied!
Visit Merchant
Toss on a red dot and light, and bam, you're good to go — you have a ban-ready but capable rifle for home defense.
6. FN 510 Tactical
Self-defense is often focused on two-legged threats, but that's an urban central mindset. If you live in a rural area, you might be facing off more against the wildlife than actual bad guys.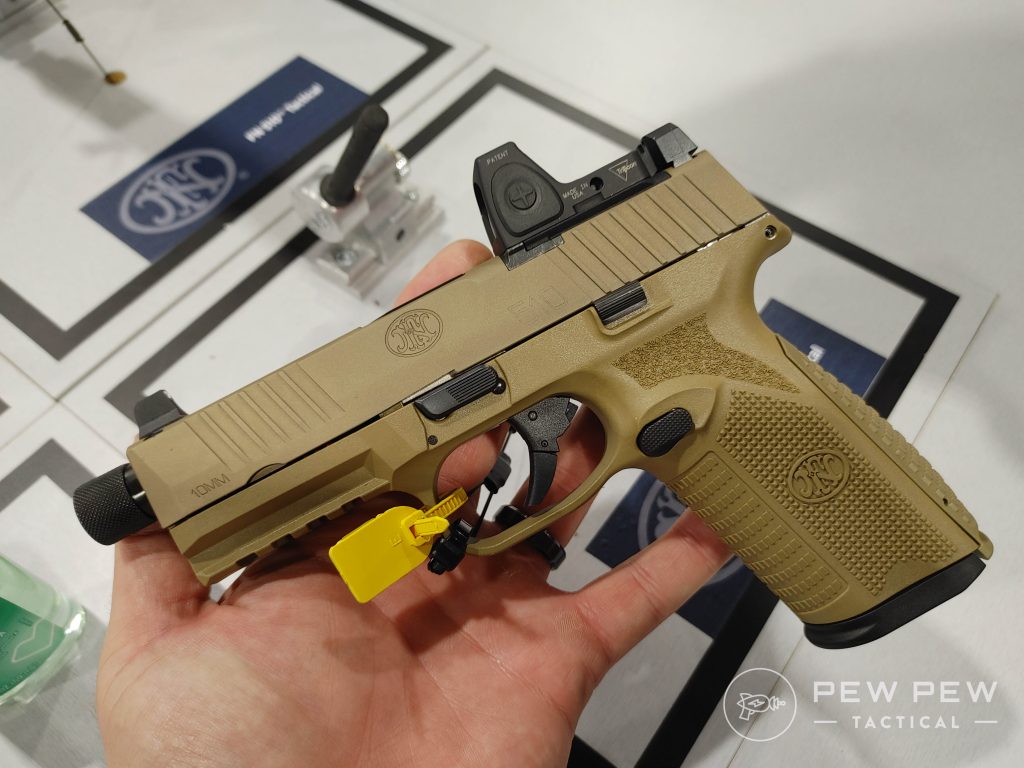 With that in mind, the new FN 510 can easily serve in both roles. The versatile 10mm round is powerful and punchy enough to deal with both domestic threats and wild critters.
FN surprised everyone by beefing up the frame of their 509 to fit both the 10mm and .45 ACP cartridges.
With capacities ranging from 10 to 22 rounds, you got plenty of ammo to keep the engine running. It is optics-ready and has an accessory rail for any lights or attachments. It's one of the more modern 10mm pistols out there.
999
at Brownells
Prices accurate at time of writing
Prices accurate at time of writing
Available Coupons
25% off all OAKLEY products – OAKLEY25


Copied!
Visit Merchant
What impressed me the most was how thin the grip was. A double stack 10mm tends to be a big bulky beast, but this grip helped avoid the feeling of grabbing a 2×4.
If I were buying a new 10mm in 2022, it would be the FN 510 Tactical. It's well-made, robust, and has a solid capacity.
7. Taurus 605 TORO
Taurus had a huge showing at SHOT 2023, one of the largest of the show. One of their big draws was the new TORO revolvers, with my favorite being the 605 TORO.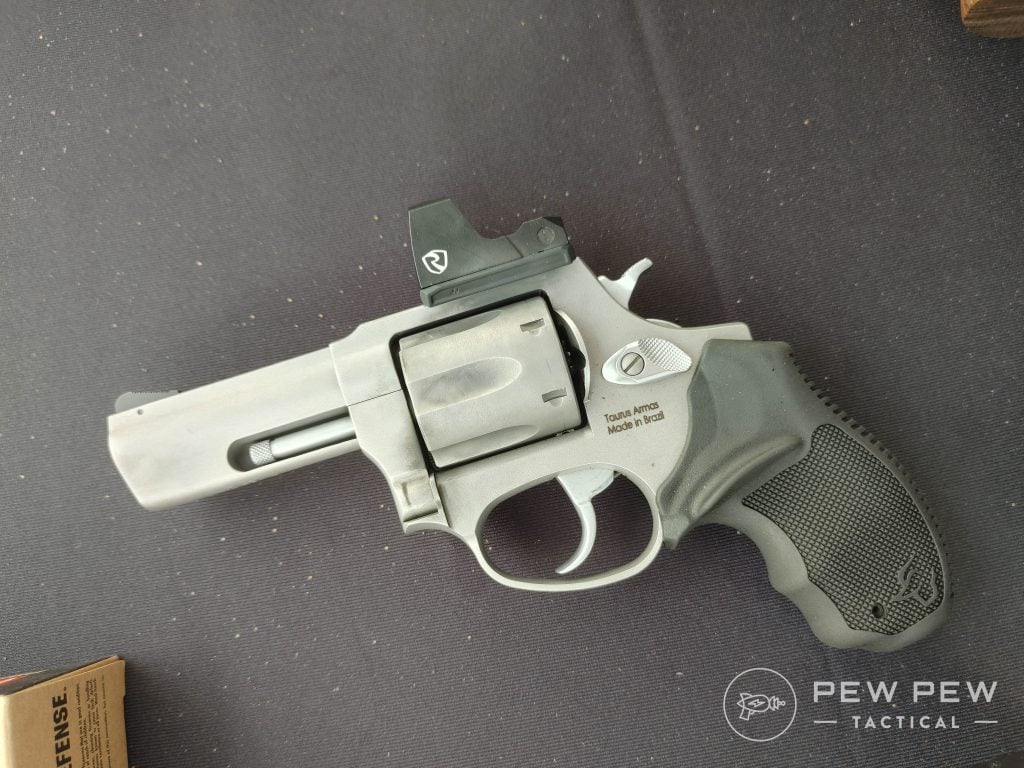 This compact revolver has an exposed hammer, a 3-inch barrel, and a five-shot .357 Magnum cylinder. Across the top sits a slot for a mini red dot following the RMSc footprint.
Mounting a mini red dot to a revolver makes a ton of sense to me. Single-action triggers on most revolvers are excellent, and mounting the optic to a frame instead of a reciprocating slide is a bonus.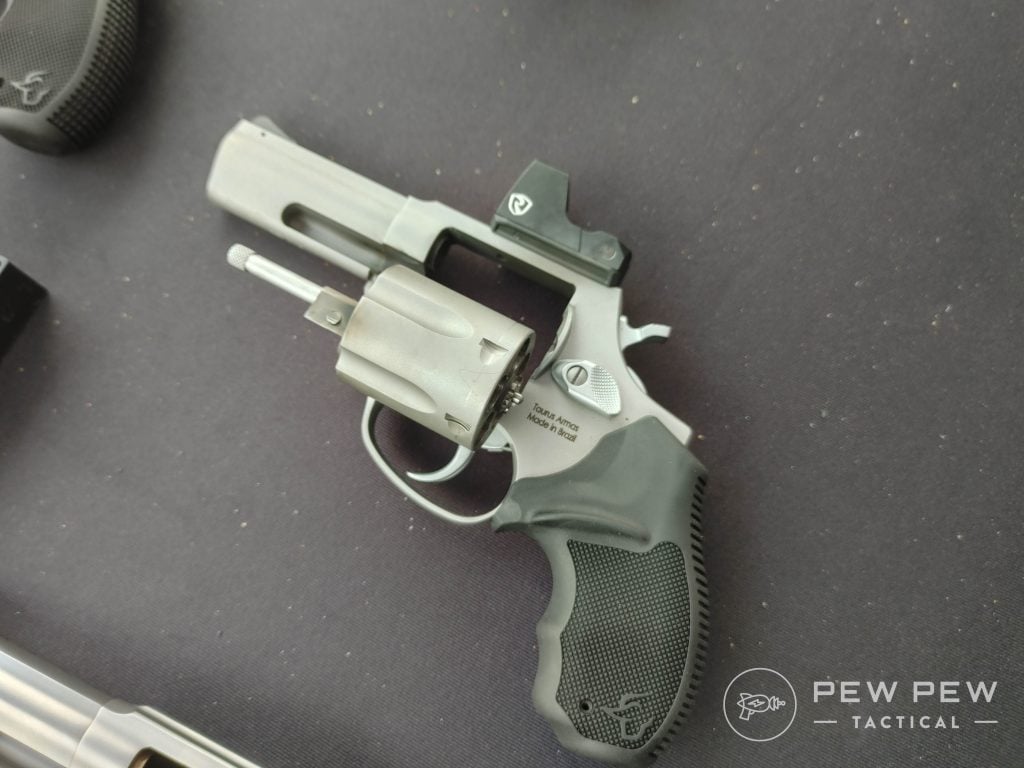 The Taurus 605 TORO gives you .357 magnum power with a nice-length barrel for better stability, control, and velocity. The addition of a red dot gives you all the same benefits it would on a normal pistol, including faster target acquisition, better accuracy, and a greater effective range.
With the 605 TORO, you get a revolver that's a bit larger than any snub nose, but it's also more capable and easier to shoot. These guns feature excellent triggers, and the red dot is a game changer.
Best New Duty Revolver
412
at Guns.com
Prices accurate at time of writing
Prices accurate at time of writing
Available Coupons
25% off all OAKLEY products – OAKLEY25


Copied!
Visit Merchant
I suck with revolvers, but I didn't suck with the 605 TORO.
8. Matador Arms Mat-9
The Mat-9 is not a firearm but an upper receiver. It's designed to be a multi-magazine compatible upper receiver that allows it t amount to any AR-9 power receiver.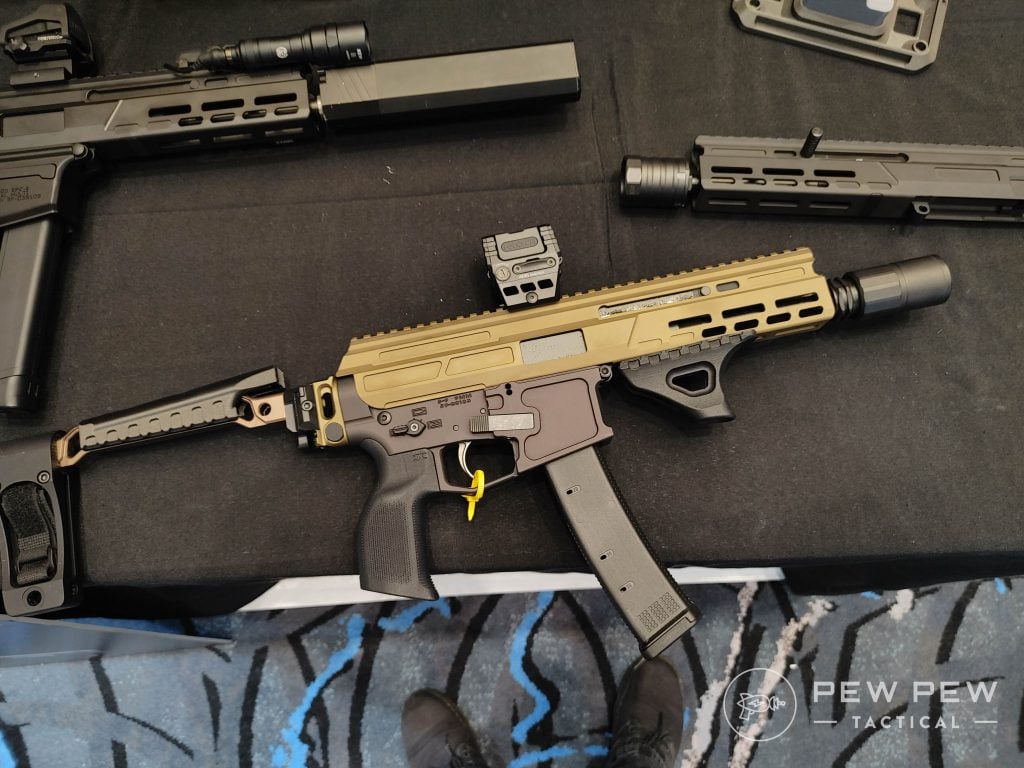 You can use magazines for the Glock, Scorpion, MP5, Colt SMG, or whatever other magazines you can shove into an AR-9 platform.
It differs from most AR uppers in that it is a self-contained direct-blowback system that does not need an external buffer. You can ditch the buffer tube entirely and embrace a folding stock or brace.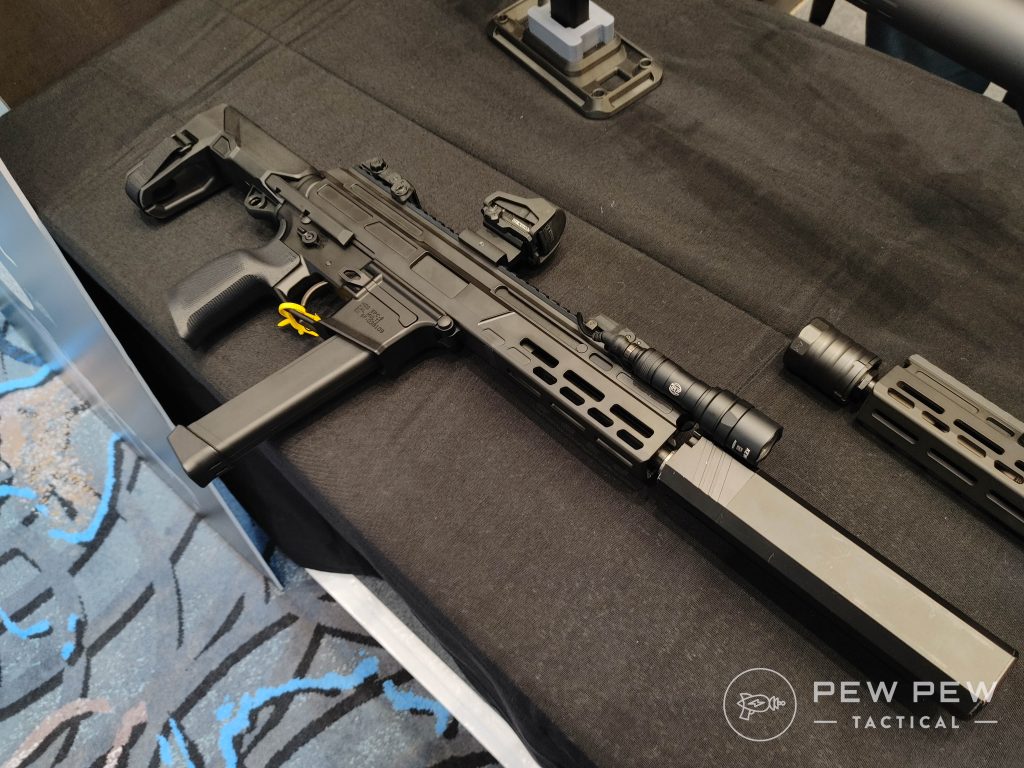 Shooters get a monolithic upper with a 7.825-inch barrel. The charging handle sits above the barrel and can be swapped from the left or right side. Tossing optics and lights on is easy, and you have tons of M-LOK slots to mount goodies too.
With the Mat-9, you can make the 9mm PCC you've always wanted. The short upper makes it easily maneuverable and perfect for the tight quarters of home defense.
499
at MMC Armory
Prices accurate at time of writing
Prices accurate at time of writing
Available Coupons
25% off all OAKLEY products – OAKLEY25


Copied!
Visit Merchant
9. PTR-63
PTR makes some superb HK clones. They have successfully cloned the G3 and MP5 for decades now. Now, they are building on that success and producing a roller-delayed 5.56 rifle.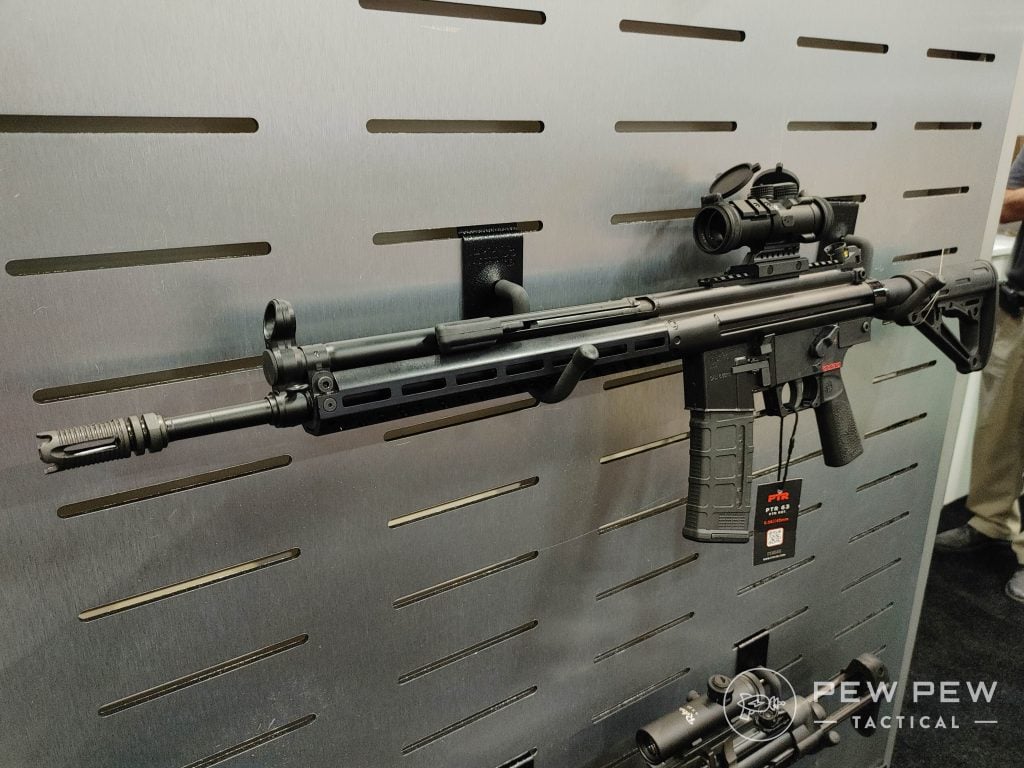 While it might seem like an HK33 clone, it isn't quite. It is a 5.56 roller delayed rifle, but the lower has been redesigned to accept AR-15 magazines.
Using AR mags means you get a last-round bolt hold-open device, which is rare on HK legacy roller delayed guns.
The PTR 63 is hefty in weight but should be a solid AR alternative if you are bored with Stoner's design. Sadly, the PTR 63 doesn't have an M-LOK or Picatinny railed handguard out of the gate, but you do get a short optic mount and iron sights.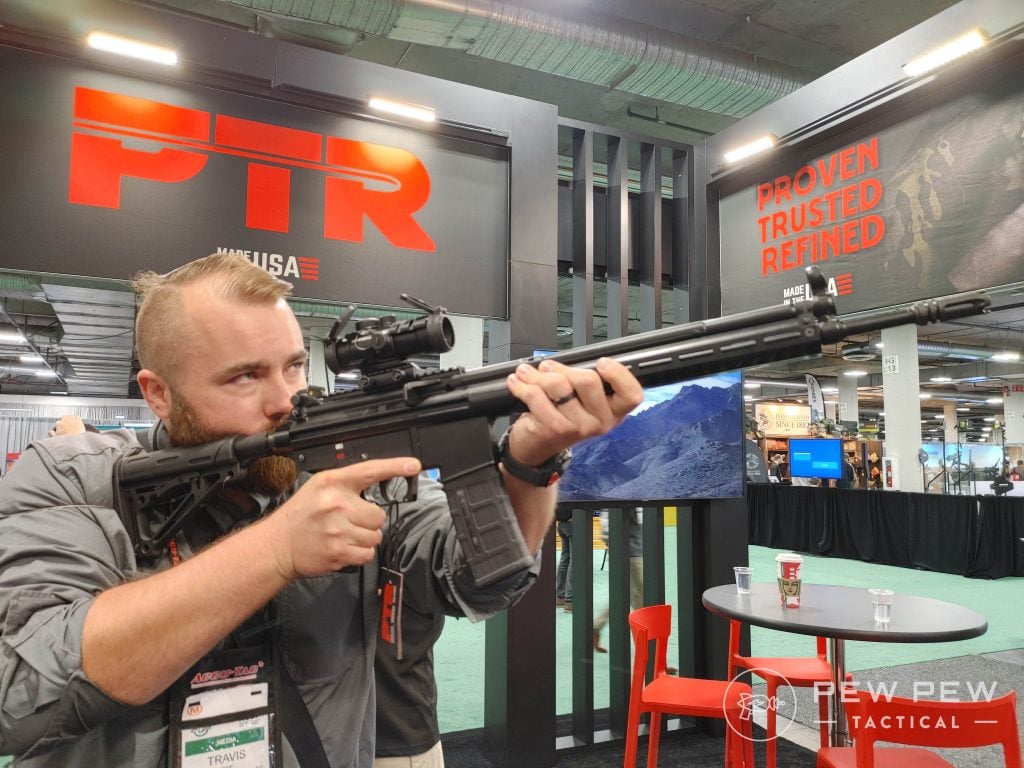 You can also choose between an AR-style stock adapter or more traditional G3 options, including the always-cool collapsing paratrooper stock.
A good 5.56 caliber rifle can be an excellent home defense tool, and PTR is offering an AR alternative that can still take easy-to-get AR magazines.
10. S&W M&P 5.7
Smith and Wesson surprised everyone with the announcement of the 5.7 M&P. They waited until SHOT to release one of the more innovative 5.7x28mm designs on the market.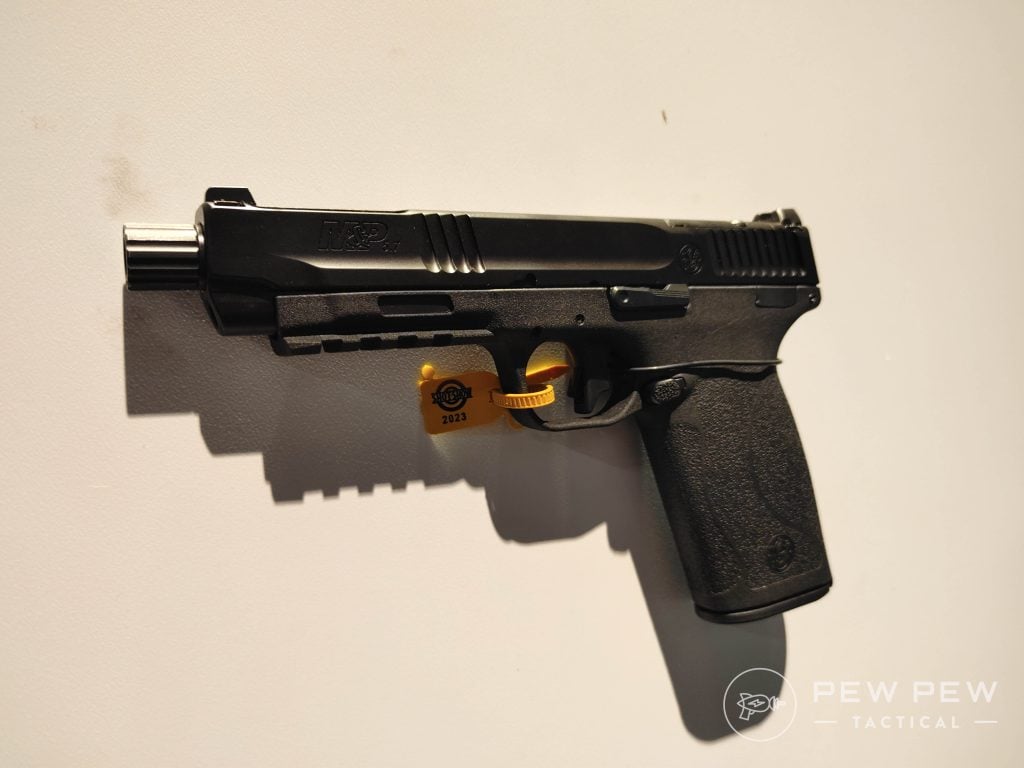 What separates this gun from others is the fact it uses a gas system instead of direct blowback or the standard Browning tilting barrel system.
Paired with the gas system is a rotating barrel. These two systems together take the recoil from an already low recoiling cartridge and almost eliminate it.
It uses a 5-inch barrel in order to gain adequate ballistics out of the cartridge and comes standard with a threaded barrel. The gun is also optics-ready and has a damn nice trigger out of the box.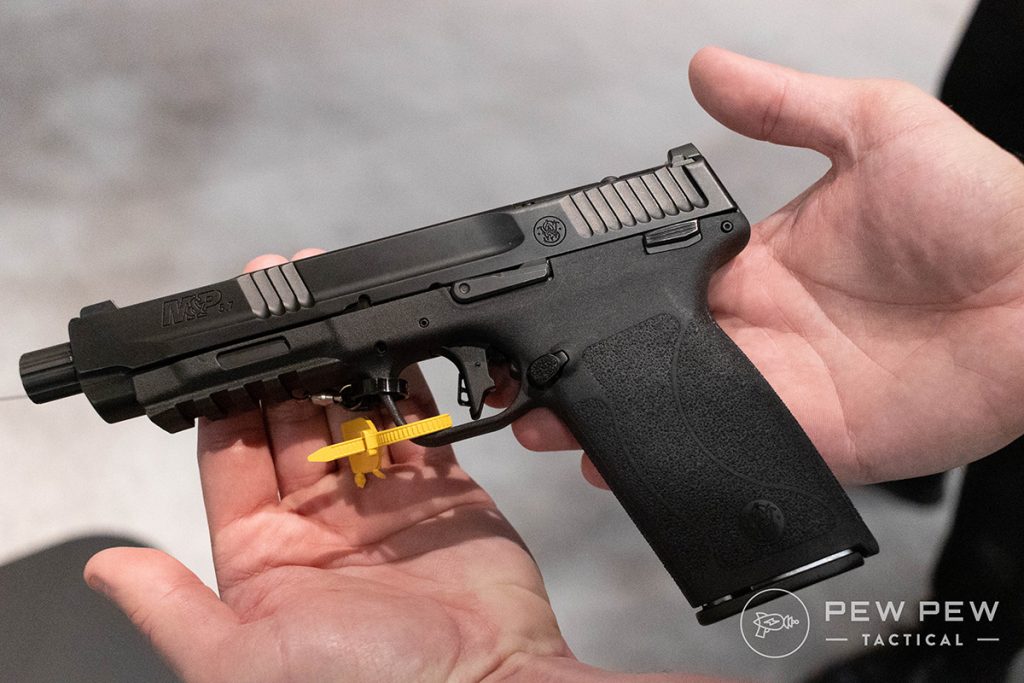 With 22 rounds on tap, a home defender would have more than ammo to feel comfortable. The benefit of low recoil and above-average capacity makes the gun extremely easy to shoot.
A tertiary benefit comes from the round's design. It is likely to tumble against drywall and lose energy fast. This makes it a great choice for environments where overpenetration is a serious concern.
5.7 might not be a big chunk of lead like a .45 ACP, but it penetrates consistently and adequately.
649
at Kygunco
Prices accurate at time of writing
Prices accurate at time of writing
Available Coupons
25% off all OAKLEY products – OAKLEY25


Copied!
Visit Merchant
Boasting insanely low recoil, low weight, and an astounding capacity, the M&P 5.7 makes for a very interesting option for self-defense.
Final Thoughts
Booths were crowded again, and SHOT Show seemed to have recovered from the rough pandemic years.
As usual, there were plenty of guns geared toward the self-defense market. I felt like I gathered a solid list of new stuff from SHOT, but there was quite a bit out there!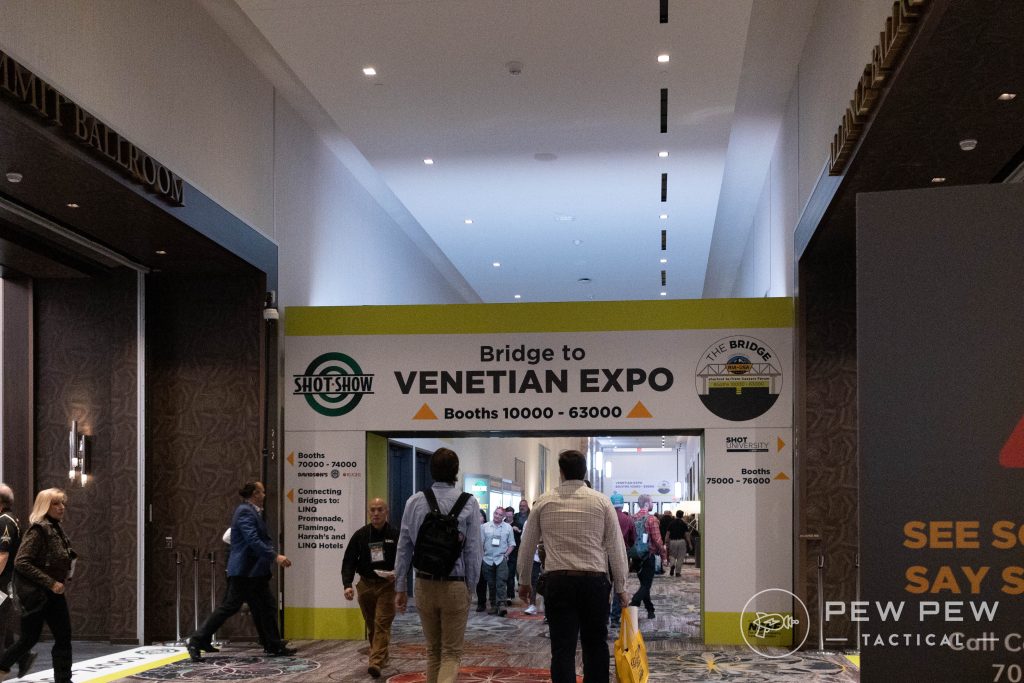 Are you excited about any of the guns on the list? Let us know in the comments below! Interested in other cool stuff from SHOT? Check out our article on the Best Guns of SHOT Show 2023 and the Best Gear.