By Judith Prieve
Bay Area News Group
Thank you for reading this post, don't forget to follow and signup for notifications!
ANTIOCH, Calif. — In the wake of an FBI and district attorney investigation that led to eight officers being placed on leave, the Antioch Police Department is ramping up hiring to address its shortage of cops.
The eight Antioch officers are under investigation for what investigators called "crimes of moral turpitude," including issues related to the K-9 unit, cellphones, alleged involvement with cocaine and steroids, and possible civil rights violations. They make up 8% of the patrol force.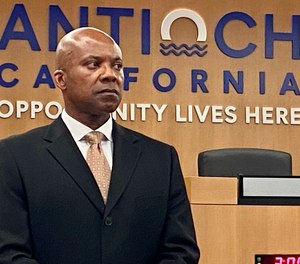 Though few details have been released, the chief indicated that one of the officers resigned last month, while the other seven are still on paid administrative leave.
"The city remains committed to supporting the efforts of this investigation," Thorpe said at a press conference with Antioch Police Chief Steve Ford on Thursday. "We've been fully cooperating with the DA's office and the FBI to ensure that they have a seamless process in obtaining the information that they need."
Meanwhile, the Antioch Police Department will work to fix its staffing issues, while also adding new units to fight crime. "We continue to work to ensure that we free up those slots so that we can continue the hiring process (for replacements)," Thorpe said.
The department said it had no way of determining how much overtime having the eight officers on leave has cost the city. It has an overall staffing shortage, other long-term injuries and vacations that also result in overtime, Ford said.
Despite a difficult year for the police department, Thorpe said the city had a lot to be proud of, including the hiring of the new chief "to expand our understanding of policing in the 21st century."
Thorpe noted that in the past two years, "Part 1" crime — murders, rapes, and other violent incidents — has been lower than at any time between 2013 and 2020, and homicides were down 25% last year.
"I'm proud to say that under the leadership of Lt. John Fortner of the Antioch Police Department, the clearance rate of solving these types of violent crimes continues to remain high," the mayor said. "Which means that if you come to Antioch to commit these types of crimes, you will be found, you will be prosecuted and you'll end up in prison."
The department, however, remains short-staffed, he said, noting the city has 98 police officers of 115 authorized positions, but 21 are on "some form of administrative leave."
"So, we really have 77 full-duty officers for a city of 120,000 people, and 44 of those are part of our patrol team," Thorpe said.
However, the recently approved police hiring incentive program – at $30,000, one of the highest in the Bay Area – is garnering interest. Under Antioch's plan, the bonuses will be paid through past salary savings, since more officers were budgeted for than were on staff.
"I'm happy to report that the program has had a huge impact on recruitment efforts," Thorpe said. "Since the incentive program went into effect, the city has seen a 51% increase in candidate interest and a 44% jump overall in applications."
"As a result, we anticipate getting closer to our authorized 115 by the summer months," he added while noting most are new recruits, not lateral officers coming from other police departments.
Police public information officer Ashley Crandall said the department has two officers in police academy training who will graduate next month and four who will enter the police academy in early March. Another eight spots are open for the academy at the end of March, and several are in the process of going through background checks, she said.
"We have really been ramping up our recruiting efforts lately and it has been all-hands-on-deck effort from everybody within our police department."
The mayor noted that the police department will be undergoing some structural reforms in the near future as well.
"The reforms will help us with the limited number of police officers that we have," he said. "The city continued to invest in technology to ensure that while we may have limited officers, we still have technology to aid them in their efforts."
Thorpe pointed to cameras placed throughout the city that help in solving crimes and the new ShotSpotter program that will launch later this year and "help us clearly identify where shootings have taken place" so police can respond quickly.
Chief Ford said structural changes also will help. He plans to introduce a newly formed community engagement unit that will be a liaison with residents, planning events and programming, he said.
Another focus will be a new criminal investigation unit to address the city's most violent offenders, he said.
The departments also will work more with local state and federal law enforcement partners to help the city stem violent crime, Ford said.
"To be clear, Antioch is not the place for anyone to engage in unlawful violent behavior," the chief said. "And for those who choose that route, you will be met with every resource at our disposal."
(C)2023 MediaNews Group, Inc.
Visit at mercurynews.com.
Distributed by Tribune Content Agency, LLC.