WE CAN REBUILD HIM. WE HAVE THE TECHNOLOGY. BETTER. STRONGER. FASTER.
Maybe the mad scientists at Bushnell watched one too many episodes of Six Million Dollar Man (1973), but at some point, they looked at the already great Match Pro and said, "We can make it better." The results are nothing short of outstanding. 
Thank you for reading this post, don't forget to follow and signup for notifications!
The Bushnell Match Pro ED is the newest scope from Bushnell, and it is impressive. I've run one for a couple of months now on multiple-match rifles for PRS, NRL22, and NRL: Hunter. To say I've gotten some experience behind it is an understatement. 
Let's dive in and dig down deep!
MATCH PRO ED 5-30×56 SPECS
Magnification x Objective Lens: 5-30x56mm
Reticle: Illuminated DM2 – 2/10 grid style with floating center dot
Illuminated: Yes, w/6-hour timer
Weight: 32 oz. / 907 g
EyeRelief: 3.8 in. / 98 mm
Focal Plane: First
Parallax Type: Side Focus
Min Parallax Distance: 15 Yards
Field of View (ft @ 100 yds): 24.5 ft. @ 5x – 4.1 ft. @ 30X 
Lens Coating: Fully Multi-Coated
Ultra Wide Band Coating: Yes
EXO Barrier: Yes
ED Prime: Yes
Tube Diameter: 34MM
Elevation Adjustment: 30 MRAD
Elevation Turret: Exposed, Locking w/ 2-stage Rev. Indicator
Windage Adjustment: 14.5 MRAD
Windage Turret: Exposed, Locking
Waterproofing: IPX7
Zero Stop: Yes, Easy-Set™
IS THE MATCH PRO ED JUST A MATCH PRO 2.0?
Bottomline, kind of. While they share a name and clearly have a lot of the same DNA, they are worlds apart in performance and features. If the Match Pro was Steve Rogers before the super serum, the Match Pro ED is after old Steve gets his shield and starts punching Nazis. 
A bigger main tube, larger objective lens, more elevation, zero stop, rev indicator, better glass, and fancy lens coatings – the Match Pro ED is a big upgrade in every respect over the Match Pro.
It's not often that I'm amazed by a firearm product, and the Match Pro ED is the first optic that really knocks my socks off in a long time.
I won't pretend it's the best scope ever made, but remember, this scope only costs $700 and comes packed with features. The only thing I don't love about this scope is the country of origin. 
It's fairly widely agreed that the best optical glass for rifle scopes comes from Germany or places close by, Japanese glass is a pretty solid second, and Chinese glass is for cutting corners and saving money. While this has been true for years, progress doesn't stand still. 
A fact that makes many people irrationally uncomfortable is that Chinese glass has been improving over the years and improving by miles. To meet a price point, the Match Pro ED is made using Chinese glass. But this isn't the glass you might expect. Side-by-side with several of my Japanese-made scopes, it's nearly impossible for me to tell the difference between them. 
And all of that for only $700.
ON THE RANGE
Setting up the Match Pro ED is pretty simple, get it mounted, screw in the throw lever, and get to zeroing.  Once zeroed, the Easy-Set zero stop is, shockingly, actually easy to set. 
After that, you're done, and this scope is ready to rock.
I've been using the Match Pro ED mainly on my SIG Sauer Cross in 6.5 Creedmoor that I'm setting up to shoot NRL: Hunter with later this year. In the train up for that, I've also been shooting as many centerfire PRS-style matches as I can find. 
From green targets on green hills to greyed-out targets on boulders, the glass of the Match Pro ED hasn't failed me yet. Finding and engaging targets out to 995 yards has been almost perfect, even in the worst conditions. 
Chromatic Aberration
If you're unfamiliar, chromatic aberration is basically the lens failing to focus all of the colors on the same point. This presets as the edge of objects being multicolored, colors that individually aren't really there unless you separate them out from the true color. 
Other than being just really annoying, it makes focusing on a single object, like a target, much harder. It makes spotting trace harder. It makes seeing splash harder. It's basically just bad on all fronts.
To effectively remove CA, scopes need a lot of high-end treatments and exotic materials. If you want truly CA-free glass, you'll need to break out the piggy banks and fork over money for alpha-tier glass. 
For anything under the $4,000ish price point, it's not a matter of if a scope has CA, it's a matter of how much it has.
CA normally presents the most in high contrast, think snow and dirt next to each other, tree branches, etc. 
The Match Pro ED handles CA incredibly well. While some do present, almost all of it is not on the same plane that you're focused on. For example, if you focus your parallax on a target, the target will have almost zero CA, but the background might have some.
Overall, the CA with the Match Pro ED is extremely mild. For me, shooting in training or on the clock, I didn't really notice it at all. If I look for it, I can see it. But it's not enough to detract from shooting when it counts.
Glass Quality 
There is a lot you can talk about when it comes to glass quality. Clarity, light transmission, sharpness, etc. But frankly, most people don't understand even the basics of what these actually mean, so explaining it in those terms doesn't really help. I know a thing or two about scopes, but I'm not an expert in glass. I know enough to know I don't know enough.
What I can tell you is how it looks to me, that's it.
To my eyes, the Match Pro ED looks amazing. I would absolutely put it 99% on par with almost all of the mid-tier Japanese scopes I've used. Brownells MPO, Athlon Cronus, Primary Arms PLx, and the Match Pro ED are neck and neck with them all. 
Side-by-side with the Vortex Viper PST II, Athlon Midas TAC, Meopta Optika6, and SIG Sauer Tango4, the Match Pro ED beats them without even trying.
Images are bright, pre-dawn low light is crisp, and targets are easy to define even when they're the same color as the background. 
Turrets
Normally, I'm a holdover guy. But since starting to use this scope, I've been forcing myself to dial every shot – mostly just as a personal exercise to practice something I don't normally do. The turrets of the Match Pro ED are clicky but not super clicky. The tracking is perfect, and the zero-stop is rock solid. 
Even the smoothness and tension on the magnification ring and parallax have been awesome right out of the box. Zero breaking it in, no need for aftermarket 3D printed wheels, everything just works.
Reticle
I'm not in love with this reticle.
The illumination is great, and the design is easy to use, but there is just something about it that I don't love. Reticles are very personal, some people love one and hate another, and some people can't use anything other than two clean crosshairs.
While the Match Pro ED reticle is fine, it's not my ideal reticle. It doesn't feel like it holds me back while shooting on or off the clock, but I definitely still wish I had another option or two to choose from.
LOOSE ROUNDS
The Match Pro ED is by far the best scope ever made, with an MSRP of $700. While the ED glass is clearly beaten by alpha-tier glass like the Vortex Razor Gen III, ZCO, or Tangent Theta, those scopes also cost 5 times (or more) than the Match Pro ED.
Only time will tell, but the Match Pro ED might end up being a scope that fundamentally changes the market. Because as it stands now, other scopes in this price range have a lot of catching up to do.
If you want an outstanding competition scope and you're not ready to spend thousands of dollars on one, I hugely recommend the Bushnell Match Pro ED. You won't be disappointed.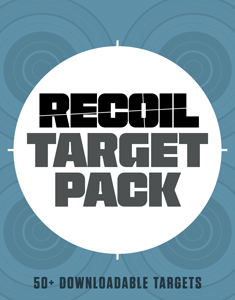 NEXT STEP: Download Your Free Target Pack from RECOIL
For years, RECOIL magazine has treated its readers to a full-size (sometimes full color!) shooting target tucked into each big issue. Now we've compiled over 50 of our most popular targets into this one digital PDF download. From handgun drills to AR-15 practice, these 50+ targets have you covered. Print off as many as you like (ammo not included).
Get your pack of 50 Print-at-Home targets when you subscribe to the RECOIL email newsletter. We'll send you weekly updates on guns, gear, industry news, and special offers from leading manufacturers – your guide to the firearms lifestyle.
You want this. Trust Us.