Trending: Best Ammo In Stock, Best AR-15, & Best 9mm Pistols
Why are pump shotguns such a dominant force in the firearm industry?
Thank you for reading this post, don't forget to follow and signup for notifications!
As a people, we've moved on to semi-auto rifles and semi-auto handguns, and while semi-auto shotguns exist and are prevalent, the pump-action is still incredibly common.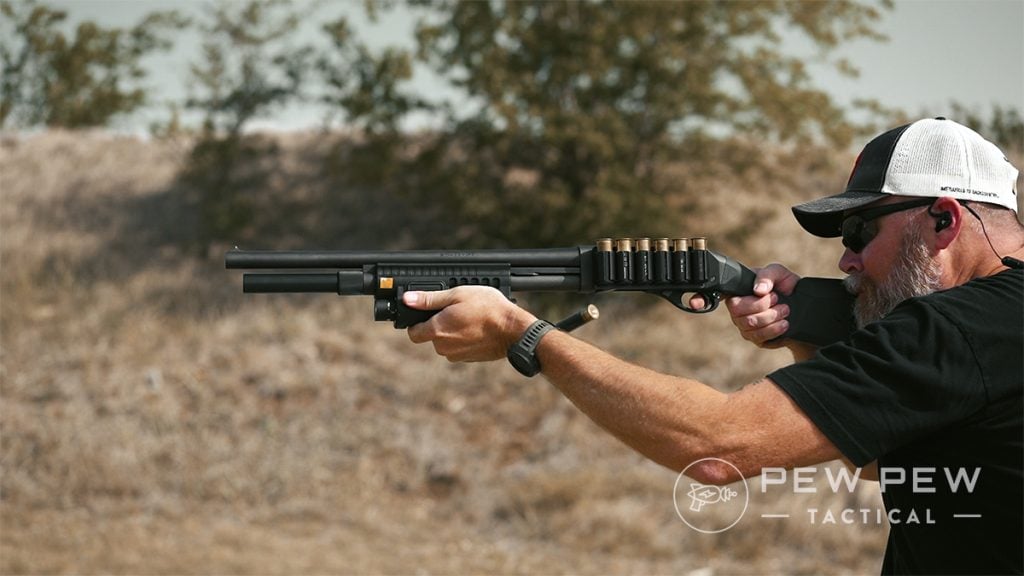 If I had to guess, it's because the pump-action is still relevant to modern shotgun tactics and employment.
So, let's dive deeper into pump-action shotguns. I'll talk about the pros and cons of the platform as well as walk you through some of my favorites.
Table of Contents
Loading…
Summary of Our Top Picks
Best for Home Defense

Mossberg 590 Series

Good duty and defense model, tactical style, large aftermarket

$419 at GrabAGun
Jump to Details

Editor's Pick

Remington Model 870

Versatile platform, lots of calibers and models

$412 at Kygunco
Jump to Details

Lightweight Option

Benelli SuperNova Tactical

Lighter than the 870, reversible safety for lefties

$503 at Guns.com
Jump to Details

Best Budget Option

Mossberg Maverick 88 Pump-Action Shotgun

Wallet-friendly but decent quality

$229 at Palmetto State Armory
Jump to Details

Best Box-Fed

Iron Horse Sentry 12 Shotgun

Box-fed magazine shotgun with AR like controls/ergonomics

$501 at Guns.com
Jump to Details

Best Bullpup

KelTec KS7 Compact Shotgun

Bullpup design, super smooth action, M-LOK slots

$449 at GunPrime
Jump to Details
Benefits of Pump-Action Shotguns
Pump shotguns tend to offer a number of benefits over semi-auto designs. The main being the ability to use any kind of shotgun round.
Semi-autos depend on a certain amount of power to function reliably, but pump shotguns have no such issues.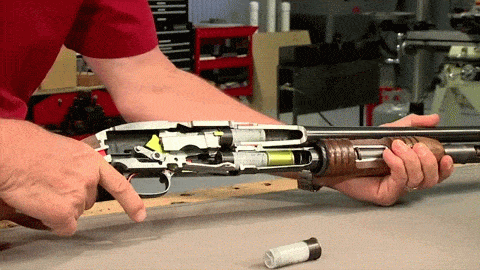 A pump gun can eat the lightest loads without issue. Pump shotguns can handle those uber-light trap loads, short shells, less lethal loads, breaching loads, and more.
If it can safely chamber and fire, it can be used in a pump-action shotgun.
Pump-action guns also offer an exceptionally affordable firearm with a high-quality design.
A nice Remington 870 or Mossberg 590 costs less than a budget-grade AR-15. Pump shotguns still offer a rapidly cycling design and allow for proper combative use.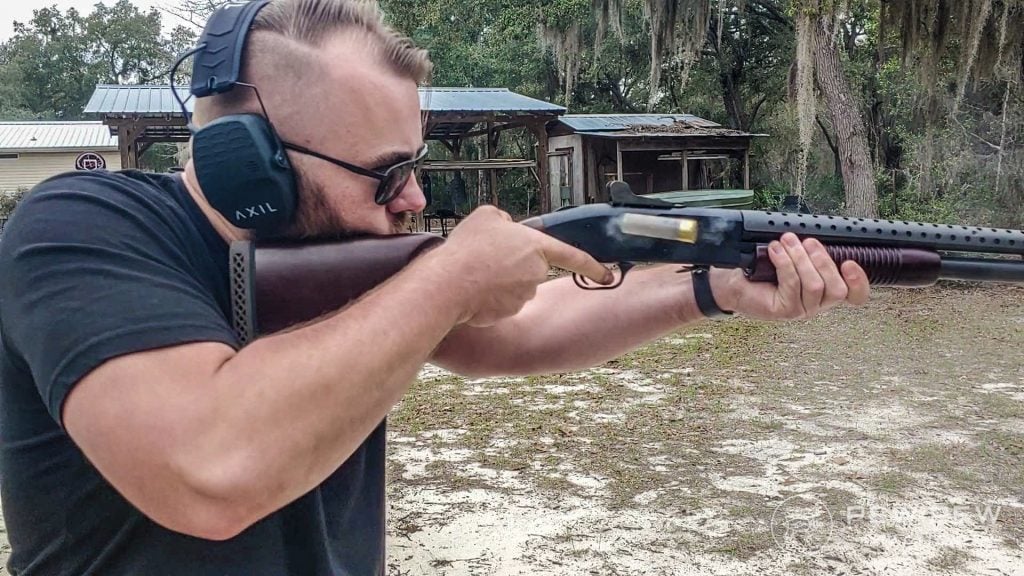 A manual action means the weapon isn't maintenance heavy and can be used and abused without much TLC, and it will keep shooting.
As manual operating weapons, they are not targeted by anti-gun bans and are common across the United States and the world.
Downsides of Pump-action Shotguns
Pump-action shotguns aren't perfect…
They tend to be mechanically reliable, but it's more likely that a shooter can cause a malfunction. Short stroking is a very real thing that can occur with poorly trained shooters.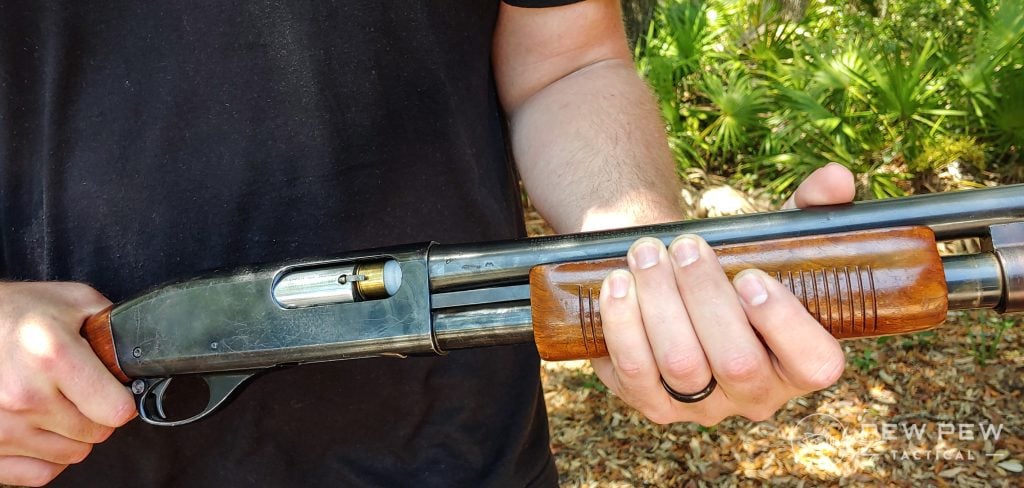 Pump shotguns also require two hands to operate quickly and accurately — so not useful if you have a hand or arm injury.
Recoil with pump guns is more intense than semi-autos, and it takes a skilled shooter to even get near the firing rate of a semi-auto.
You can learn more about the differences between pump-action and semi-auto here!
Best Pump-action Shotguns
Even with these downsides, pump shotguns remain popular, and we've gathered the best for your consumption.
Picking the best pump-action shotguns isn't an easy endeavor.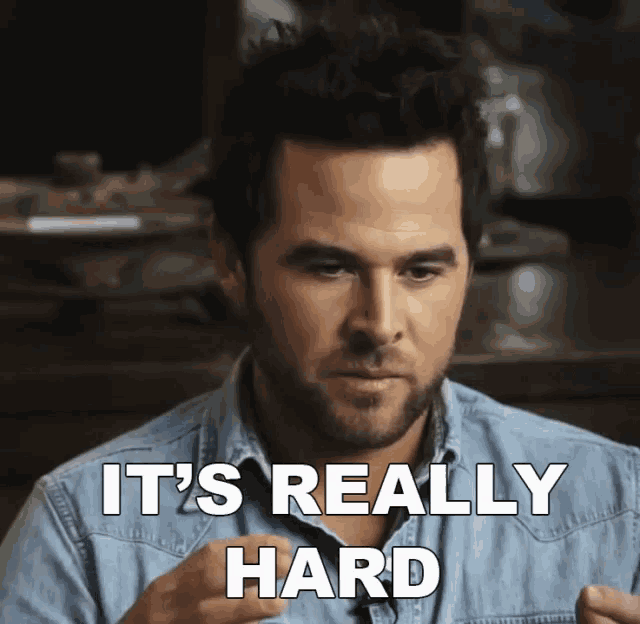 How do you pick the best pump-action shotguns when you have well over a hundred years of pump shotguns? I admittedly had to limit my choices somehow.
For this list, I picked shotguns that were still in production and not imported or produced in such small batches they were impossible to find.
1. Mossberg 500/590 Series
Since 1961, the Mossberg 500 shotguns have dominated the American market.
The 500 series typify and exemplify the pump-action shotgun layout. This basic gun utilizes a tube magazine, dual action bars, a bead sight, and a field stock.

Mossberg makes a ton of varieties of the 500 and 590 series.
The 500 tends to be the sporting option, but security models exist. The 590 series is exclusively a tactical series of shotguns designed for home defense and duty work.
Best for Home Defense
419
at GrabAGun
Prices accurate at time of writing
Prices accurate at time of writing
Available Coupons
25% off all OAKLEY products – OAKLEY25


Copied!
Visit Merchant
The weapons are similar, and both come in various designs and calibers. They share a similar setup but differ in the magazine tube and barrel design.
Popularity breeds innovation, and you can find a 500 or 590 in nearly any configuration you want.
This includes magazine-fed models, field guns, slug guns, and the Shockwave style firearms. Price varies depending on features, and the more basic models can be very affordable firearms.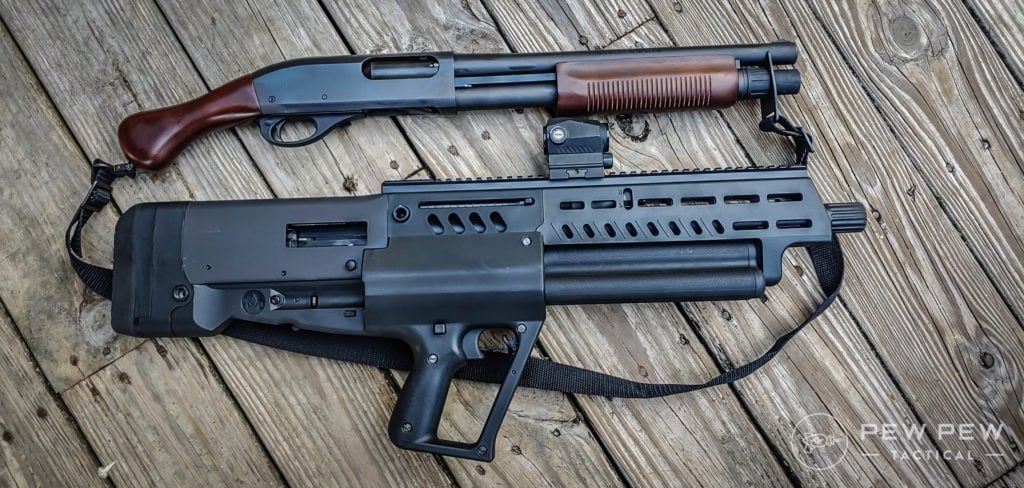 At their core, these guns are designed to be robust, easy to use, and ergonomic.
382
at GrabAGun
Prices accurate at time of writing
Prices accurate at time of writing
Available Coupons
25% off all OAKLEY products – OAKLEY25


Copied!
Visit Merchant
Mossberg uses a tang-mounted safety that's ambidextrous and just perfect. The controls are laid out simply, easy to access, and very easy to manipulate.
With great popularity comes great accessibility. You can accessorize your Mossberg nearly as much as an AR-15. You can slap all manner of stocks, forearms, lights, and optics on these guns and make them your own.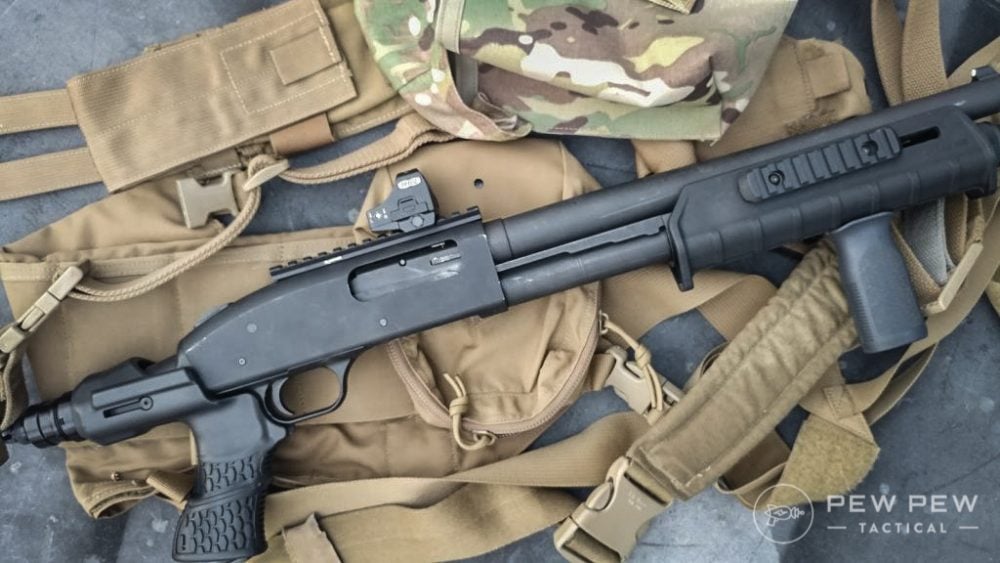 The biggest downside to the Mossberg 500 is that their bead sight models are mounted directly to their barrels, and this creates a high point of impact when compared to the point of aim.
Luckily, ghost rings and opticsexist for a reason.
You can learn more about the Mossberg 500 and 590 here!
What do you think of the Mossberg 500/590 series? Rate them below!
2. Remington 870
People don't realize how innovative the 870 was when it was introduced in 1950. Winchester's Model 12 ruled, and how do you unseat a gun known as the perfect repeater?
With the 870, we received the first gun to use dual-action bars for enhanced reliability and anti-bind design.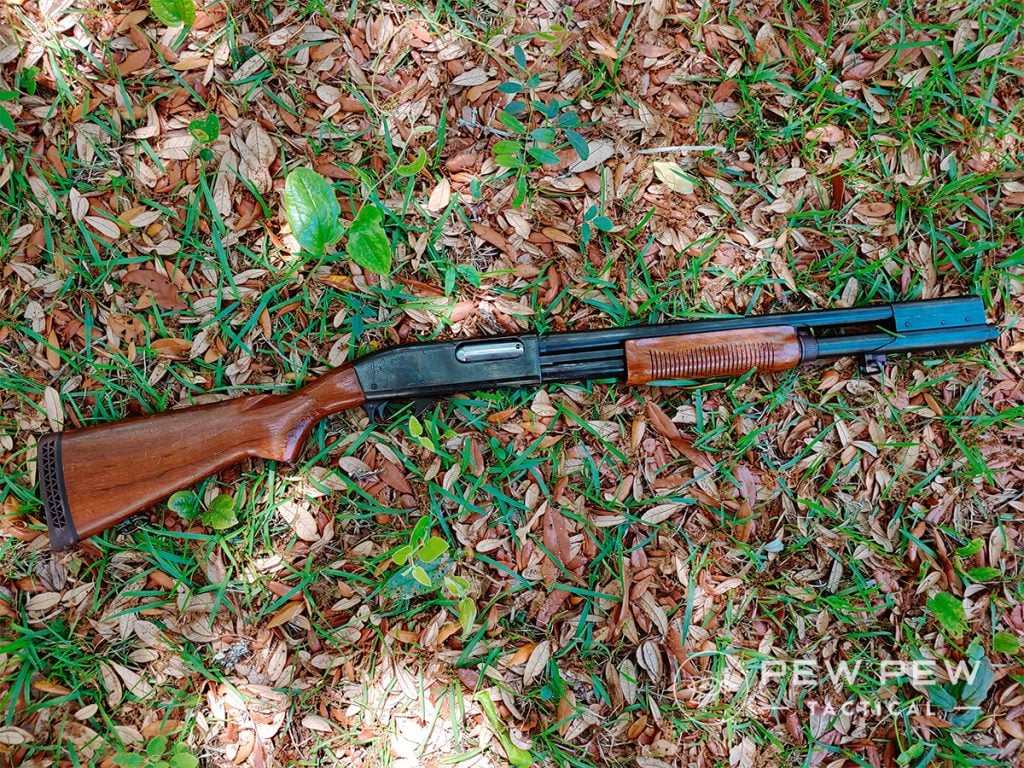 Mass production was key, and the Remington 870 could be produced at an affordable price while offering a very well-made, high-quality gun.
Remington as a company might rise and fall, but the 870 will live forever.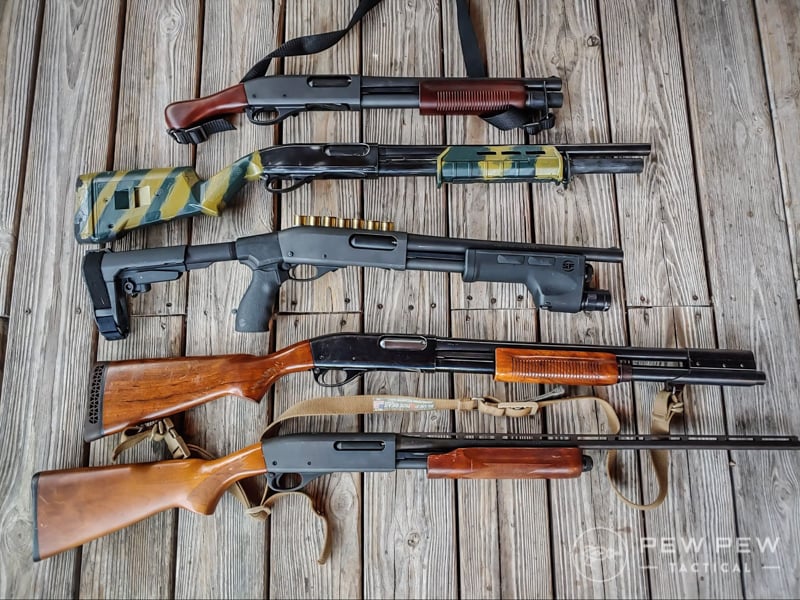 This shotgun has been made nearly continuously since 1950 and has become incredibly popular.
Remington has produced dozens of variants to accommodate the tactical crowd, the hunting crowd, trap shooters, wing shooters, and more.
412
at Kygunco
Prices accurate at time of writing
Prices accurate at time of writing
Available Coupons
25% off all OAKLEY products – OAKLEY25


Copied!
Visit Merchant
It's robust, versatile, and very capable.
Remington also produces these guns in all popular calibers.
Working with an 870 is always an enjoyable experience. The action is slick and smooth, the construction and lock-up are rock solid, and the gun's raised bead ensures your point of aim and point of impact match.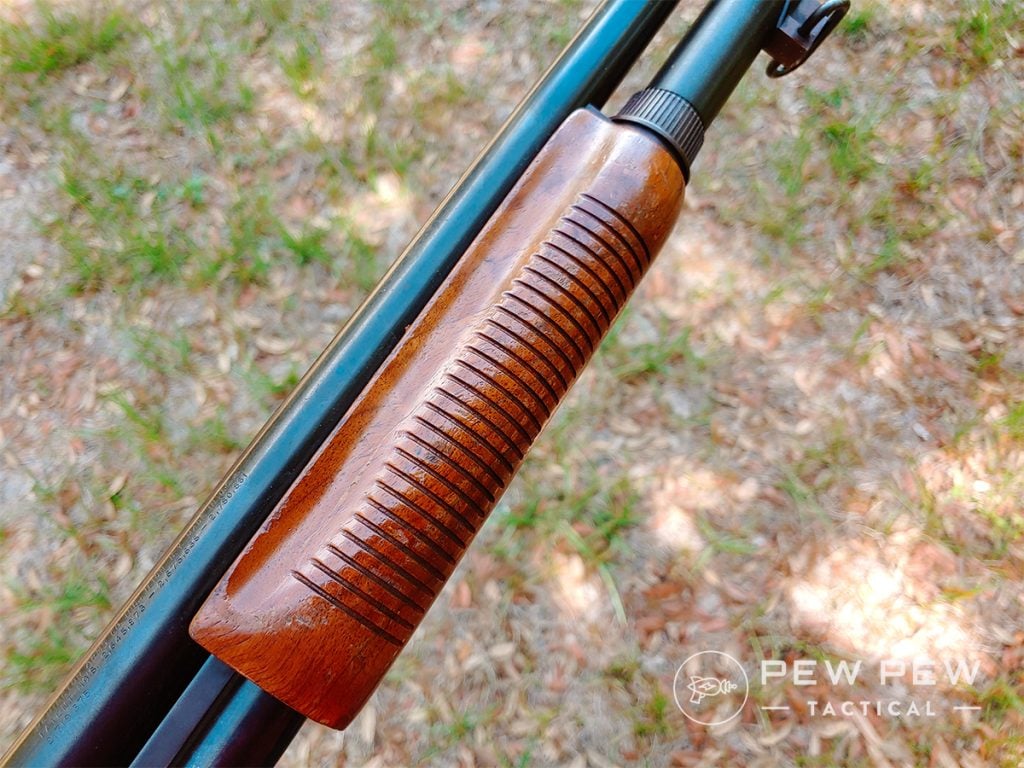 These guns are top-tier pump shotguns sold at a rather fair price point, at least for the Express models. The price starts to climb significantly when you get into the Field and Wingmasters.
Regardless, you get a solid shotgun that has defined the modern pump-action.
Check out our full review of the Remington 870 here!
3. Benelli SuperNova
The SuperNova series is criminally underrated. I would go as far as to say that the SuperNova is the greatest advancement to pump shotguns since the Remington 870.
Benelli used a heavy dose of polymer in the design, and this cuts weight while providing a corrosion-free design.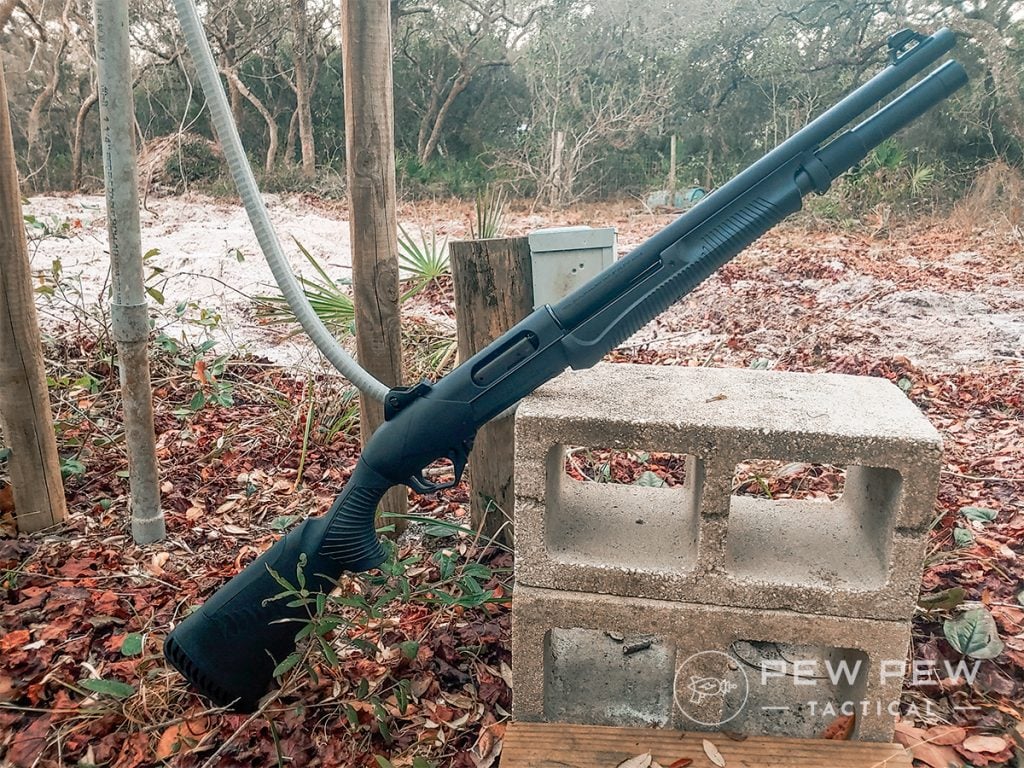 The company took the pump-action shotgun, deconstructed it, and then put it back together.
Its pump is much longer than most and sits further back on the receiver. This allows people with shorter arms to better manipulate the gun.
Benelli installed a magazine cut-off on the pump that allows you to open the action without plopping a round out of the magazine tube. This makes slug-select drills easy.
Lightweight Option
503
at Guns.com
Prices accurate at time of writing
Prices accurate at time of writing
Available Coupons
25% off all OAKLEY products – OAKLEY25


Copied!
Visit Merchant
In an interesting twist, Benelli makes the safety reversible for lefties. They also use a recoil-reducing stock with this chevron design to spare your shoulder from the abuse of 12-gauge recoil.
It's a gun that can also fire 3.5-inch shells. You can hunt nearly anything with a SuperNova, from deer to doves and geese. Those big ejection and loading ports make it a lot easier to load the gun, which is critical for tactical or competition shooting.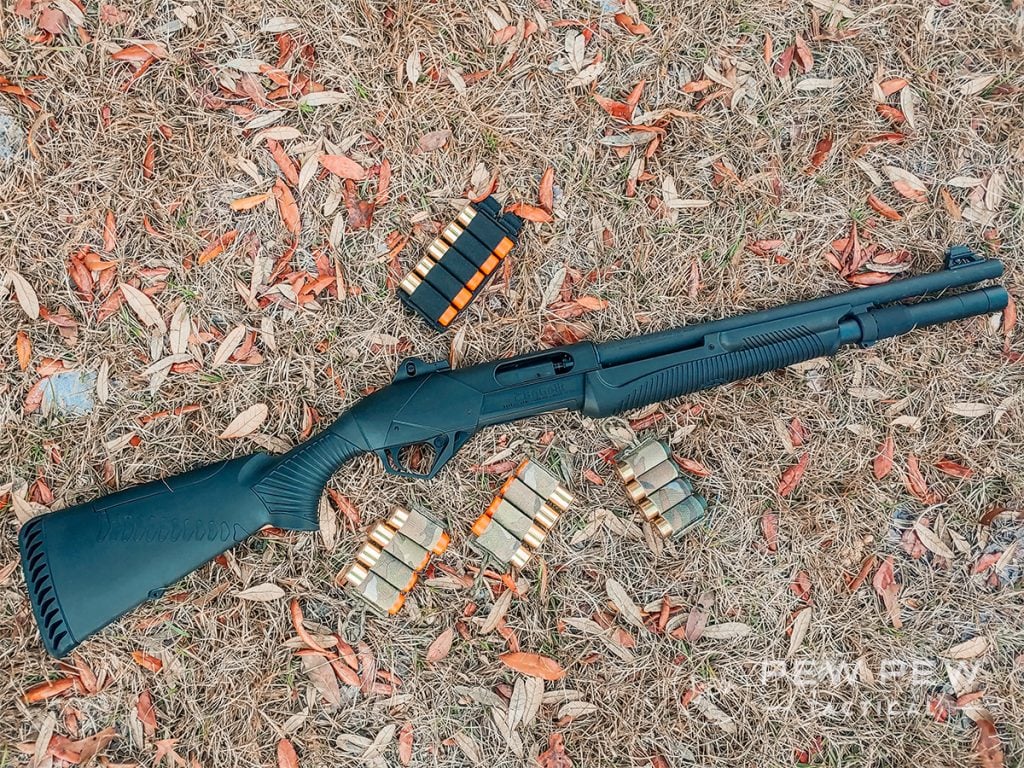 Across the top, we have ghost ring sights as the standard, and the receiver is tapped and ready for a rail and an optic.
Benelli is often associated with high prices, but the SuperNova is surprisingly affordable.
If I had to pick one pump-action shotgun to escape into the wilds, it'd be the SuperNova.
You can read up on the SuperNova in our full review!
4. Mossberg Maverick 88
When it comes to affordability, there is no better option than the Mossberg Maverick.
For less than $300, you have a robust shotgun for hunting and home defense. Mossberg makes the Maverick, and it's like a distant cousin to the 500.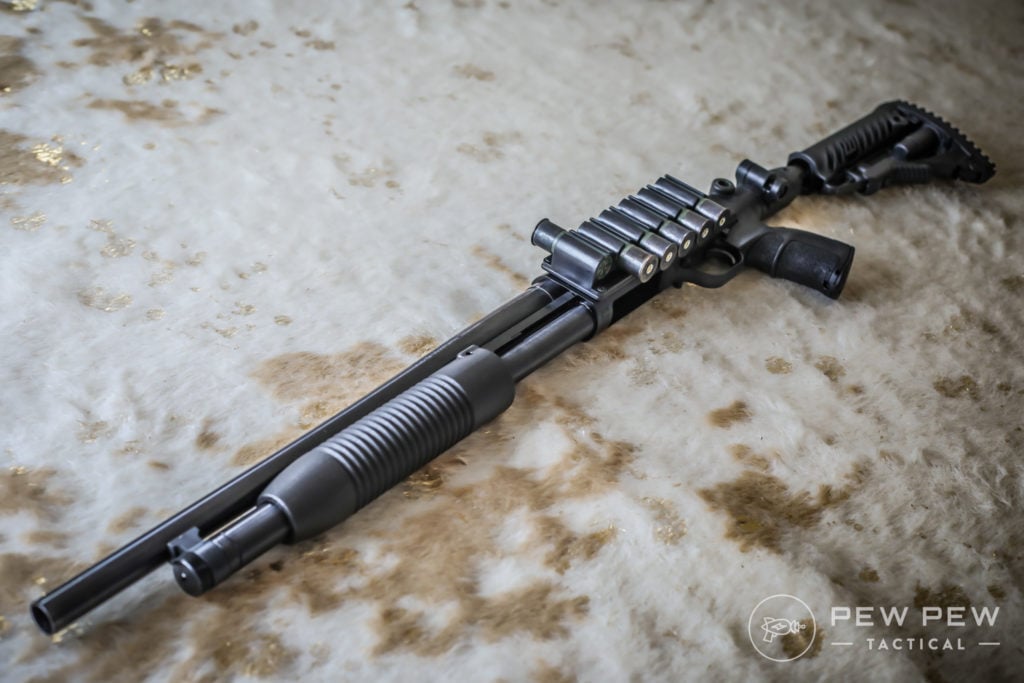 Some cost-saving cuts are made to keep the price low and deliver a basic but entirely useable shotgun.
These cuts include a one-piece forend, a lack of optics cuts, and cross-bolt safety, but they don't take away from the core quality of the shotgun. It's still a dual-action bar shotgun with a bead sight and a versatile configuration.
Most 500 accessories will fit the Maverick, giving you room to customize the gun as you see fit. While cheaper, the gun is still incredibly durable and very reliable.
Best Budget Option
229
at Palmetto State Armory
Prices accurate at time of writing
Prices accurate at time of writing
Available Coupons
25% off all OAKLEY products – OAKLEY25


Copied!
Visit Merchant
It performs on par with the more expensive guns on this list and eats through nearly any ammo you toss through it. Just because it's cheaper doesn't mean it isn't durable.
If I bought a Mossberg Maverick 88, I'd get the combo field and security model. This option offers you two barrels and doubles the versatility.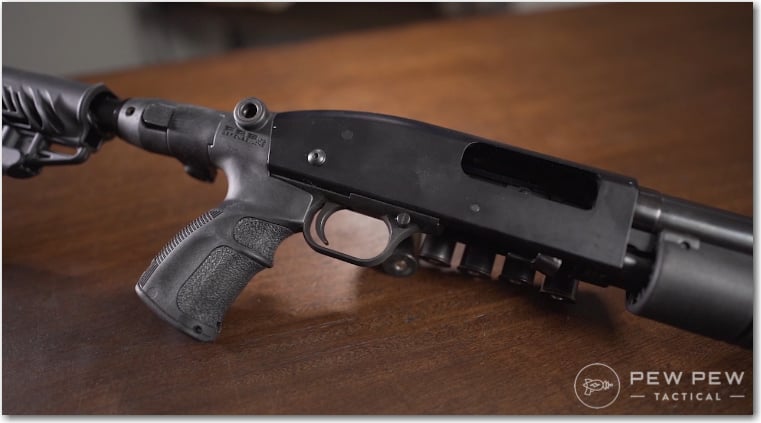 5. Iron Horse Sentry 12
If you told me you needed a shotgun but didn't like shotguns, I know exactly what gun I'd point you towards.
The Iron Horse Sentry 12 is the perfect shotgun for people who hate shotguns. It's a box mag-fed shotgun with AR-15-like controls and ergonomics.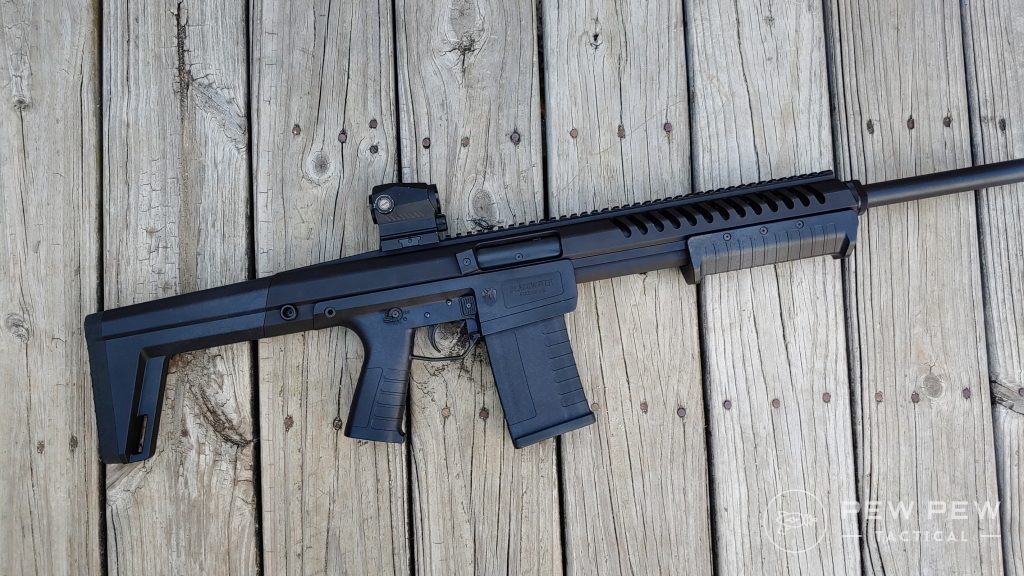 It weighs a little over 6 pounds with capacities of five and eight rounds. Iron Horse uses ambidextrous controls that are absolutely massive and very easy to use. Across the top, we have a full-length rail to mount accessories.
The pump-action is ultra-smooth, and the gun is incredibly reliable.
Best Box-Fed
501
at Guns.com
Prices accurate at time of writing
Prices accurate at time of writing
Available Coupons
25% off all OAKLEY products – OAKLEY25


Copied!
Visit Merchant
Most box-fed magazine shotguns are hit-and-miss, but the made-in-America Sentry 12 is all hit. The gun works and feeds reliably, the magazines fit in AR-10 pouches, and the stock has an excellent length of pull.
It handles much more like a rifle than a shotgun, and for some, it will be a natural change from one to the other.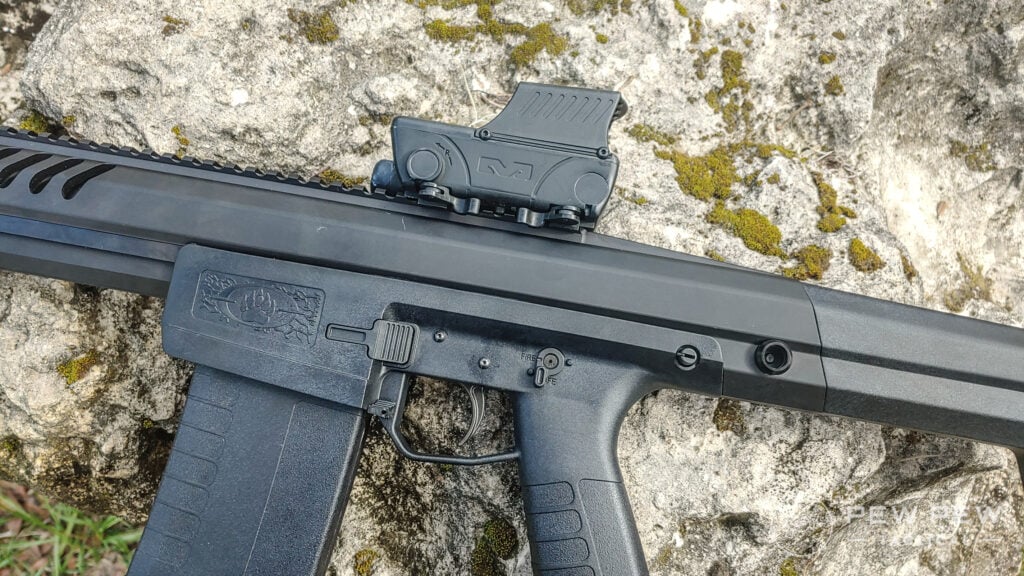 Admittedly box fed shotguns have their challenges. The magazines cannot be left loaded for extended periods, or the shells deform.
Magazines mean you can't top off the gun with a few extra rounds as you run it, either.
It's a different type of shotgun that takes different training, but for some, it will be worth the investment.
6. KelTec KS7
This might be a controversial one…
KelTec often has some bugs in their guns, but as of right now, the KS7 is the best bullpup, pump-action shotgun I've ever used. I've had one for several years now, and it runs flawlessly.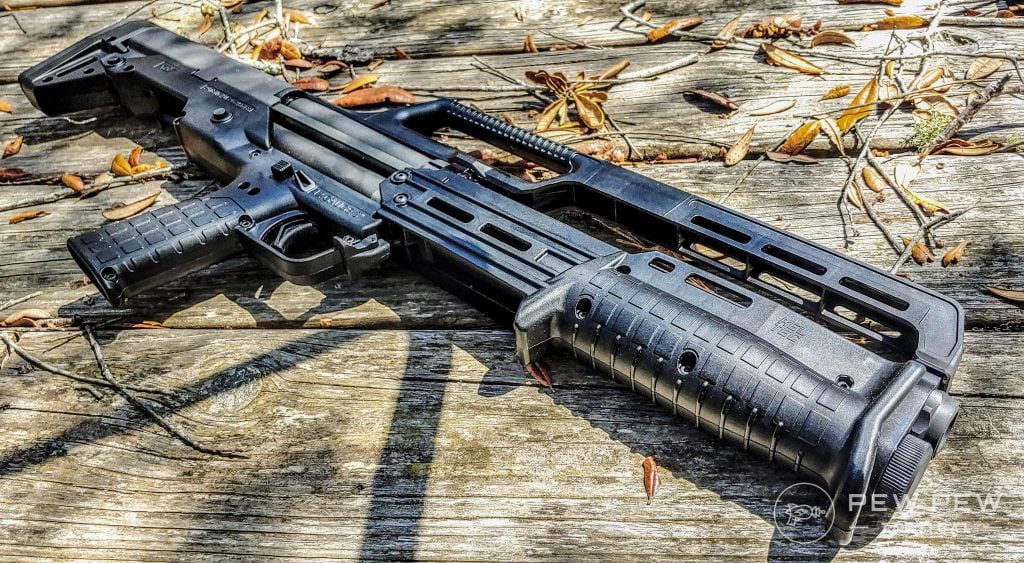 As a bullpup shotgun, it's hardly any bigger than a Shockwave, but you get a stock and a 7-round magazine tube.
It's also crazy lightweight at only 5.9 pounds. Bullpup shotguns put your hands awfully close to the barrel, but KelTec wisely put an integrated handguard with the KS7.
Best Bullpup
449
at GunPrime
Prices accurate at time of writing
Prices accurate at time of writing
Available Coupons
25% off all OAKLEY products – OAKLEY25


Copied!
Visit Merchant
The action is super smooth and runs like a scared bat. Bullpups often don't work well for lefties, but the KS7 uses a bottom-loading and bottom-ejecting design to keep hulls out of the faces of left-handed shooters.
A space-age carry handle suits across the top with a massive high visibility fight. That carry handle also offers M-LOK slots to mount accessories, side saddles, and lights. If you don't care for the side saddle, you can install an optic rail pretty easily.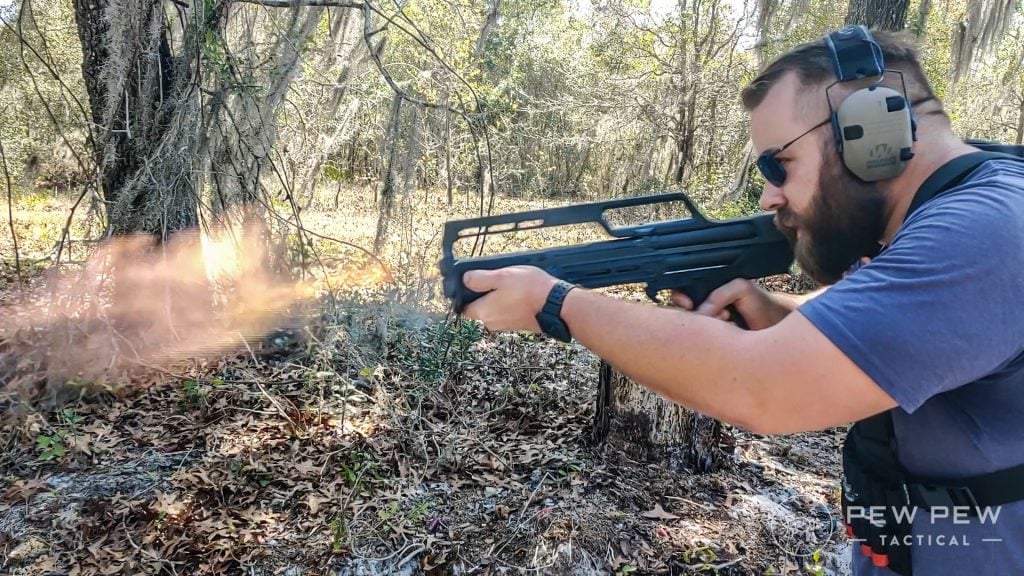 Recoil can be rough, so learn your push-pull technique to make sure you can control it. It's a well-put-together shotgun that has taken me by surprise.
Read more at our KS7 Review.
7. Benelli M3
My last pick is always a wildcard, and this wildcard is the Benelli M3. The Benelli M3 is not just a pump-action option but also a semi-auto shotgun.
It's one of the rare guns that offers a hybrid design that mixes a Benelli inertia system with a pump-action design.
As a hybrid, you get the best of both worlds. A fast-firing rate with lower recoil in semi-auto mode and the ability to cycle any round in pump-action.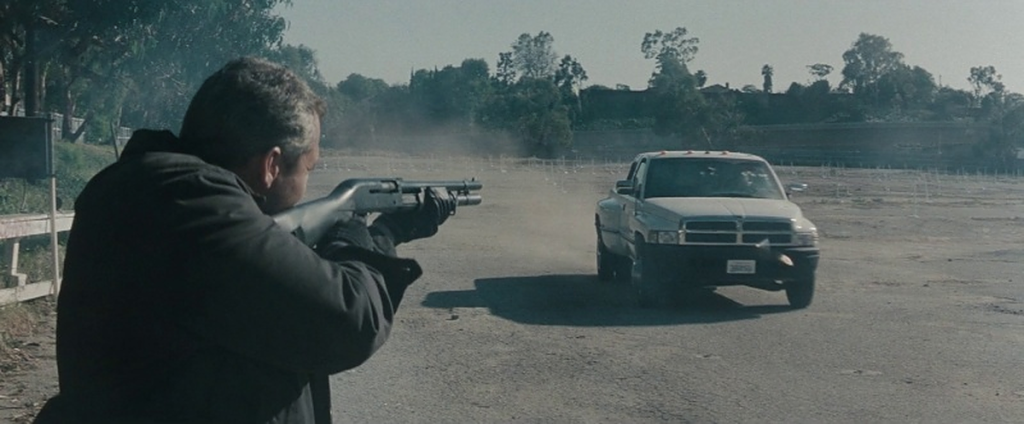 All it takes is the spin of a ring, and your gun converts easily.
Like all Benelli shotguns, this is a fine piece of Italian engineering. Everything about the gun reeks of quality.
This includes awesome controls, excellent accuracy, and incredible reliability. The pump-action is uber smooth and very satisfying.
1279
at Kygunco
Prices accurate at time of writing
Prices accurate at time of writing
Available Coupons
25% off all OAKLEY products – OAKLEY25


Copied!
Visit Merchant
The main downside is that when the gun runs empty, the bolt locks to the rear, and you can only release the bolt with the press of the bolt release — not the pump.
That makes it a little less ergonomic, but you can make it work with practice. Oddly, there aren't more hybrids, as it is the best of both worlds.
Final Thoughts
Pump-action shotguns are a common choice for defensive, hunting, and sporting — remarkably reliable, affordable, and capable.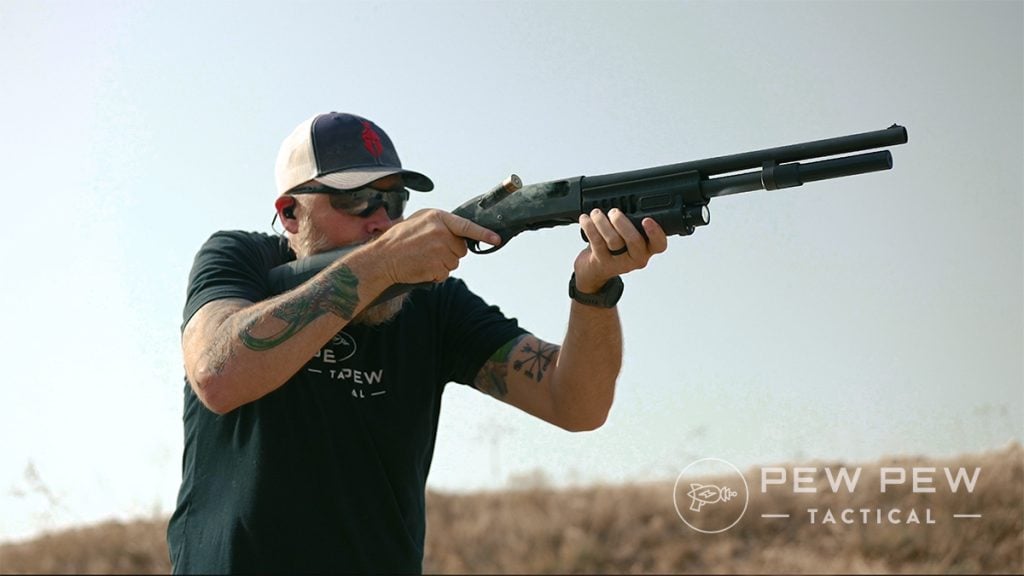 The pump-action shotgun is the way to go when you need a quality defensive weapon and are on a budget.
What's your favorite pump-action shotgun? Let us know in the comments below. In need of a home defense shotgun? Take a look at our list of the Best Home Defense Shotguns.