There are many choices when upgrading to a new stock, and this post will cover the best AR-15 stocks on the market.
Thank you for reading this post, don't forget to follow and signup for notifications!
With various price points, this article will help you decide which is right and will help you choose the perfect one for your intended use.
So if you want to spice up your rifle, keep reading. We will discuss fixed stocks and collapsible stocks.
This post will review the best AR-15 stocks.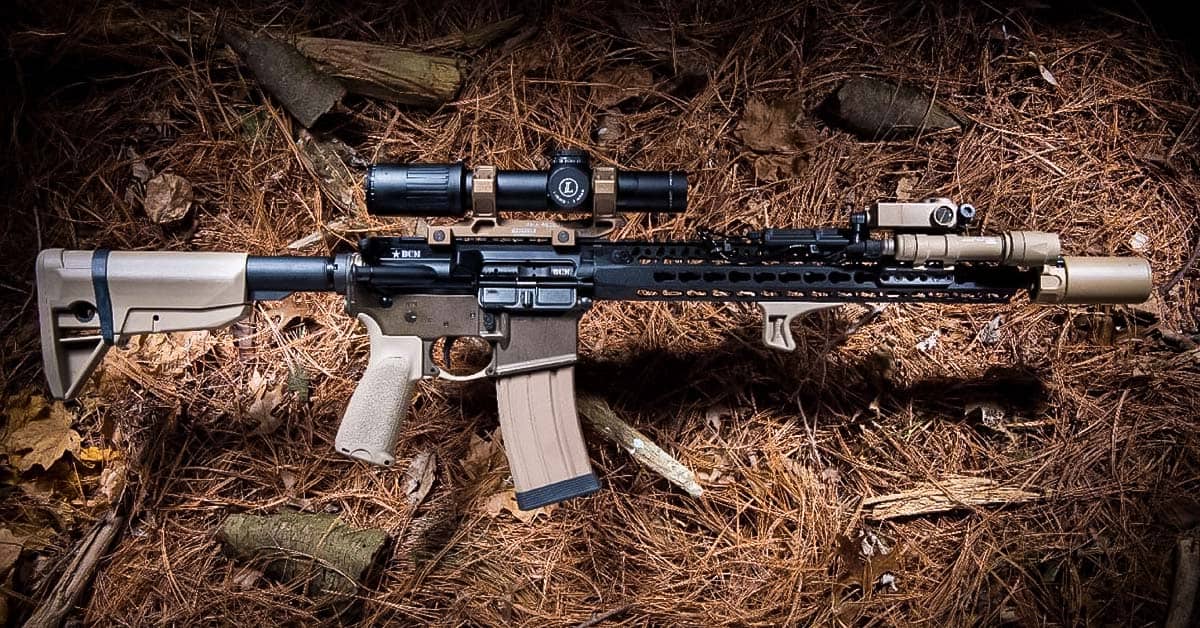 Why Upgrade Your AR-15 Stock?
The answer is simple: make your rifle more comfortable and user-friendly.
Everyone is different and has a different length of pull and indexes different with their cheek weld.
Finding a stock that is more aligned with your shooting style will make it more comfortable, quicker to get a good-sight picture, and more repeatable.
Maybe you want a fixed stock, or you might want a collapsible stock.
I always say this, but we live in the golden era of firearms and firearm accessories. There are a lot of great options for stocks available.
Best AR-15 Stock Criteria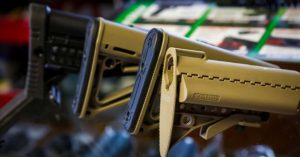 Below are the variables I think about when choosing the best AR-15 stock that you should also consider.
Intended Use
Is this going to be on an SBR? Do you need maximum maneuverability? Are you going to use this while wearing body armor?
Then you may want a small low profile stock that is slim.
Is this going on a long-range precision rifle or an SPR?
Then you might want a fixed stock for the most comfortable cheek weld with more weight behind it.
Or do you want a do-it-all rifle you can run and gun with, clear rooms, and make accurate shots at distance?
Then you might want something in between.
Adjustability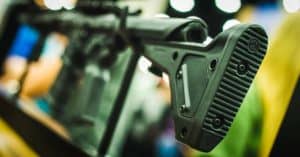 Most modern stocks will have at least three adjustment positions for the length of pull, but many will have more adjustments.
The fixed position stocks are not as popular anymore but can still be seen around. A rifle stock will be more comfortable if you are a large person.
If you are medium or small-sized, you will most likely prefer an adjustable stock.
Some precision-style stocks will have an adjustable butt pad and cheek riser.
Durability
Another factor to consider is how strong the AR stock is. If you are building a safe queen, this might not be too important, but you should always get good-quality gear.
You don't want the stock to crack if you drop your rifle or have to be hard on it. This happens more often than you may think.
Don't buy a cheap AR stock you found on wish dot com. That goes for any gun parts.
Size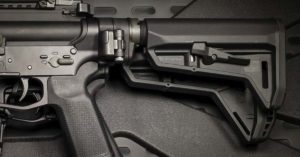 Generally, most of these will be similar in size, but if you are going for a highly compact build, you might want a folding buffer tube adaptor.
These are cool and will allow you to fold the stock.
For most people, you may want a normal-size stock that is comfortable.
The size will also directly relate to your intended use.
Compatibility
Some people may not know this, but there are two-sized buffer tubes—Mil-Spec and commercial.
I want to say 98% of them will be mil-spec, and I don't even remember the last time I have seen a commercial diameter buffer tube.
But always make sure you buy compatible parts, but for most rifles, mil-spec is what you will need.
Aesthetics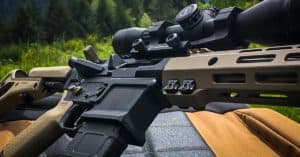 Rule number one, always look cool.
As much as you might not want to admit it, looks are pretty important, even if it serves no tactical importance.
I'm willing to bet if you are deciding between two parts, you will choose the one that looks cooler.
Price
The final factor when determining the best AR stock is the cost.
I would ensure you have a good quality red dot or optic and a good weapon light with lots of ammo stocked up before you spend any money upgrading a stock.
These upgrades and ammo should take precedence.
Most of these will be similarly priced though.
Best AR-15 Stock
Now let's get into the main reason you clicked on this article. Here are the best AR-15 stocks on the market…
1. Magpul MOE Rifle Stock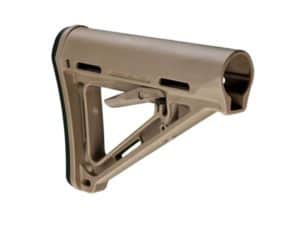 The Magpul MOE Rifle Stock is a top choice for many shooters. It's a lightweight and durable collapsible stock that allows for an adjustable length of pull, up to 3.3 inches.
The stock comes in a variety of popular colors to choose from.
One of the key features of this stock is its sloping cheek weld which provides a sleek profile and a more comfortable position for the shooter.
Additionally, it has a removable rubber butt-pad that enhances protection against recoil.
2. Magpul Industries CTR Rifle Stock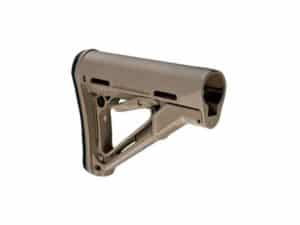 3. Adaptive Tactical EX Performance Adjustable M4-Style Stock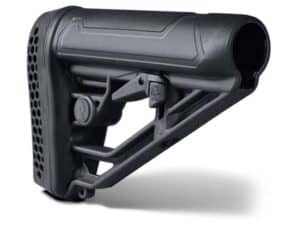 4. Magpul Industries MOE Slim Line Carbine Stock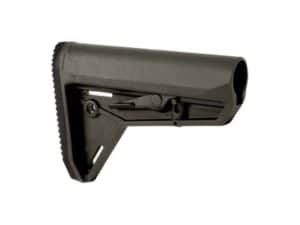 5. B5 Systems Bravo Stock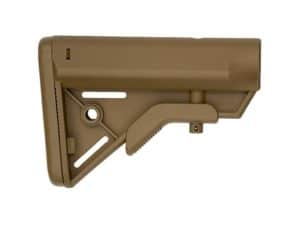 Related Articles
Best AR-15 Flashlights (Complete List)
5 Best AR-15 Drum Magazines
9 Best AR-15 Triggers
9 Best Lasers For AR-15 (Complete Guide)
6. FAB Defense GL-CORE AR-15/M4 Skeleton Style Buttstock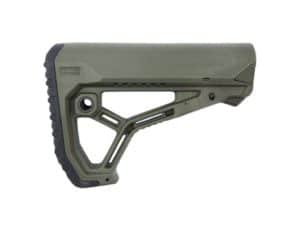 7. Bravo Company MFG Stock Mod 0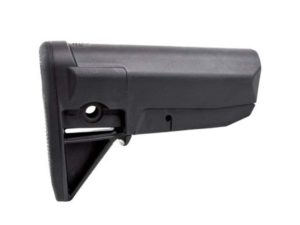 8. B5 Systems Enhanced SOPMOD Stock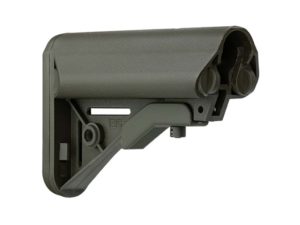 9. Magpul Industries STR Mil-Spec Carbine Stock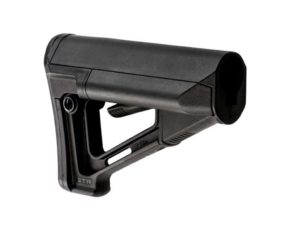 10. Magpul Industries MOE SL-S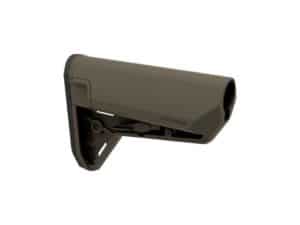 11. Magpul Industries ACS-L Mil-Spec Lightweight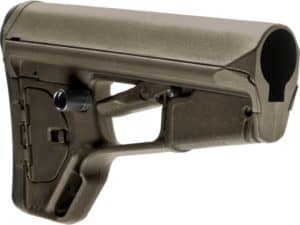 dly option for carbine receivers from various manufacturers.
12. Magpul Industries PRS Gen 3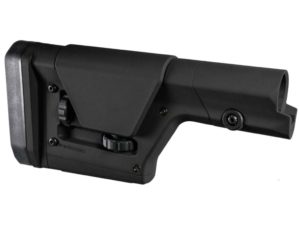 13. Magpul Industries UBR Gen 2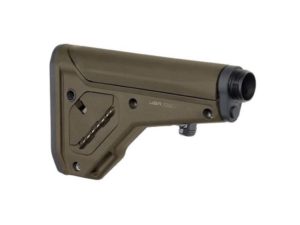 Bonus: Law Tactical AR Folding Stock Adapter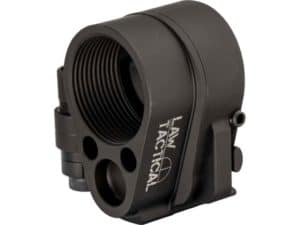 Final Considerations
Fixed stocks will always be more solid and stable compared to a collapsible stock. The benefits of adjustable stocks and collapsible stocks are that they can be adjusted.
If you wear body armor, I recommend one of the adjustable stocks.
Best AR-15 Stock FAQ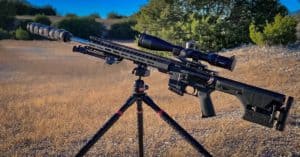 What is the best AR-15 stock for accuracy?
A fixed stock is one of the best options for accuracy, as it eliminates any movement or flex in the stock that can affect accuracy.
What is the best AR-15 stock for comfort?
A collapsible stock with an adjustable length of pull and cheek rest is a great option for comfort, as it allows the shooter to customize the fit to their body.
What is the best AR-15 stock for durability?
A stock made from durable materials such as polymer or aluminum is a good choice for durability. They are also lightweight and won't add much weight to your rifle.
What is the best AR-15 stock for weight?
A carbon fiber stock is an excellent option for weight, as it is incredibly lightweight and durable.
What is the best AR-15 stock for the money?
A budget-friendly option is a polymer stock, which offers durability and a comfortable design at an affordable price point.
Complete List of Items Mentioned
(Click the links for the most up-to-date prices)
Magpul MOE Rifle Stock
Magpul CTR Rifle Stock
Adaptive Tactical EX Performance Adjustable M4-Style Stock
Magpul MOE SL Stock
B5 Systems Bravo Stock
FAB Defense GL-Core AR15/M4 Skeleton Style Buttstock
Bravo Company MFG Stock Mod 0
B5 Systems Enhanced SOPMOD Stock
Magpul STR Stock
Magpul SL-S Stock
Magpul ACS-L Rifle Stock
Magpul PRS Gen 3
Magpul UBR Gen 2
Law Tactical Folding Stock Adapter
What's your favorite AR-15 stock?
Let me know in the comments below.
Further reading on Firstworldcrusader.com: Are you interested in learning more about guns and gear?
This list of the Best Red Dot Sights can help you choose the best optic for your rifle.
In addition, here are the Best AR-15 Upgrades & Accessories that can help you get more out of your primary battle rifle.