Trending: Best Ammo In Stock, Best AR-15, & Best 9mm Pistols
Have we reached peak tactical weapons? Does everything have too much black, not enough wood, or too many fancy rails for you?
Thank you for reading this post, don't forget to follow and signup for notifications!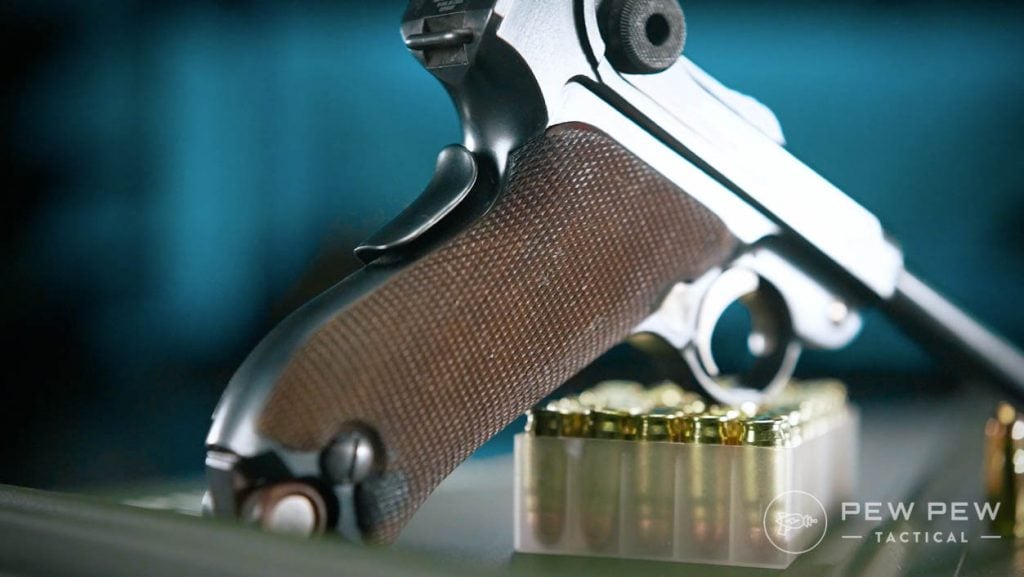 So maybe you aren't against tactical weapons…but you do appreciate the old-school designs. Well, then, we have the article for you.
There are distinct phases the gun industry goes through, and we are currently knee-deep in the retro-reissue phase.
So, follow along as we walk you through some of our favorite retro guns reborn in the modern era for your enjoyment!
Summary of Our Top Picks
Best Retro Revolver

Colt Python

The Python has been back for a few years now, and given its quality, it looks like it is here to stay this time.

$1440 at Kygunco
Jump to Details

Best Retro Pistol

Springfield Armory SA-35

The SA-35 adds some nice upgrades to the original Hi-Power while remaining faithful to the original design.

$825 at Guns.com
Jump to Details

Most Affordable Retro Gun

Rock Island Armory TPAS

At under $500, the RIA TPAS gives you that authentic trench gun feel without breaking the bank.

$489 at GrabAGun
Jump to Details

Best Retro Rifle

Harrington & Richardson 723 Style Carbine

The new fixed carry handle AR-15s from H&R/Palmetto State Armory are sure to be a huge hit among hardcore enthusiasts.

$999 at Palmetto State Armory
Jump to Details

Most Unique Retro Rifle

MarColMar CETME L

The Cetme L is an interesting mix of history, a cool operating system, and an affordable caliber to shoot.

$1209 at Guns.com
Jump to Details
Table of Contents
Loading…
Retro Reissues
Old guns rock, but authentic old guns are expensive. Buying a Colt SP-1 or a classic Colt Python isn't possible for most shooters.
Even if you purchased one of these classics, how often are you willing to shoot it?

Retro reissues, as I define them, are more or less modern weapons that are being reproduced to allow a new generation to enjoy them. By modern, I essentially mean firearms from World War 2 to the Vietnam War-ish era.
It's a phrase I'm playing fast and loose with, but it excludes cowboy guns, revolutionary-era firearms, and things of that nature.
I am also excluding guns that never really ceased production. Guns like the 1911 and Colt Single Action Army have been around in some form since their inception and aren't included in this list.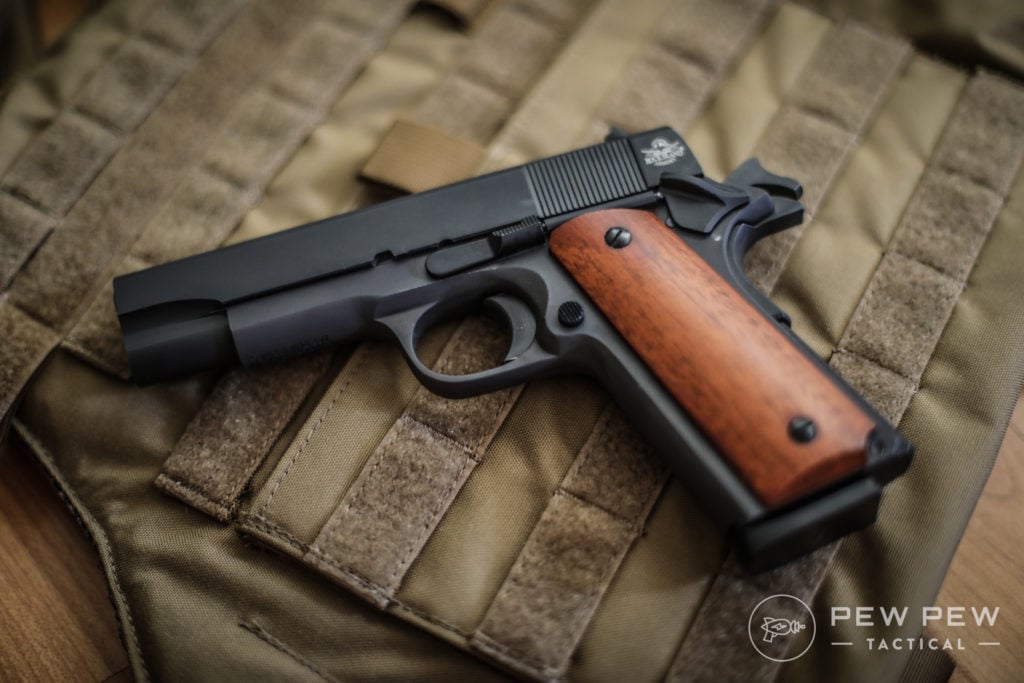 These new production guns give you that old-school experience and often do so at an affordable price. You also don't need to worry about breaking a classic heirloom piece of history by shooting if it's a current production gun.
So let's take a look at some of the best retro reissues currently out there.
Best Retro Reissue Guns
1. Mossberg Retrograde Series
Retro shotguns made a huge comeback in the last two years, and it's all because of Mossberg.
The Mossberg Retrograde series is made up of four guns as of this writing. This includes a Mossberg 500, a Mossberg 590A1, and two configurations of the standard Mossberg 590.
All of the Retrograde Series shotguns sport all-wear wood furniture with a dark finish. To be fair, the Mossberg 500 model is the only one that's truly a Retro Reissue, but the styling on the newer 590s is definitely in the same vein.
The Mossberg 500 has a blued barrel and classic layout and looks just like the classic riot gun configurations that came out in 1961.
For those who like more aggressive styling, the 590 variants look like trench guns — it's glorious! The barrels are adorned with heat shields and bayonet lugs on top of a grey-looking parkerized finish.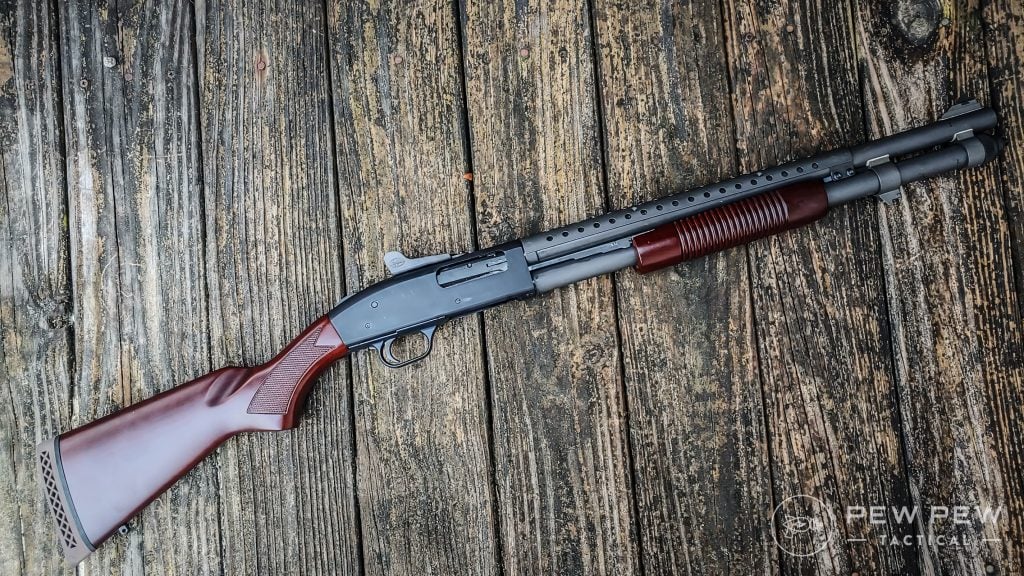 My favorite variant is the 590A1 variant. It has a heat shield, bayonet lug, parkerized finish, and features the all-metal trigger unit and heavier barrel with a set of ghost ring sights.
While it's not officially part of the Retrograde series, the Mossberg 590 Nightstick also earns a nod.
It's a firearm in the Shockwave class that wears wood furniture on top of a leather hand strap. It looks like something a bootlegger out of the 1930s would carry — and that is pretty cool.
999
at GrabAGun
Prices accurate at time of writing
Prices accurate at time of writing
Available Coupons
25% off all OAKLEY products – OAKLEY25


Copied!
Visit Merchant
Unfortunately, the Retrograde series is a mix of affordability due to supply and demand. The 590A1 Retrograde typically goes for well above MSRP on the open market.
You can check out our full review of the Retrograde series here.
2. Colt Python
When Colt revived the Cobra, we all crossed our fingers, hoping the Python would be next.
After a few years, they did just that. Even more, they brought back the Diamondback and Anaconda too.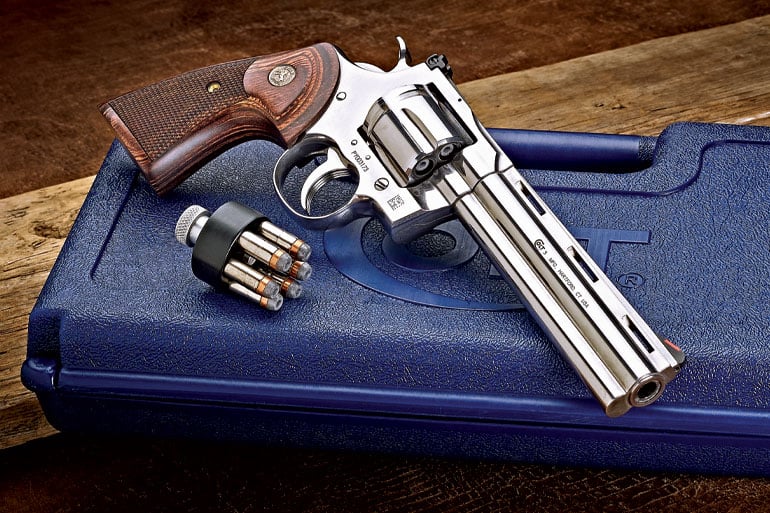 I could have plopped down any of those guns, but the Python is the king of the snake guns. It's a full-sized .357 Magnum known for its distinctive and desirable vent-rib barrel design.
Colt's craftsmanship made original weapons legendary, and I'm sure there are plenty of naysayers who say that the new ones can't hold a candle to the old ones. However, after handling a new Python, I was more than impressed.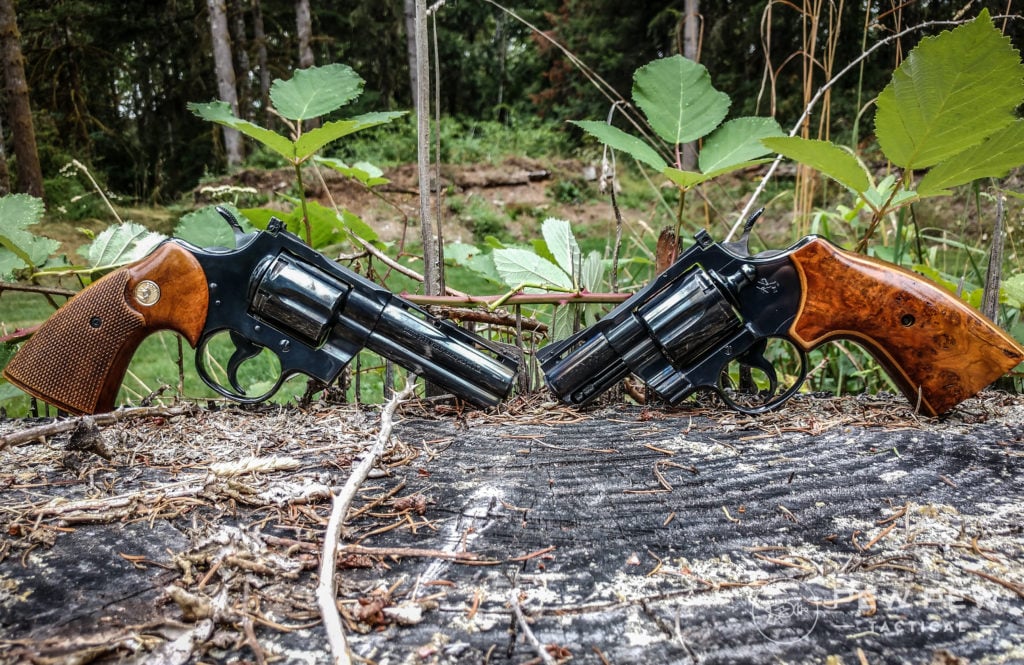 The guns have great triggers and sights. Altamont provides some excellent wood grips, and Colt used stronger steel than the original guns. These guns come in 3, 4.25, and 6-inch barrels.
They are somewhat expensive but downright affordable compared to an original these days. This allows my generation to fall in love with the snake guns all over again…or complete the perfect Walking Dead cosplay.
Best Retro Revolver
1440
at Kygunco
Prices accurate at time of writing
Prices accurate at time of writing
Available Coupons
25% off all OAKLEY products – OAKLEY25


Copied!
Visit Merchant
What do you think of the Python? Rate it below!
3. Springfield Armory SA-35
Why was 2022 the year of the Hi-Power? I have no idea. Was it a coordinated attempt to get America over the 1911 disease? I can't say.
Girsan, FN, and Springfield all released some form of the Hi-Power pistol last year.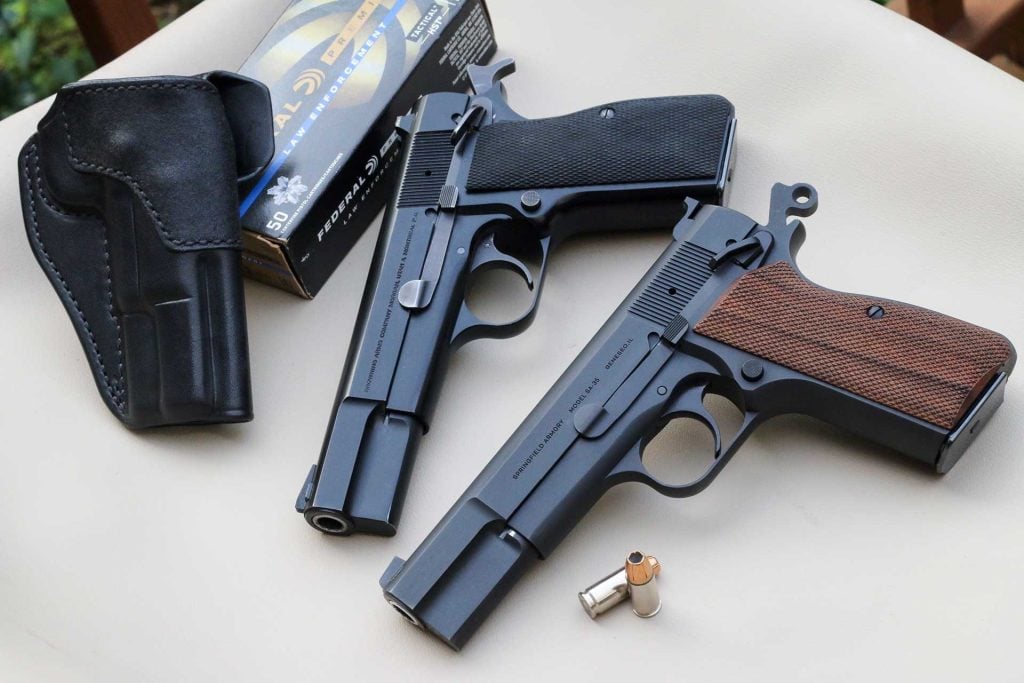 The FN is very nice but overly modernized with a different barrel system and is not really a true Hi-Power. Girsans is affordable but has all the original Hi-Power problems.
That leaves us with the Springfield Armory SA-35.
The SA-35 sticks to the core of the Hi-Power, while adding some small modernizations to avoid some of the original shortcomings.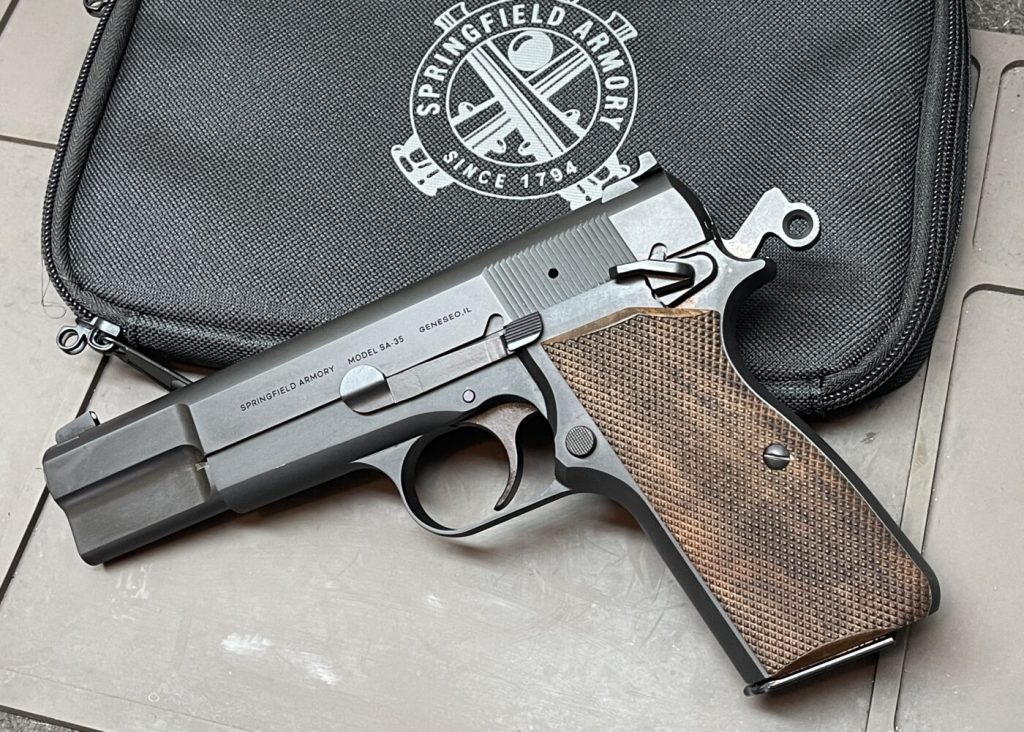 They eliminated hammer bite, removed that silly magazine safety, and even made it more efficient with an increased 17-round capacity.
It still looks and handles like the original, complete with iron sights, no rail, and beautiful wood grips. With their omission of the magazine safety, you get an excellent trigger, and the gun really shines as the perfect retro reissue of the Hi-Power.
Best Retro Pistol
825
at Guns.com
Prices accurate at time of writing
Prices accurate at time of writing
Available Coupons
25% off all OAKLEY products – OAKLEY25


Copied!
Visit Merchant
Price-wise, it isn't too bad, coming in around $700-850. Not too bad for an all-metal classic.
4. Rock Island Armory TPAS
The TPAS, or Trench Pump Action Shotgun, is Rock Island Armory's retro reissue of the famed Ithaca 37.
As the name implies, it's a trench gun variation. This means you get an 18.5-inch barrel, all wood furniture, and a heat shield.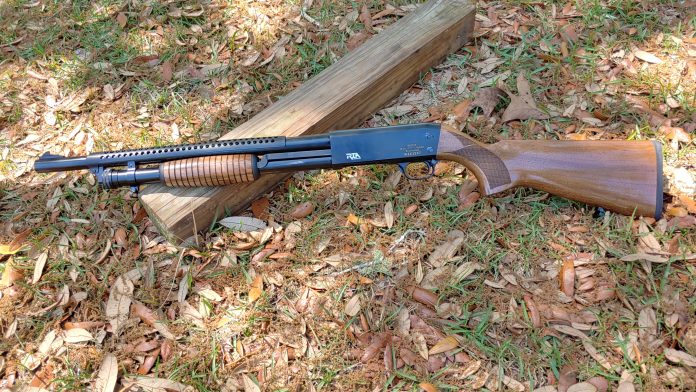 Like the Ithaca, it has no ejection port on the side. Instead, it loads and ejects from the bottom.
All it's missing is the bayonet lug and ability to slam fire to really complete the look and feel of an authentic Ithaca 37.
Despite this, it's surprisingly well-made. The action is super smooth, and the trigger is excellent
Most Affordable Retro Gun
489
at GrabAGun
Prices accurate at time of writing
Prices accurate at time of writing
Available Coupons
25% off all OAKLEY products – OAKLEY25


Copied!
Visit Merchant
At the range, it's proved reliable, fun, and surprisingly competent. It's not what I expected at this price point, and sometimes, I am always excited to be wrong when the gun ends up being way better than I ever expected.
The TPAS is the most affordable gun on this list and a fairly faithful representation of a gun in a configuration most of us would have only ever dreamed of getting.
5. Palmetto State Armory/ H&R Retro AR-15s
We can't ignore the original retro market, and we can't overlook one of the biggest companies out there putting out retro guns — NoDak Spud.
NoDak Spud produced the highest quality clone-ready uppers and lowers on the market. Palmetto State Armory recently purchased both H&R (Harrington & Richardson) and NoDak Spud.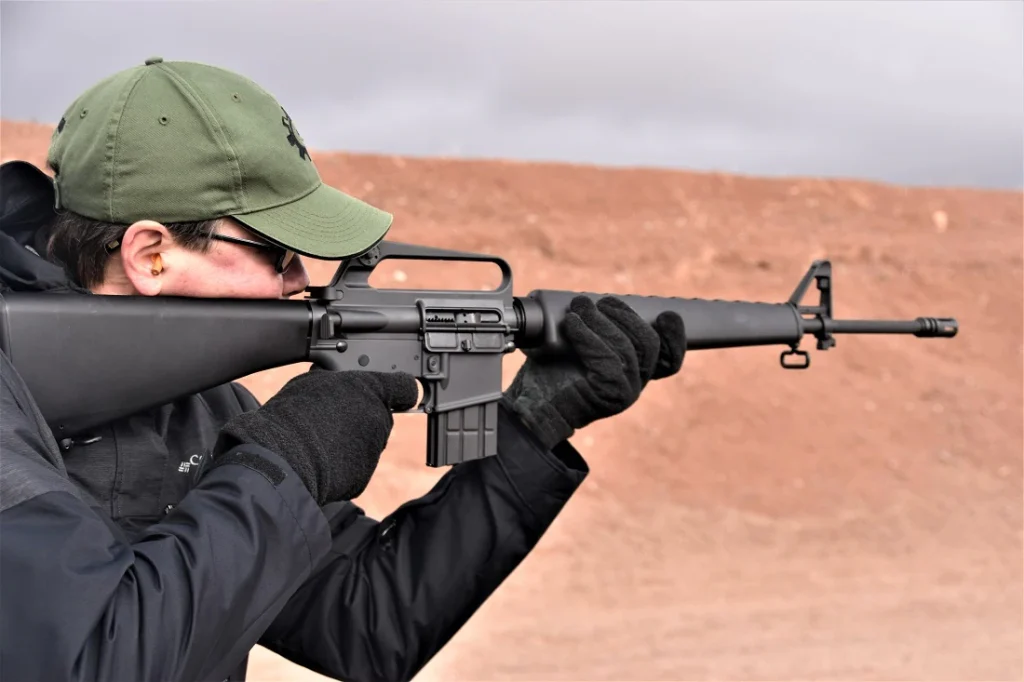 The big boss of NoDak is now the boss at H&R and will be producing retro AR-15s for PSA, who are known for putting out guns at incredibly affordable price points.
If you've never handled a classic AR-15, you might not understand just how light and handy these rifles are. Shooting with A1 irons is easy, and these guns are surprisingly accurate.
The 20-inch M16A1s are incredibly easy to shoot for their size, and their current 723 carbine is a feathery 6 pounds. You can definitely shoot these guns all day.
Best Retro Rifle
999
at Palmetto State Armory
Prices accurate at time of writing
Prices accurate at time of writing
Available Coupons
25% off all OAKLEY products – OAKLEY25


Copied!
Visit Merchant
The H&R 723 carbine is available from PSA for $999, and the M16A1 and other models are coming soon.
For those who missed the train on the Brownell's clones a few years ago or who don't want to shell out mega money for original Colt parts, these might be your ticket back in time.
6. MarColMar CETME L
Spain doesn't get any credit for the CETME Model L. Without CETME, the German company HK wouldn't have ever made their legacy.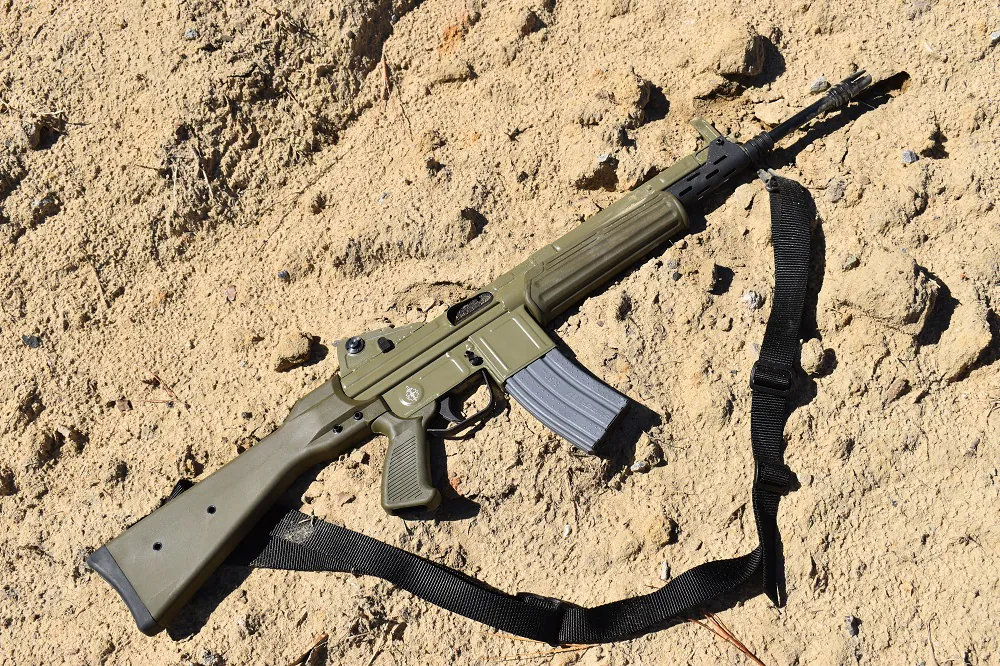 The CETME Model L is a roller-delayed blowback rifle chambered in 5.56x45mm.
The gun served Spain exceptionally well and was the product of NATO switching to 5.56 caliber rifles and STANAG magazines. In the states, they've never been widely available…until now.
Lucky for us, MarColMar now produces replicas of the classic CETME rifles in semi-auto configurations.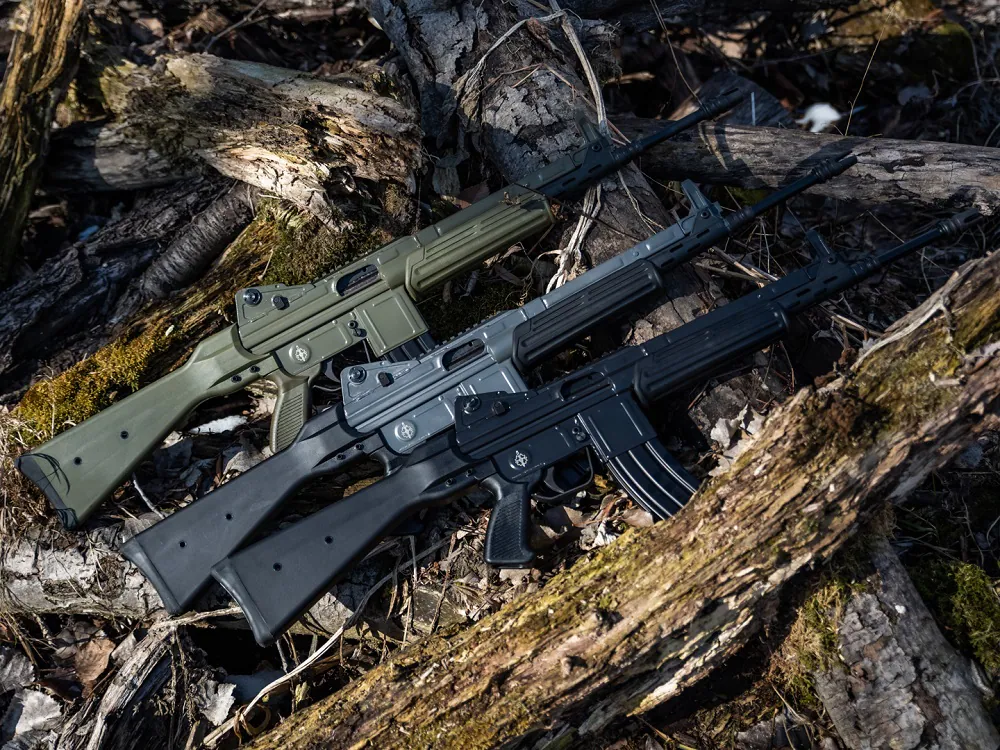 These rifles are real cold warriors — lacking any M-LOK rails, optics, or collapsing stocks. With that being said, they do produce a more modernized variant.
There were never a ton of roller-delayed blowback guns in 5.56, especially in the United States. In fact, the CETME L was the last roller-delayed rifle adopted by military forces, and it was the only one designed from the ground up for 5.56.
Most Unique Retro Rifle
1209
at Guns.com
Prices accurate at time of writing
Prices accurate at time of writing
Available Coupons
25% off all OAKLEY products – OAKLEY25


Copied!
Visit Merchant
These are fantastic rifles and superb replicas of the original CETME rifles. MarColMar captured the CETME L perfectly, all the way down to the polymer furniture.
7. Glock P80
Glock, Glock, Glock — yep, Glock made the list. The Glock P80 is a Lipsey's exclusive version of the Glock 17. So, why is it called the P80?
Gaston Glock originally designed the Glock 17 for an Austrian military contract. Glock won the contest, and their pistol became designated as the Pistole 80, or P80, in military parlance. Since then, Glock has made history.
Never before has a P80 been available to American customers. It's essentially a Gen 1 Glock pistol with the original P80 markings.
It has no rail, no optics cut, and is nothing more than a very simple Glock pistol. The gun has the Gen 1 pebble texture, a single-pin frame, a smooth trigger, and the rear serrations-only design.
649
at Brownells
Prices accurate at time of writing
Prices accurate at time of writing
Available Coupons
25% off all OAKLEY products – OAKLEY25


Copied!
Visit Merchant
Lipsey's and Glock's P80 model is an awesome way to experience the Gen 1 Glocks and the gun that made Glock a household name.
This is one to grab now because, like most exclusives, it isn't likely to stick around for long.
Want to learn more about Glock? Check out our historical article on this notorious company.
Final Thoughts
This class of retro reissues is only growing, and people are eating them up. For some of us, it's the first time we've had an opportunity to own something akin to a classic; for others, it feels like going home.
These firearms allow us to shoot something that's a part of history without the chance of ruining real history.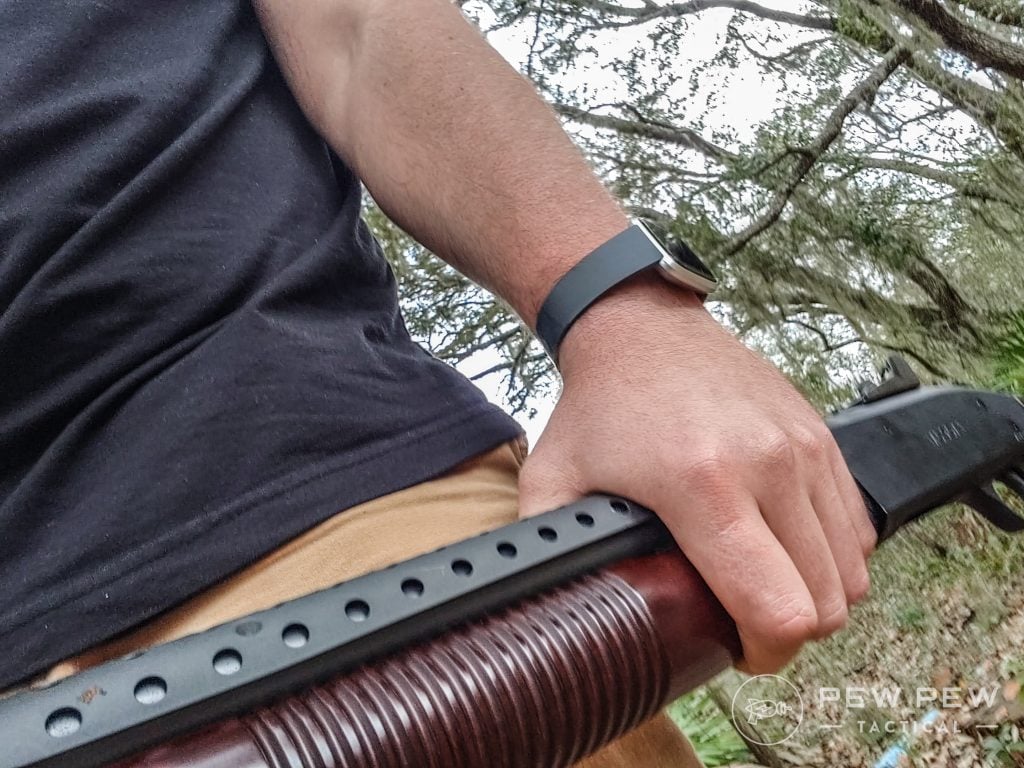 Old-school blasters are a ton of fun, and while they aren't perfect for modern tasks, they are fantastic plinking options. It's a different experience that helps you understand how far we've come in firearm technology.
These are a few of my favorite retro reissues. What are your favorites? Let us know in the comments below! Interested in more classic guns? Check out our article on the Best Historical Guns That You Can Still Buy!