What do you do if you love Heckler & Koch-style firearms, but don't have the substantial funds to fork over for real HK weapons? Is there an alternative that might work? We believe we've found one with PTR. Let's take a look!
Thank you for reading this post, don't forget to follow and signup for notifications!
PTR
Based in Aynor, South Carolina, PTR has been in operation for over 15 years. They have been making accurate, reliable, roller-lock weapons. Aside from being made in the USA, they also state that the parts are manufactured here in the USA.
The company says they decided to focus on the roller-lock design because it's a time-tested design that delivers smooth operation, which translates into accuracy. It's also likely that this decision was because the HK clones are very popular.
When the company started, they stated that its weapons were often made from surplus parts kits, often from overseas. Now virtually every part is manufactured in their South Carolina plant, which gives them both self-sufficiency and control over the quality of the parts that are produced.
PTR says that they use "cutting edge technology, advanced materials, and manufacturing processes" and that their designs are constantly refined by designers, engineers, machinists, gunsmiths, assemblers, and testing professionals. They also invest in new equipment and machinery often. All of this combines to make the highest quality product possible.
PTR Firearms
PTR makes some extremely cool firearms! We'll go ahead and peruse their lineup, showcasing a few HK clones in the article. The weapons available come in three calibers: 9mm, 7.62x39mm, and 7.62x51mm. Let's dive in and see what they've got!
9mm
There are, at the time of this writing, five 9mm weapons listed on their website. All are clones of the MP-5 family of weapons. Right now, pistol calibers such as 9mm are less expensive to buy than most rifle calibers, so that's an advantage for current times.
9R PTR 608
This 9mm carbine has a 16.02-inch barrel, for an overall length of 34.5 inches. It weighs 6.32 pounds. The operating system is Roller-Delayed Blowback. Basically, it's an MP-5 with a long barrel and fixed buttstock. It has an M-LOK-compatible, aluminum handguard, and both a push-button and paddle magazine release.
The gun comes in a plastic case with two 30-round magazines. It can also be configured to be friendly in California and New Jersey, coming with a 10-round magazine.

A Picatinny rail adorns the top of the receiver so that optics can be readily mounted, which is a very nice touch. The normal, HK-style paddle exists so shooters can open the action up, load a mag, and slap the cocking handle to release it, HK-style.
All in all, it looks just like an MP-5 with a long barrel. The price for the standard model with a 30-round magazine is $1,858. The CA-compliant version is $1,853. The NJ legal version is $1,811.
9CT – CL PTR 604
Next, we'll take a gander at another little 9mm, this one in pistol form. It's like a small, stockless MP-5 with an 8.86-inch barrel, having an overall length of 17.6 inches. No doubt about it, this one is compact! Weight is 5.05 pounds, so it doesn't weigh a lot.
As with the other models, this operates by roller-delayed blowback and is semi-automatic. PTR does not offer this model in CA or NJ-friendly configuration, however. It ships standard with a 20-round magazine.
There is a single-point attachment for a bungee sling, which should help stabilize the pistol since there is no buttstock. The front handguard is plastic, just like earlier H&K handguards.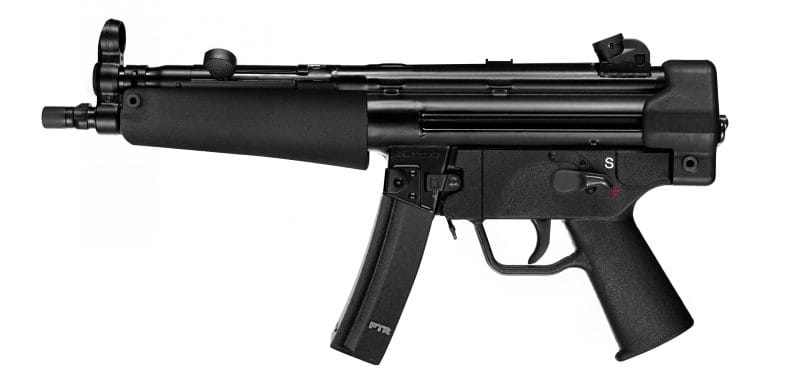 Naturally, firing such a pistol with no stock using only sling tension to steady it is not going to produce optimal accuracy. But this piece looks like a ton of fun, and with some HK 30-round magazines, will offer some real firepower for close range.
MSRP for this pistol is $1,795 at the time of this writing.
7.62x39mm
Next, we'll take a look at the 7.62x39mm offerings from PTR. Currently, they have two: a rifle and a pistol version.
32 KFR PTR 200
The 32 KFR rifle resembles an HK 91 or HK 93 but is chambered in 7.62x39mm. It uses the same roller-delayed blowback action as the other PTR and HK weapons platforms. Weight is a hefty 9.3 pounds (you'll know you're holding a sturdy weapon).
The overall length is 38.5 inches and the barrel length is 16 inches, and PTR states that it's a bull barrel. The stock on this rifle is standard and fixed. The forward handguard is slim-line and made from black polymer.
A Picatinny rail is on top of the receiver so optics can easily be mounted. Of course, HK-style iron sights are standard on the rifle, which is a plus because they are very robust and effective sights.


One of the stellar aspects of this rifle is that it ships standard with a Magpul AK magazine. I have a lot of experience with Magpul AK mags (and also AR-15 Magpuls), and they are stellar pieces of gear. Durable, lightweight, inexpensive…there's not much to dislike about them.
The fact that the 32 KFR rifle uses AK mags is, in itself, a huge bonus because those things are everywhere! Being easy to locate and durable, not to mention cheaply priced, is a massive advantage for any weapons platform.
Also, aside from the standard 30-round magazines, there are also other options, such as 20 and 10-round versions, both from Magpul and other makers. Even if you live in a state that's not favorable toward standard-capacity magazines, you can still buy ones that are compliant with your state's laws. And speaking of compliance, this rifle also comes in versions that are compliant with CA and NJ.
Prices vary a bit as this is written. The standard rifle with a 30-round magazine retails for $1,336. Not bad, really, considering they can likely be found at slightly lower street prices. CA-compliant models cost $1,603, while the NJ-compliant models are $1,377.
I really like the fact that PTR addresses the laws of other states and tries to get their weapons into the hands of citizens who are living "Behind Enemy Lines."
Overall, this rifle looks to be a very practical firearm, given the availability of magazines and the caliber. 7.62x39mm is an effective caliber, which fires a 123-grain projectile at approximately 2,300 feet per second. It hits with enough authority to effectively put down four or two-legged predators. Another nice aspect of this round is that it's among the cheapest and most available rifle calibers in current times. In my area, it can be had for $10 for a box of 20 rounds.
Ammo cost and availability, coupled with magazine cost/availability, are huge positives for this rifle. Add to that the durability factor, and we've got a major winner on our hands here. I think people would do well to pursue a rifle of this nature, it's got a lot going for it!
There's also a pistol version (the 32P PDWR PTR 203) that has an 8.5-inch barrel and obviously, no stock. It doesn't appear to be as practical as the rifle version, but I figured I'd mention it in the event anyone wants to peruse the PTR website.
7.62x51mm
PTR also has a number of .308 rifles and pistols in their lineup, which we'll take a look at next. The 7.62 NATO round needs no introduction, with its long history of both military and hunting prowess. It can throw a 150-grain projectile around 2,800 feet per second, give or take, and is a hard hitter.
There are a few downsides to the .308 these days, though. Aside from the recoil (which really isn't bad in a semi-auto platform) is the price. As I write this, the less expensive 7.62 NATO ammo that I can find is $20/box. At $1.00 per round, it is not exactly an inexpensive undertaking.
Nevertheless, the power and range factor is enough that some people will pursue it. It's also useful for those who foresee possibly needing to stop vehicles. In today's small arms, the .308 will be one of the more useful calibers for doing so.
A3SK PTR 114
The A3SK rifle sports a 16-inch bull barrel (standard1/10 twist rate) with a slim black handguard. The stock is fixed and of the standard variety. Basically, this is very similar to an HK91 or G3. Of course, it is semi-auto only.  The barrel on the standard model sports a flash suppressor and is threaded to accept 5/8×24 threaded barrel accessories.
The weight is 9.3 pounds. Compared to many of the ARs we're used to carrying, that's a substantial weight. The overall length is 34.5 inches.
As with all the other firearms from PTR, this is also roller-delayed blowback. The magazine release is the paddle style. A Picatinny rail up top will allow for the mounting of optics very easily. The cocking handle is out on the forearm, ala classic Heckler & Koch design.

As with many of their other models, there are accommodations for restrictive states. The CA version lists a 10-round magazine and grip wrap as standard, with the MSRP being $1,295. The NJ version has a 10-round magazine and fixed compensator, MSRP being $1,254. The standard model ships with a 20-round magazine and retails for $1,514.
All in all, you're basically getting an HK 91 for a fraction of the price that a "real" HK 91 would cost. The fact that the authentic HKs are rare as hens' teeth and insanely priced these days makes these particular rifles even more of a bargain. When compared to other semi-autos on the market nowadays, these rifles are actually moderately priced.
With a scope mounted, I'd wager that this particular configuration could reach out many hundreds of yards accurately. The 16-inch barrel also cuts down on the overall length, so it wouldn't be terrible in close quarters, either.
If you need to lock down and defend your property with a rifle that hits with some authority, this might be the one for you. Adding a Low Power Variable Optic (LPVO) would drastically enhance this rifle's versatility for both near and far work.
PTR does have a few models with 18-inch barrels as well, so a slightly longer barrel length is also in the cards if that's your twist.
51P PDWR PTR 110
This next one just has a high "cool factor." It's a 7.62x51mm/.308 pistol. Is it practical? That's really up to you. But it has a few potential features that could make it very practical (and cooler).
The barrel length of the 51P is 8.5 inches, and it's a bull barrel (PTR seems to love bull barrels). The overall length is 23.5 inches. Weight is 7.9 pounds, so it's obviously not a lightweight!
This one has an MP-5 style polymer handguard and a Picatinny rail up top. HK-style sights are standard.

Here's an item on this weapon that can put it into the next realm: the M4 buffer tube compatible end cap with swivel end adapter. If you're inclined to jump through the ATF hoops, you could add an M4-type buttstock onto this little beauty and have a short-barreled rifle very easily. Well, the paperwork process might not be quick & easy, but once that's completed, adding the buttstock would take mere minutes, if that.
The addition of a buttstock would turn this into a great carbine for close quarters. The noise of a .308/7.62 NATO round from an 8.5-inch barrel would be terrific (that's an understatement). And, I'd be willing to bet that the 8.5-inch .308 barrel could reach out accurately to a surprising distance, especially with an LPVO added to the rail on top.
Aside from being very practical, in that it could be stored easily in a vehicle or pack, the cool factor of such a carbine would be through the roof.
The MSRP of the 51P is $1,626, which includes a 20-round magazine. Magazines are standard G3/HK91 type.
In Conclusion
PTR offers a lifetime warranty for original owners, and they stand behind their products very well. From what I'm hearing from regular shooters, they are satisfied with their PTR guns. Especially the newer generations, which don't seem to require any break-in period to function reliably. Some of the earlier models required maybe a couple of hundred rounds to help the parts wear in and function 100%. New models are reportedly there right out of the box, which is encouraging.
Prices on these HK clones are really pretty reasonable for what you get. Especially in light of prices for genuine H&K samples.
PTR seems to have a rifle or pistol that would suit most shooters' tastes. I recommend checking them out. Although such a move might be detrimental to your pocketbook.