Bond Arms has a solid reputation as a leading designer and manufacturer of high-quality derringers, and now they're doing something new. The latest gun from Bond Arms isn't a concealable derringer, it's a lever-action, AR-style rifle that offers fantastic compliance even with restrictive state laws. This rifle has a tactical appearance, but it's a lever, bringing you the best of two gun worlds. The gun promises to be a fantastic option for anyone who wants the operation of the classic lever with the modern touches of the AR.
Thank you for reading this post, don't forget to follow and signup for notifications!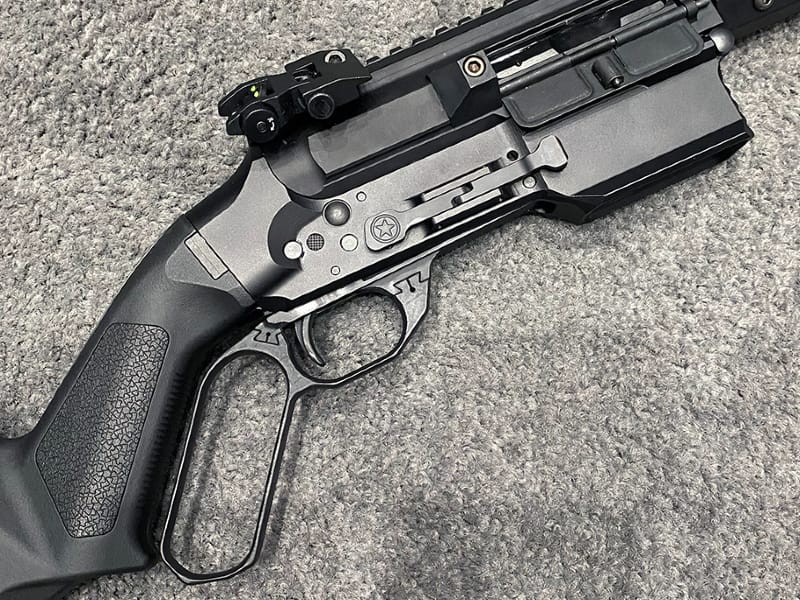 The Bond Arms lever doesn't have an official name yet, but the pre-production model the Texas company showed off at SHOT Show 2023 has promise. It appears to be not necessarily a complete rifle but a focus on the lower. According to Bond Arms, the lower is compatible with any AR-15 upper, including 50 Beowulf. That could make this even more fun.
Several details make the lower itself unique. The lever utilizes an asymmetric cam, which basically means the opening and closing forces differ (that's an extremely simplified description, but you get the idea). In this case, it allows greater force to be exerted when it's needed, such as loading rounds from a 30-round magazine. When the lever is open, you can see a portion of this mechanism protrude. Other features of note include a lever-style push-button safety and a magazine release designed to be easier to reach without significantly adjusting your grip.


Also interesting is another safety mechanism that seems to be a bit of an homage to the 1911 grip safety. For the rifle to fire, some pressure must be applied to the lever. That's easy enough to do since your fingers will be in the loop anyway, but it's definitely a unique approach for adding another layer of safety.
Features of the Bond Arms lever-action rifle include:
Push button safety.
Lower compatible with standard AR-15 upper receivers.
Lever-activated safety.
Flared magazine well to facilitate magazine changes.
The pre-production model features Picatinny rail for easy addition of optics and other accessories.
Standard or oversized loops will be available.
Bond Arms states there will be different configurations available. MSRP is expected to be around $1500.00.