Aero Precision Solus
Aero Precision's bolt action rifle has been in the works for a while now but is finally available for orders! A Remington 700 pattern action using Savage small shank barrels with a barrel nut or Zermatt Arms pre-fit shoulder barrels, this is an easy-to-access and easy-to-set-up rifle for anyone.
Thank you for reading this post, don't forget to follow and signup for notifications!
Aero is offering this as a complete competition rifle using an Aero Precision chassis or a less expensive option using a KRG chassis, with more models on the way. Both use TriggerTech triggers. 
You can also get the Solus as a stripped .478 Bolt Face short action, a barreled action or the chassis as a standalone chassis.
Turnkey options and DIY options give you the flexibility to choose exactly what you want. 
We've shot the Solus a few times now, and so far, we're really impressed with the action and accuracy. A complete review will be coming soon!
Oracle Arms 2311
What if a CZ-75, 1911, and a SIG P320 made sweet, sweet love? The 2311 might be the result.
With a 1911 slide and trigger, SIG P320 magazines, and internals borrowed from the CZ-75 the Oracle 2311 was by far the most interesting pistol I found at SHOT '23. With demo pistols on display to shoot at the Media Range Day, getting hands-on with the 2311 was a bit less impressive than I had hoped. Sadly, they had some function issues. But in nasty conditions like range day, that isn't entirely unexpected.
Hopefully, these are not indicative of larger problems, because the 2311 is great feeling in your hand and comes with a long list of features.
For now, the engineering is impressive enough to capture my attention and imagination. Hopefully, production units will prove to live up to their predecessor's legendary status. 
Bushnell Match Pro ED Binos
Spotting long-range shots isn't easy and requires a bit of skill to do well. What makes it a lot easier is spotting with a grid in MIL or MOA so you can call misses exactly.
Often, this is accomplished with a spotting scope with a reticle. These are heavy, expensive, and have a horrible field of view, making traces, splashes, and mirages harder to see. 
Personally, I've been a big fan of spotting with binoculars for a long time. But until now, I've never seen one with a reticle.
The Match Pro ED binoculars combine the base awesomeness of the Forge 15×56 binos with some new features and a MIL reticle in the right tube. Honestly, spotting long-range shots just got a lot easier with this glass.
MSRP is $700, and the Match Pro ED binos come with dual adjustable eyepieces, a locking bridge, tripod mountable, but no tripod mount included, and a super rugged design. 
Big news from PSA this year was its new "Battlefield" line of guns! The first in this line of throwback classics is an StG-44 developed by Hill & Mac Gun Works. The HMG StG-44 has been in the works for years, but with its new partnership with PSA, it looks like the company will finally deliver. We hope.
On the outside, these guns are spitting images of World War II StG-44s, but the insides are a bit different. Available in 8mm Kurtz, 5.56/.223, .300 Blackout, and 7.62x39mm these guns have a lot of options from which to choose.
Designed to take normal AR-15 magazines, the PSA StG-44 will also look the roll, given the mags of the original are very similar to the modern varients.
The demo rifle at SHOT 2023 was pretty awesome to handle, and we're super excited to see this finally coming to market.
SIG Sauer Rose
More times than I care to count, I've attended SHOT Show and a brand's latest offering marketed for women is the same thing the company has always offered, except pink or bedazzled. While their marketing department seems pleased with themselves, the women I know are rarely impressed.
SIG Sauer's Rose is not just the same thing in a new color. Well, it is in a new color, but it's also more.
As SIG puts it: 
ROSE is based on [Lena Miculek's] years of experience as a competitor and in teaching women at every skill level, all over the country. Rose has been developed to be a complete system, that's easy to understand, easy to learn, and easy to use.

The ROSE program will take you step-by-step through the process from your first time holding a pistol all the way to your first time at a range. And Rose is also a community of women, coming together to help and encourage each other. To share their stories and learn from one another.

ROSE gets you everything you need to get started, a full online training course to get you comfortable and ready for your first time at a range, and an online community to share your experiences and learn from other women just like you. 
The gun is basically the same thing SIG already offers, a P365-380 in 380 ACP or a P365-XL Comp in 9mm, but with new Rose Gold highlights and a custom Rose grip. Honestly, I dig it. It's a classy, feminine look without dipping it in hot pink.
Rose goes a lot further than just new highlights. This is a complete package including a handgun safe, magazines, a magazine loader, and access to the Rose training videos and community app. 
From all aspects of the firearm, including loading and safe storage to training to a support community, Rose is an entirely new way of designing a firearm geared to women. Possibly, the best ever made.
Beretta 92XI SAO
A couple of versions of the 92 were released at SHOT, but this one was definitely the coolest. While the 92 might have started out as a duty weapon, this latest version of the iconic pistol is a pure race gun.
Featuring the long-awaited frame-mounted safety, this single-action-only model has a crisp and light trigger, a Vertec-style grip, fiber optic front sight, and optic-ready mounting plates.
The standard magazine is 18 rounds and it has an MSRP of $1,200.
Everything about the 92XI SAO is designed for competition and ease of shooting. If you get a chance to give it a try, I highly recommend it!
Mossberg 940 Pro Field
This year was not the year of awesome shotgun announcements. Just about every "new" shotgun I saw was either just a sub-gauge model of an existing shotgun, an optics-mounted version, or the furniture was changed from wood to plastic or from plastic to wood.
The 940 Pro Field isn't an exception, it's just the one I liked best out of the fairly bland field of options. There isn't anything really new about this shotgun other than the clothes it wears, but they're nice clothes.
A 940 Pro with walnut furniture feels nice in the hand, has a warm, classic look, and retains a nod to modern sensibilities with the adjustable length of pull via plastic spacers. MSRP is $1,061
Holosun DRS-TH & DRS-NV
Ever wished your red dot could also see in the dark or see thermal without it costing your firstborn?
Holosun heard our prayers because they've delivered what we didn't even know was possible – a red dot with thermal or night vision at a price that is literally a fraction of the competitions'.
The DRS-TH and DRS-NV optics are based on the Holosun AEMS red dot architecture. With the front cover flipped open, they work exactly like a traditional red dot. 
But when you flip the opaque front lens cover closed, output from a second optical sensor is projected onto the black window behind the red dot.
The DRS-TH features a thermal camera, and the DRS-NV has a digital night vision camera with an onboard IR illuminator. Both are pretty amazing and will come in at a lot less money than you might expect. We'll have a complete review of them soon.
Price isn't completely firm yet, but the DRS-NV is expected to be around $1,000 and the DRS-TH around $2,500.
Franklin Armory CA320
To most of America, this is just a really dumb SIG P320 that somehow costs more than a normal P320.
But to Californians, this is a most beautiful sight to behold. 
For context, California law has the "Roster Of Safe Handguns," basically a list of pistols that an FFL can sell. If a pistol isn't on this list, you can't buy it in California unless you want to spend at least 2 to 3 times MSRP for one of those hard-to-find legal "off-roster" pistols.
And new pistols, practically, cannot be added to the roster because of the requirements CA law places on new pistols.
The Franklin Armory CA320 side-steps these problems by putting a SIG P320 slide and FCU in a grip that is a single shot. And thus, able to be added to the CA roster.
This didn't take a whole lot of engineering or even a lot of outside-the-box thinking on Franklin Armory's part. It just took the stones to do it.
Those that aren't behind enemy lines can't understand what it's like to have your rights, and your freedoms stolen one by one or how encouraging it is when a firearms company steps outside of its comfort zone to help bring a little freedom back to you.
In the end, we're all in this together. More firearm brands would do well to follow Franklin Armory's lead and remember what solidarity means to the gun world.
Holosun 507 Comp & Bushnell RXM-300
Rolling two products into one "best of" since they're basically the same thing, kind of. At least, the same idea.
For a long time, the Trijicon SRO has dominated the "big red dot" space for competition pistol shooters. Some other options have existed, like the SIG Romeo 1 Pro, but there haven't been enough options for this – until now.
At SHOT 2023, both Bushnell and Holosun announced their same but different takes on this idea. 
The Bushnell RXM-300 has a 28x24mm window, and the Holosun 507 Comp is fractionally smaller at 28x22mm. Both use an RMR footprint mounting, both are rated for 50k+ hours of use, and both have IP ratings, with Holosun having IP67 and Bushnell IPX7.
Bushnell's red dot also boasts an EXO coating on the lens to make it easier to clean when dirty.
In the long run, I don't know what dot will prove to be better – but on paper, they are pretty close to one another. In either case, I like seeing more options for this style of red dot and am looking forward to testing out both eventually.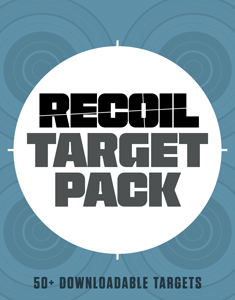 NEXT STEP: Download Your Free Target Pack from RECOIL
For years, RECOIL magazine has treated its readers to a full-size (sometimes full color!) shooting target tucked into each big issue. Now we've compiled over 50 of our most popular targets into this one digital PDF download. From handgun drills to AR-15 practice, these 50+ targets have you covered. Print off as many as you like (ammo not included).
Get your pack of 50 Print-at-Home targets when you subscribe to the RECOIL email newsletter. We'll send you weekly updates on guns, gear, industry news, and special offers from leading manufacturers – your guide to the firearms lifestyle.
You want this. Trust Us.