MORE AMMO, THE BETTER
The familiar green box of ammo is one of those sights that is guaranteed no matter what shooting range you visit. For 2023, Remington has a fairly long list of new offerings for handguns, rifles, rimfires, and shotguns. 
Thank you for reading this post, don't forget to follow and signup for notifications!
If you're a 10mm shooter, this is a great day for you with 3 new loadings from Remington. 
"Big Green is gearing up for another successful year by introducing a variety of groundbreaking new cartridges that cater to all kinds of hunters and shooters," said Remington's Director of Marketing Joel Hodgdon. "Our team is working hard to continue the legacy of creating the most innovative and high-performing ammunition in the game. Here's to another big year for Big Green."
Something interesting that I've never seen before is the Remington Gun Club Cure shot shells. These are standard trap and skeet minded shot shells, but with a twist – a portion of proceeds are donated to children's hospitals. How much and what hospitals isn't mentioned on Remington's website.
Handgun:
Golden Saber Defense: 10MM
Golden Saber Bonded Defense: 10MM
Golden Saber Defense Compact: 10MM
High Terminal Performance: 32 H&R Mag
Performance Wheelgun®: 32 H&R Mag
Remington Range: 9MM Luger, 40 S&W
Rifle:
Core-Lokt: 360 Buckhammer and 35 Remington
High Performance Centerfire: 308 Win
Premier Long Range: 6mm Creedmoor, 6.5 Creedmoor, 270 Win, 7mm Rem Mag, 30-06 Sprg, 308 Win, 300 Win Mag, 300 Rem Ultra Mag
Premier Match: 223 Rem
Rimfire:
22 Viper: 22LR
22 Yellow Jacket: 22LR
SubSonic Rimfire: 22LR
Shotshell:
Express Buckshot: 12 Gauge, 20 Gauge
Gun Club Cure: 12 Gauge
Gun Club Target: 12 Gauge
Premier Bismuth: 12 Gauge, 16 Gauge, 20 Gauge, 28 Gauge, 410 Gauge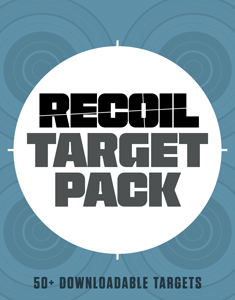 NEXT STEP: Download Your Free Target Pack from RECOIL
For years, RECOIL magazine has treated its readers to a full-size (sometimes full color!) shooting target tucked into each big issue. Now we've compiled over 50 of our most popular targets into this one digital PDF download. From handgun drills to AR-15 practice, these 50+ targets have you covered. Print off as many as you like (ammo not included).
Get your pack of 50 Print-at-Home targets when you subscribe to the RECOIL email newsletter. We'll send you weekly updates on guns, gear, industry news, and special offers from leading manufacturers – your guide to the firearms lifestyle.
You want this. Trust Us.