Have you ever wondered how hard it is to build your own AR-15 rifle? It may not be as hard as you think. With the right tools and some help knowing what to buy, you could be on your way to building your first AR-15 rifle. Buying a rifle that is ready to go is exciting, and customizing one is even more exciting. If you have ever upgraded the pistol grip, charging handle, handguard, muzzle flash, etc., it makes the gun mean something more to you. It has your own touch, and the possibilities of colors, finishes, and accessories are almost endless. But there is something different about building your own AR-15. The first time I built one, I felt a sense of pride.
Thank you for reading this post, don't forget to follow and signup for notifications!

Starting with a stripped upper and lower receiver, you can install every screw, spring, pin, and every other part on the gun. Building your own rifle allows you to pick out each part to make it exactly what you want. I didn't want to worry about scratching my rifle the first time I built one so I used the cheapest parts I could find.
I was pleased to see how easy it went together and my first trip to the range with it was a blast. It fired flawlessly and is still functioning great today. I have built lots of ARs since that first one, but it never gets old. AR-15s are like Legos for adults. Each one is different and fun to put together. Over a series of five upcoming articles, I will be building my own AR-15 and covering each step as I go.
Choosing the Type of AR to Build
A few decisions need to be made before parts can be purchased. Will it be an AR-15 rifle or pistol? If it will be a pistol, what length of barrel? A typical AR-15 will be in a .223, 5.56, or Wilde. For an AR-15, I would opt for basic mil-spec parts and a 5.56 NATO barrel. A .300 Blackout can also be made from the same parts as a mil-spec AR except for a different barrel. For this build, I am going with the .300 Blackout. There are plenty of other calibers out there, but except for the barrel, I want to stick with standard AR-15 parts for now.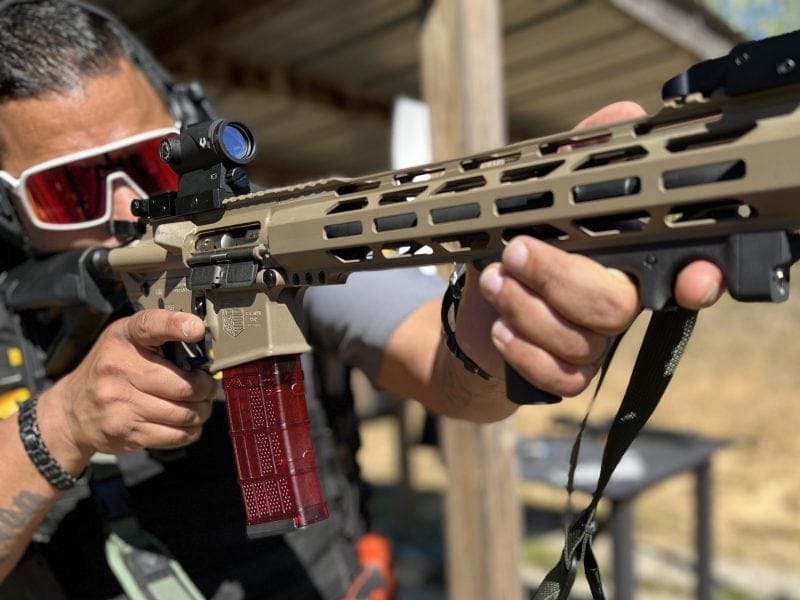 In Part Two I will order and assemble the first set of pieces needed for the AR build. Typically, you focus on the lower and upper separately and then put them together. It is best to get an idea of what you want to build before you start, but sometimes it just grows as you order parts. A simple, plain AR-15 is a good way to go for a first build.
The price of building an AR-15 rifle/pistol can vary greatly. I once made it a project to see how cheap I could build one. It was just over $300, and that AR pistol is still running great today. If you want to go with more expensive, high-end parts, it is not hard to spend $2K or $3K on a build. There is a lot of room to make it what you want.
I will be building an AR-15 pistol in .300 Blackout and I'm going to play around some with different finishes. I like the mixture of color tones that are becoming popular, so I am going to try the light/dark brown combo look. But we have plenty of time to get into each part and finish in the upcoming articles.
Armorers Tools
When working on an AR-15 rifle, there are some tools that are needed. It can be tempting to skip the tools and just "wing it" but investing in some basic armorers' tools is worth the money and makes the job much easier. If you plan to start working on your own rifle or building more than one, I recommend buying the Real Avid Master Armorers Kit or the Wheeler AR Ultra Armorer's Build Kit. These kits have just about every tool needed to assemble and work on an AR rifle. You will need to set up your "build station." And don't worry, this can be done in a garage or at a kitchen table. Besides the armorers' tools, there are some other items that will be needed.

Other tools needed include:
Cleaning mat
Gun oil
Gun cleaner
Flashlight
Magnet (for finding those little springs when they go flying)
Small hammer (this can be a gunsmith hammer or a simple 4 oz double-sided hammer)
Barrel nut grease
Blue tock tight
Vice
Rubber mallet
Setting up a workstation
A workstation for a gun does not have to be complicated. It can be anywhere you want, as long as you have plenty of light and a place to set up your vice. I wanted my vice to be portable, so I mounted it to a 2'X3′ foot piece of wood that was two inches thick. This allows me to move it around if I need to. Besides the armorer's kit, I have a toolbox for those random tools you pick up along the way. Some I use a lot and others not so much. But it's better to have a tool and not need it than to need one and not have it, right?

I bought a cheap vice for $40, so they are not expensive. Out of all my tools, I use the vice and Real Avid Vice Block the most. These two items are game changers when building an AR. If you do not want to buy the armorer's kit, you can pick and choose specific tools to order with your gun parts as you go along. I can't stress enough the importance of buying the right tools. It makes a night and day difference when assembling or disassembling your rifle.
Summary
The fun part is putting the gun together and seeing the finished product. That part however can be frustrating if the prep work is not done beforehand. Once you have the tools, you will never have to buy them again so they are worth the investment. An area of a garage can be turned into a workstation for your gun. If you don't plan to use your armorers' tools frequently, they can be kept in a box or on a shelf. Set them up at your kitchen table or anywhere else desired when you need them. Once you have the tools you can start the fun task of building your first rifle.