Trending: Best Ammo In Stock, Best AR-15, & Best 9mm Pistols
Going to SHOT Show without a plan is like boating without a life jacket. You can do it, but the Coast Guard advises differently.
Thank you for reading this post, don't forget to follow and signup for notifications!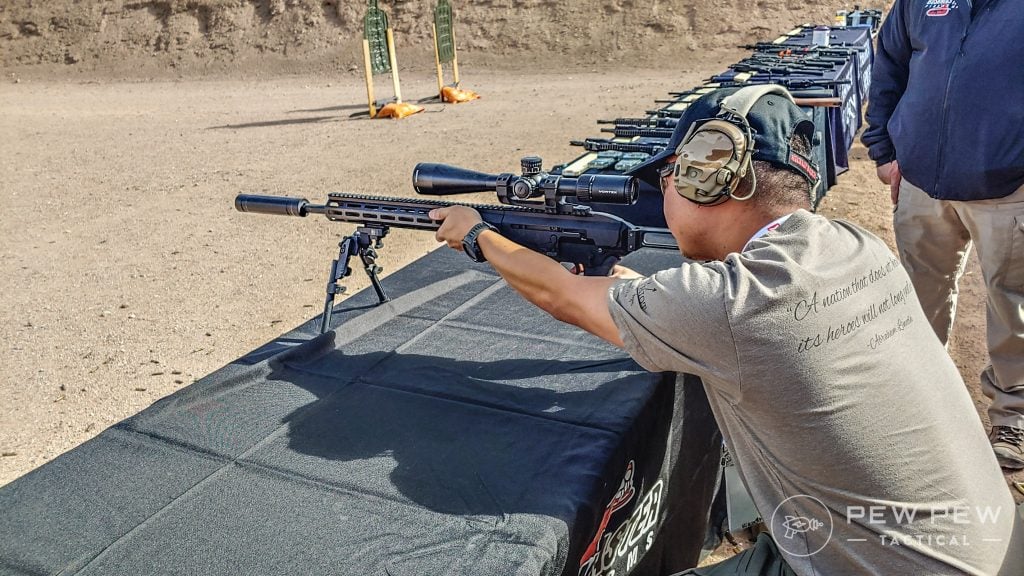 Anyway, if you're going to SHOT, it's smart to plan ahead, and as a media member, I often find myself mapping out which booths to cover, what interests me most, and what will interest my readers.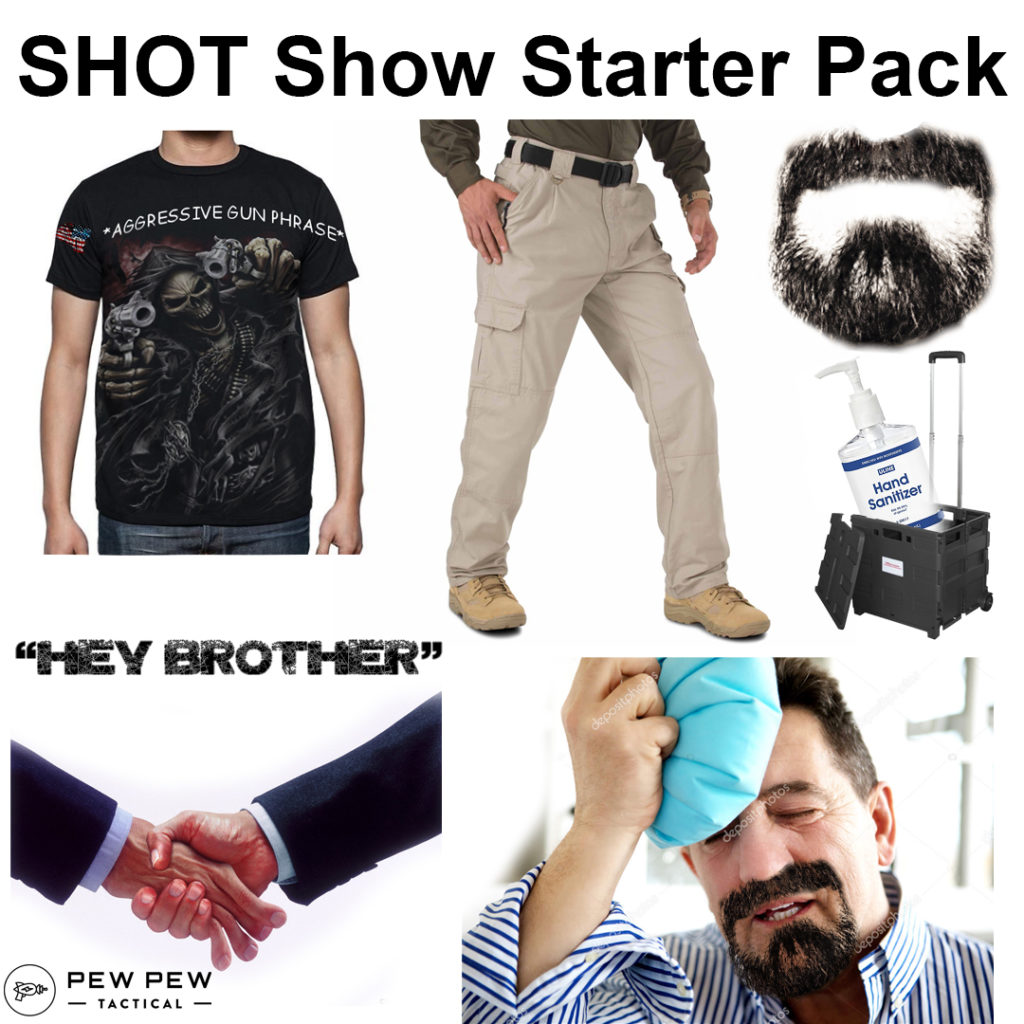 With that in mind, I (and the rest of the PPT crew) have the most-hoped-for, and must-see products mapped out, so I figured, why not share it with you?
So, buckle up as I walk you through what we want to see at this year's SHOT Show!
Must See Guns & Gear at SHOT Show 2023
1. POF Tombstone
I love weird guns, absolutely adore the odd, and what some would call unfashionable in a world of AR carbines.
Guns like the POF Tombstone are right down my alley. A 9mm, magazine-fed, lever action rifle just seems ridiculous, but here we are.
I want it. Why? Well, I can't rightly tell you.
I could see it being a great suppressed platform. A lever gun with a suppressor shooting 147-grain subsonic rounds is awfully quiet. Ultimately, I just see it being a lot of fun.
It's outside the norm but seemingly well-designed.
POF went with a Magpul SGA stock for a modern feel and easy LOP adjustments while keeping the classic layout of a lever gun. That lever is a big, oversized thing with what I imagine is a short throw due to the 9mm cartridge.
Up front, we have an M-LOK handguard for goodies and a muzzle brake that hides a threaded barrel that's perfect for mounting a can. A set of XS ghost ring sights and an optics rial sets you up for success.
The Tombstone uses the Phoenix magazines. They aren't bad mags, but they cost close to $30 a pop and aren't super common. I would have loved to see POF use Scorpion magazines instead.
We can't get everything we want, and I'll probably be swiping a card for one of these ASAP.
2. Beretta PMXs
The Beretta PMX is an update to the Beretta M12 SMG.
It established some contracts in Italy, and Beretta entered the gun into the Army's SMG contest a few years back. The PMX didn't win, but it was the first time we saw the gun in the mainstream.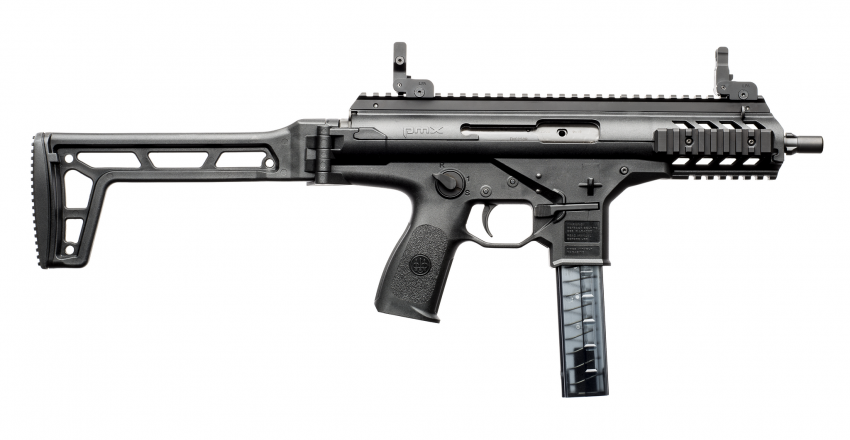 In 2022, Beretta showed off a semi-automatic variant of the PMX called the PMXs at a European firearm expo.
Under American laws, it would be an SBR, but dropping the stock would deliver a rather large pistol variant ripe for a brace.
It's not been confirmed by Beretta in any way that they are bringing the PMXs to the United States. Not even a hint has been dropped, but I can't help but hope they will.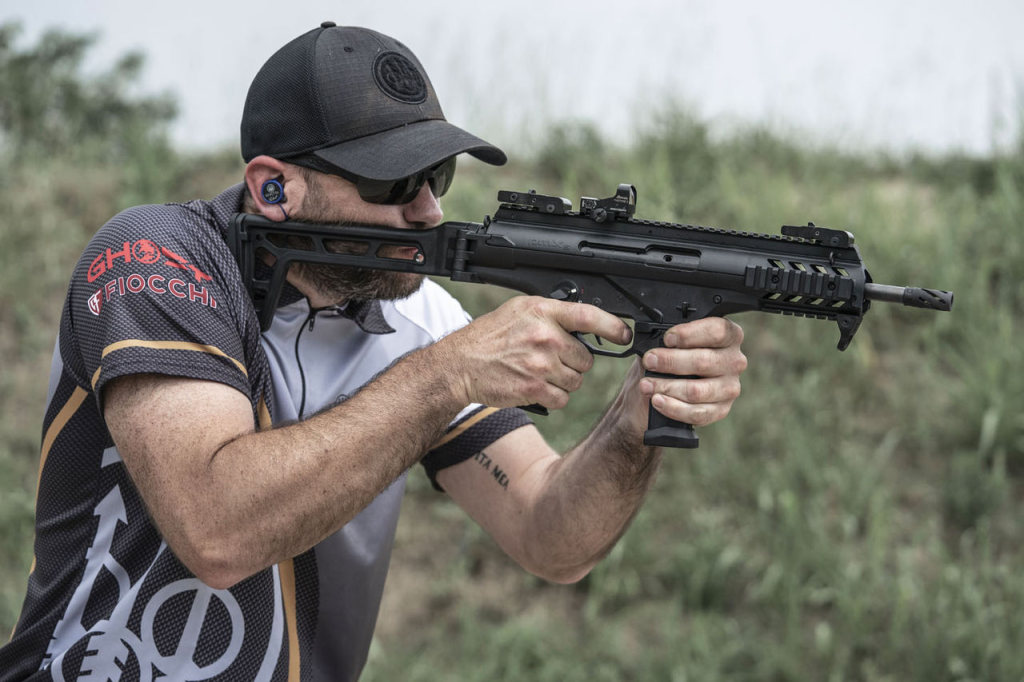 I love PCCs and subguns and think the Beretta PMXs are a modern option, and it's one more we could have here.
Beretta seems more than willing to bring their guns to the civilian market, so maybe we'll get lucky.
The downside is that it's a standard direct blowback weapon, so it won't be the softest shooter. Beretta will also likely be asking a pretty penny for the gun, which might make it a tough sell.
3 . Beretta Shotgun
I have a few friends in the industry, and while no one has confirmed anything, there has been talk of Beretta introducing a new tactical shotgun. There was even a photo tease by an industry friend with the gun, but the gun was redacted.
From what I can gather from discussions and hints here and there is that Beretta is introducing a budget 1301.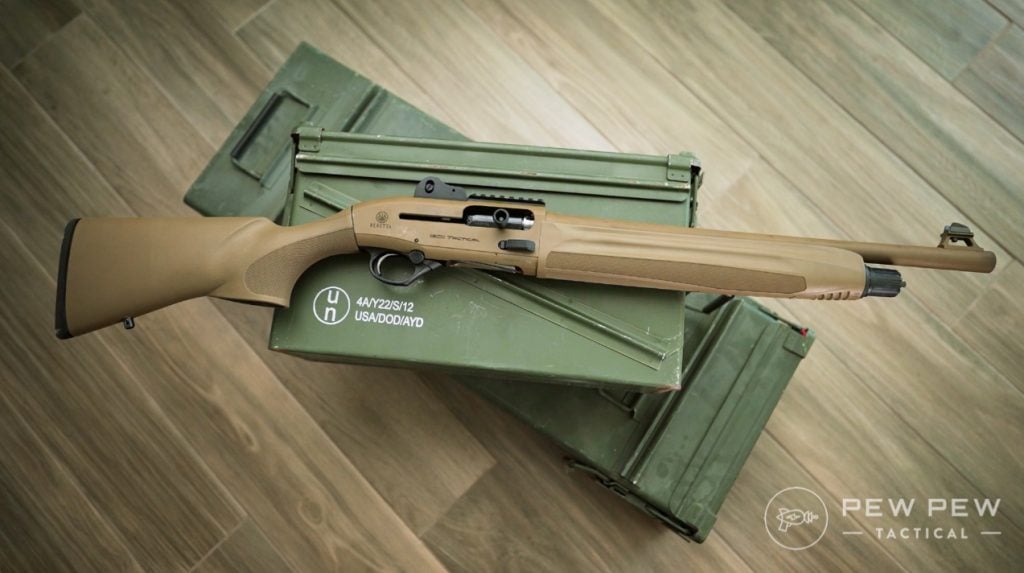 Or something akin to the 1301 that will likely cost less than $1,000. It's likely going to be a semi-automatic 12-gauge.
This wouldn't be too tough for Beretta. They own Benelli, Stoeger, and Franchi, so their shotgun know-how is quite high. Both Franchi and Stoeger make budget-friendly guns with good reputations.
I doubt the new Beretta will be as affordable as either, but it's likely a step between a Stoeger and 1301.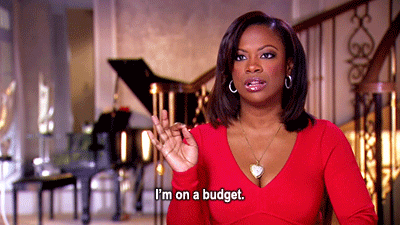 The Mossberg 940 series has been providing awesome shotguns for a great price with a crazy level of modern features.
It's smart of Beretta to react, and I can't wait to see what this new scatter gun will likely be.
Hopefully, it will have some cross-compatibility with the 1301 because I'll need mine decked out with Aridus Industries gear.
4. Glock 47
Glock developed the Glock 47 at the behest of the U.S. Customs and Border Protection agency years ago.
They just now got around to releasing the pistol to the public, and we can rejoice! The Glock 47 is an interesting design.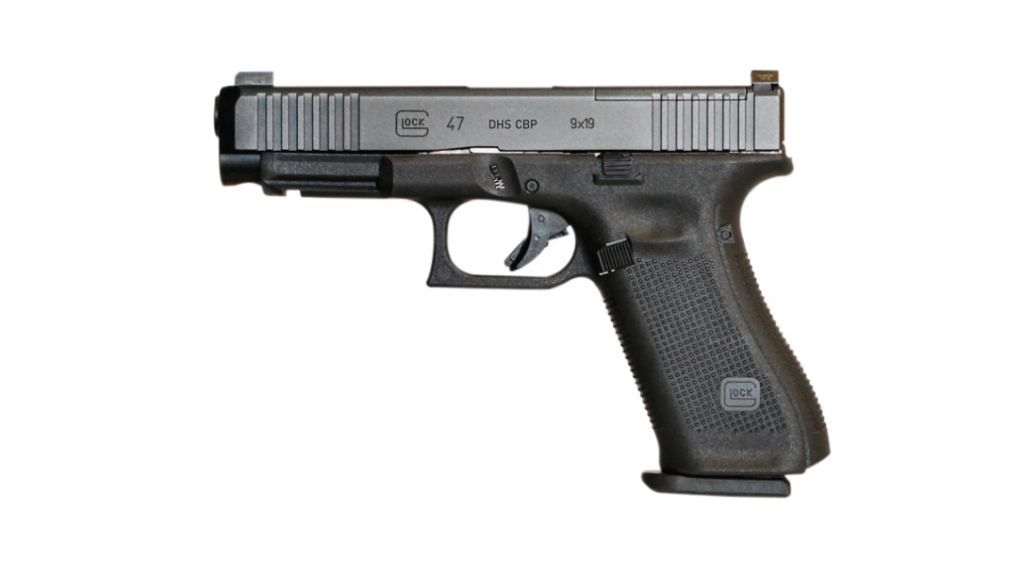 At first glance, it's easily mistaken for a Glock 17. It's a full-sized, 9mm Glock with a Gen 5 appearance. However, the Glock 47 was designed to offer compatibility with the Glock 19 slide and frame.
The Glock 47 allows users to remove the full-length slide and swap it over to a Glock 19 frame or take a Glock 19 slide and swap it over to the Glock 47 frame.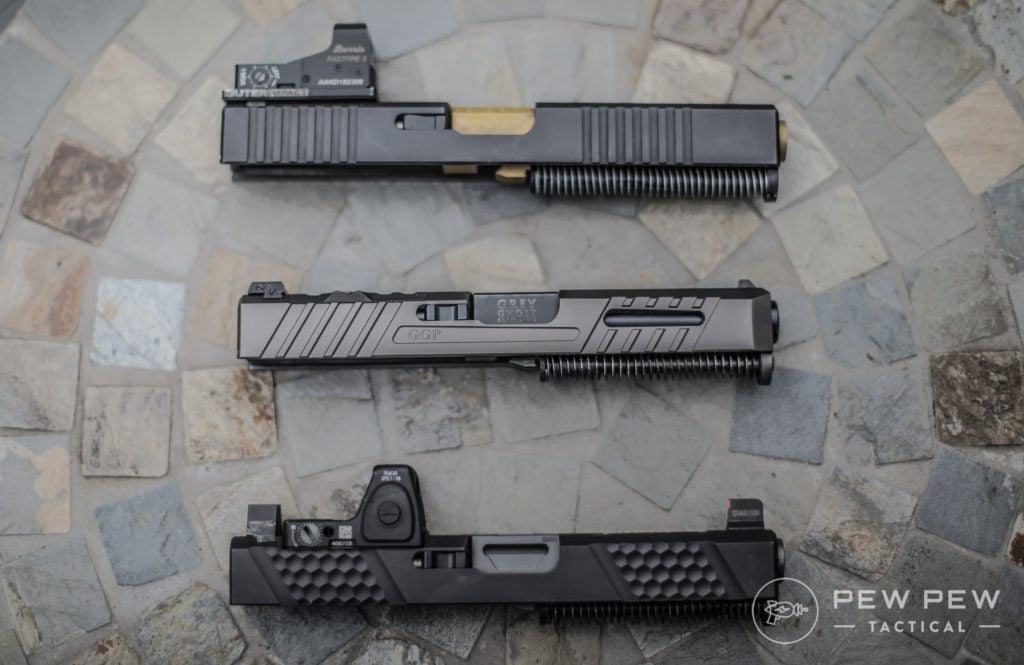 A full-length slide on a compact frame delivers Glock fans a configuration they've wanted for quite some time.
Judging from the popularity of the 19X and Glock 45, the compact slide on a full-sized frame won't feel too left out either. The Glock 47 is coming out in 2023, and I have no doubts we'll get to see it at SHOT. Hopefully, we'll even get to shoot it.
Maybe next year, we'll get the Glock 46.
5. Hi-Point JXP10
A lot of people trash Hi-Point. Their pistols are admittedly not very attractive and about as simple as a design can be. They've become a bit of a meme, but they've also leaned into it.
As far as I know, the Yeet Cannon will eventually come out, but until then, we can rejoice at the Hi-Point JXP10.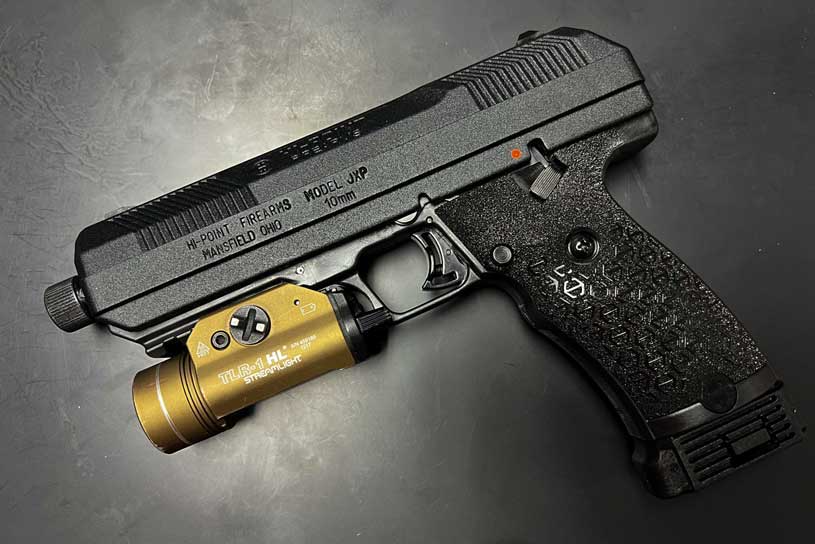 This is Hi-Point's first 10mm pistol, and it's also wearing a few new features to top it all off. This includes a Picatinny rail and a new grip design that features aggressive stippling.
You might need it to hold onto all 49 ounces of gun the JXP10 offers. You also get a threaded barrel, and the press release has the words 'Red Dot' ready…take that for what you will.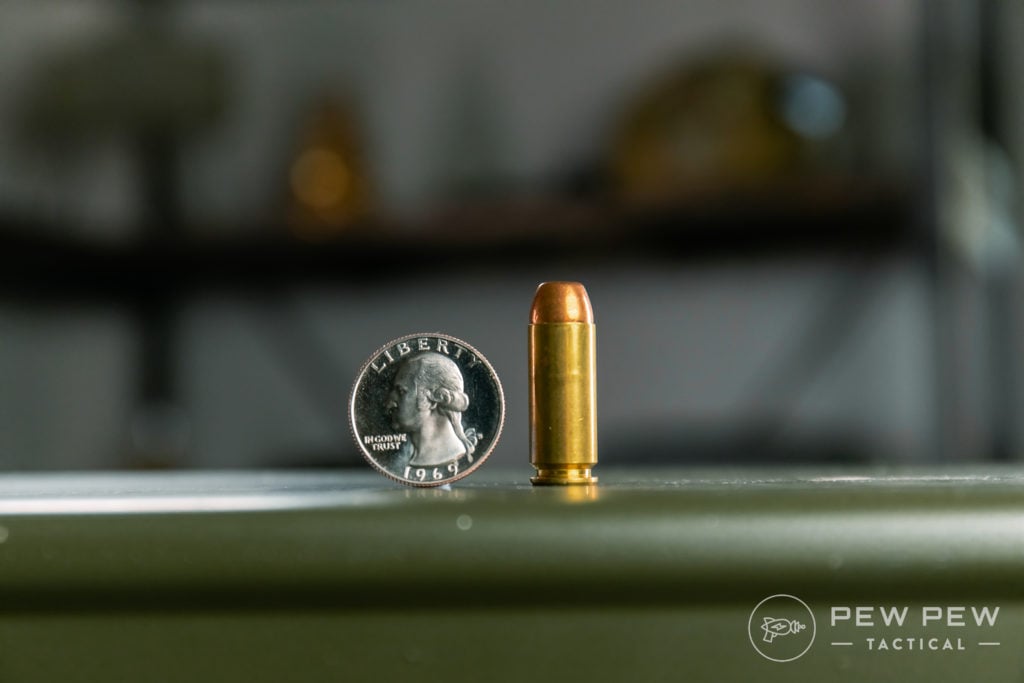 Hi-Pointers will get 10 rounds in the magazine, and the magazines will work with the 1095 carbine. The gun is Plus P rated, and as always, the gun has Hi-Point's crazy good warranty.
It's a massive gun, and a direct blowback 10mm sure doesn't seem like a good time, but I really want to give it a try.
6. Avidity Arms PD-10
Avidity Arms has been working on the PD-10 for years. Years before, guns like the Sig Sauer P365XL or the Glock 48.
Developing a gun isn't easy, especially when it's your first time doing so. I understand the hesitation in releasing it too early and seeing it go the way of the Hudson.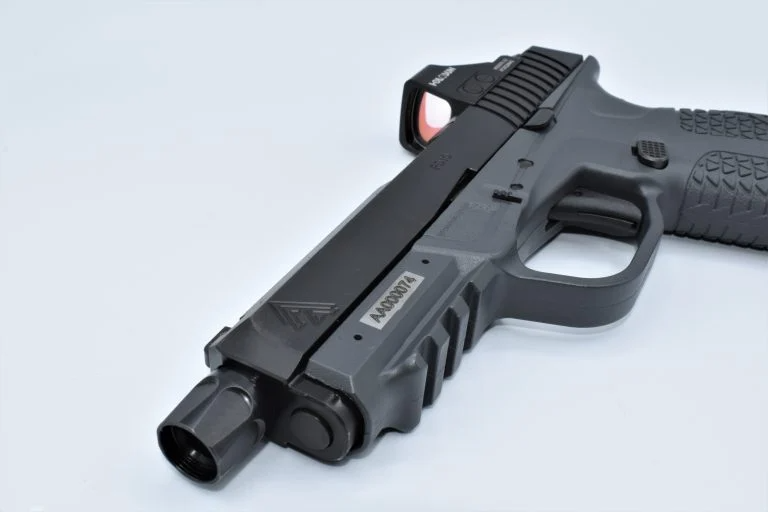 Rob Pincus, a former law enforcement officer and current firearms instructor, designed the pistol to be the ultimate carry gun. It's gone through several iterations, and the current PD-10 reflects the current market.
It's a 9mm, striker-fired, polymer frame pistol that uses a single-stack 10-round magazine.
The magazine uses a proprietary follower and a 9mm 1911 magazine body for easy production. The weapon is only 1 inch at its widest.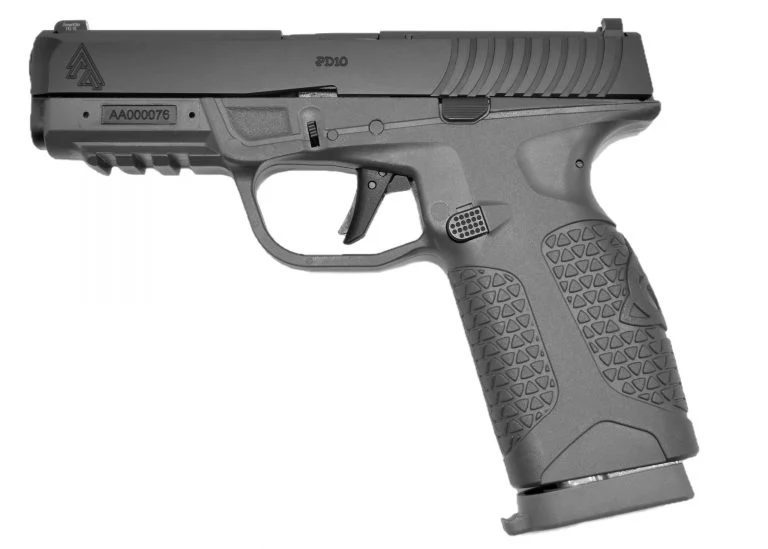 It's the perfect weapon for IWB carry, and its size makes it easy to shoot. Think of it like a single-stack Glock with improved ergonomics.
One of the more recent design changes is optic compatibility with the Shield RMSc footprint.
249
at Brownells
Prices accurate at time of writing
Prices accurate at time of writing
Available Coupons
25% off all OAKLEY products – OAKLEY25


Copied!
Visit Merchant
I'm excited about the PD-10. It's the first time I've heard of a gun designed and pressed into service by a professional firearm instructor.
7. Zenk RZMK 357
I'm excited about the Zenk RZMK 357 revolver because it looks like it stepped out of Blade Runner.
But I'm cautious because it seems like it could easily be vaporware. It's a new company with a radical product, and that combination doesn't have the best reputation.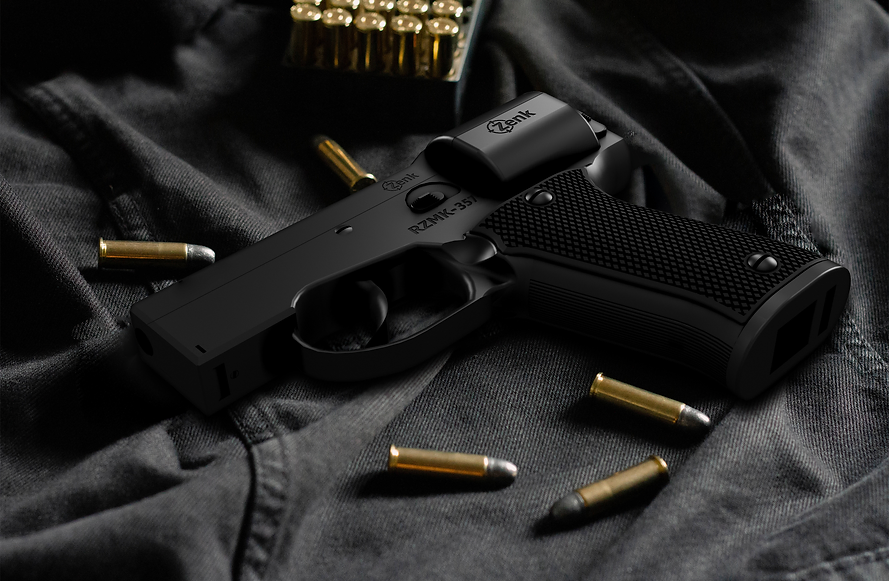 The Zenk RSMK 357 is a bullpup revolver that houses a revolver with a 4.37-inch barrel in a gun that's only 6.85 inches overall. Not only is the cylinder behind the barrel, but the gun features a top break design much like a Scholfield.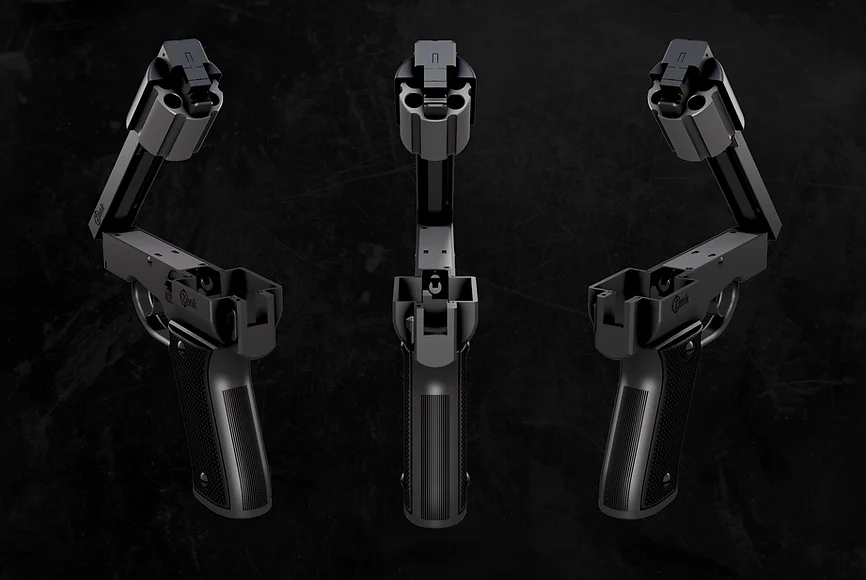 Shooters also get a Picatinny rail across the top for optics, lights, or whatever. Optics on revolvers make a ton of sense since the slide does not reciprocate, and the dot stays still. It's super easy to track and fast for follow-up shots.
Will the Zenk revolver ever make it to retail? Part of me says no because it's so dang cool, and I'm not that lucky.
8. Chiappa Little Badger TDX
I own an OG Chiappa Little Badger and love the little folding survival rifle. It's barebones and simple.
179
at Sportsman's Warehouse
Prices accurate at time of writing
Prices accurate at time of writing
Available Coupons
25% off all OAKLEY products – OAKLEY25


Copied!
Visit Merchant
The Little Badger TDX takes that platform to the next level…
TDX stands for Take Down Extreme, and unlike its predecessor, this model doesn't fold down. Instead, it breaks into two pieces, easily stowed in an included waterproof container. Ultimately, this makes it smaller and easier to pack.

It features a much simpler stock design with a single rod and buttstock. Even though it's much simpler than the original rifle, the stock can hold 12 extra rounds of ammo.
The rifle will feature the short sections of rails up front, as well as the M1 style sights. It's a neat little design and is ripe to become an even smaller pistol variant.
The Little Badger TDX comes in the most popular rimfire calibers, including .22 LR, .22 Magnum, and .17 HMR, with an MSRP of $280.
9. Advantage Arms Micro Compact Conversions
This isn't exactly a gun, but a conversion kit.
Long before Glock ever produced the Glock 44, companies like Advantage Arms designed replacement slides and barrels to allow the weapons to shoot .22 LR.
Advantage Arms is taking that same energy and giving up rimfire conversions for micro compacts.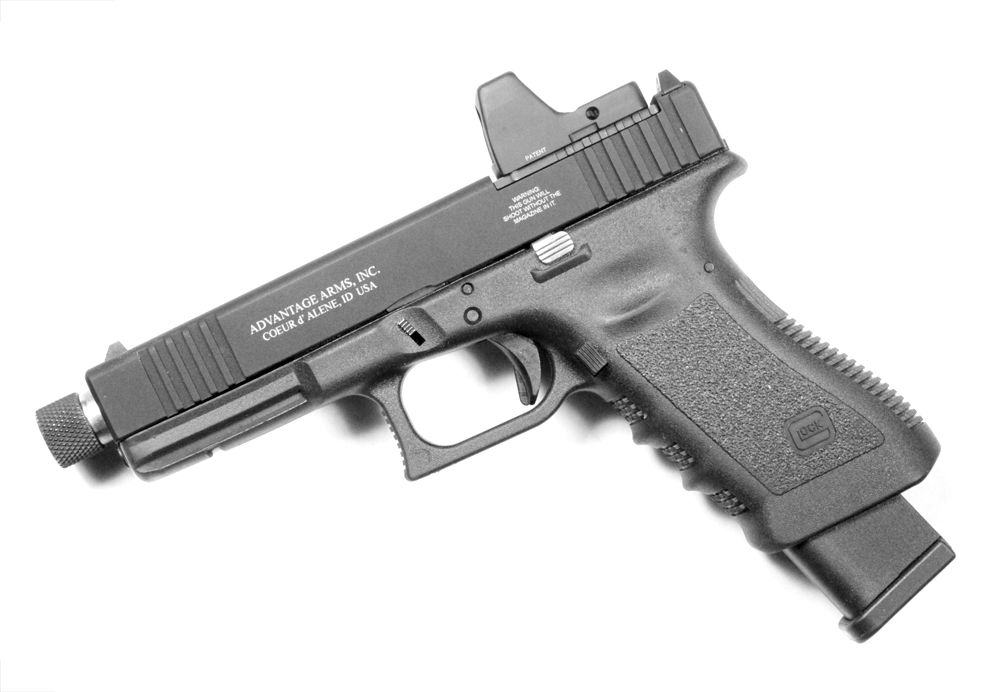 I've wanted a P365 .22 LR conversion kit for a long time, and it's nice to see one finally pop up. Outside of the P365, they also produce kits for the Hellcat and the Glock 43X.
Advantage Arms Glock and 1911 kits have proven reliable and downright fun to shoot with.
Converting my P365 to .22 LR opens up training with cheap ammo and allows me to shoot more for less. Plus, it allows newer shooters to train with a carry pistol without carry pistol recoil.
This is one gadget I'm grabbing as soon as possible. Now all I need is ammo…
.22 LR Ammo In Stock
Deal
Grain
Cost Per Round
Notes
Federal Range Pack 800 rnds
40gr
$0.08
CCI Blazer 500 rnds
40gr
$0.08
Armscor 500 rnds
40gr
$0.09
10. JK Armament JK 105 CCX
I like my suppressors like I like my PDWs, compact and modular.
The new JK 105 CCX opens up the market for 9mm suppressors and produces an extremely small and modular option for shooters. This little fella can go from 1.6 inches to 4.6 inches.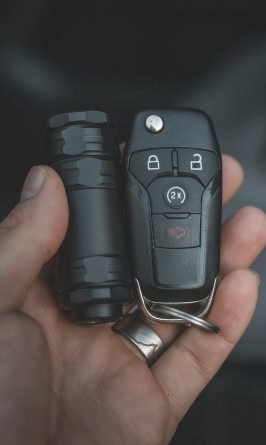 Obviously, the longer the suppressor, the better the suppression, but smaller options make the gun more maneuverable and better balanced.
In the smallest configuration, the can is 1.2 ounces, and that's it.
Why is this important? Well, it's nice on small guns and quite nice on PCCs.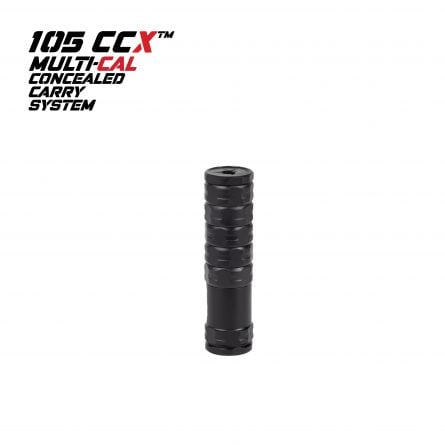 A 147-grain projectile from a 16-inch barrel is already fairly quiet. Maybe you only need a little suppressor to make it a lot quieter.
As a 9mm suppressor, it can work with .380 ACP, and in its smallest configuration, it would be awesome on a Walther.
The JK 105 CCX is a neat design, and suppressors aren't something you can really impulse purchase, but if I could, I would already have it ordered and on a gun or two.
11. Armscor RIA 5.0 ST
 Editor's Addition: The PPT editorial team is also excited about the RIA 5.0 ST from Armscor.
This 9mm pistol features 17+1 capacity and an interesting recoil system that offers super soft recoil.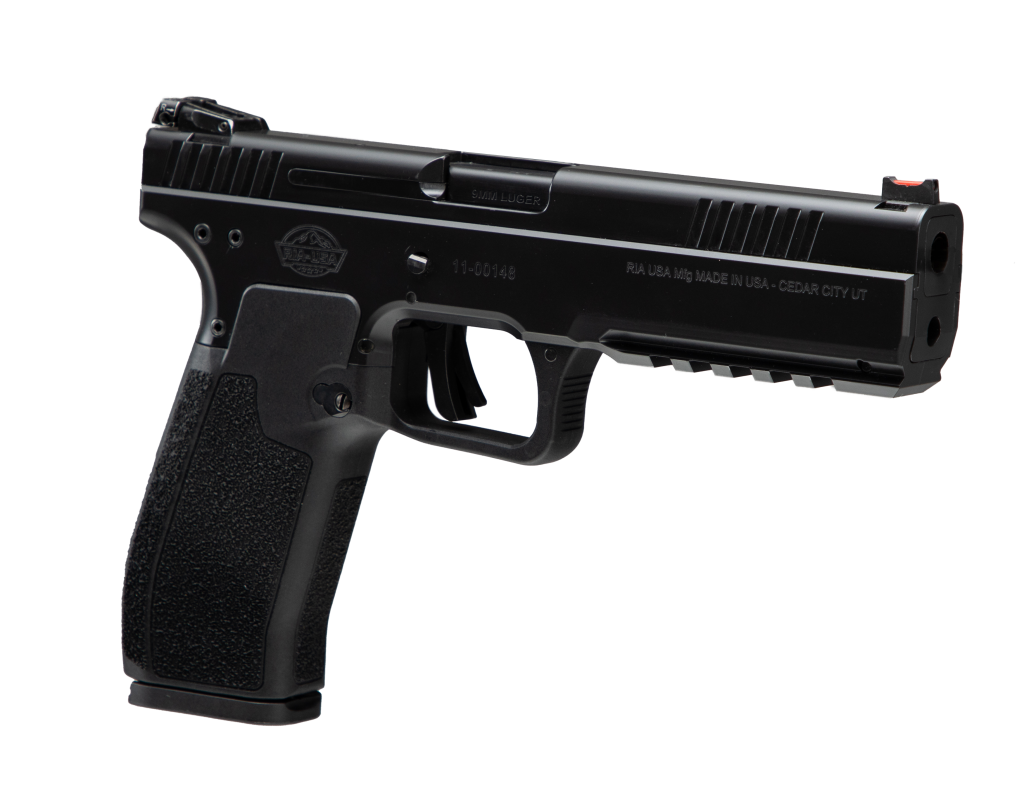 It brings a modular two-piece frame that grants more flexibility – a blessing for shooters who struggle with traditional ergonomics.
It sports a 4.91-inch barrel with an overall length of 8.11 inches and a width of 1.33 inches. It stands 5.17 inches tall and weighs in at 2.47 pounds.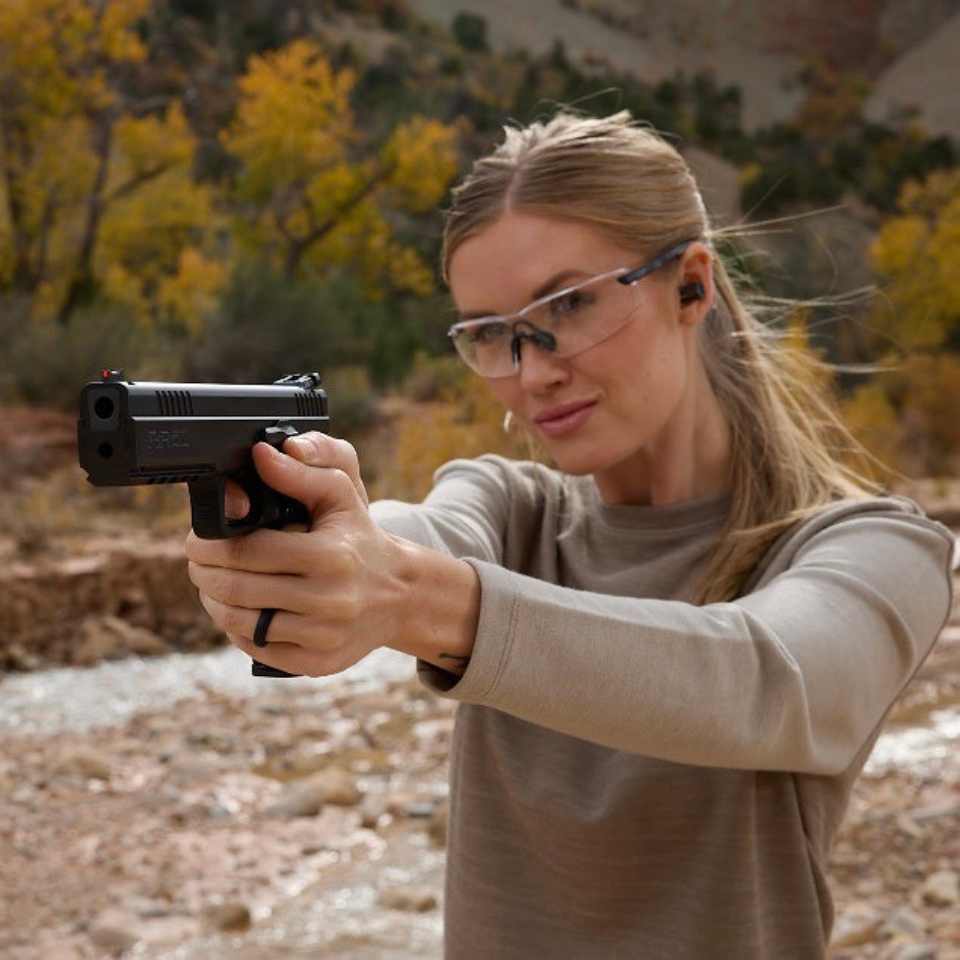 Other amenities include a Dawson Precision, Fiber Optic front sight, and LPA Adjustable rear sight.
With a promised "buttery smooth" trigger, we can't wait to get our hands on this handgun to see if it really does live up to its hype.
MSRP is $988.
Final Thoughts
SHOT is a great time, a magical time, a time full of long days, painful rolling carts, and crowded venues.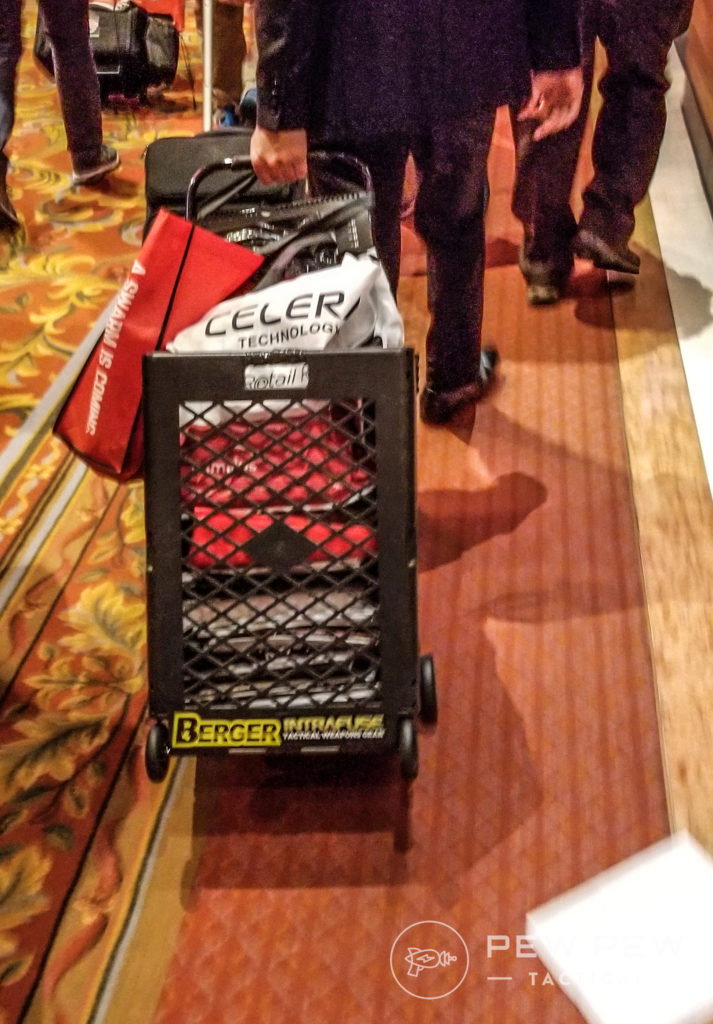 Not to mention I meet my step goal by 10 am every day. It's a good time and a very busy time for intrepid media members.
Will I see you there? Let me know below! Also, let us know what you're excited to see. Curious about last year's show? Check out the Best Guns & Gear of SHOT Show 2022.