Entry-level 1911 lovers rejoice! Tisas, the name of the game in affordable 1911-style pistols announced the new Night Stalker 1911 over SHOT Show 2023.
Thank you for reading this post, don't forget to follow and signup for notifications!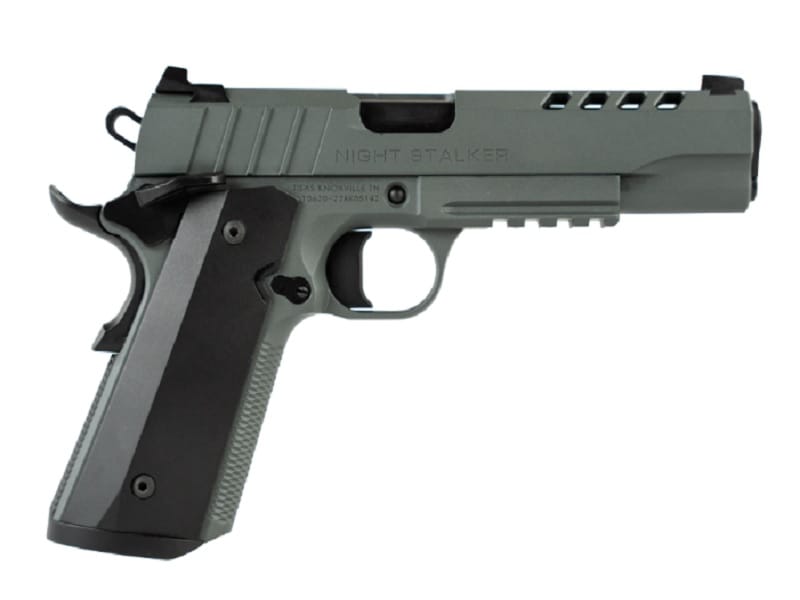 The new Night Stalker takes a few modern 2011 nods, but is still a slim, all-steel single-stack 1911 based on the Colt 70 Series lock work. As Browning himself intended, the Night Stalker holds eight rounds of 45 ACP.
The Night Stalker is an all-forged pistol available in a dull grey Night Stalker Cerakote finish paired with stark, black aluminum grips. The skeletonized hammer, barrel, ambidextrous safety, magazine release, and slide stop are finished in black Cerakote; as are the extended beavertail, squared trigger, and grip safety.

To take aim, the pistol comes with a luminescent tritium front sight and a black-serrated rear sight. The forged carbon steel slide has angular cocking serrations at the rear and is scalloped through toward the muzzle. The frame has a traditional rounded trigger guard but there is a Picatinny rail milled into the dustcover for all your light needs.
The Night Stalker is packaged with two magazines in a hard case. It has an MSRP of $749.99. At the time of this writing, this model will begin to ship during the second quarter of 2023.
Tisas Trabzon Silah Sanayi has been producing firearms in Turkey since 1993. In the United States, Tisas is known for their polymer PX9 pistol as well as a variety of 1911 and Browning Hi Power clones. In 2022, Tisas USA of Knoxville, Tennessee became the exclusive importer of Tisas products.