Just recently, in RECOIL #64, when we covered the reinvention of JK Armament, we mentioned we had eyes on some new/shiny we couldn't show yet–and this year at SHOT Show 2023, the world got to see it: modular 12 gauge suppressors. more than two years in the making, the JK195 SGX and JK195 VersaX shotgun silencers are more than simply super-sized versions of their rifle and pistol cans.
Thank you for reading this post, don't forget to follow and signup for notifications!
The JK195's follow JKA's standard naming convention, with the numbers standing for the outer diameter of the cans themselves. While 1.95 inches would be pretty fat (though not unheard of) for a rifle silencer, the diameter of a 12ga shell ranges from 18.5mm on the low end all the way to 20mm.
The JK195 SGX is the longer model with 14 configurable baffles, while the JK195 VersaX is the more compact with eight (which was a sweet spot during testing). In full configuration, the JK195 SGX is under a foot long at 11.75 inches and weighs in right at one pound.
As you might anticipate, the JK195 VersaX is shorter and lighter at 7.9 inches and 9.3 ounces fully kitted out.  
Something that separates the JK 195's from the other JKA suppressors and 12ga silencer designs from others is the baffle design, and that design is part of the reason we'd seen machine drawings and prototypes long before it came to the market.
Each stackable baffle is rounded with a flare, not dissimilar to the muzzle end of a blunderbuss.
When we asked Jake Kunsky about this design, he told us, "Plastic. The plastic hulls were a problem. Anything that shaved the shot cup meant plastic was left behind. Not only did this change flight characteristics, that plastic meant malfunctions down the line if it worked its way down the bore. Our design not only ensures the wadding stays together but that the groups are what you expect"
And these cans aren't just for show–at an event last week JK Armament put over 2,600 shells through one, full auto, out of a short-barreled Genesis Gen-12 in a single evening and it was on display the next day looking no worse for wear. It's safe to say that the JK195's can handle a ton of abuse. 
And of course, it's not just the cans themselves but a whole bevy of devices, not only to attach the suppressor to your scatterguns but also to serve as standoffs. 
For more information on the JK195 SGX and JK195 VersaX, visit their webpage or Silencer Shop.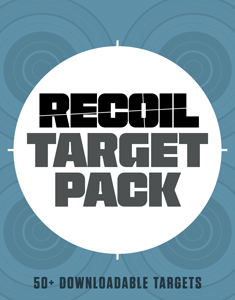 NEXT STEP: Download Your Free Target Pack from RECOIL
For years, RECOIL magazine has treated its readers to a full-size (sometimes full color!) shooting target tucked into each big issue. Now we've compiled over 50 of our most popular targets into this one digital PDF download. From handgun drills to AR-15 practice, these 50+ targets have you covered. Print off as many as you like (ammo not included).
Get your pack of 50 Print-at-Home targets when you subscribe to the RECOIL email newsletter. We'll send you weekly updates on guns, gear, industry news, and special offers from leading manufacturers – your guide to the firearms lifestyle.
You want this. Trust Us.