NEW from Sightron comes their first 40mm main tube optic!
Thank you for reading this post, don't forget to follow and signup for notifications!
While 34mm and 35mm have become standards in the industry, rarely is a 40mm tube seen. The SVIII from Sightron comes with ED glass, their ExacTrack W&E System, multi-coated lens, and a ton more features.
Although we didn't get to try one on the range, getting hands-on with the SVIII was impressive, looking across the SHOT Show floor. The 40mm tube and 56mm objective lens transfers a ton of light, making even the bowels of a convention center look crisp.
Sighttron is known for extremely good tracing turrets with very positive clicks. Twisting the turret on the demo model shown was loud and clicky. Hopefully, we'll see a full review on this optic soon!
MSRP isn't cheap at $2,900, and you don't want to skip arm day with a 49oz scope weight. The SVIII will be available in MOA and MRAD and comes with a lifetime warranty.
Magnification 5-40x
Objective Lens Diameter 56mm
Eye Relief 3.8 – 3.7 inches
Field of View – Meters 7.22m – .9m @ 100 meters
Field of View – Yards 23.7ft – 2.9ft @ 100 yards
Tube Size 40mm
Turret Style Tactical (Resettable)
Zero Stop Yes
Click Value .1 MRAD @ 100 meters
Minutes Per Revolution 10 MRAD
Max Elevation Adjustment 40 MRAD @ 100 meters
Max Windage Adjustment 20 MRAD @ 100 meters
Parallax Setting 10 meters to Infinity
Focus Type Side Focus
Reticle Type MH-6 IR
Focal Plane First
Illumination Yes
Finish Matte Black
Waterproof Yes 
Anti-Reflection Tech MC-777 Fully Multi-Coated
Fog Proof Yes
Length 16.8 inches
Weight 49.0 oz.
Sunshade Included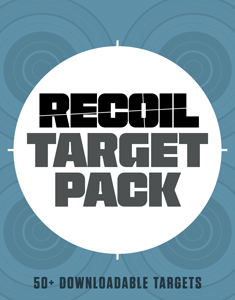 NEXT STEP: Download Your Free Target Pack from RECOIL
For years, RECOIL magazine has treated its readers to a full-size (sometimes full color!) shooting target tucked into each big issue. Now we've compiled over 50 of our most popular targets into this one digital PDF download. From handgun drills to AR-15 practice, these 50+ targets have you covered. Print off as many as you like (ammo not included).
Get your pack of 50 Print-at-Home targets when you subscribe to the RECOIL email newsletter. We'll send you weekly updates on guns, gear, industry news, and special offers from leading manufacturers – your guide to the firearms lifestyle.
You want this. Trust Us.