MORE CAPACITY, LESS RECOIL
New from Palmetto State Armory comes the 5.7 Rock! Chambered in 5.7x28mm with a 23+1 capacity, this is a lot of gun with not much recoil.
Thank you for reading this post, don't forget to follow and signup for notifications!
Releasing in multiple options, including threaded barrels, optics ready, and just a stripped pistol frame – the Rock has many faces.
Handling the Rock at SHOT Show 2023 was pretty interesting. The gun is about the size of a Glock 19, but holds a lot more shots since it's in 5.7x28mm. The slide is much easier to rack, and the optic sits nicely in your field of view. Bottom line, it feels great. 
Something interesting about this setup is th 23-round magazine. Looking at the Ruger 5.7, it only has a 20-round magazine.
Due to differences in the design, PSA says that the 23-round PSA mag will fit in a Ruger 5.7, but it is not guaranteed to work.
The 20-round Ruger magazine will not function in a PSA Rock.
MSRP is $550
SPECS:
Model: PSA Full Size 5.7 Rock 
Caliber: 5.7x28mm
Capacity: 23+1
Weight with Empty Mag: 25 oz
Barrel Material: Carbon Steel With QPQ Finish; Fluted 
Barrel Length: 4.7″
Twist Rate: 1/9″
Slide Material: 416 Stainless Steel with QPQ Finish
Action: Delayed Blowback Striker-fired
Mag Catch: Reversible
Safety: Trigger & Striker
Accessory Rail: Picatinny 
Magazine: 23rd Steel 5.7x28mm Magazine (Ships With 2)
Designed to work with Glock™ compatible sights
ADDITIONAL FEATURES:
Ergonomic Grip Shape
Aggressive Grip Texturing
Striker Fired
Striker Block Safety and Trigger Safety
Steel 3 Dot Sights (Not Night Sights)
416 Stainless Steel Slide; QPQ Coating
Fluted Carbon Steel Barrel; QPQ Coating
23rd Steel 5.7x28mm Magazine (2)
PSA Rock Soft Pistol Case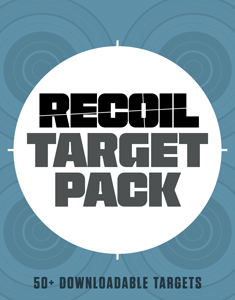 NEXT STEP: Download Your Free Target Pack from RECOIL
For years, RECOIL magazine has treated its readers to a full-size (sometimes full color!) shooting target tucked into each big issue. Now we've compiled over 50 of our most popular targets into this one digital PDF download. From handgun drills to AR-15 practice, these 50+ targets have you covered. Print off as many as you like (ammo not included).
Get your pack of 50 Print-at-Home targets when you subscribe to the RECOIL email newsletter. We'll send you weekly updates on guns, gear, industry news, and special offers from leading manufacturers – your guide to the firearms lifestyle.
You want this. Trust Us.