There are many choices when getting a tactical flashlight, and this post will cover the best tactical flashlights on the market.
Thank you for reading this post, don't forget to follow and signup for notifications!
With various price points, this article will help you decide which is right and will help you choose the perfect one for your intended use.
So if you want to illuminate the darkness, keep reading.
This post will review the best tactical flashlights.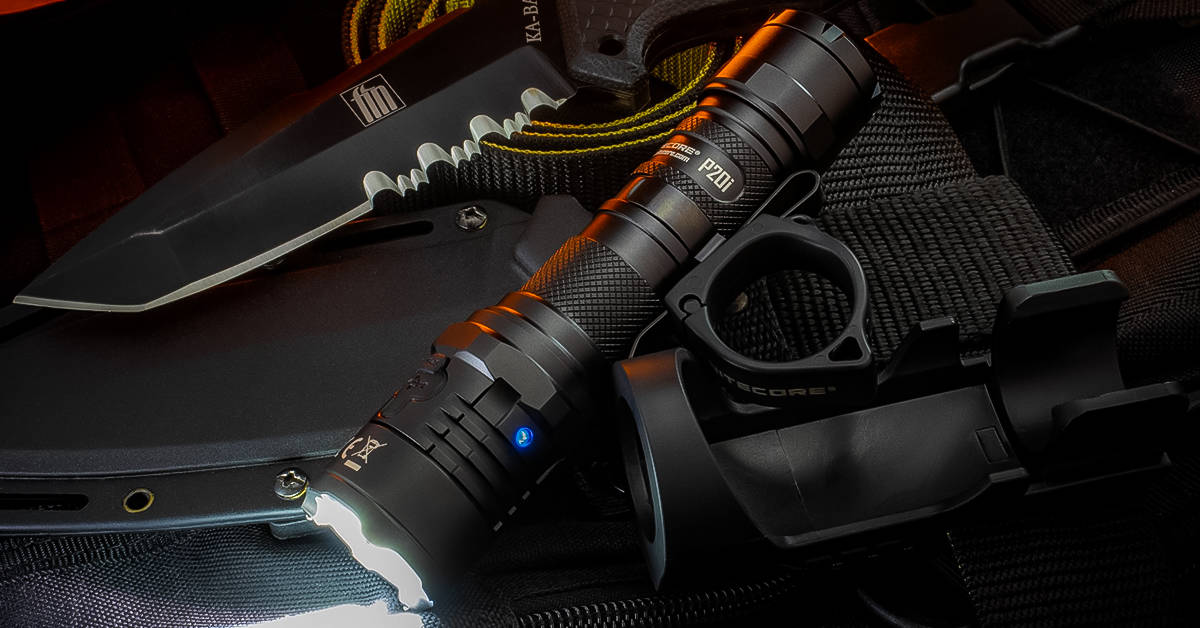 Why Use A Tactical Flashlight?
The answer is simple, to see in the dark. You will never know the importance of a flashlight until you desperately need one and don't have one.
Many people will suggest they can be used for self-defense as a blunt object, but I don't recommend this unless you are all out of options. If you are a frequent reader here at First World Crusader, you should already have a concealed carry weapon with a flashlight.
That is primarily for self-defense.
But then why do you need a separate standalone tactical flashlight if you already carry a pistol with one attached to it, you may ask?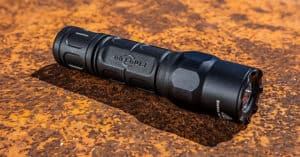 Because if you lose your keys at night, you don't have to unholster your firearm and point it everywhere to use the light.
Also, you may be at a place where concealed carry is prohibited and still want your light. These are just a few hypothetical scenarios, but I guarantee you will use a flashlight more often when you start carrying one, and it will come in handy.
Best Tactical Flashlight Criteria
Below are the variables I think about when choosing a tactical flashlight and that you should also consider when choosing a flashlight.
Intended Use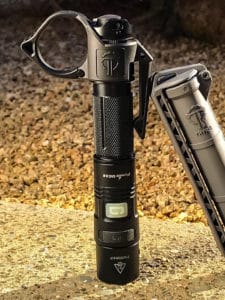 Is this going to be carried on your person every day, all summer, and through the winter?
Is this going to be in a bug-out bag or used for camping? Will this be stored in your daily driver?
Or will this sit in the junk drawer in your house?
Determining how it will be used primarily will help influence which tactical flashlight you should purchase.
I recommend having a flashlight for all the scenarios I listed above and having an excellent tactical flashlight on your person all the time.
Brightness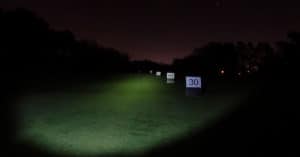 Brightness is the first and foremost thing to consider when choosing a light. The higher the lumens, the better, but there does reach a point of diminishing returns.
One thousand lumens or close to that often tends to be the sweet spot with a good mix of brightness, battery life, and affordability.
The high-powered and high-lumen lights will not last very long before dimming, and they are too big and cumbersome to carry as an everyday carry (EDC) flashlight.
The powerful lumen and large lights are suitable for keeping at home or in a vehicle for emergencies or camping.
Durability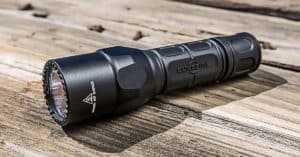 Most people have butter fingers and drop stuff. If you haven't dropped anything expensive yet, you will.
Having a durable flashlight that is rugged and can withstand the elements is essential. Also, holding up to the cold and below-zero temperatures is important.
Cold weather seriously affects the batteries on flashlights, so this is something to keep in mind. So if you plan on keeping your tactical flashlight in your vehicle and live where you have harsh winters.
Size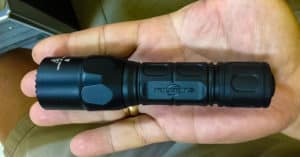 Finding the perfect medium is hard to do sometimes. The best piece of gear is the one you have on you, and if you never carry your tactical flashlight, chances are you won't have it when you need it most.
Make sure you find a comfortable tactical flashlight to carry with you all day. This may mean you have to choose a smaller or more expensive one that is more ergonomically designed.
Unless you wear a utility belt daily, you will most likely carry a flashlight. A slim design will dramatically increase your comfort.
Batteries VS Rechargeable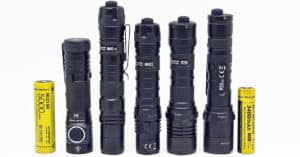 Next up is deciding to go for regular single-use batteries or rechargeable ones. The rechargeable batteries are convenient, but my favorite flashlights are designed to operate on both types. Good battery life is important and having the flexibility to use multiple types of batteries is nice.
High-powered flashlights usually run on expensive lithium batteries; depending on the battery life and brightness, they may only last an hour.
A USB-style rechargeable battery can save you a lot of money long-term, which is another critical variable to consider.
Price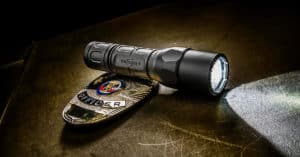 The final factor when determining the best tactical flashlight is the cost.
I firmly believe in "you get what you pay for," which is almost always true regarding tactical gear with electronics.
That doesn't mean you need to spend a fortune, but don't go cheap. Below there are more affordable options that I recommend.
(function(d,u,ac)var s=d.createElement('script');s.type='text/javascript';s.src='https://a.omappapi.com/app/js/api.min.js';s.async=true;s.dataset.user=u;s.dataset.campaign=ac;d.getElementsByTagName('head')[0].appendChild(s);)(document,115145,'a053oe13xpqzsqzqz51x');

Best Tactical Flashlight
Now let's get into the main reason you clicked on this article. Here are the best tactical flashlights on the market…
1. Surefire G2X Pro Flashlight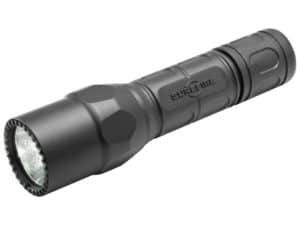 2. Streamlight Wedge LED Flashlight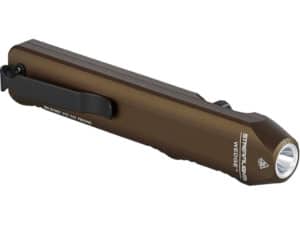 3. Fenix UC35 V2.0 Rechargeable Flashlight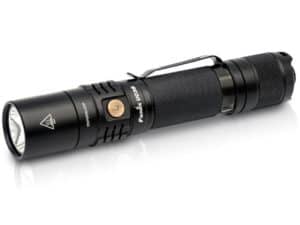 4. Streamlight ProTac HL X Flashlight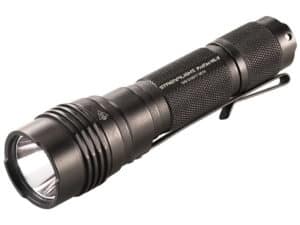 Related Articles
Best AR-15 Flashlights (Complete List)
9 Best Lasers For AR-15 (Complete Guide)
5. Streamlight ProTac HL 5-X Flashlight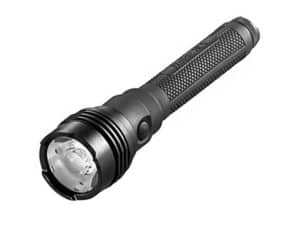 6. SureFire Everyday Carry LED Tactical Flashlight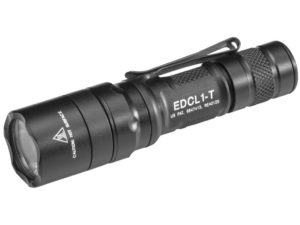 7. Nitecore P20iX CREE XP-L2 V6 Flashlight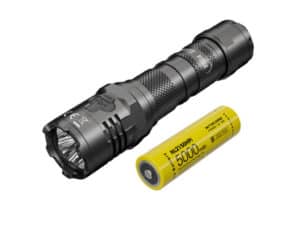 (function(d,u,ac)var s=d.createElement('script');s.type='text/javascript';s.src='https://a.omappapi.com/app/js/api.min.js';s.async=true;s.dataset.user=u;s.dataset.campaign=ac;d.getElementsByTagName('head')[0].appendChild(s);)(document,115145,'wt7px6lvaceyfnlh0ml2′);

Final Considerations
As you can see, there are lots of options when it comes to tactical flashlights. All of the ones mentioned on this list are great, and you can't go wrong with any of them.
Strobe mode on a tactical light is unnecessary and is sometimes annoying if you activate it by mistake.
Having the brightest tactical flashlights isn't always the best in every situation, especially for indoor use.
Also, be careful picking up a budget tactical flashlight as they are often poor quality and will not last long.
Best Tactical Flashlight FAQ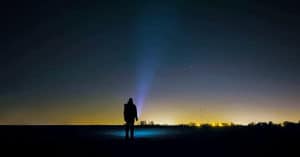 How many lumens is suitable for a tactical flashlight?
You should have at least 150 lumens minimum for a bright enough flashlight. Most flashlights will have two modes (high & low), and the low setting should be at or above this number to effectively disorient an adversary.
How many lumens is a military-grade flashlight?
Military flashlights vary in brightness depending on the need, and typically, the best military flashlight will range from 1000-3000 lumens.
How far will a 1000-lumen flashlight shine?
A 1000-lumen flashlight is quite bright and, depending on the lens or reflector design, powerful enough to reach a distance of 200 meters or more. This type of flashlight allows you to see objects from a far distance.
How effective is a tactical flashlight for self-defense?
A tactical flashlight is an effective tool for self-defense. It can produce light powerful enough to deter an attacker, optically disorient them, or be used as a blunt-force self-defense weapon. Nothing is better than a firearm; having a tactical flashlight mounted to a pistol is the best self-defense weapon.
What makes a flashlight a "tactical" flashlight?
The most important feature of a tactical flashlight is its powerful brightness. Tactical lights are designed for law enforcement. Therefore, they must be bright enough to dazzle a potential attacker to defend themselves.
Complete List of Items Mentioned
(Click the links for the most up-to-date prices)
Surefire G2X Pro Flashlight
Streamlight Wedge LED Flashlight
Fenix UC35 V2.0 Rechargeable Flashlight
Streamlight ProTac HL X Flashlight
Streamlight ProTac HL 5-X Flashlight
SureFire Everyday Carry LED Tactical Flashlight
Nitecore P20iX CREE XP-L2 V6 Flashlight
Have you ever used a tactical flashlight? Which one did you decide to go with?
Let me know in the comments below.
Further reading on Firstworldcrusader.com: Are you interested in learning more about guns and gear?
This list of the Best Red Dot Sights can help you choose the best optic for your rifle.
In addition, here are the Best AR-15 Upgrades & Accessories that can help you get more out of your primary battle rifle.