There are many choices when getting a pistol light, and this post will cover the best pistol light on the market.
Thank you for reading this post, don't forget to follow and signup for notifications!
With various price points, this article will help you decide which is right and will help you choose the perfect one for your intended use.
So if you want to illuminate the darkness, keep reading.
This post will review the best pistol lights.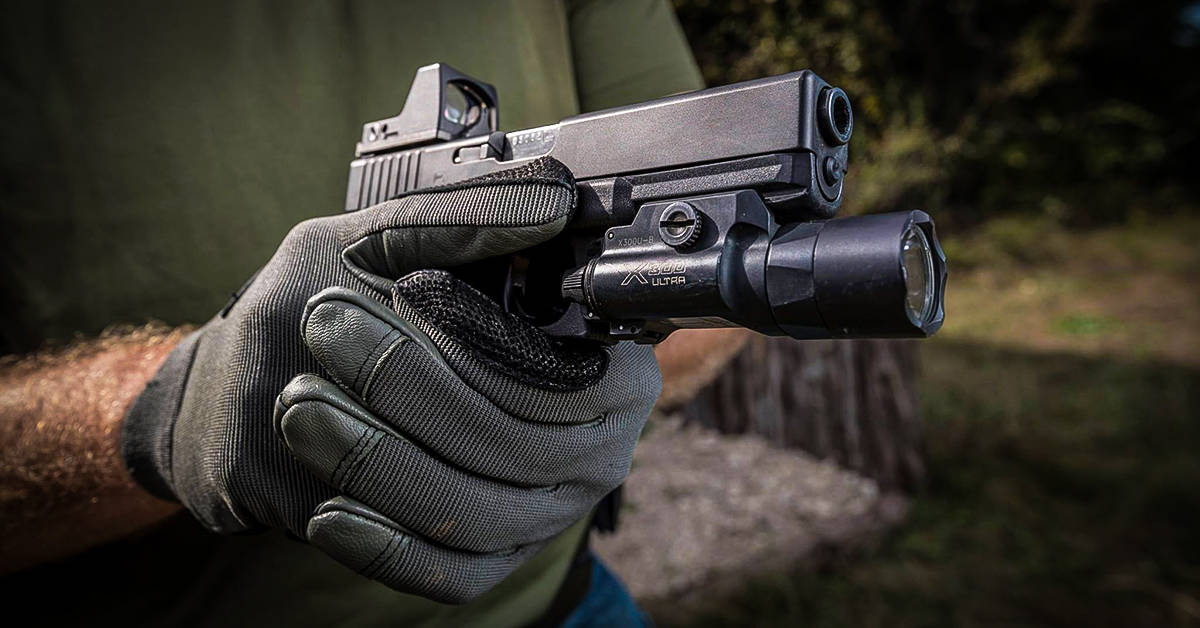 Why Use A Pistol Light?
The answer is simple, to see in the dark. You will never know the importance of a flashlight until you desperately need one and don't have one.
You can't shoot what you can't see, and correctly identifying your target is crucial.
Most self-defense shootings occur at night when it is dark. Whether it's on a concealed carry pistol or a home defense pistol, light is a must-have.
Some people are okay with having a handheld flashlight, not one directly mounted to their pistol.
That is good, and some people are proficient with that, and you definitely should always have a handheld flashlight.
A pistol-mounted flashlight is more convenient and frees up your none dominant hand.
Best Pistol Light Criteria
Below are the variables I think about when choosing the best pistol light that you should also consider.
Intended Use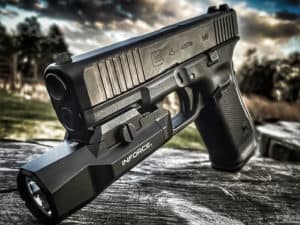 Is this going to be carried on your person every day, all summer, and through the winter?
Is this going to be in a bug-out bag or used for camping? Will this be stored in your daily driver?
Or will this sit on your nightstand, under your bed, or in a gun safe?
Determining how it will be used primarily will help influence which pistol light you should purchase.
If you put this on your concealed carry, you may want a smaller, more compact light with less weight.
A larger and brighter light might be better for a dedicated home defense gun. Or maybe you want something in the middle that does everything and is well-balanced.
Brightness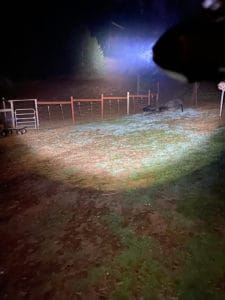 Brightness is the first and foremost thing to consider when choosing a light. The higher the lumens, the better, but there does reach a point of diminishing returns.
One 200 to 300 lumens or close to that often tends to be the sweet spot with a good mix of brightness, battery life, and affordability.
The high-powered and high-lumen lights will not last very long before dimming, and they are too big and cumbersome to carry as an everyday carry (EDC) flashlight.
The powerful lumen and large lights are suitable for keeping at home or in a vehicle for emergencies or camping. A bright light isn't the only thing to consider though.
Durability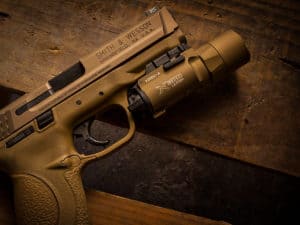 Most people have butter fingers and drop stuff. If you haven't dropped anything expensive yet, you will.
Having a durable flashlight that is rugged and can withstand the elements is essential. Also, holding up to the cold and below-zero temperatures is important.
Cold weather seriously affects the batteries on flashlights, so this is something to keep in mind. So if you plan on keeping your pistol and light your vehicle, and living where you have harsh winters.
Size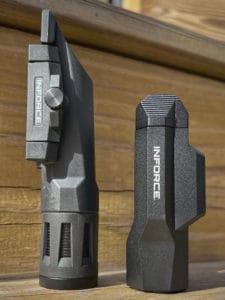 Finding the perfect medium is hard to do sometimes. The best piece of gear is the one you have on you, and if you never carry your pistol and light, chances are you won't have it when you need it most.
Make sure you find a comfortable holster to carry your pistol with you all day. This may mean you have to choose a smaller or more expensive one that is more ergonomically designed.
Batteries VS Rechargeable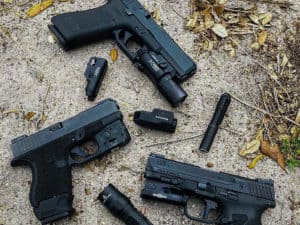 Next up is deciding to go for regular single-use batteries or rechargeable ones. The rechargeable batteries are convenient, but my favorite flashlights are designed to operate on both types. Good battery life is important and having the flexibility to use multiple types of batteries is nice.
High-powered flashlights usually run on expensive lithium batteries; depending on the battery life and brightness, they may only last an hour.
A USB-style rechargeable battery can save you a lot of money long-term, which is another critical variable to consider.
But how often are you going to be using your pistol light? Short run time with high lumen output will work.
Price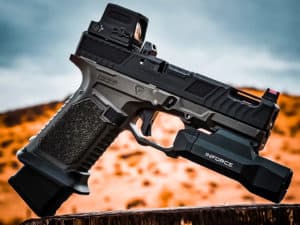 The final factor when determining the best pistol light is the cost. The high-lumen version with a very bright light will generally cost more.
I firmly believe in "you get what you pay for," which is almost always true regarding tactical gear with electronics.
That doesn't mean you need to spend a fortune, but don't go cheap. Below there are more affordable options and expensive high-end options that I recommend.
(function(d,u,ac)var s=d.createElement('script');s.type='text/javascript';s.src='https://a.omappapi.com/app/js/api.min.js';s.async=true;s.dataset.user=u;s.dataset.campaign=ac;d.getElementsByTagName('head')[0].appendChild(s);)(document,115145,'a053oe13xpqzsqzqz51x');

Best Pistol Flashlight
Now let's get into the main reason you clicked on this article. Here are the best pistol flashlights on the market…
1. Sig Sauer Foxtrot1x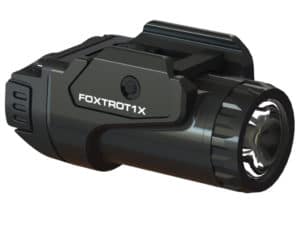 2. Nightstick Tactical Weapon-Mounted Light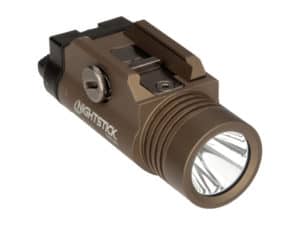 3. Olight Valkyrie Turbo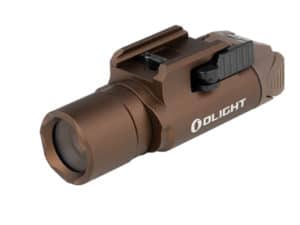 4. INFORCE Wild1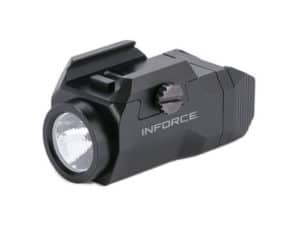 5. INFORCE Wild2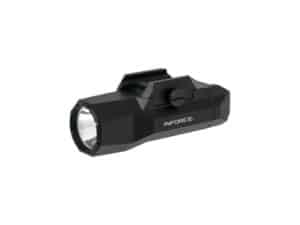 Related Articles
Best AR-15 Flashlights (Complete List)
7 Best Tactical Flashlights (Complete List)
6. Streamlight TLR-7A Flex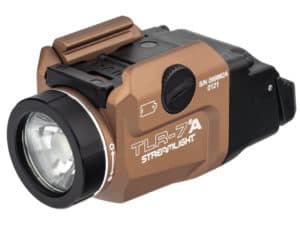 7. Streamlight TLR-1 HL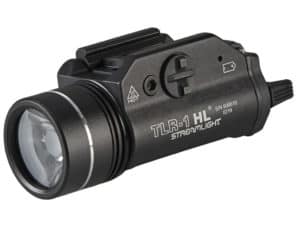 8. Streamlight TLR-2 HL G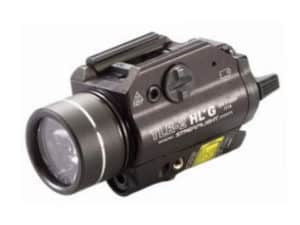 If you prefer a light and laser combo, then the Streamlight TLR-2 G is the one to go with.
9. SureFire X300 Ultra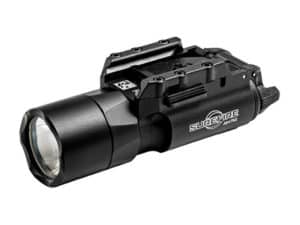 10. SureFire X300-B Ultra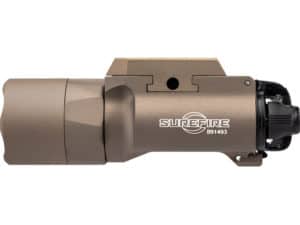 11. SureFire X300V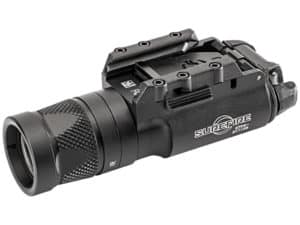 (function(d,u,ac)var s=d.createElement('script');s.type='text/javascript';s.src='https://a.omappapi.com/app/js/api.min.js';s.async=true;s.dataset.user=u;s.dataset.campaign=ac;d.getElementsByTagName('head')[0].appendChild(s);)(document,115145,'wt7px6lvaceyfnlh0ml2′);

Final Considerations
The best pistol lights are always the ones you have on you. So make sure you pick one up. A small pistol light could save your life someday.
Compact lights are better for concealed carry and still provide enough visible light to be helpful.
A strobe feature is a personal preference, and the brightest light might not always be the best.
A handheld light is also better than nothing, but I suggest getting one of these best pistol lights with a rail clamp system.
Also, some of the subcompact pistols do not have enough rail space to add a standard light and might have to get one of the smaller lights that clamp to the trigger guard.
Best Pistol Light FAQ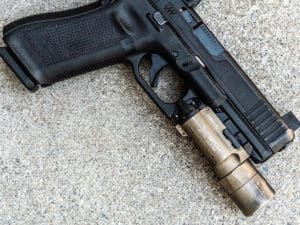 What pistol light does the military use?
The Surefire M600 is the weapon light of choice for most police, military forces, and special forces.
How many lumens should a pistol light have?
300 to 1000 lumens will be bright enough for most self-defense situations. Most all modern pistol lights will fall within this lumen range.
Is a flashlight on your pistol worth it?
Equipping your primary self-defense pistol with a good-quality flashlight would be best. Being able to see in the dark and identity your target is crucial. Also, most holsters nowadays can be ordered to accommodate a pistol light.
Is Streamlight or Surefire better?
Both are high-quality and bright options when it comes to flashlights. Price is similar, and Surefire has a more extended reputation as the best in the firearms community. New companies are now making comparable options.
Who makes the best quality pistol light?
You can never go wrong with a reputable brand name made in America. You will have to spend more money, but if you want the best light, it will cost more than the budget options.
Complete List of Items Mentioned
(Click the links for the most up-to-date prices)
Sig Sauer Foxtrot1X
Nightstick Tactical Weapon-Mounted Light
Olight Valkyrie Turbo
INFORCE Wild1
INFORCE Wild2
Streamlight TLR-7A Flex
Streamlight TLR-1 HL
Streamlight TLR-2 G
SureFire X300 Ultra
SureFire X300-B Ultra
SureFire X300V
Have you ever used a pistol light? Which one did you decide to go with?
Let me know in the comments below.
Further reading on Firstworldcrusader.com: Are you interested in learning more about guns and gear?
This list of the Best Red Dot Sights can help you choose the best optic for your rifle.
In addition, here are the Best AR-15 Upgrades & Accessories that can help you get more out of your primary battle rifle.