IT DOESN'T TAKE GLOCK MAGS, BUT IT DOES TAKE A RED DOT!
Announced a few days ago, this was our first look at the Taurus 856 and 605 T.O.R.O. revolvers with the new red dot mounting system!
Thank you for reading this post, don't forget to follow and signup for notifications!
Designed for the Holosun K footprint of micro red dots, these are small frame revolvers in 6-shot .38 Spl and 5-shot .357 Magnum, perfect for CCW.
Both revolvers are DA/SA, have a removable front sight blade, and a compact rubberized grip. 
Both guns feel good in your hands, and it's surprisingly easy to stay on target with the red dot while working a long DA trigger pull.
Made from stainless steel and featuring a transfer bar safety, these are exactly what you should expect from Taurus as far as the gun goes. Really, the big change is the red dot mounting.
While red dots have exploded in popularity for semi-auto pistols in the CCW, duty, and competition worlds – a production CCW revolver that can mount a red dot simply hasn't been done before this (that we're aware of). 
Sadly, the optic is not included with the gun – but MSRP is only $450-470.
SPECS:
FRAME SIZE Small
BARREL LENGTH 3.00 In.
OVERALL LENGTH 7.50 In.
OVERALL HEIGHT 4.80 In.
OVERALL WIDTH 1.41 In.
OVERALL WEIGHT 23.52 Oz. (Unloaded)
TWIST RATE 1:16.5 in RH twist
GROOVES 6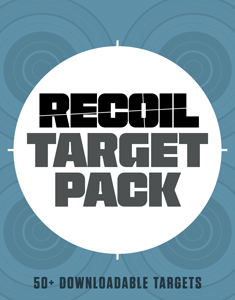 NEXT STEP: Download Your Free Target Pack from RECOIL
For years, RECOIL magazine has treated its readers to a full-size (sometimes full color!) shooting target tucked into each big issue. Now we've compiled over 50 of our most popular targets into this one digital PDF download. From handgun drills to AR-15 practice, these 50+ targets have you covered. Print off as many as you like (ammo not included).
Get your pack of 50 Print-at-Home targets when you subscribe to the RECOIL email newsletter. We'll send you weekly updates on guns, gear, industry news, and special offers from leading manufacturers – your guide to the firearms lifestyle.
You want this. Trust Us.