Well known for their AR-15 rifles, Aero Precision is officially in the bolt action rifle game as of today! The Solus is a Remington 700 pattern rifle that uses Savage pattern small shank barrels or Zermatt Arms pre-fit shouldered barrels and AICS pattern magazines, but the features and cool stuff don't stop there.
Thank you for reading this post, don't forget to follow and signup for notifications!
Aero is offering this as a complete competition rifle using an Aero Precision chassis or a less expensive option using a KRG chassis, with more models on their way. Both use TriggerTech triggers. 
You can also get the Solus as a stripped .478 Bolt Face short action or the chassis as a standalone chassis.
Turnkey options and DIY options give you the flexibility to choose exactly what you want.
We've only gotten to shoot the Solus a couple of times, but we've been very impressed so far. Great bolt lift, great chassis, great options. 
Stripped actions are $900 MSRP, chassis is $800 MSRP, with the complete competition rifle coming in at $2,000 and the Solus Bravo at $1,625. 
The only caliber offered is 6.5 Creedmoor, but more caliber options are coming very soon. 
We'll have a complete review in the works, so check back for a ton more information when that drops!
Action Features:
Remington 700 Short Action Footprint
Integral 20 MOA biased top rail
Integral recoil lug
Magnum-sized ejection port
Sized to feed and eject cartridges with up to 3.00″ OAL
Compatible with AICS and AIAW detachable box magazines
Trigger installed via hanger
Bolt Features:
60-degree bolt throw
3-lug interchangeable bolt head
Dual ejectors
"Cock on lift" bolt design
Materials:
Receiver body- 416 stainless steel
Bolt- 17-4 stainless steel
Firing pin- S7 tool steel
Compatibility:
Barrel: Savage Small Shank W/ Barrel nut and Shouldered Zermatt Origin Pattern Pre-Fit Barrels
Trigger: Remington 700 (no bolt release)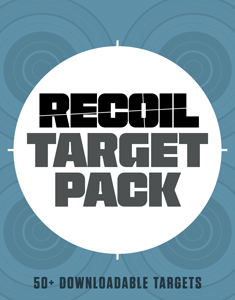 NEXT STEP: Download Your Free Target Pack from RECOIL
For years, RECOIL magazine has treated its readers to a full-size (sometimes full color!) shooting target tucked into each big issue. Now we've compiled over 50 of our most popular targets into this one digital PDF download. From handgun drills to AR-15 practice, these 50+ targets have you covered. Print off as many as you like (ammo not included).
Get your pack of 50 Print-at-Home targets when you subscribe to the RECOIL email newsletter. We'll send you weekly updates on guns, gear, industry news, and special offers from leading manufacturers – your guide to the firearms lifestyle.
You want this. Trust Us.