One of the biggest surprises this year at SHOT was the unveiling of the .300 Win Mag Bear Creek Arsenal semi-automatic rifle! But they didn't stop there, they also showed off a 10mm/.45 ACP PCC!
Thank you for reading this post, don't forget to follow and signup for notifications!
While not an AR-10 since the receiver needs to be bigger to fit the big cartridges, much of the rifle is AR-10 compatible and designed to function like an upscaled AR-10. A huge side-charging upper, mega-sized BCA magazines, and a barrel you could club an elephant with complete the package.
.300 Win Mag is the big show-off cartridge, but the rifle will be available in .30-06, and .270 Win. Possibly more cartridges will follow as well.
Thankfully, BCA is putting huge muzzle brakes on the rifle as well. This should go a long way to taming down the .300 Win mag. 
The 10mm/.45 ACP PCC is basically a PCC, but in big cartridges. It uses Glock-pattern magazines and uses the same basic design as the other BCA PCCs use. The larger lower will be able to fit both 10mm and .45 ACP uppers giving you options for going big.
Both firearms won't be hitting the market for at least a few months, but we're excited to see what happens when it does. MSRP is TBD, but we're told, and we're sure it will be as budget-friendly as possible.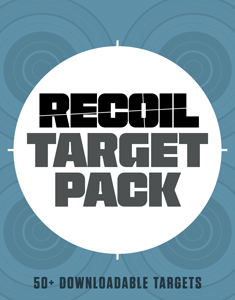 NEXT STEP: Download Your Free Target Pack from RECOIL
For years, RECOIL magazine has treated its readers to a full-size (sometimes full color!) shooting target tucked into each big issue. Now we've compiled over 50 of our most popular targets into this one digital PDF download. From handgun drills to AR-15 practice, these 50+ targets have you covered. Print off as many as you like (ammo not included).
Get your pack of 50 Print-at-Home targets when you subscribe to the RECOIL email newsletter. We'll send you weekly updates on guns, gear, industry news, and special offers from leading manufacturers – your guide to the firearms lifestyle.
You want this. Trust Us.