The Uberti 1866 Yellowboy Deluxe Rifle is the latest from the respected manufacturer and is based on the original Yellowboy. As its name suggests, this model got its start in the 1800s, and it's a model that's stood the test of time. Whether you're interested in adding a classic to your collection or simply a fan of lever guns in general, the 1866 Yellowboy Deluxe Rifle is the gun for you.
Thank you for reading this post, don't forget to follow and signup for notifications!

Uberti is well known for producing classic single-action revolvers, western heritage black powder revolvers, and historical rifles harkening back to the days of cowboys. Their Model 1866 Yellowboy Deluxe is a perfect example of the company's dedication to quality and strict adherence to classic designs.
This rifle is based on the Uberti 1866 Yellowboy short rifle. It's a deluxe model with a 20-inch octagonal barrel and nicely crafted A-grade walnut stock and forend. The contrast of the walnut with the gold of the receiver and buttstock plate is eye-catching, to say the least. Another feature of the rifle is a case-hardened lever that manages to blend beautifully with the receiver and furniture. The 1866 Yellowboy Deluxe Rifle is chambered in .45 Colt and has a 10+1 capacity.

The feature that stands out the most on the Yellowboy Deluxe is the engraving work which is done with incredible attention to detail. The brass was engraved by famed Italian engraver Atélier Giovanelli who skillfully decorated the receiver with classically inspired acanthus-leaf motifs. There's also a bugling elk depicted as well as an escutcheon that is left blank so it can be engraved with the owner's initials, should the owner choose to take their rifle in for engraving. The Model 1866 features a "closed top" design which left room for a floral engraving. The ejection port is, of course, open and not engraved.

Although this rifle is clearly made to present a stunning visual, it is made to be used. According to Uberti, the rifle works well with a broad range of 45 Colt loads. This rifle is a fantastic option for everything from cowboy action shooting to targets to hunting appropriately sized game and predators.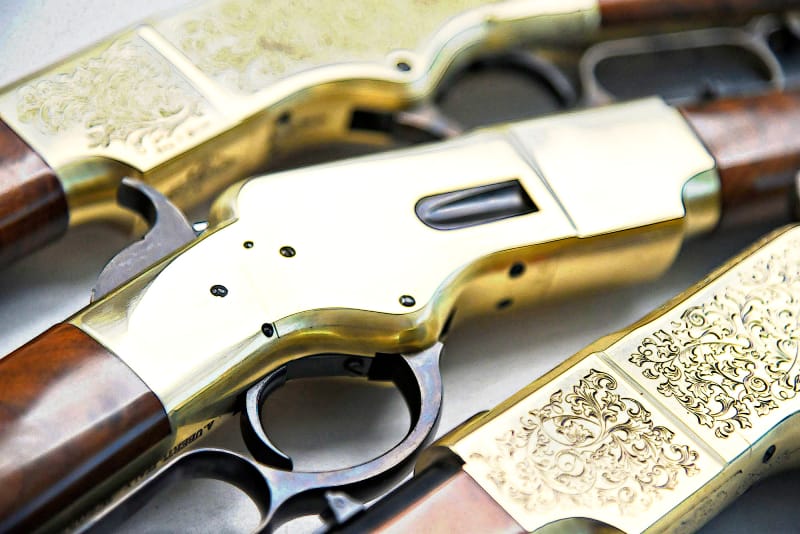 Features of the Uberti 1866 Yellowboy Deluxe Rifle include:
Chambered in 45 Colt.

Lever-action.

Capacity 10+1.

The barrel is 20 inches in length and octagonal.

The twist rate is 1:16, RH, with six grooves

Overall length of 36 inches.

Empty weight of 8.2 pounds.

Grade A Walnut stock.
Brass receiver and butt plate.
Case hardened lever.
Top ejection port.
Space on the righthand side of the receiver to have owner's initials engraved, should they so choose.
Designed for versatile applications such as cowboy action shooting, hunting, and target shooting.
MSRP for the Uberti 1866 Yellowboy Deluxe Rifle is set at $1799.00.