The Best Of The West isn't a name a lot of people have heard of, but they've been around for 15 years making outstanding rifles designed for long range hunting. Huskemaw is another name you may not have heard of, but their optics are pretty amazing.
Thank you for reading this post, don't forget to follow and signup for notifications!
There is a story to tell behind all of this, but we'll save that for another time. Right now, let's talk about what we shot at the Media Range Day at SHOT 2023!
A Best Of The West rifle in 7 PRC set up with a Huskemaw scope was putting on an impressive showing today. With a 20 MPH crosswind, I drilled a plate at over 900 yards with 3 out of 3 shots.
With a hunting rifle I've never seen before, shooting a cartridge I've never shot before, on a range I've shot only a few times before, and in a murder of a crosswind, I was very impressed.
While I have reservations about long range hunting, the rifle and scope on display were impressive. 
This system isn't cheap, but for a rifle and scope that you can pull off the shelf and engage steel at 1,000+ yards with confidence, it has my attention.
From Best Of The West:
"The ALTOPO shooting system includes a Huskemaw 5-20×50 Blue Diamond scope, Talley Scope Rings, Dual Stack Turret with outer for 3000' and inner for 7000' and a Huskemaw Wind Meter. Factory-zeroed with proven accuracy to shoot sub-MOA groups at 1,000 yards, and also including a Boyt Lockable Hard Case and two boxes of factory ammo."
We'll be taking a closer look at this soon!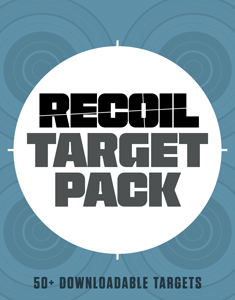 NEXT STEP: Download Your Free Target Pack from RECOIL
For years, RECOIL magazine has treated its readers to a full-size (sometimes full color!) shooting target tucked into each big issue. Now we've compiled over 50 of our most popular targets into this one digital PDF download. From handgun drills to AR-15 practice, these 50+ targets have you covered. Print off as many as you like (ammo not included).
Get your pack of 50 Print-at-Home targets when you subscribe to the RECOIL email newsletter. We'll send you weekly updates on guns, gear, industry news, and special offers from leading manufacturers – your guide to the firearms lifestyle.
You want this. Trust Us.