NEW from FN comes the SCAR 15P, a pistol version of their legendary SCAR 16S. With a barrel measuring only 7.5", this is by far the smallest factory SCAR ever offered.
Thank you for reading this post, don't forget to follow and signup for notifications!
Built with all of the durability and features the SCAR is known for, the 15P weighs just 5.65 pounds unloaded and measures just under 20 inches overall.
"The release of the FN SCAR-SC in 2018 created excitement amongst SCAR enthusiasts who hoped that we would, one day, offer this configuration as a semi-automatic pistol to the U.S. firearms market," said Chris Cole, Vice President of Sales and Marketing for FN America, LLC. "With the FN SCAR 15P release, I am pleased to be able to deliver exactly what our consumers asked for – a pistol variant of the FN SCAR-SC – backed by the legendary reliability, durability and adaptability of the FN SCAR series."
Machined from a single piece of aluminum, the receiver features a continuous M1913 Picatinny rail in the 12 o'clock position along with side rails at the 3, 6 and 9 o'clock positions, providing ample rail space for a red dot, flashlight or angled foregrip. 
The rear of the receiver features a vertical Picatinny rail (VPR) with a quick-detach sling attachment for use with single-point slings. The trigger module that acts as the lower receiver is identical to the SCAR 16S, sharing a number of parts commonalities across the two systems. 
It offers an ambidextrous selector and magazine release along with compatibility with any AR-pattern magazine.
"The SCAR is renowned for its uncompromising reliability, durability and accuracy – the hallmark of FN's quality. We are proud to say that the FN SCAR 15P meets those measures handily and delivers a shooting experience worthy of the name," said Benjamin Voss, Senior Product Manager for FN America's Long Guns. "This long-anticipated release carries the DNA of SCAR throughout from its short-stroke gas piston operating system, NRCH capabilities, cold hammer-forged and chrome-lined barrel, and so much more. We're happy to deliver the FN SCAR 15P to our consumers who have eagerly anticipated this release."
SPECS:
CALIBER: 5.56x45mm
OPERATION: Short-stroke gas piston
MAG CAPACITY: 10 or 30 Rd.
WEIGHT: 5.65 lb.
BARREL LENGTH: 7.5″
OVERALL LENGTH: 19.75″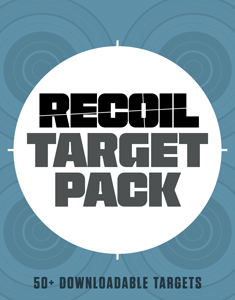 NEXT STEP: Download Your Free Target Pack from RECOIL
For years, RECOIL magazine has treated its readers to a full-size (sometimes full color!) shooting target tucked into each big issue. Now we've compiled over 50 of our most popular targets into this one digital PDF download. From handgun drills to AR-15 practice, these 50+ targets have you covered. Print off as many as you like (ammo not included).
Get your pack of 50 Print-at-Home targets when you subscribe to the RECOIL email newsletter. We'll send you weekly updates on guns, gear, industry news, and special offers from leading manufacturers – your guide to the firearms lifestyle.
You want this. Trust Us.