By Ashley Silver
Police1
Thank you for reading this post, don't forget to follow and signup for notifications!
WALWORTH COUNTY, Wis. — A Wisconsin deputy, who was nearly killed by a drunk driver in 2021, recently detailed his harrowing story of survival.
Walworth County Sheriff's Deputy Wayne Blanchard was hit by a drunk driver who was fleeing from police last summer. Blanchard was standing on the side of the road, preparing to deploy stop sticks that would hopefully put an end to the pursuit when he was struck by the vehicle.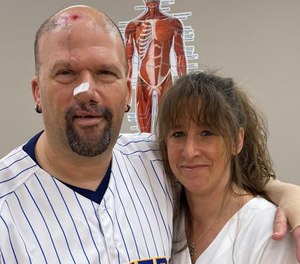 "I remember gravel hitting my face," Blanchard told WTMJ News.
Blanchard was standing behind a guardrail when the car struck it. The rail then encircled Blanchard, removing the skin from his hands and face. He was reportedly hit multiple times by the car. The deputy's memory becomes foggy after that.
In addition to severe cuts that lined Blanchard's body, his arms, hands, ribs, legs and toes were all broken. "I probably take about 24, 25 pills a day," Blanchard told the news outlet.
Blanchard's wife, Angela, stood by his side during his tough road to recovery.
"He misses helping people," she said.
Blanchard has undergone 46 surgeries, with at least two more scheduled for January to reconstruct his nose. However, the deputy says the mental anguish is what impacts him the most.
"I was sick of the pain I was in. I was sick of what it had done to Angela, our parents, our children, our grandchildren," Blanchard said.
After an investigation, authorities discovered the man who hit the deputy, Tony Perales, was driving under the influence of alcohol and drugs. Perales, who is now serving a 25-year prison sentence, was driving nearly 100 mph with a revoked license.