Trending: Best Ammo In Stock, Best AR-15, & Best Handguns
How many of you out there own a Hi-Point firearm? How many have at least shot one?
Thank you for reading this post, don't forget to follow and signup for notifications!
If you answered "yes" to either question, then you most likely know that these guns register on both ends of the spectrum.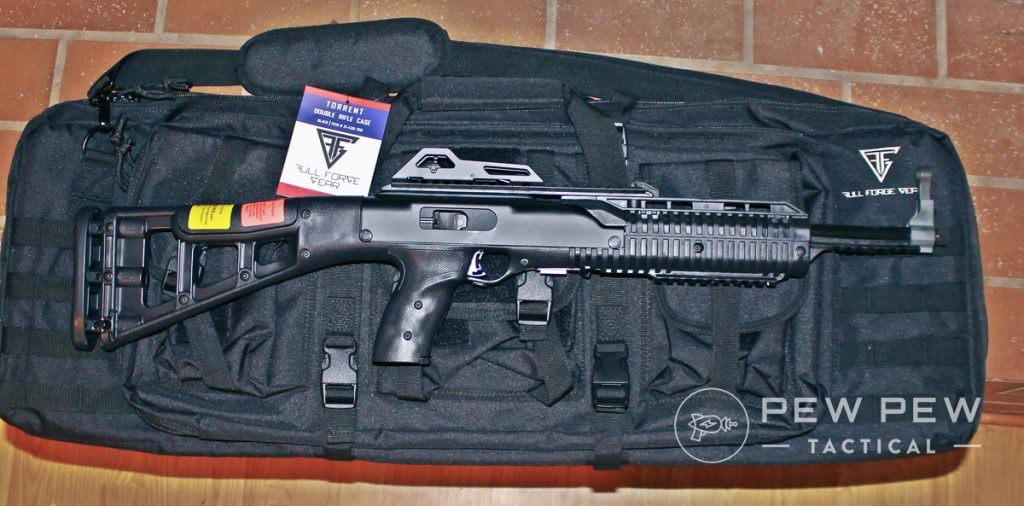 They are probably the ugliest guns you'll ever shoot, but surprisingly, pretty reliable and accurate as far as 9mm carbines go.
But how can that be?
Don't worry; we'll walk you through the specs and features and get some range time with the Hi-Point Carbine to fill in all the details.
So, keep reading.
Pros & Cons 
Pros 
Price
Warranty — the website states that if you are the first or the third owner, they'll fix it for life.
They produce about 76 different models of carbines in a range of calibers
Cons
This carbine will not win a beauty contest.
The trigger breaks at 6 pounds, but the bottom of the trigger has a projection/point that sticks up. It rubbed on my finger and became an annoyance after a few shots.
Screws don't line up with holes exactly, edges don't mate evenly, and while the gun still works, it can be a bit frustrating.
The Bottom Line 
If you are looking for a 9mm (or a .380, .45 ACP, .40 S&W, 10mm) carbine for knock-around use at an affordable price, this will likely do.
279
at Palmetto State Armory
Prices accurate at time of writing
Prices accurate at time of writing
Available Coupons
25% off all OAKLEY products – OAKLEY25


Copied!
Visit Merchant
Specs & Features 
Specs 
Length: 31.5"
Barrel Length: 16.5" as tested (19" available)
Weight: 6.25 lbs.
Capacity: 10 + 1 (takes Hi-Point pistol mags; aftermarket mags available)
Features
Good factory sights
Pic rail to mount lights, pistol grips, optics, and lasers
Background
Hi-Point firearms are made in Mansfield, Ohio. The company released its first handguns in 1992, with the carbines coming along in 1996.
The guns are virtually unchanged from when they were first brought out. They have brought out new models, but they're all based on their one main, basic design.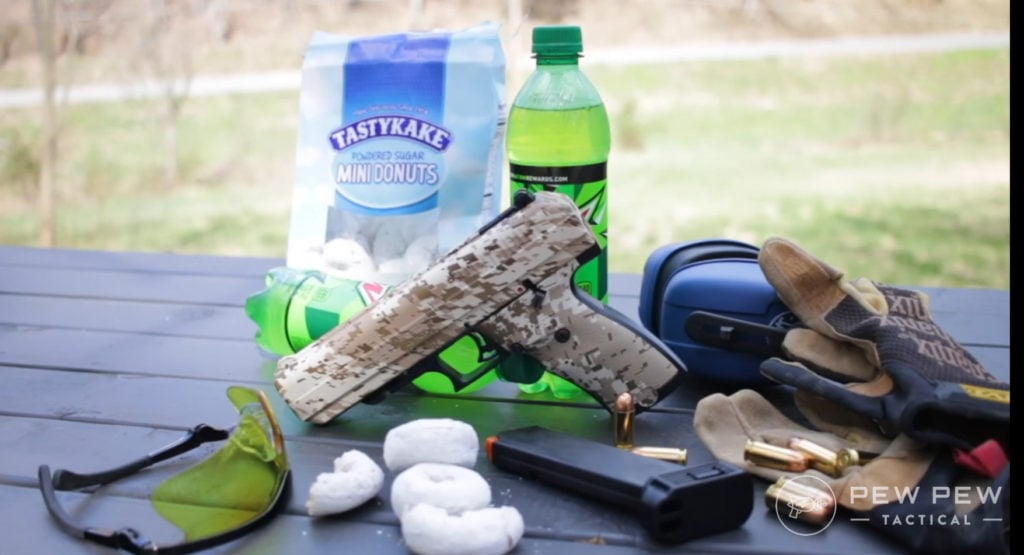 About the only thing Hi-Point has changed is its carbine, and those changes were minor: now the 995's bolt will hold open after the last shot. The blow-back action that makes all Hi-Points function has not changed and most likely will not.
The goal is to provide a functioning firearm that is made in America for all shooters, regardless of budget constraints.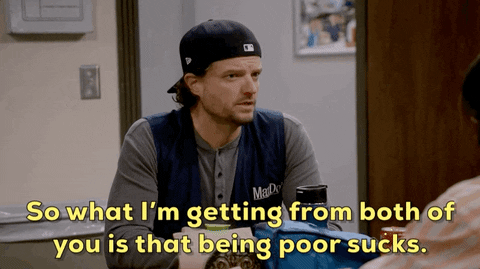 They utilize Zamak-3 (fancy name for the zinc-aluminum alloy) in non-stress areas to cut costs, and also lots of polymer. Of course, the areas that need steel get steel.
All Hi-Point guns, even including their 10mms, use simple blow-back actions. This means that the bolts (or slides, in the pistols' case) are overly-large compared to others on locked-breech guns. 
Who Is It For?
I see these carbines being used for a variety of purposes like plinking or if you need a budget carbine for home defense.
These guns are perfect for informal shooting, not to mention if you're on a budget; it's a no-brainer.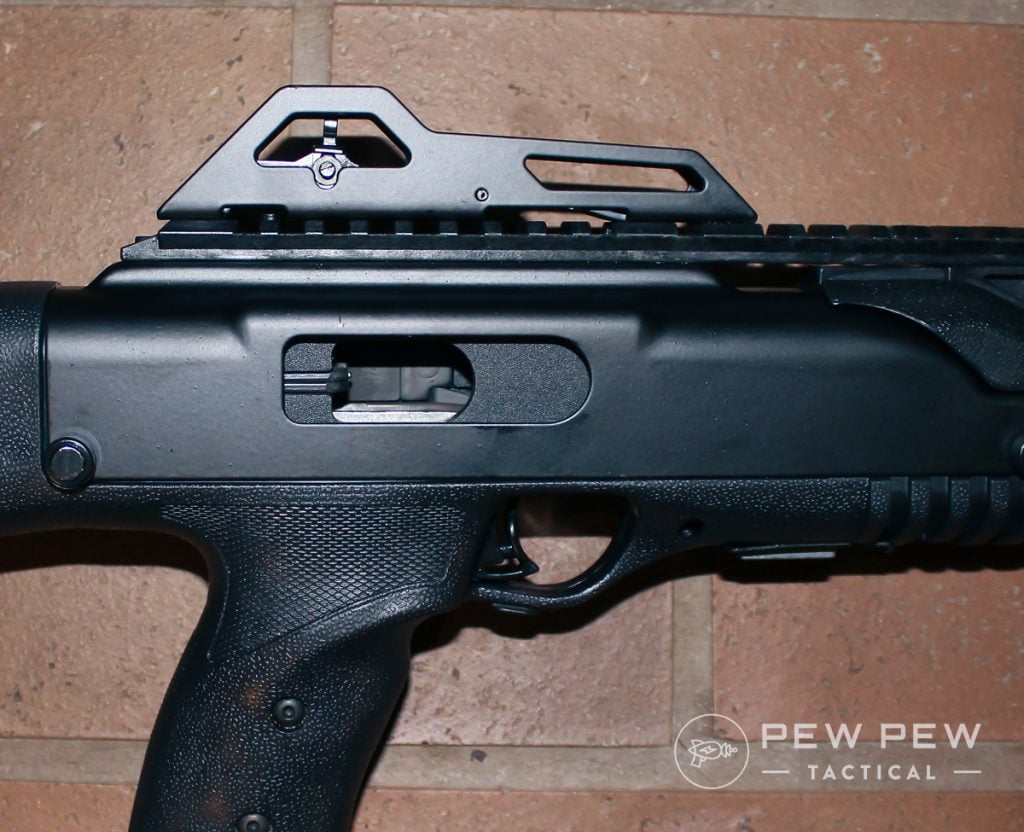 For those who need an inexpensive carbine in a pistol caliber to ride around with them on the ranch or farm, this carbine is perfect. And its short length and rail offerings mean you can get it into action quickly and have the lights/lasers/grip you need to make it efficient at the task.
With a red dot installed and a couple of extra mags, I see this as a perfect carbine to knock around the woods with or to have in your house for home protection. 
Fit & Feel
The carbine comes to your shoulder easily.
One small issue I have is that the rear peep sight sits a bit low for me, but others may not find it so. I have to really "crunch" my head down on the stock to get the sights lined up.
This won't be an issue if you mount a red dot or scope, which is easily done.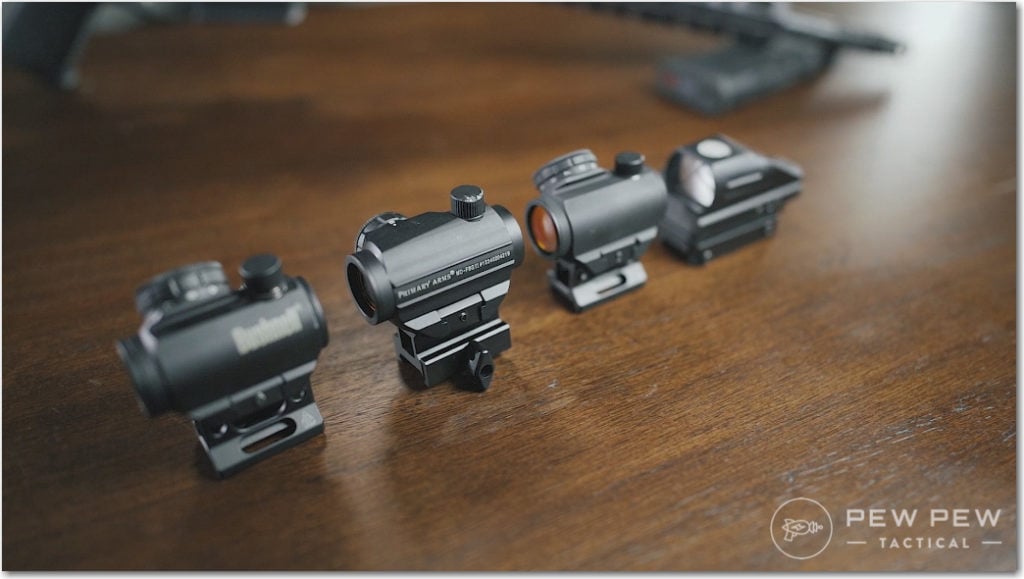 Since the magazine feeds through the pistol grip, the center of balance is not disturbed by having it ahead of the action as in most other carbines. The gun carries easily in your hand and is quickly brought to bear, although it is barrel-heavy.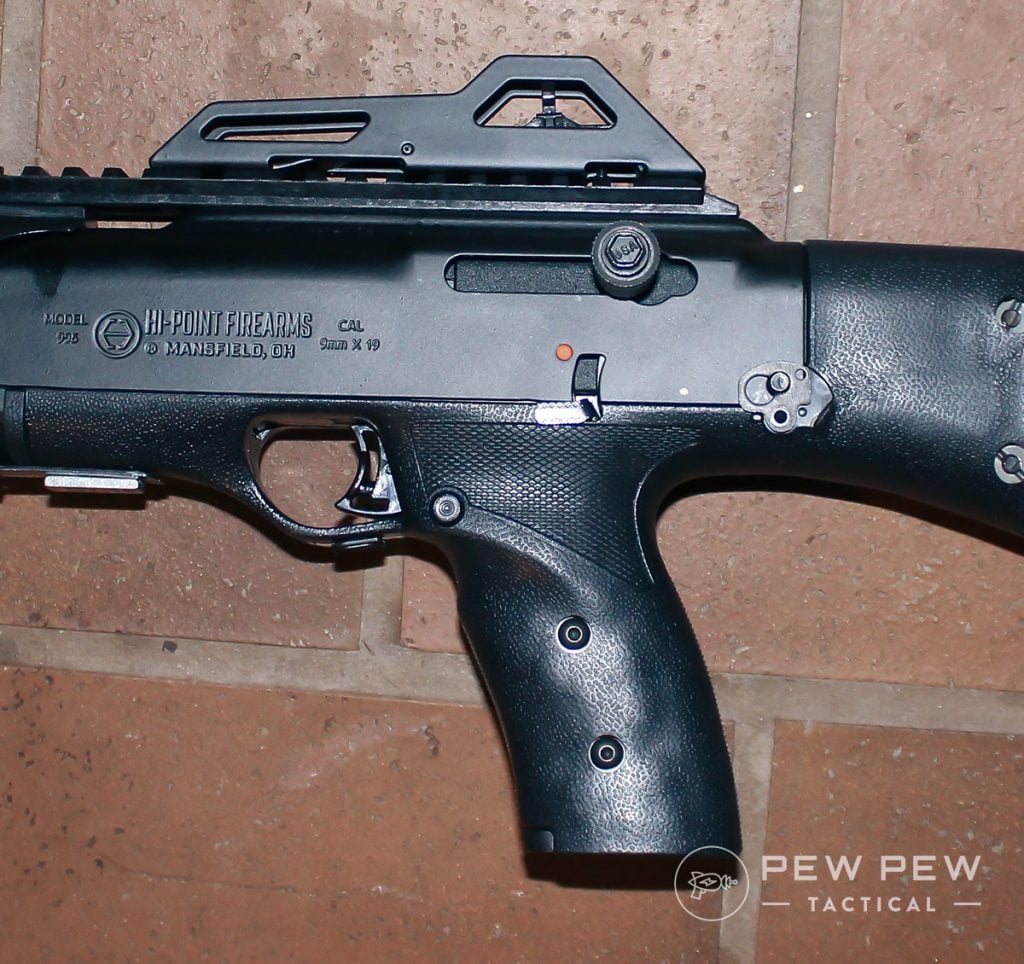 Speaking of magazines, Hi-Point sells a Red Ball 20-rounder that consists of two 10-round mags attached at the base plate. Ten-round mags are readily available as well. 
In terms of "Feel," the forend is rather thick, but I don't see that as a disadvantage. It allows you to get your hand around it, which is what counts. At the rear of the stock is a butt pad, a nice touch.

How Does It Shoot?
I set up a couple of targets right at 25 yards and tried a couple of different 9mm loads.
I shot some Fiocchi Range Dynamics ammo that they had sent me a good while ago, for which I am appreciative. I also shot some Maxxtech that I had left over.
17
at Brownells
Prices accurate at time of writing
Prices accurate at time of writing
Available Coupons
25% off all OAKLEY products – OAKLEY25


Copied!
Visit Merchant
Both loads are FMJ 115-grain and are traveling just a tad over 1350 fps out of the carbine's 16.5-inch barrel.
Both loads were dialed in very well and would suffice for plinking or training sessions. I did not have to adjust the rear sight at all.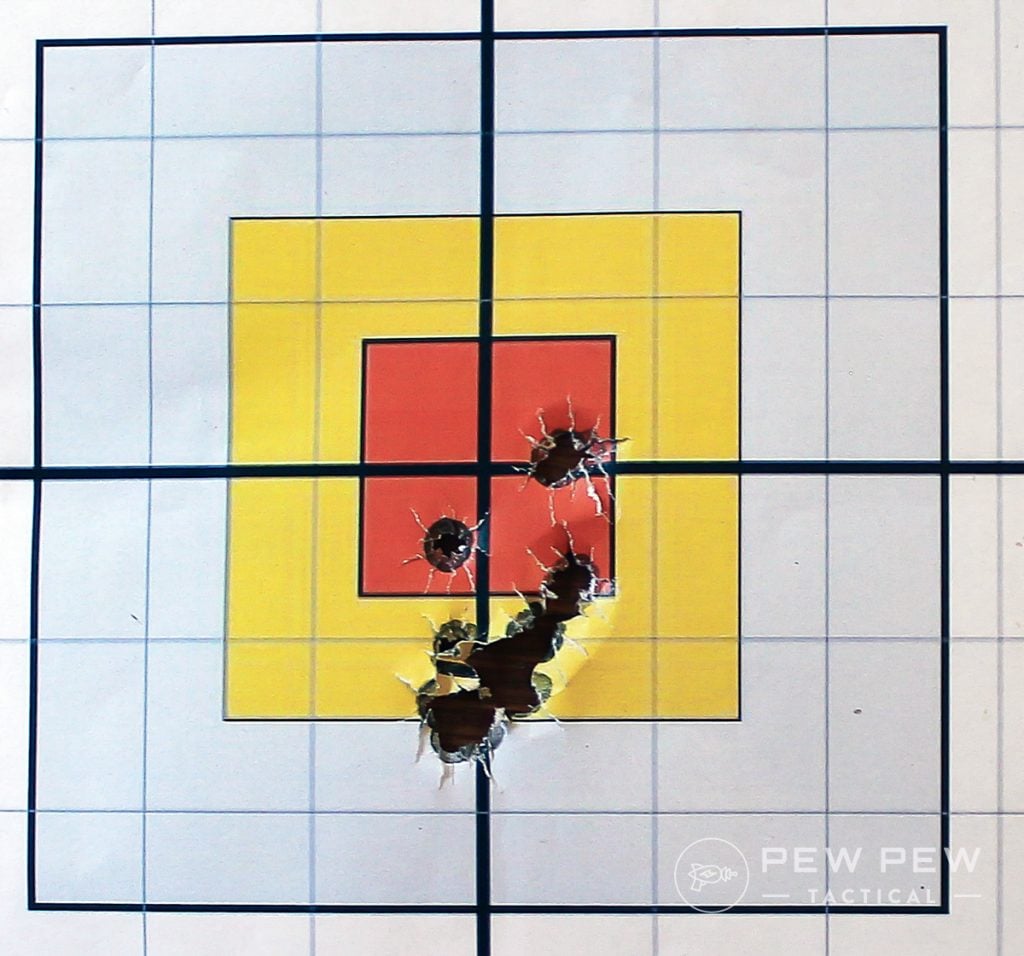 As mentioned above, I had just a bit of trouble getting down far enough on the stock to get the sights in good focus, but that's fixable. Recoil was negligible, as was muzzle flash.
This is truly a fun gun to shoot…it's a step up from a .22, but yet not in the .223/5.56mm ballpark in terms of noise.
You could do worse.
What Sets it Apart?
Taking looks and minor glitches in stride, the Hi-Point really excels in the budget category.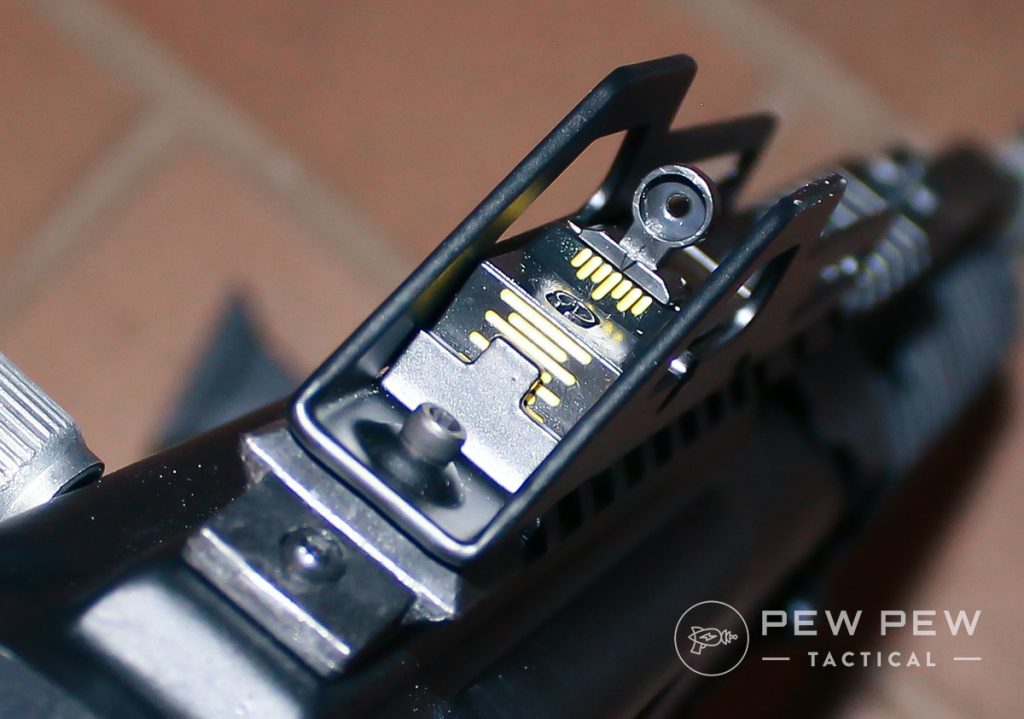 For those looking for a carbine to take to the range that won't break the bank and comes with a lifetime warranty (and awesome customer service), the Hi-Point Carbine is it.
By The Numbers 
Reliability: 5/5
It fired every time I wanted it to.
Ergonomics: 4/5
The low rear sight was an annoyance.
Accuracy: 5/5
No complaints here.
Customization: 5/5
The factory has a ton of accessories for it.
Value: 5/5
If I could give a "6" I would. You can't beat it.
Overall: 4.5/5
279
at Palmetto State Armory
Prices accurate at time of writing
Prices accurate at time of writing
Available Coupons
25% off all OAKLEY products – OAKLEY25


Copied!
Visit Merchant
Upgrades for the 995
You can get a variety of accessories for the Carbine, including lasers, foregrips, red dots, magazines, and more.

Of course, the Pic rails open up a whole universe of aftermarket parts. Just about anything you could stick on your AR's rails, you could use here.
Of course, we always recommend a red dot. They make life a little easier. You can read more about the ones we like here!
Final Verdict
Uglier 'n a mud fence, indeed. I would mostly agree, but ugly is as ugly does, and the Hi-Point Carbine doesn't shoot ugly.
It is accurate, reliable, and adaptable, with more accessories available for it than you could shake a stick at. 

Add in the fact that the sub-$300 gun can really shoot, has a great warranty, and is solidly built, and you have a winner.
What do you think of Hi-Point's Carbine? Let me know in the comments below. Need some cheap optics? Check out our affordable picks for Red Dots on a Budget.