Theodore 'Teddy' Roosevelt was a President unlike any other. He was also a hunter, a soldier, and a police officer at different points in his life. He was a conservationist and lifelong firearm enthusiast. He didn't just talk about guns, he used them. He established the Rough Riders to fight in the Spanish-American war, hunted across the United States, and brought a wagon full of ammo on safari in Africa.
Thank you for reading this post, don't forget to follow and signup for notifications!
He owned a great many guns. Today we are looking at 5 firearms owned and used by Roosevelt. His taste is best described as exquisite, and I think his firearm choices reflect that.
The Winchester 1895 .405 — Big Medicine
The most famous rifle in Roosevelt's collection is undoubtedly the Winchester 1895 in .405 Winchester. This beastly rifle was designed by John Browning for Winchester. It's famed for its fixed box magazine that allowed the use of Spitzer-type rounds. It was an excellent option for Roosevelt's safari in East Africa.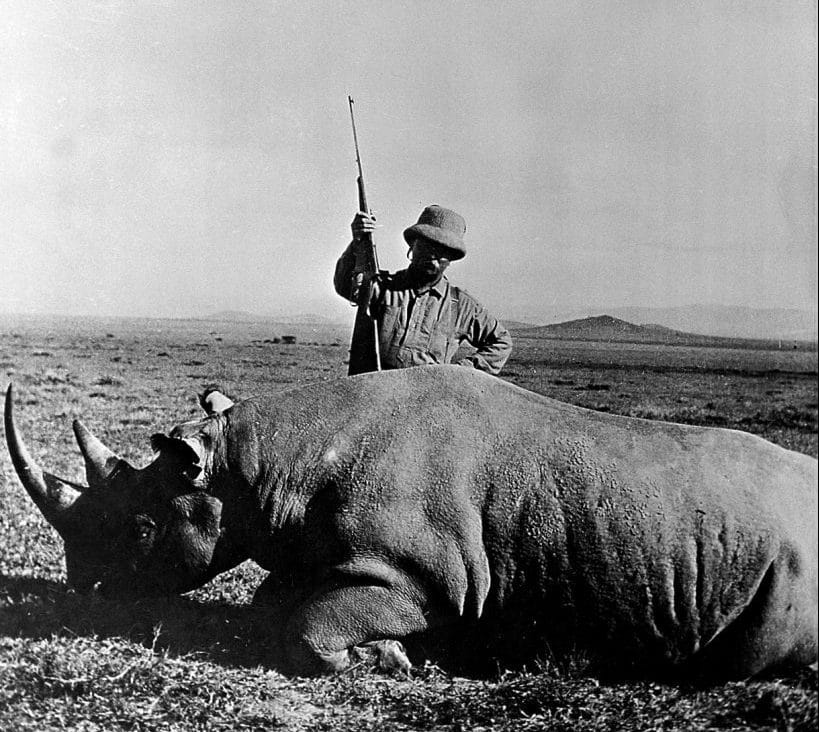 This combination gave Theodore Roosevelt a very powerful weapon with a rather fast firing rate. Working a lever is quick and easy. When facing a dangerous animal, you don't want to waste much time loading up a second shot. Although, when firing the .405 Winchester, 2nd shots are rare.
Interestingly enough, Roosevelt liked to use this rifle with a Maxim suppressor. It's likely that Maxim produced this suppressor specifically for Roosevelt and his Big Medicine rifle. I imagine a suppressor help tame both the mighty report of the .405 and the recoil.
Holland & Holland Royal Double Rifle — The Big Stick
Theodore's famed motto, "walk softly and carry a big stick," didn't come out of nowhere. Theodore Roosevelt had a big stick: a Holland and Holland rifle. Specifically, a Royal Double rifle chambered in .500/450 Nitro Express. Holland and Holland designed the cartridge for taking big, dangerous game.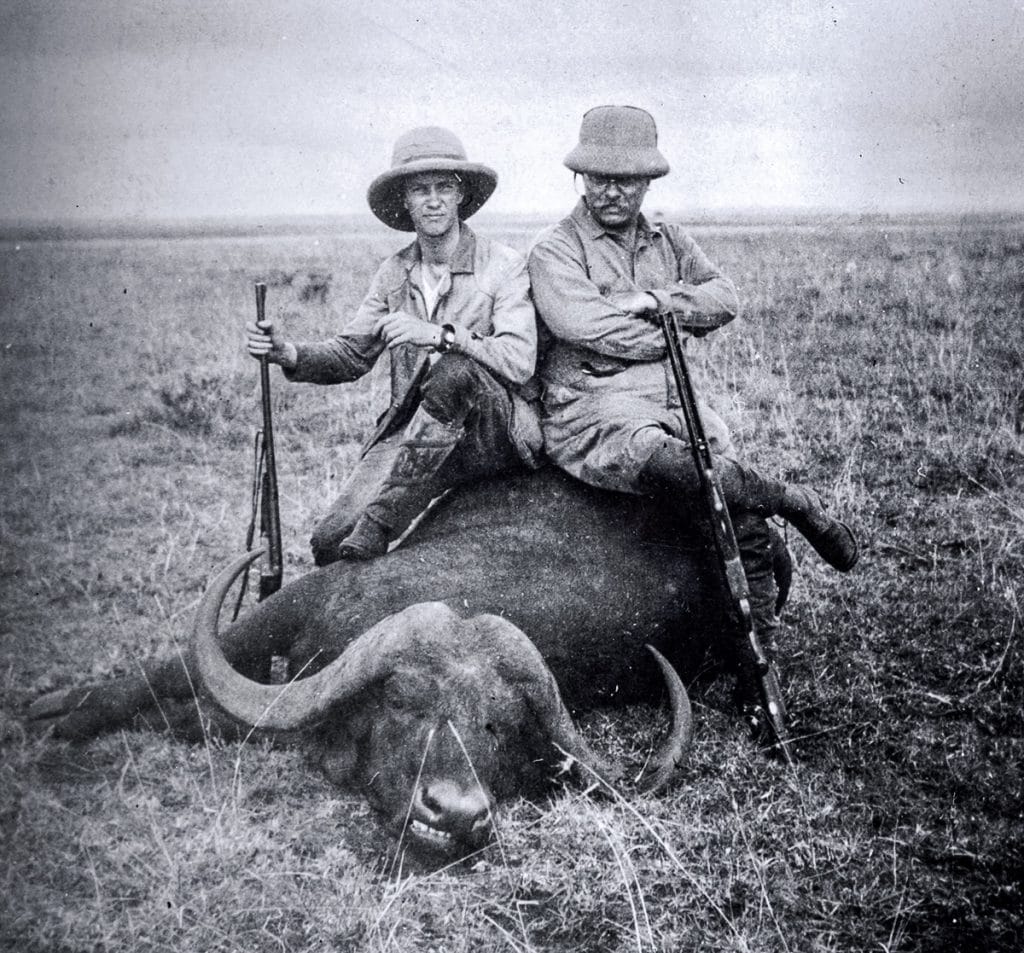 A double rifle design made it easy to keep the weapon handy while still chambering the 3.91-inch round. This big, beastly rifle packed some serious punch, and it likely hit hard on both ends. Holland and Holland rifles are some of the most meticulously created and refined rifles on the planet. These rifles constantly rank as some of the best for hunting big game.
Theodore Roosevelt requested the rifle be fit with 2 folding leaf sights, and 1 fixed sight zeroed for 100 yards. He also requested a top strap that went halfway down the length of the stock to reinforce the strength of the stock. Like most of Roosevelt's guns, it was the product of a picky and experienced shooter.
Winchester 1876
After finding a Sharps rifle unsuitable out west, Roosevelt looked into a Winchester Model 1876 Deluxe model. This rifle chambered the heavy .45-75 and came with the famed Winchester lever action design. Roosevelt's featured a half-round, half-octagonal barrel, as well as deluxe checkering on the stock and pistol grip.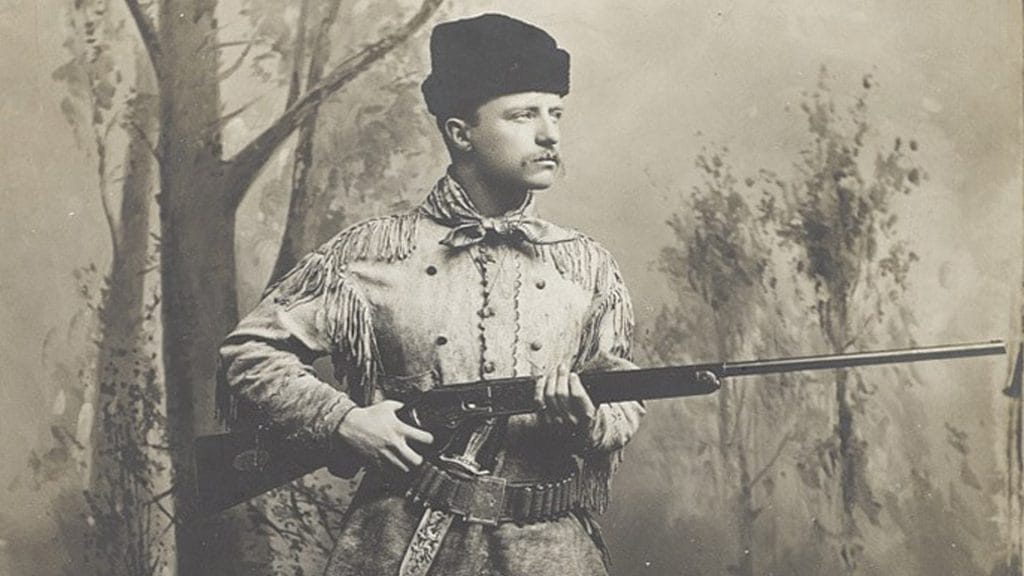 A set of fancy Freund sights set the gun off and helped Teddy maximize his accuracy at various ranges. He took the rifle on a 7-week hunt in the Big Horn Mountains and was impressed by the rifle. He once said of the Winchester, "The Winchester, stocked and sighted to suit myself, is by all odds the best weapon I ever had…."
Roosevelt liked the rifle so much that he ordered 2 more. The Winchester 1876 is a classic example of the work Winchester did at this time period. It's a robust and capable rifle with a smooth action and was built to fire the more powerful cartridges of the time.
Springfield Model 1903
Theodore Roosevelt's Springfield M1903 is an often overlooked firearm in his collection, but it could have very easily been his favorite. After fighting in the Spanish-American war, he was unimpressed with the Krag-Jorgensen and voiced his concern. When the Vice President and then later President criticize the Army's rifle, they tend to do something about it.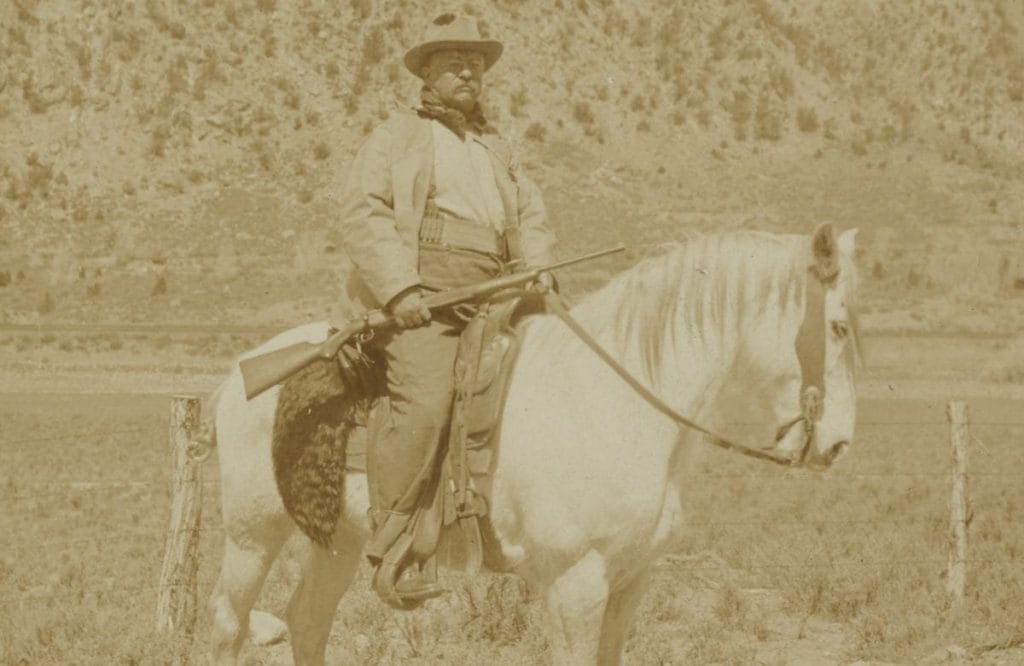 Roosevelt's Springfield 1903 was a custom build. He sent one of his Winchester rifles and a letter to Brigadier General Crosier. He instructed the General to produce a Springfield rifle with the same sights as his Winchester but with a shorter stock. This resulted in a sporterized Springfield 1903 that Roosevelt carried on a great many hunts.
The rifle featured a set of buckhorn sights and a trigger pull set at 4.5 pounds. The stock was cut and secured by a single band, and the butt stock was a Monte Carlo design with a commercial butt plate. The rifle was tested by an Army marksman and found to be accurate. It cost Roosevelt a little over 42 dollars, which is the equivalent of 1,200 dollars after factoring in inflation.
FN Model 1899
Browning paired with the Belgium firm FN to produce some of the most advanced weapons of the era. This includes some revolutionary pistols like the FN Model 1899 and later M1900. These pistols were the first to have moving slides. Browning designed the guns as straight blowback pistols in .32 ACP.
In 1902 a package arrived at Roosevelt's home, and in it contained an FN M1899 pistol. Like most guns Roosevelt owned, it was a gorgeous gun. It featured brilliant engravings, gold plating, and beautiful pearl grips. The little pistol soon became a constant companion of Theodore Roosevelt.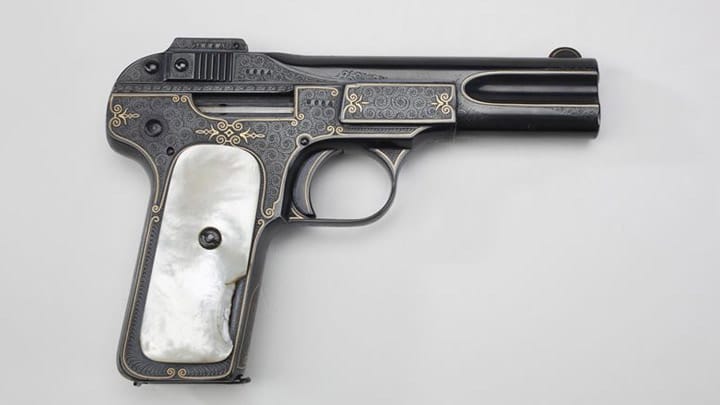 He reportedly carried the pistol with him wherever he went. It's worth noting he became President for his first term because of the assassination of the President before him. He kept the gun on him and even kept it on his White House nightstand. Once while in Massachusetts, he was told by a friend that carrying a concealed weapon was illegal. He replied, "They got McKinley. They are not going to get me without a fight."
(Although, someone did shoot him once, but he survived.)
Walk Softly
Theodore Roosevelt lived a very interesting life. As far as Presidents go, he is most certainly our most manly so far. At one point, he refused another nomination for president and immediately went on a safari. It seems as if his life as President got in the way of his true love, hunting. I think it's quite obvious that he not only knew how to hunt but how to shoot. The NRA Museums are in possession of many of his firearms, and if you ever find yourself near one, it's worth checking out.