Shadows Systems Foundation Series Pistols 
"You can't build a great building on a weak foundation" as the saying goes. But we can substitute a word out of that adage; "building" for "pistol." The new Foundation Series line of firearms from Shadow Systems is a "base model" relative to the rest of the line of "Gucci Glocks" that they make – the Elite Series. But we're not talking about a base model Honda – we're talking about a stock Porsche 911. Sure, the GT3 is faster, sleeker, and hugs the curves a bit better. But the 911 (sans GT3) is still a Porsche. 
Thank you for reading this post, don't forget to follow and signup for notifications!
Forgive the poor analogy, but I think you catch my drift. 
The Foundation Series is everything you need and nothing you don't – right out of the box. And in my humble opinion, for the MSRP of $679 – it smokes the competition. Sure, you can get a Glock MOS for a mere $50 less. But you'd still need to stipple the frame, swap the trigger, and add metal sights to the dang thing even to make it comparable. 
Allow me to elaborate. 
The Foundation Series of pistols comes in three flavors – the MR920FS (for Foundation Series, of course) – a Glock 19 size pistol, the XR920FS (a Glock 45 size pistol – think 17 frame and 19 upper), and the DR920FS(Glock 17 clone). We'll examine the nuance of each in the sections below – but they all have one thing in common with their "Elite" counterparts: frame. Considering this is the part of the gun that you interface with the most – this is an important point. 
"The Shadow [Systems] frame is the most important feature, I would say, for how the guns shoot; for how fast they are, for how easy they are to shoot," Shadow Systems' CEO Trevor Roe commented on a Facetime interview. "We start with our frame as the foundation and build it out as cost-consciously as possible," he elaborated. At this price point, the goal was to take on some of the big-name brands in the space head-on. 
ERGONOMICS
Out of the box – and yes, it just comes in a cardboard box – you get a pistol that is already lightly stippled with a texture that is aggressive enough to dig into your hands when they're wet or you're doing magdumps, but not enough to cheese-grate the skin off of your stomach when carrying appendix. The grip frame still comes with their interchangeable backstraps – the NPOA (natural point of aim) system – where you can slightly alther the grip angle to accommodate your own hand/wrist geometry.
I loved this with the Elite series and I think the fact that they kept this with the Foundation Series is a huge plus. I personally kept the medium backstrap that it ships with on the pistol, but you can change the grip angle to your liking, and it sits flush and is very discreet once you secure it with the roll pin.
Regardless of the grip angle you go with, a deep beavertail ensures you get a high purchase on the firearm with a low bore axis, making it much flatter shooting (in my estimation) than a stock Glock, Springfield, or other polymer-framed plastic fantastics. 
The front of the trigger guard is also textured and the "ledge" or "accelerator cut" over the trigger guard is still present as well. This is a fantastic feature to utilize with your thumb to help mitigate recoil and index the gun if you have a dot. You can also us it as an index point to ensure your finger stays outside of the trigger guard when moving or doing any weapon manipulations (seen below).
OPTICS MOUNTING
All of these pistols come with their patent-pending mounting system with the longest, widest screws in the game that accommodate essentially every pistol red dot on the market through an innovative use of spacers and three different screw lengths, in addition to four holes in the slide.
You can mount a Holosun, RMR, SRO, Deltapoint, Vortex Venom, and more without plates – which is a big deal from an engineering point of view.
Plates add another failure point, and I can attest that their mounting options, when you follow the instructions, keep the dot locked on and zeroed. I have probably close to 5,000 rounds through the MR920 Elite, and have dropped it (purposely, calm down), smacked it, racked it off my belt and tables with the dot more times than I can count, and it hasn't moved.
Furthermore, the dot sits low enough for a lower 1/3 co-witness with the stock sights, eliminating the need for goofy suppressor height sights on an EDC. 
"We're compared to a lot to the Glock MOS – which is about $50 less. But what you get with that extra $50 is a better optics system; kind of everybody agrees on that. You get better frame ergonomics, flatter shooting, American-made gun. There are just a lot of things you're getting for that minor price differential. That's how we landed on the design that is the Foundation Series – going after that market segment that doesn't want to buy a gun at the price point the Elite is at," Roe elaborated on where the Foundation Series fits into the market. "It's the foundation and a starting point for a Shadow Systems gun." 
Trigger: The trigger is outstanding out of the box, clocking in at an average of 5lb 3oz across all models by my Lyman digital gauge. With minimal creep, the trigger breaks crisp and resets without any mush, making follow-up shots and rapid shooting a breeze.
FEATURES
Some key differentiators from what comes with the Elite – you don't get a magwell, the sights are white dot front/black serrated rear but are metal and not plastic, the trigger is polymer instead of aluminum, and it doesn't have a Shadow Systems branded soft case. And only after talking with Shadow Systems' CEO – Trevor Roe – did I learn that the guide rod is carbon steel in the Foundation Series but Stainless in the Elite models. These are clearly ways they were able to bring the cost down nearly $500 from an Elite version, and isn't a major deal breaker. 
The top ends also have some key differences from its race-ready big brother: there is no window cut in the slide, and less machining. You don't get the directional serrations on the top, but you do get serrations on the front and rear that are positive and make press checks easy.
They also kept the same design as the MR920 elite and removed some of the material from the back of the slide and knocked off the corners of the front in order to make it more comfortable to carry and easier to reholster.
The barrels are still match grade, conventionally rifled, and capable of shooting lead cast bullets (does anybody know someone who still shoots lead cast bullets? Seriously…I'm wondering), but they don't have the flutes endemic to the Elite and Combat models. The Foundation Series also does not come with a threaded barrel, nor a TiNi option. 
But all of these bells and whistles are add-ons after the fact, anyway. When you compare this to Glock MOS's or any other polymer, optic-ready pistol – the Foundation Series packs a lot of value into an affordable gun: metal sights, great out-of-the-box trigger, stippled framed with accelerator cuts, directional serration on the slide, milled slide with a 1/3 co-witness – all for under $700 MSRP.
SHOOTABILITY AND ACCURACY
Is it the same as an Elite? No, of course not. Is it close? Kind of. When I shoot it next to my MR920 Elite, I can notice the slightest difference in perceived recoil, but this is mainly due to the reciprocating and coupled mass difference (Physics!).
But that's only when I shoot them side by side. They're still flat shooting, controllable, comfortable 9mms, and far more mechanically accurate than I am. That being said, I ran several hundred rounds through each pistol and was able to clear plate racks and make headshots on a steel hostage target at 25m from the holster.
They're good to go – after the recommended break-in period. Yes. They need a break in period. Shadow Systems expressly recommends it, and I personally wouldn't chamber a round and carry a new gun without it proving itself to me over the course of several hundred rounds. You shouldn't either. More on the break-in period and tight tolerances later. 
MR920FS 
This is their Glock 19 size offering, and like the Glock 19 – it's the perfect size for a do-all gun (See photo above for side-by-side of Glock 19 Gen 4, MR920FS, and MR920 Elite).
Concealable? Sure! Enough capacity to carry on duty or put in the nightstand – especially since you can put a 21rd Magpul in it – of course. I will say that this gun initially functioned fine, but I did have a failure to eject it and needed to disassemble and pop the empty case out with a rod. I ran through some different ammo, and it never happened again – this is likely due to the tight tolerances.
That means accuracy – but it also means you need to break the gun in. The same thing happened with my CR920 on the very first shot, but it never happened again after that, and I'm coming up on 750 rounds through that gun. (Also, thank god for the metal sights, since I had to rack it off a table to get the casing out there, another plus) 
DR920FS 
I wanted to dislike this gun, because I've a few Glock 17s in my day and sold them since I didn't like the way they pointed – I always pressed out and had my front sight angled too high. I also hated the grip angle – it felt awkward and unnatural. But then I shot the DR920FS, and Shadow System's nailed the ergs for a full-size duty gun (DR stands for Duty Role, by the way).
In fact, I got so accustomed to shooting Glock 19s and MR920s soon after with a red dot, that with stock sights I found myself missing shots on the plate rack with an MR920FS. With the DR920 – I cleared the rack without a miss. Twice. With just irons. It points well, it shoots soft, and with the stippling, grip angle, and accelerator cuts I could put doubles on steel poppers before they fell over.
It's good to go. Honestly, I don't even think I'd put a dot on this, maybe swap out the front sight for a fiber optic or tritium night sight.
XR920FS
I'll confess, I thought the Glock 45 was a stupid offering – Glock 17 frame, but a 4″ barrel and Glock 19 top end. Lame, or so I thought. But then I picked up the XR920FS – Shadow Systems' answer to the crossover pistol – and I'd have to admit, I was wrong. It fits all my Glock 19 holsters, but gives you an ever so slightly larger grip and 2 extra rounds.
The magazine capacity I can take or leave, as I run 21 rd magazines in my MR920 in USPSA, but the ergonomics on Shadow Systems full-size (Glock 17-style) frames are outstanding. Coupled with a Holosun 407COx2 as tested and considering the index ledge/accelerator cuts, I can get on target with this pistol incredibly fast from an IWB appendix holster or OWB battle belt rig with no issues.
This setup is good to go, and in my opinion, ideal for a do-all gun if flush-fit capacity is an issue or you have hands that are larger than my medium-size mitts. 
LOOSE ROUNDS
Shadow Systems guns are solid. They shoot well, they shoot fast, and they handle very, very well. The Foundation Series is no different. Considering the features you get out of the box, you'd be hard-pressed to find a better value for the money – especially considering these are made right here in the US of A.
While these don't have nearly the customization and "Gucci" factor out of the box as the Elite series, they are well worth the money and, frankly – beat out any other poly-gun in its class for value. You don't get a bag/case, and some of the other extras with their Elite lines – a magwell, lightning cuts on the slide, etc. But that's like being mad that the seats in your Porsche "only" have 6 settings and not 48.
If you want a pistol that doesn't break the bank but is shootable, feature-rich, has a great trigger, is versatile, and comes with everything you need, and nothing you don't – you could do a lot worse than the Shadow Systems Foundation Series line.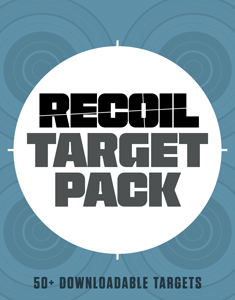 NEXT STEP: Download Your Free Target Pack from RECOIL
For years, RECOIL magazine has treated its readers to a full-size (sometimes full color!) shooting target tucked into each big issue. Now we've compiled over 50 of our most popular targets into this one digital PDF download. From handgun drills to AR-15 practice, these 50+ targets have you covered. Print off as many as you like (ammo not included).
Get your pack of 50 Print-at-Home targets when you subscribe to the RECOIL email newsletter. We'll send you weekly updates on guns, gear, industry news, and special offers from leading manufacturers – your guide to the firearms lifestyle.
You want this. Trust Us.