Trending: Ammo in Stock, Best AR-15s, & Best Beginner Handguns
Do you like snakes? I do…well, at least when it comes to snake-themed revolvers.
Thank you for reading this post, don't forget to follow and signup for notifications!
Colt's famed Snake series has seen models like the Python, King Cobra, and Anaconda.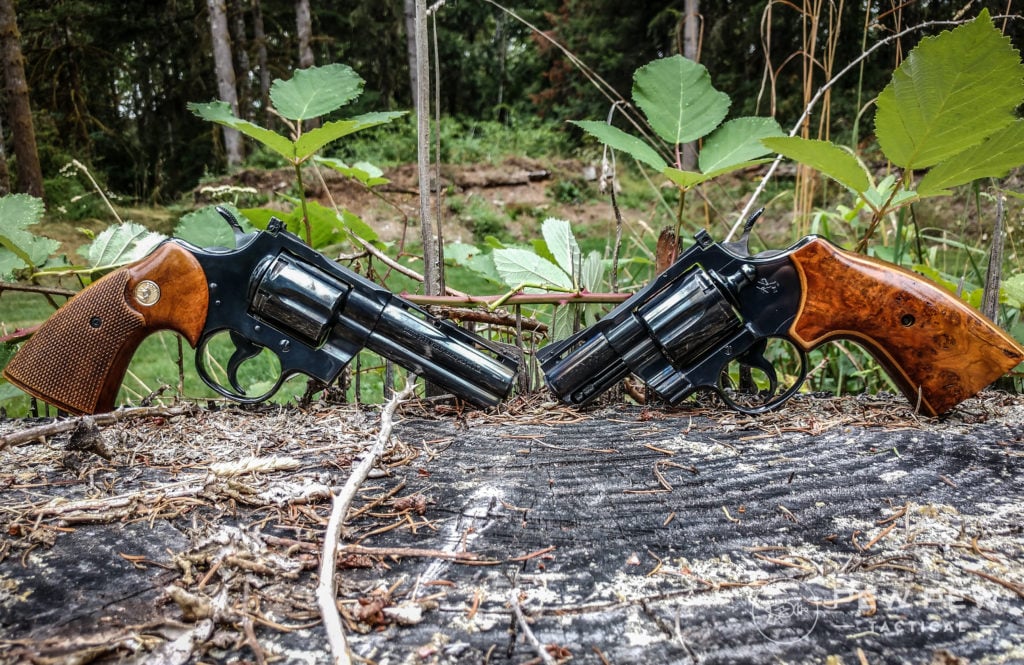 These snake guns have proven their staying power and, even more so, just how special they are. How special, you ask…
Well, guns made a few decades ago are selling more now than they did when they were new.
Unfortunately, the Python's sister, the Anaconda, has pretty much always been in the Python's shadow. It seems that .357 is more popular than the .44 is to magnum fans, or at least the sales figures would point to that.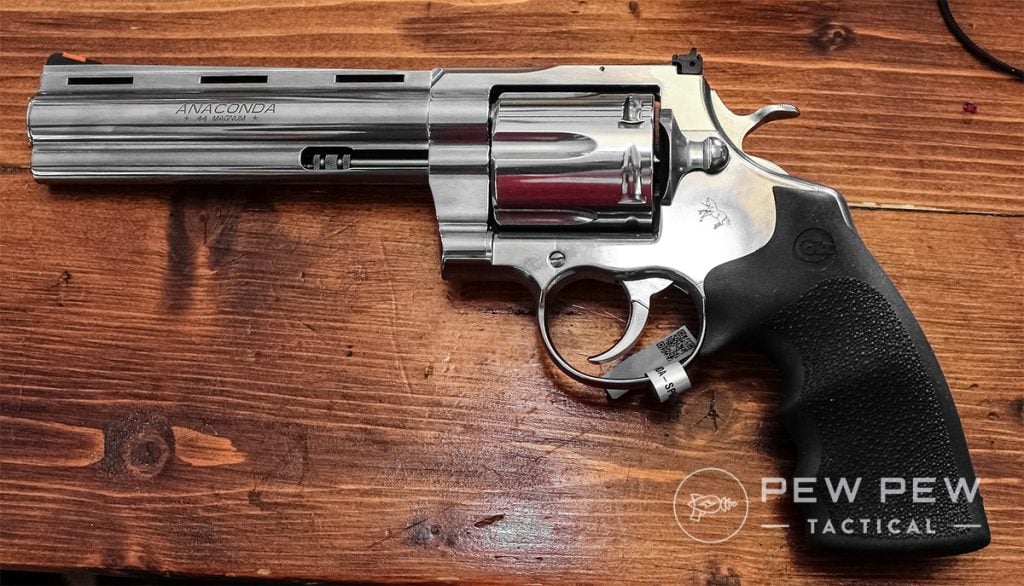 But we're going to talk about the Anaconda and why it should be on your radar. We'll go through the specs and features as well as take it to the range.
So, keep reading!
Colt Anaconda Review at a Glance
Pros
Good build quality
Design improvements
Great trigger
Accurate
Cons
Exposed Backstrap
A little on the pricey side
The Bottom Line
Colt's Anaconda is a decent wheelgun with a lot of potential for those in the revolver crowd. Its fit looks great, and its finish would be a nice addition to any collection.  
1599
at Gunprime
Prices accurate at time of writing

View Details

1599
at Gunprime
Gunprime (See Price)
Brownells (See Price)

Kygunco (See Price)
Guns.com (See Price)
Palmetto State Armory (See Price)
Prices accurate at time of writing
Available Coupons
25% off all OAKLEY products – OAKLEY25


Copied!
Visit Merchant
Specs & Features
Specs
Caliber: .44 Magnum
Barrel Length: 6" (8" available)
Weight: 53 oz.
Capacity: 6 rounds
Source: Colt
Features
Replaceable front sights
Linear Leaf Spring Action
Recessed target crown
Drilled and tapped for optics
Background
The original Anaconda was produced from 1990 to 2003.
During 2003, Colt stopped production but had another go, starting in 2021. They are still currently being made.
So – how are the aged, venerable ones different from the newbies?
Here are a few ways that current-model .44 constrictors (can you tell I love the snake analogy?) differ from those made before.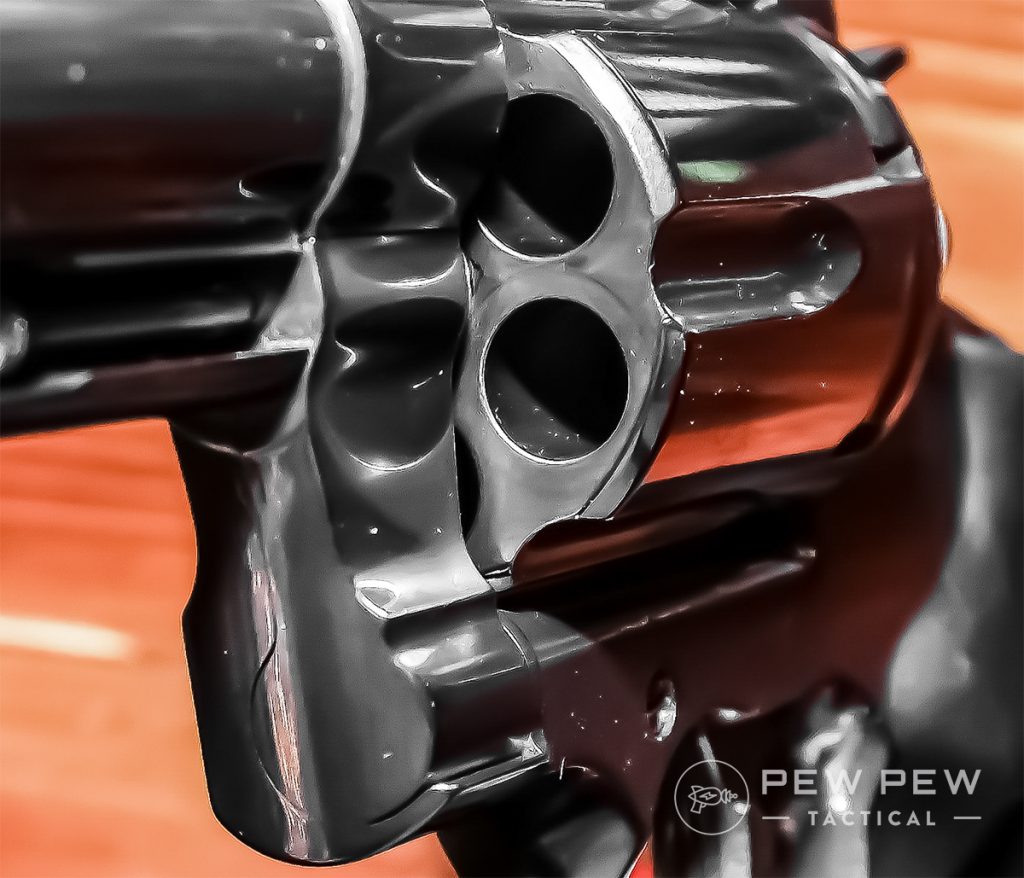 New-production Anacondas benefit from modern advances in metallurgy and manufacturing techniques. Without getting technical, metal machining, forging, and casting have progressed far from what they were in the "olden days." Also, metal alloys are tougher than before.
The newer Anacondas sport user-replaceable front sights, unlike the older ones. Its rear sight is adjustable, and the revolver has a thicker top strap that is drilled and tapped for mounting a scope.
They ship with Hogue recoil-taming grips. The grip form is the same as the old Anaconda's, which allows after-market grips to be used.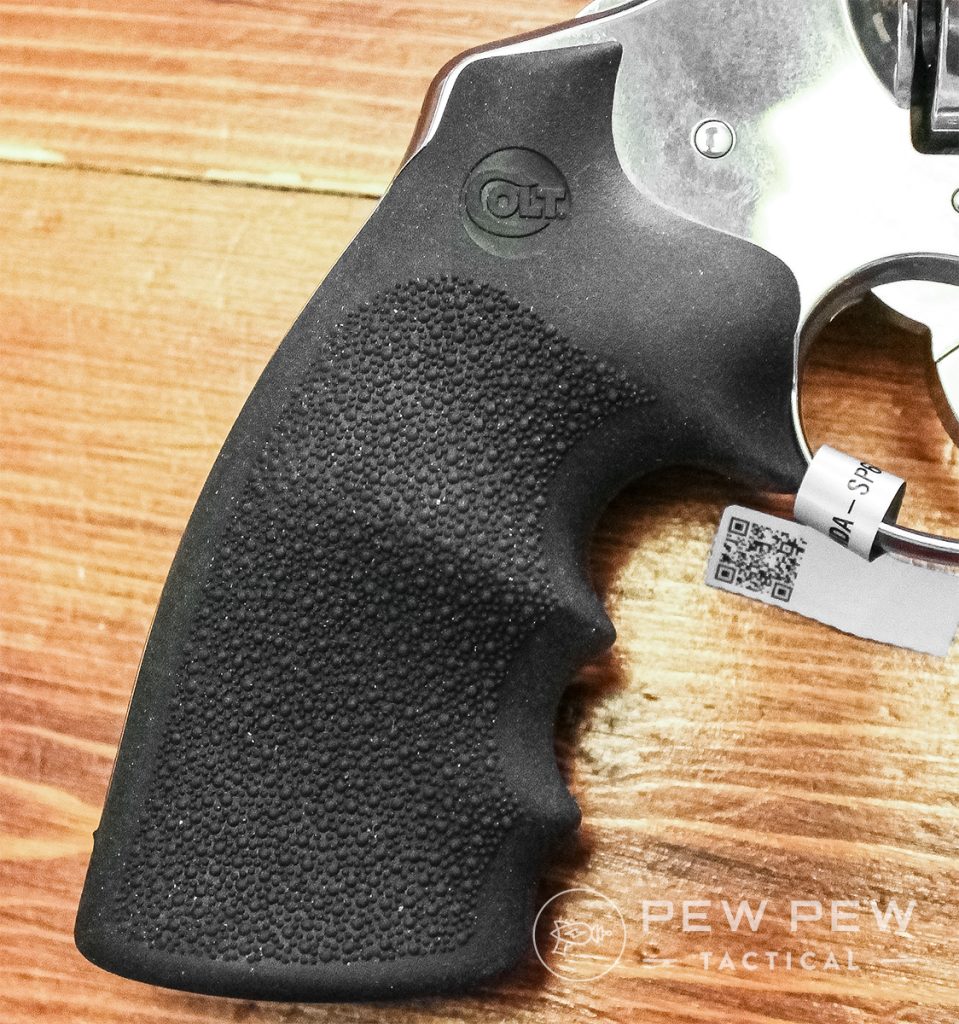 And these new models will fit old Anaconda holsters.
Want to dive into classic Anacondas? Check out the Brownells From the Vault video below.
Who Is It For?
The Colt Anaconda is a good fit for those that prefer to hunt with revolvers or those that love that Colt look and feel.
It's a great addition to Colt's snake guns series and would be a fun companion.
Fit & Feel
The Colt Anaconda looks and feels classic but with a modern edge. Its finish is shiny and reflective…you can comb your hair in its reflection.
The fit is remarkable…you have to look hard to see where things have been joined together.
Cylinder lock-up? Like a bank vault.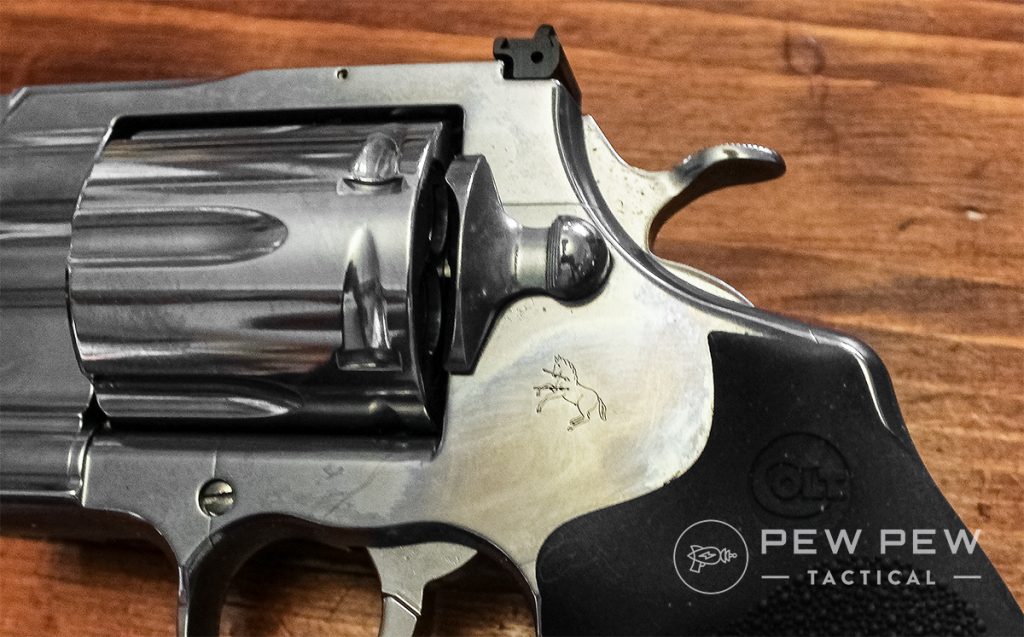 The finish, as I said before, is amazing. But where would a very pretty gun be if it had a crappy trigger?
Luckily, no problem here…this trigger is one of the best triggers of any revolver out of the box that I've ever seen.
If you "draw down" on a big doe, you have every chance of putting the bullet exactly where your sights are sitting because the trigger won't cause you to pull off target.
Just be aware that the trigger is very light, especially in single-action mode – don't send a bullet downrange prematurely!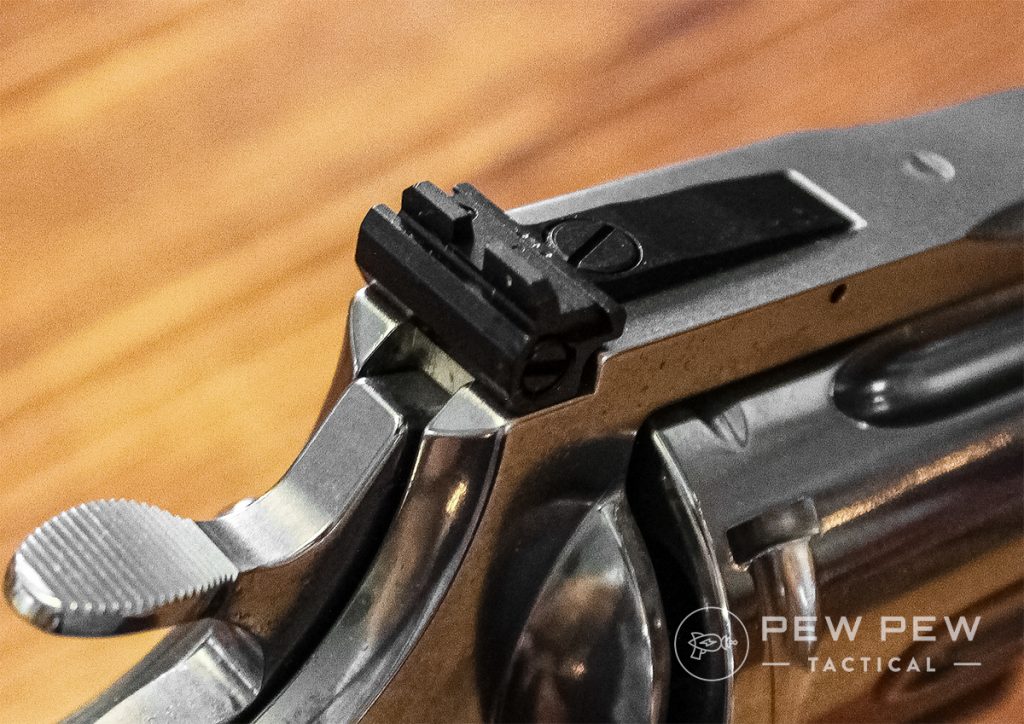 Its rear and front sights are perfect for their intended purpose, which is putting venison in the freezer. If the rear blade is too black for you, there's always sight paint (or nail polish).
My only kick is that the grip doesn't cover the backstrap in my experience, heavy-recoiling revolvers with exposed, steel backstraps transfer more felt recoil than backstraps that are covered.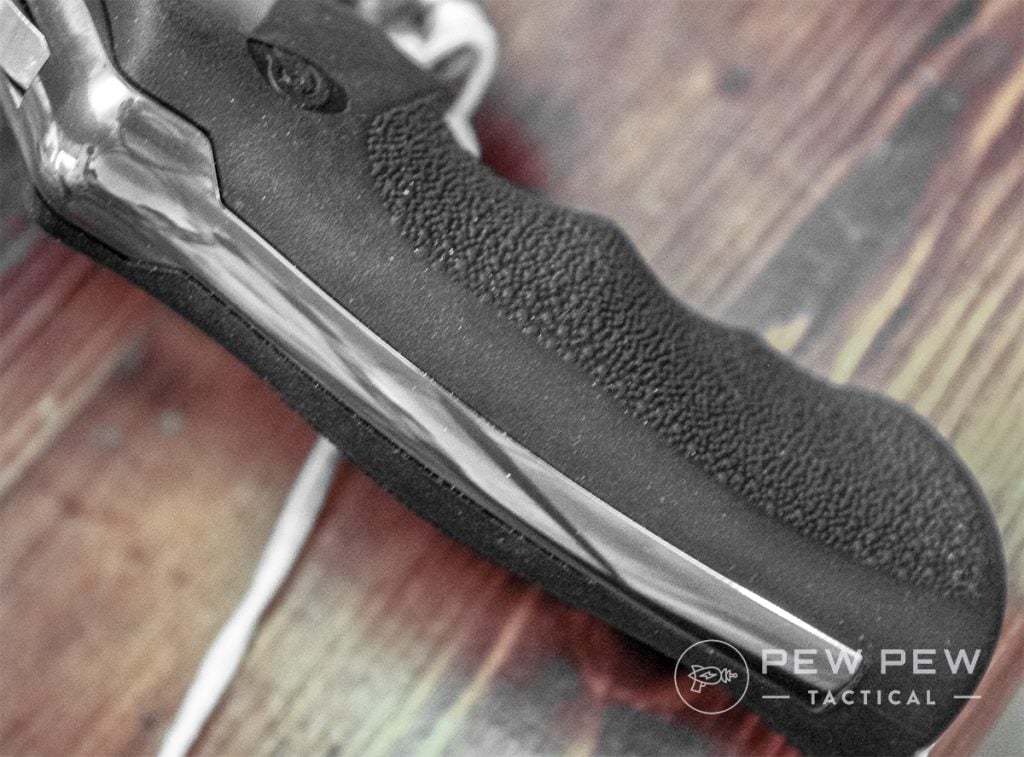 That could be just me, but that's my story, and I'm stickin' with it.
The Anaconda's 6-inch barrel is perfect. There are times I wish that my 8-plus-inch S&W had a 6-inch barrel – that long barrel is hard to get into and out of holsters.
How Does It Shoot?
The Anaconda was a joy to shoot.
I ventured out to my backyard range and set up a target at about 20 yards. I loaded up with a couple of .44 Magnum loads  — a CCI factory aluminum-cased 240-grain JHP and the other one of my stout, 240-grain cast bullet handloads.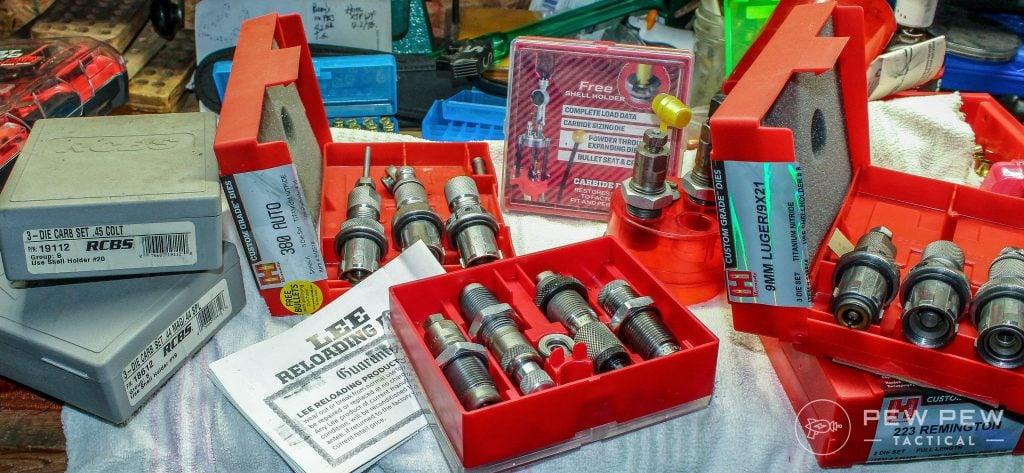 I was looking at velocities right at 1,200 fps for both loads…perfect for putting a whitetail doe in the freezer or knocking steel over at 50 to 100 yards.
I shot four rounds in about an inch with one flyer. I am a frequent flyer, or at least shoot frequent flyers – that's just me.
Anyway, this load would be more than adequate for a 75 to 100-yard shot at a deer…it basically equates to 4 M.O.A., which is more than good enough to take a whitetail. Squirrels, maybe not so much.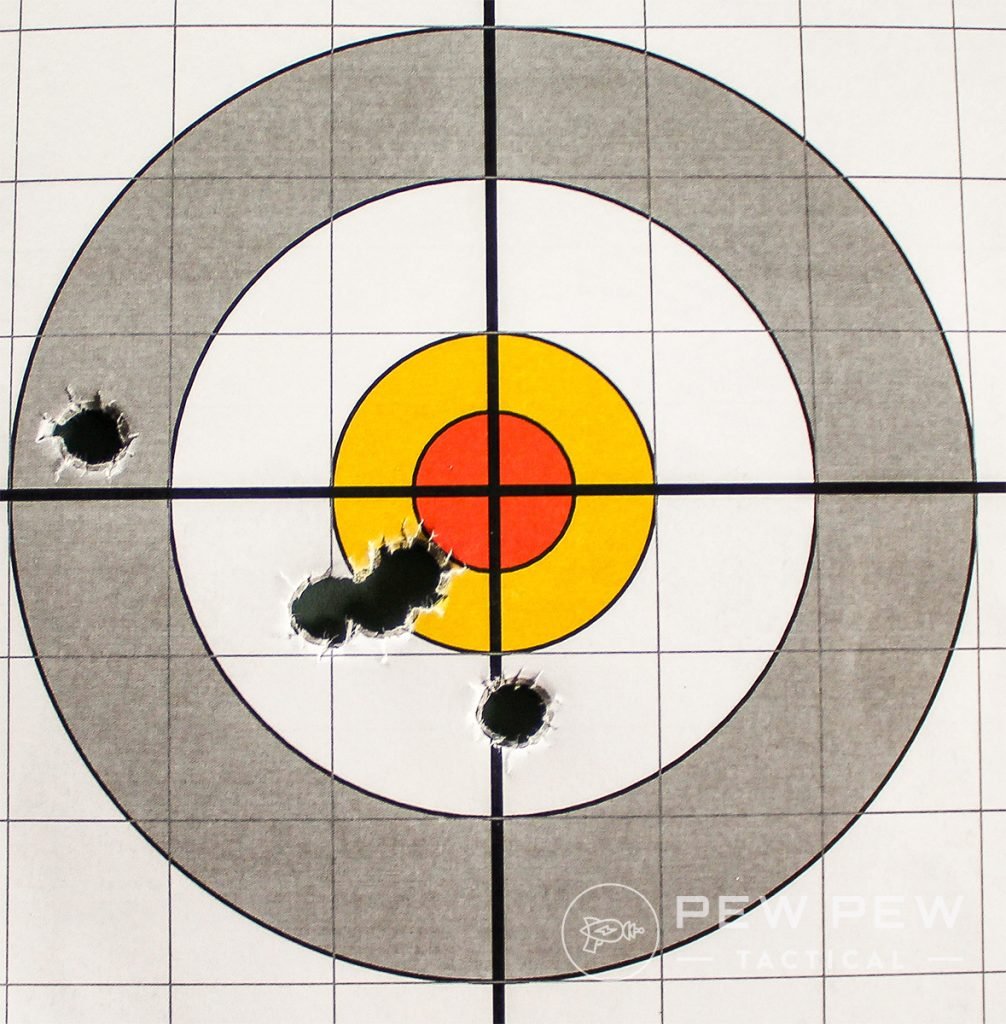 Recoil was what you would expect it to be, nothing ferocious but enough that you would not want to hand the gun to a newbie without sticking .44 Specials in the cylinder.
Not a horrendous amount, but it will get your attention. I'm generally not in favor of finger grooves, but they are useful in this case.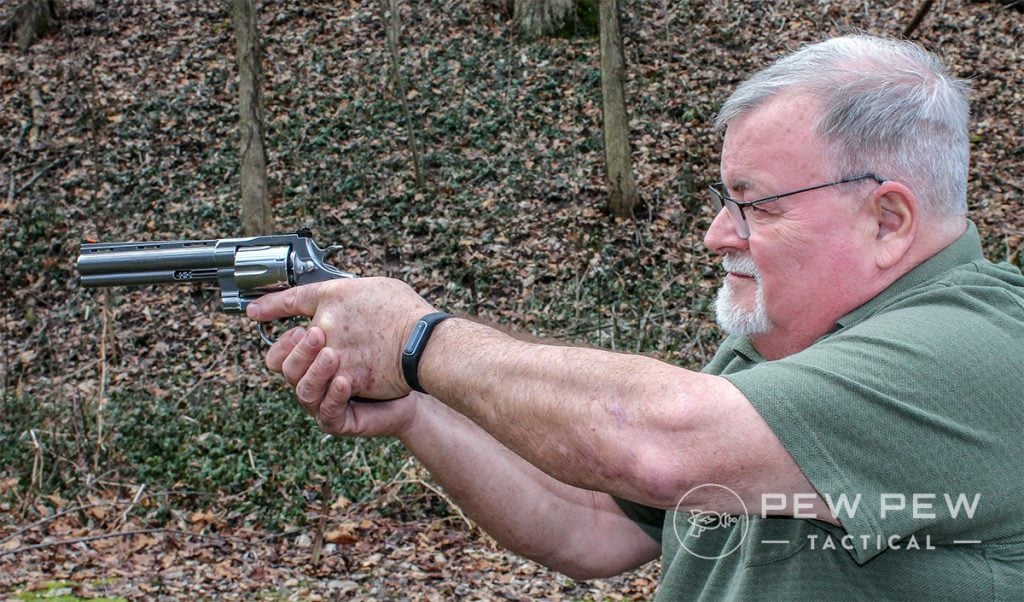 The sights were great, and the front's red insert was more than visible. As I mentioned above, the gun is drilled and tapped for a scope base, so you could add a scope or red dot if you were so inclined.
Me? I'm not so inclined. I like the way it looks and shoots as-is.
The Anaconda makes one classy hunting sidearm, to be sure.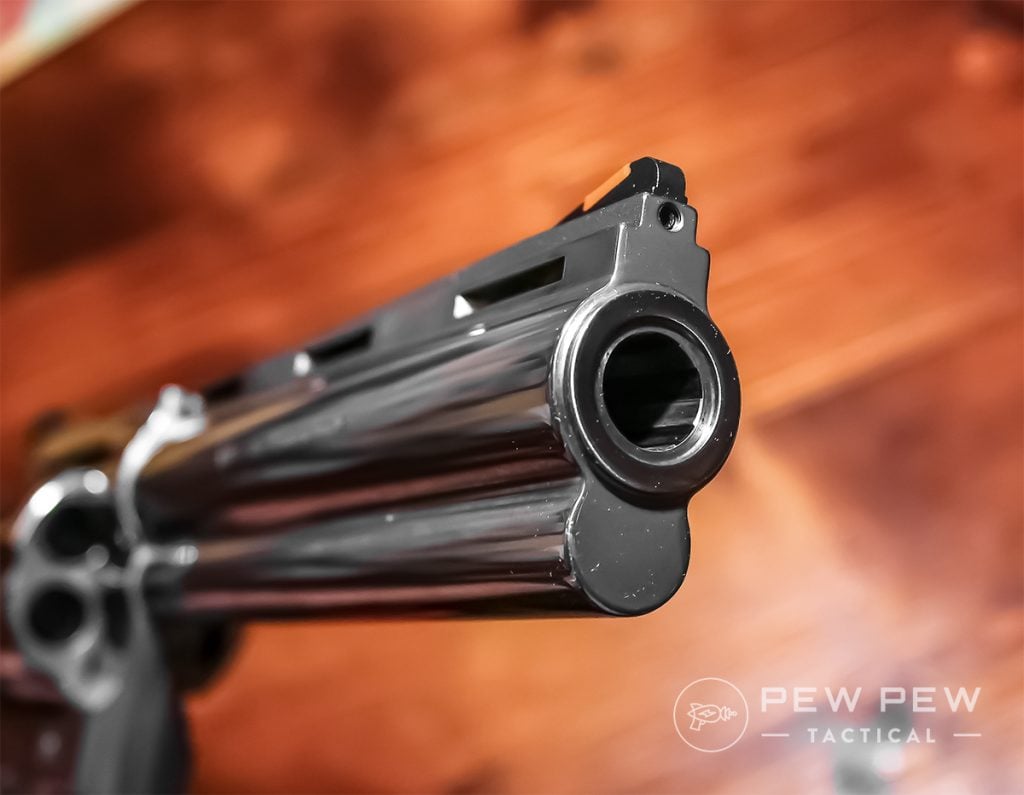 What Sets It Apart?
I own an 8 3/8-inch Smith & Wesson 629. That gun has taken more deer than I can remember and is one of the greats, but I'd still like to have this Anaconda.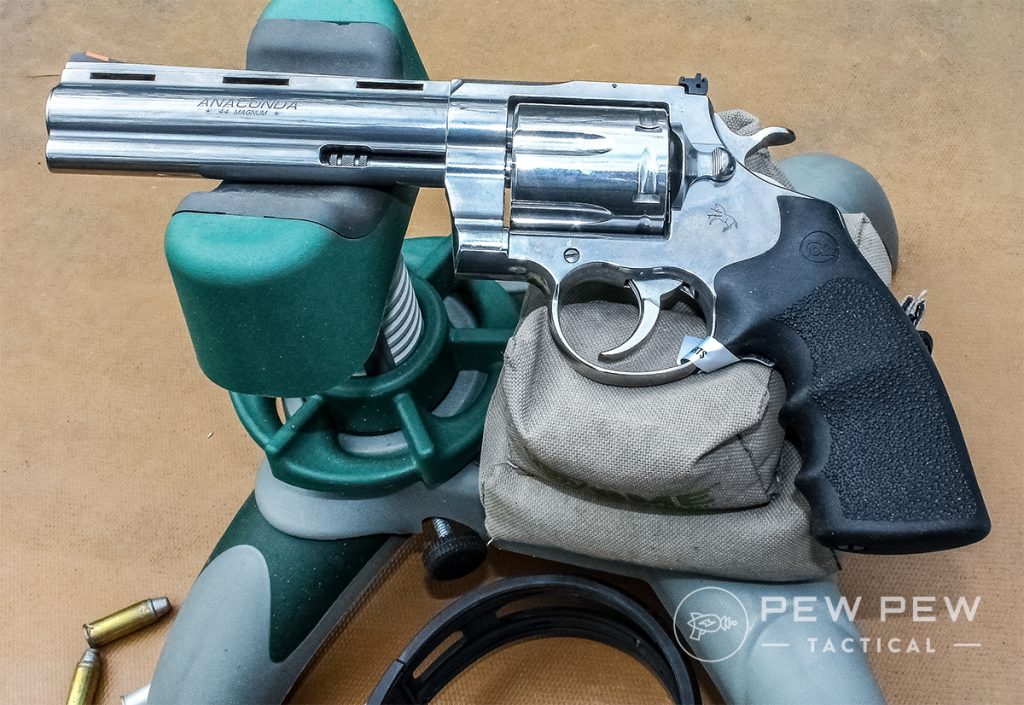 It is just different enough from my S&W 629 that I think it would be a great addition to my very small group of .44s.
The fitting is great, and the finish looks beautiful. If you like the idea of a Colt, then you'll like the Anaconda.
| | | | |
| --- | --- | --- | --- |
| Gun | Caliber | Capacity | Barrel |
| Anaconda | .44 Magnum | 6 | 6″ |
| Python | .357 Magnum | 6 | 6″ |
| Cobra | .38 SPL | 6 | 2″ |
| King Cobra | .357 Magnum | 6 | 3″ |
By the Numbers
Reliability: 4.5/5
During my testing, it did well.
Ergonomics: 4.5/5
It's pretty comfortable to hold and shoot.
Accuracy: 5/5
It hit where I needed to. No issues here.
Customization: 4/5
You can swap out the front sight and add an optic…but there aren't as many custom options as you might find on other guns.
Value: 4/5
It's pricier than other revolvers, but if you have the money to spend, it's a solid option.
Overall: 4.5/5
1599
at Gunprime
Prices accurate at time of writing

View Details

1599
at Gunprime
Gunprime (See Price)
Brownells (See Price)

Kygunco (See Price)
Guns.com (See Price)
Palmetto State Armory (See Price)
Prices accurate at time of writing
Available Coupons
25% off all OAKLEY products – OAKLEY25


Copied!
Visit Merchant
Upgrades for Colt Anaconda
Trade out that front sight if you're so inclined, or toss a holster into the mix — especially if you're heading out into the woods for a hike or camping.
34
at Amazon
Prices accurate at time of writing
Prices accurate at time of writing
Available Coupons
25% off all OAKLEY products – OAKLEY25


Copied!
Visit Merchant
And while you're stocking up on extras, grab a speedloader to make range training easier.
Final Verdict
To this revolver handgun hunter, the Anaconda is just about perfect.
In this world of "plastic pistols," uber-fast newfangled cartridges, and whiz-bang ballistics, there's something to be said about taking a step back to a simpler time when shooting a good revolver was pleasure enough in itself.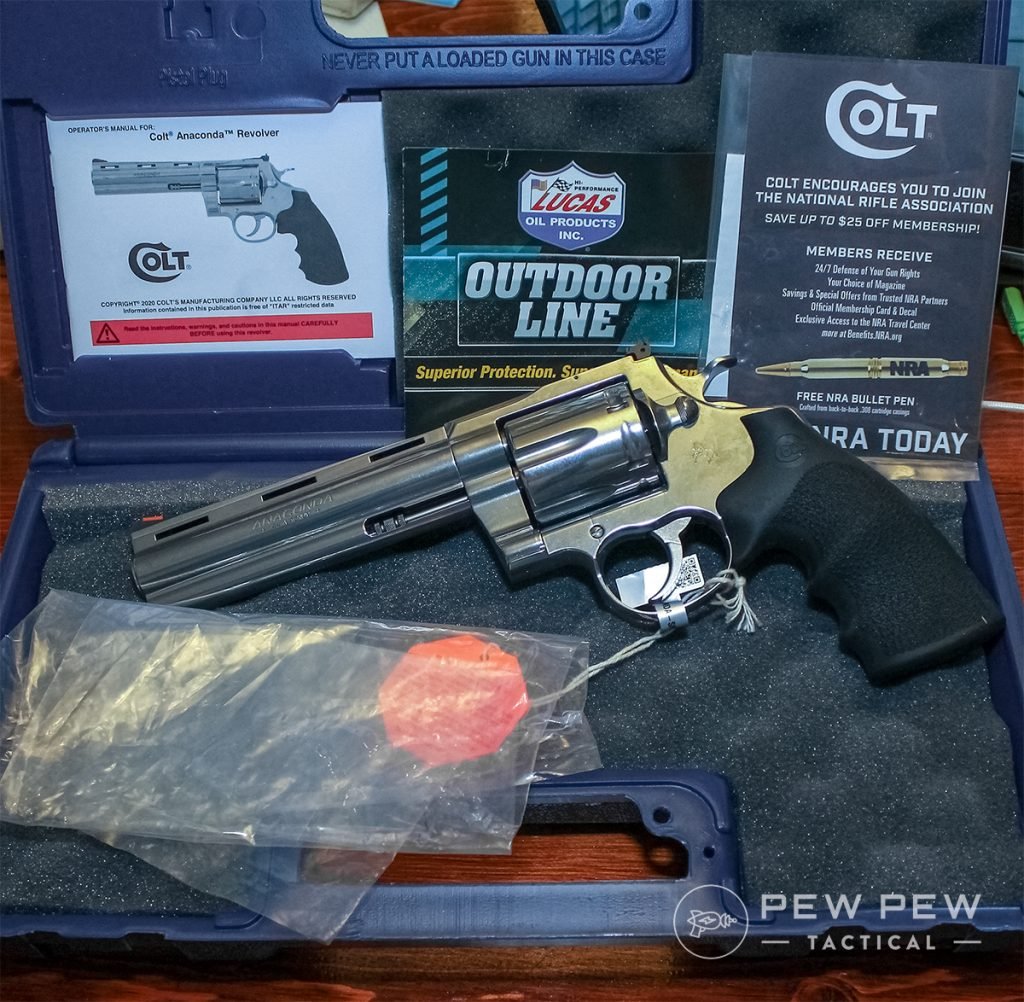 If you are a shooter who appreciates fine workmanship, excellent accuracy, a great trigger, and a gun that will hold its value for the next few decades, you might want to look into an Anaconda.
If you like your magnum brew a bit less stout, you could always go with the .357 Python over the .44 Anaconda.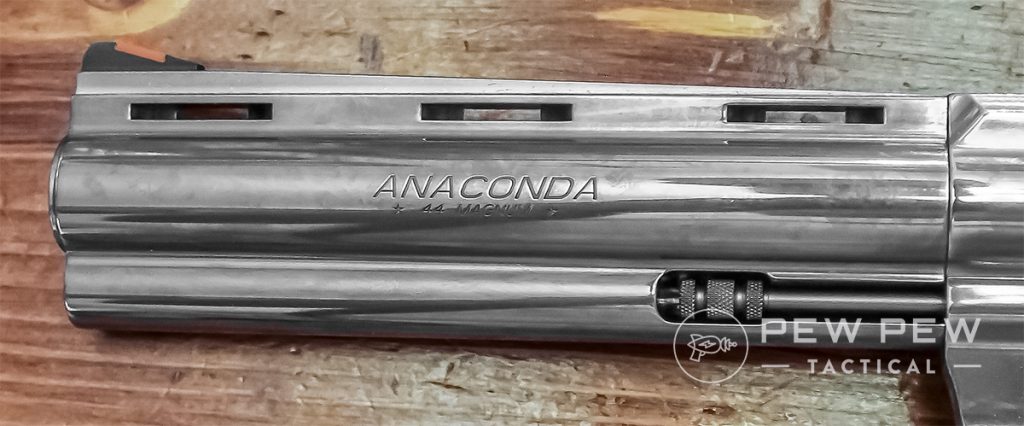 Finding either of them right now might be an issue, but persistence pays off. So, maybe it's time you got snake-bit!
What do you think of the Anaconda? Let us know in the comments below. For more revolvers, check out our Best Concealed Carry Revolvers Guide.