MORE THAN 100 YEARS OLD, CAN THE ONCE LEGENDARY 300 SAVAGE KEEP UP?
.300 Savage may not get a lot of attention these days, but this early .30 caliber round was once a popular favorite among big game hunters across North America and helped pave the wave for today's popular .30 caliber rounds, including the beloved .308 Winchester.
Thank you for reading this post, don't forget to follow and signup for notifications!
Today, we'll give .300 Savage the credit it deserves by diving into the round's history and current use. Before we wrap things up, I'll also recommend some .300 Savage ammo for those who want to give this round a try. 
A BIT OF HISTORY
.300 Savage was first developed by Savage Arms Co. over a century ago, back in 1920, specifically for the manufacturer's Model 99 lever-action rifle. 
With .300 Savage, Savage Arms was looking to develop a cartridge with ballistics similar to .30-06 that was also compatible with medium-length actions. The original .300 Savage load had a 150-grain bullet and a velocity of 2,700 fps, like .30-06. Despite the name, .300 Savage bullets are actually .308" in diameter. 
.300 Savage gained popularity among big game hunters, and Savage Arms went on to also create versions of their Model 20 and Model 40 bolt-actions chambered for the round. Remington also chambered a few rifles for the .300 Savage: the semi-auto Model 81 Woodsmaster, the bolt-action Model 722, and the pump-action Model 760.
In the 1940s, the U.S. military began experimenting with variations on the .300 Savage to create new cartridges. It was out of these experiments that NATO 7.62x51mm and its civilian sister cartridge, .308 Winchester, were born.
The introduction of .308 was the beginning of the end for .300 Savage. It quickly began to eclipse .300 Savage in popularity, with more and more hunters choosing the new round. Once Savage Arms stopped making the Model 99, the round was left orphaned.
HOW IS .300 SAVAGE USED TODAY?
Of course, just because Savage Arms isn't making the Model 99 anymore doesn't mean there aren't still Model 99s and other guns chambered for .300 Savage floating around anymore.
Unfortunately for those people, there aren't a ton of factory ammo options available. Those that are available generally have either 150 or 180-grain bullets. For examples of ballistics, you can take a look at the recommendations below. 
Since there aren't a lot of factory ammo options, many shooters instead opt to handload rounds. This not only makes ammo more accessible but also allows shooters to get even better performance than factory loads, as well as allows them to optimize the round to meet their preferences. 
Regardless of how they get their hands on ammo, shooters primarily use .300 Savage for either hunting mid-size game, like white-tail deer, or for target shooting. While .300 Savage was originally used for big game, these days, we have more powerful options that are better suited for large game and will better ensure an ethical kill. 
The other major thing people use .300 Savage for is target shooting. .300 Savage isn't an especially good target round, so this is primarily for fun. If you inherited a .300 Savage rifle from a loved one and aren't a hunter yourself but still want to shoot the rifle, this is probably the round you fall into. 
BEST .300 SAVAGE AMMO 
Now, for those who've come to appreciate .300 Savage, let's discuss some rounds for you to try. 
As I said, there isn't a lot of factory ammo, and it's all, logically, hunting rounds. Of what is available, these are some of my favorites that are also easy to find. 
Well, relatively. You'll need to shop online, and you likely need to check around at different retailers to find them in stock. To get you started on your search, I know that Brownells, Sportsman's Warehouse, and Sportsman's Guide all stock .300 Savage at least sometimes.
Anyway, let's look at the ammo:
Remington Core-Lokt 300 Savage
First up is Remington Core-Lokt, which, in various calibers, has been an incredibly popular hunting round for decades.
It has a pointed soft point bullet which, for .300 Savage, weighs 150 grains. It has a tapered copper jacket, which Remington claims delivers 2x expansion. 
As for ballistics, Remington advertises a 2,630 fps muzzle velocity, muzzle energy of 2,304 ft-lbs, and a ballistic coefficient of .314.
No precision shooter would call Core-Lokt the most accurate hunting ammo on the market, but it is good enough for game at ethical ranges.
Winchester Super-X 150 Grain Power-Point
Winchester Super-X is quite similar to Remington Core-Lokt, with a 150-grain soft point bullet that has a contoured copper jacket.
The ballistics are also nearly identical, with Winchester advertising 2,630 fps muzzle velocity and 2,303 ft-lbs muzzle energy.
Hornady 300 Savage 150 gr SST Superformance
Hornady is another big name in ammo, so it's not a big surprise that they offer a .300 Savage option. 
Hornady SST Superformance is a little bit different from the Winchester and Remington options we just discussed with greater muzzle velocity (2,740 fps) and muzzle energy (2,500 ft-lbs). Hornady also advertises a .370 ballistic coefficient. Hornady attributes this difference in performance to the proprietary propellents that they use.
The bullet itself is a Super Shock Tip which has a polymer tip, secant ogive design, and boattail base. 
Something to know about Superformance ammo is that it is loaded to really maximize FPS and tends to be higher pressure than normal. Safe pressure, but on the upper limit. If you're shooting grandpa's Savage 99 or a super old pawn shop find, I would suggest choosing more conventional ammo – just in case. 
Federal Power-Shok, .300 Savage, SP
This is another round that comes with a 150-grain bullet, but unlike the others I've recommended so far, Federal Power-Shok also comes in a 180-grain version for .300 Savage.
With the 150-grain, you get similar ballistics to the Remington and Winchester rounds above, with a muzzle velocity of 2,630 fps, muzzle energy of 2,304 ft-lbs, and a ballistic coefficient of .313.
Obviously, the 180-grain delivers different performance. With this round, you get muzzle velocity of 2,350 fps, muzzle energy of 2,207 ft-lbs., and a ballistic coefficient of .383.
Handloading is deeply individualized, so it's hard to make sweeping recommendations. In general, I recommend that handloaders experiment with different bullets and cases so they can find the performance that they want. With that said, let's talk about some general recommendations.
Hornady and Winchester are both good brands for brass in general, and both offer cases for .300 Savage. 
It's also fairly easy to convert .308 Win brass into .300 Savage brass since all you need to do is trim the brass a bit. If you're looking to really maximize your precision, you could go with fancy .308 Win brass from Alpha or Lapua and trim it to .300 Savage length.
As for bullets, remember that .300 Savage bullets actually measure .308", not .30", so make sure you're choosing a bullet of the right size. Beyond that, pretty much any spitzer-style bullet will do. My personal favorites are just about anything from Berger and of course the Hornady ELDM and ELDX lines.
As I said above, factory .300 Savage ammo almost always has bullets weighing 150 or 180 grains, but you can experiment with different weights. 
For complete load data, Nosler has a ton of options on their free online tool.
LOOSE ROUNDS
And that about brings us to a close on .300 Savage. 
This old round gets overlooked by manufacturers and shooters alike these days, but its contributions shouldn't be ignored. .300 Savage is a nostalgic round for many shooters, perhaps especially for those who inherited a .300 Savage rifle from someone they were close to. 
Besides, without .300 Savage we never would have gotten the more widely loved .308.
READY FOR MORE?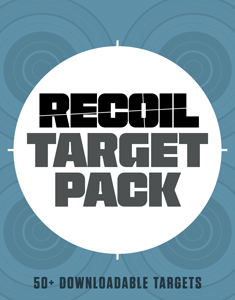 NEXT STEP: Download Your Free Target Pack from RECOIL
For years, RECOIL magazine has treated its readers to a full-size (sometimes full color!) shooting target tucked into each big issue. Now we've compiled over 50 of our most popular targets into this one digital PDF download. From handgun drills to AR-15 practice, these 50+ targets have you covered. Print off as many as you like (ammo not included).
Get your pack of 50 Print-at-Home targets when you subscribe to the RECOIL email newsletter. We'll send you weekly updates on guns, gear, industry news, and special offers from leading manufacturers – your guide to the firearms lifestyle.
You want this. Trust Us.