What do you think of when someone says they have a .22 rifle? Possible answers abound, but chances are that you picture the Ruger 10/22. There's a good reason for that. Since its 1964 debut, the 10/22 has been the rifle to which all other .22s are compared. Not only is it America's most popular .22, but the Ruger is also one of the top selling rifles of all time.
Thank you for reading this post, don't forget to follow and signup for notifications!

Early Influences
Like so many firearms, the 10/22 was the brainchild of Bill Ruger. Ruger was interested in guns early on and claimed he had read every firearm book the Brooklyn Public Library had by the time he was 17. That same year, he submitted a machine gun design to the US Army. The design was rejected, but Bill Ruger was on his way.
After founding Sturm, Ruger, and Company in 1949 with his friend Alexander Sturm, Ruger turned out his first rifle in 1961. Chambered in .44 Remington Magnum, the Model 44 Carbine, originally dubbed the "Deerstalker," was marketed as a deer rifle. The Model 44 resembled the iconic World War II M-1 Carbine, a shrewd move by Ruger to invoke nostalgia among the many war veterans looking for their next hunting rifle.

Shortly thereafter, Ruger envisioned a .22 caliber carbine as a companion gun to the Model 44. Looking for a more reliable feeding system than the traditional tube magazine, Ruger returned to the rotary magazine designed by Arthur Savage for the Savage Model 99. Ruger had long admired the Savage 99 and patterned the now standard 10/22 rotary magazine after it.
Innovation, Quality, and Affordability
Bill Ruger always insisted on quality. But he also strove to design and build guns that the average person could afford. His quest to design a .22 carbine was driven by those two principles. Despite his idea of a Model 44 companion rifle, Ruger understood that the vastly weaker .22 Long Rifle cartridge did not require the machined steel receiver of its older brother.
Along with engineers Harry Sefried and Doug McClenahan, Ruger settled on an aluminum receiver mated to a steel barrel via a newly patented steel barrel block. This innovation made the 10/22 lighter, less expensive, and had the added benefit of allowing the customer to easily swap the barrel if he so desired.

Along with engineers Harry Sefried and Doug McClenahan, Ruger settled on an aluminum receiver mated to a steel barrel via a newly patented steel barrel block. This innovation made the 10/22 lighter, less expensive, and had the added benefit of allowing the customer to easily swap the barrel if he so desired.
Ruger's next innovation, spearheaded by Sefried, was the 10-round rotary magazine we all associate with the 10/22. The rotary magazine allowed each cartridge to enter the chamber at the same angle, unlike box magazines. It also avoided the need for tube-fed rounds to suddenly change direction as they moved from magazine to chamber. The result was greater reliability with the added bonus of easy reloads. The later 25-round BX-25 magazine made the 10/22 even more desirable.

Sefried also contributed the breechblock decelerator, which slowed the action by adding a cam action to the cycling bolt. This balanced the action's cycle rate with the magazine's cycle rate, ensuring smooth and reliable feeding. The idea's genius was that it accomplished the goal without adding extra parts and maintaining the design's simplicity.
True to Ruger's vision, the 10/22 looked almost identical to the Model 44, retaining the classic M-1 Carbine look. But the internal innovations made the 10/22 a classic in its own right.

A Ruger 10/22 for Everyone
Not only did Bill Ruger want a companion for his Model 44, but he also wanted to build a modern .22 caliber rifle on which serious shooters could depend. The Remington Scoremaster 511 and Marlin Model 60 were quality rifles, but they were slow. The Scoremaster was magazine fed but was a bolt action. The semiautomatic Marlin had a high rate of fire, but its tube magazine made reloading slow. Plus, Remington discontinued the Scoremaster in 1963.
The 10/22 was an instant success, something unsurprising to us now. The new rifle was originally offered in two models, the 10/22, which was the basic carbine, and the International, which featured a full-length Mannlicher-style stock.
The ensuing 58 years saw almost limitless variations on the original 10/22. Basic carbines that served as countless young boys' first rifles, all the way to tricked-out tactical and competition models. If you can't find a Ruger 10/22 that suits your needs, well, you really aren't trying very hard.
Ruger currently produces eight basic 10/22 models: the Carbine, Takedown, Takedown Lite, Target, Compact, Tactical, Sporter, and Competition. But even then, each basic category has at least two options, several have many more, and special editions abound. All told, there are literally hundreds of distinct Ruger 10/22 editions. You could spend a lifetime collecting them all.


My Ruger 10/22 Rifle
The Sporter
I originally planned to touch on each 10/22 Model, but I doubt you want to read an hour-long article. Nor do I really want to write one. So, I'll touch quickly on my 10/22 and tell you why I like it.
My first experience with a 10/22 was in high school when my Dad bought a beautifully stocked Sporter model. My brother and I fought over who got to carry it squirrel hunting. Assuming, of course, that Dad didn't have it himself. We ended up alternating, which was less than optimal in our teenage minds, but better than nothing. Unfortunately, neither of us has that rifle since my Dad stopped squirrel hunting and traded the 10/22 for something else.

I'm not a small game hunter anymore either, so I went years without a .22 rifle. That seems odd to me now, since I have several and love them all. But when I decided I wanted a survival-type rifle to keep in the car's trunk, I didn't even think about the brand. I only had to decide which 10/22 I wanted.
The Takedown
I bought a 10/22 Takedown with a synthetic stock and threaded barrel. It came, as all Takedown models do, with a nice case suitable for slinging across my back. It's perfect for my purposes, weighing in at only 4.6 pounds with an 18.5-inch barrel. I caught it on sale with a scope for the standard Weaver-style mounts. The scope is basic, but it works. What's not to like? I added a birdcage flash suppressor, but those are included on the current models, which is nice.
I wasn't a big fan of the stock's brown color, but that was nothing a couple of rattle cans couldn't fix. Nothing fancy, but it appeals to my Appalachian upbringing, and as long as I like it…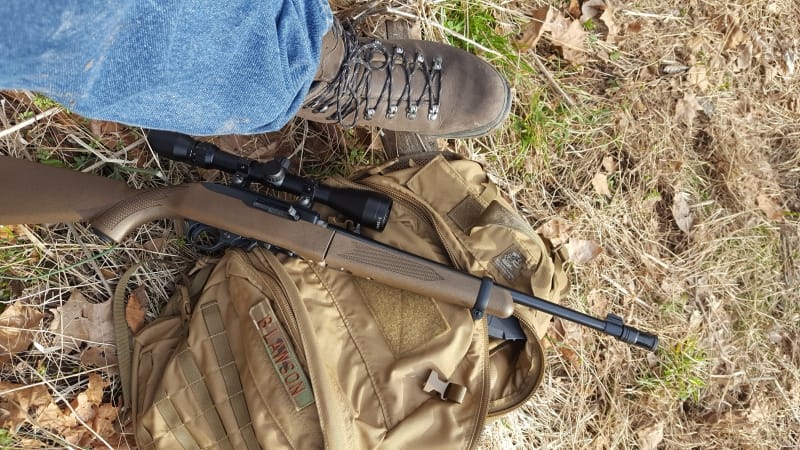 One thing I never liked about the 10/22 was the bolt release. You can't release the locked back bolt without also holding the release, which is just forward of the trigger guard. It's awkward, at best. Bill Ruger apparently considered it a safety feature, but I'm not a fan. So, I immediately upgraded it with a Volquartsen Automatic Bolt Release, which allows me to just pull back on the charging handle and let it go like God intended.
But that's all I've done. It's a dandy little rifle just like it is. I take it along almost everywhere I go now. I once tested a pair of waterproof hiking boots by standing in an ice-cold creek in February for 30 minutes. I passed the time by shooting my 10/22 at various things on the bank. Great fun. The boots worked great, by the way. The rifle lives in my trunk with about 500 rounds of .22 LR, so it's always there when I want it.

Just Get a Ruger 10/22
If you don't have a 10/22, I don't know why. I went a long time without one, and boy do I regret that. It's one of the most versatile firearms I own and, after my AR-15, the most well-used. I've never had a hiccup from it, aside from a feeding issue with one magazine. But that was the mag, not the gun.
The 10/22's design is so solid and so simple that it's barely changed since 1964. The Takedown had to have some extra features, but that's really it. That speaks to quality and reliability. You just won't find a better rimfire rifle, especially at the price point. You can buy a 10/22 for under 400 bucks and even the high-end models are less than $1500. That's an absolute bargain.
And the aftermarket support is fantastic. You can buy dang near anything you want to trick out your rifle. Want it to look like a high-speed low-drag tactical beast? You got it. Just want a basic squirrel gun? No problem. How about a dedicated survival rifle? You can do that and lots more.

So, what better day than October 22 to go out and get yourself a 10/22? You know you want to.