AC-Unity, a firearms and accessories manufacturer from Bosnia and Herzegovina, in collaboration with a Turkish company, has developed an AK-12 magazine clone and made it available in the US. Like the original Russian AK-12 magazine, the AC-Unity clone is also a 5.45x39mm magazine, has a 30-round capacity, and is compatible with all AK rifles that take AK-74 magazines. 
Thank you for reading this post, don't forget to follow and signup for notifications!

According to RTG Parts, AC-Unity originally developed this AK12 magazine with North Weapon of Turkey. North Weapon had set out after many military contracts and AC-Unity was to build an affordable, high-quality AK12-style magazine that met or exceeded all military requirements.
AC-Unity AK-12 magazine clone is made of a proprietary UV-resistant polymer that is touted as being lightweight and impact-resistant through a wide range of temperatures. This magazine has all the signature features of the AK-12 magazine such as the round counting windows and the angled baseplate.

The front and rear locking lugs are made of GD ZN 410 metal alloy which according to RTG Parts, is a specific marine grade metal alloy that is hardened, anti-magnetic, highly anti-corrosive with great wear properties.  The overall weight of the AC-Unity AK-12 magazine is 6.4 ounces.
While these magazines are not exact replicas of the Russian AK-12 magazines, the clones look more similar to the original magazines. The main differences between the Russian mags and the clones are some dimensions and no reinforced feed lips.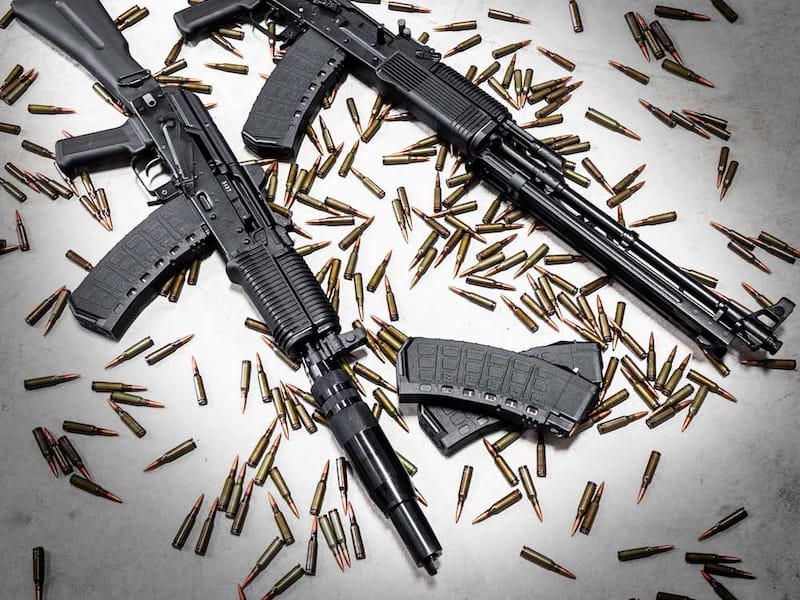 The cloned AK magazines are compatible with all 5.45×39 mm AK74-style rifles, carbines, and pistols that use the standard AK74 magazines. The magazines have a price tag of $16.95 and come with a Lifetime warranty against defects, loss of spring strength, or corrosion.
Specifications
Magazine Weight (Unloaded): Only 6.4 ounces.
Color: Black
Capacity: 30 rd
Cartridge: 5.45x39mm
Follower: Standard Soviet style, non-bho
Condition: New
Production: Made in Bosnia and Herzegovina
Fits: Will fit and function in all 5.45x39mm AK74 style rifles, carbines, and pistols that use standard AK74 magazines