Well, that was the most clickbait title I think I have ever written! I promise I won't do it again, but you are reading these words which I guess means it worked. The Umarex Air Javelin Pro is a PCP or precharged pneumatic airgun that shoots arrows. This newish class of air rifles is called air bows and, honestly, really murdered my love for crossbows. It completely flips the script on traditional arrow launchers like a bow or crossbow—two items I have spent most of my life screwing around with. Let's dive a little into the details of this space-blaster-looking rifle and find out what makes it tick.
Thank you for reading this post, don't forget to follow and signup for notifications!

Construction and Features
The exterior of the rifle is made of black and flat dark earth plastic with a grippy rubber butt-pad. The design, due to the plastic shells and price, is a clamshell design akin to what you would expect with most Kel-Tec offerings. Rubber plugs are inserted in all of the screw holes to keep debris out. The rifle is topped with a long rail that goes from the front of where the stock mount meets the rifle to the end of the rail system.
Speaking of rail systems this rifle is equipped with a rail that has M-Lok slots on the 3 and 6 o'clock positions. You can mount a flashlight, side-mounted bipod legs, or if you read further we designed an M-Lok compatible quiver that you can 3D print in TPU or a Flexible Resin, depending on what type of printer you might have. The polymer the rifle is made of doesn't feel quite as robust as what you might expect from a Magpul stock but is still fairly sturdy.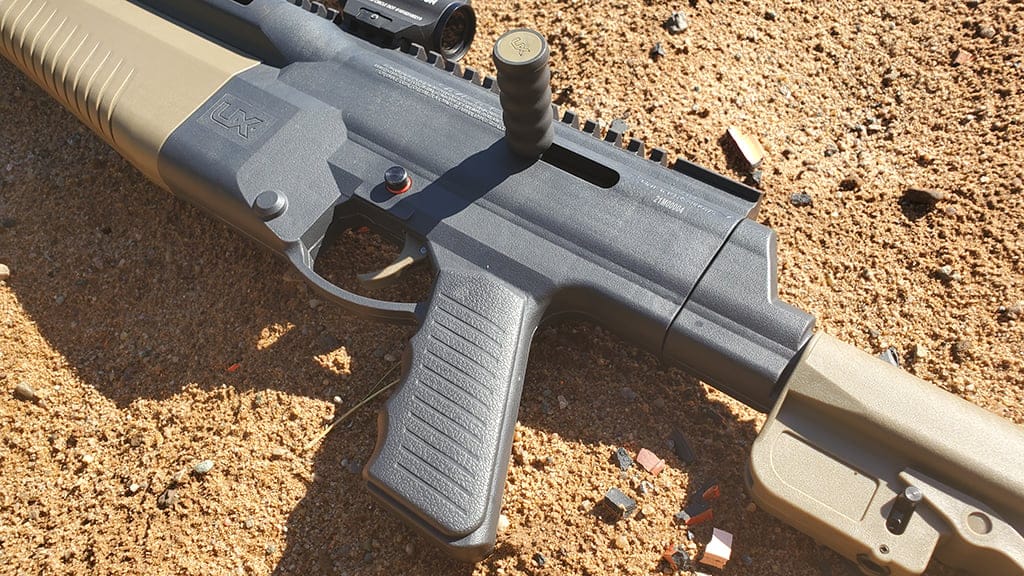 The handguard area that surrounds the air tank has no M-Lok slots in it so you won't be able to mount a vertical grip on it. The buffer tube-like extension the stock mounts to is polymer also with the slightest amount of side-to-side flex. It would be interesting to see a version of this rifle that uses a Picatinny stock mounting interface so some side folders could be mounted, but that might get you into legal hot water depending on where you live.
The buffer tube is a 5-position tube, giving lots of options for length of pull adjustments for both the lanky and vertically challenged. The normal version of the Air Javelin comes with a SOPMOD-inspired stock while the Pro comes with a slimmed-down stock that looks like the hook design you might see from Mission First Tactical with the angled web at the bottom of the stock largely removed.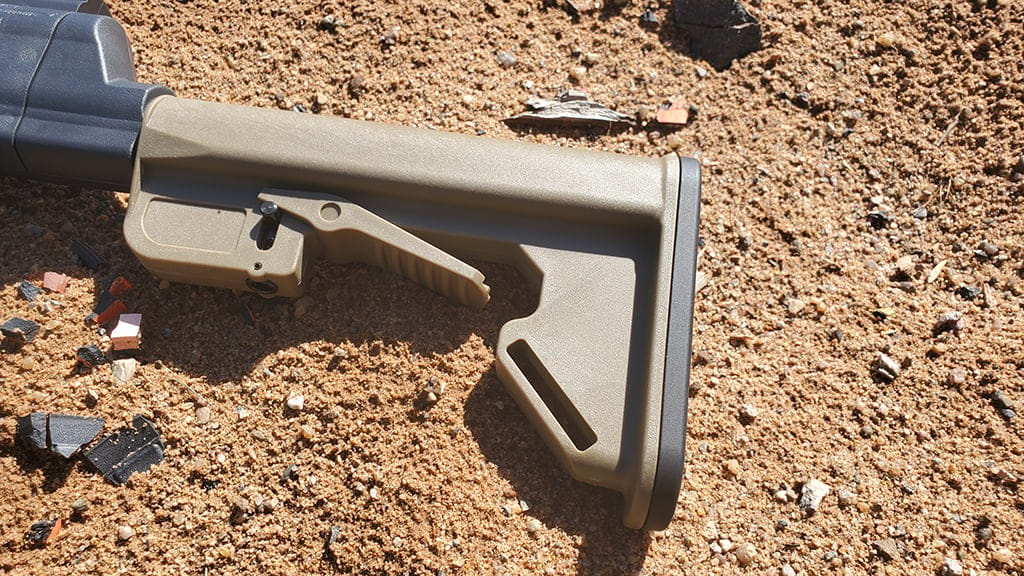 Powering the Air Javeline
The major difference between the two Air Javelin versions is the power source. The non-pro version uses 88-gram CO2 cylinders that cost around $20 USD depending on where you buy them from. The Pro, being a PCP, uses an onboard air tank that can hold up to 4500 psi which is considerably more pressure than the standard model.
With the stock arrow, they are advertised as 370fps and 52ft-lbs of energy for the Pro and 300fps and 34ft-lbs of energy. I don't currently have access to a chronograph but I would be interested in the real-world readings of the arrow and what it puts out with a broadhead on it. I know from previous experience with airguns that you typically get a bit more energy for the same air pressure with a heavier round.
The pressure difference and power source are the largest differences between the two guns. Otherwise, they use mostly the same injection mold and likely handle pretty much the same.
We talked about the power source difference above but if you aren't familiar with PCP versus CO2 they have some fairly large differences. With CO2 you use the cartridges and throw them away so it's fast to swap out but if you shoot a lot, the cost of disposable cartridges can add up. With PCP you need to charge the tank on the rifle. Some people do this with a hand pump. Kudos to them, it's a great workout—but ain't nobody got time for that.
I decided on the upfront cost of a high-pressure compressor in the form of a XISCO CS3 compressor. I just hook it up, set the pressure and it stops when it's done. This compressor can be hooked up to the wall in your house or to a car battery when you are out and about. The tank on this rifle will last around 25-ish full power shots and after that, the drop becomes fairly noticeable until it is empty. This happens because the rifle has a regulator that drops the pressure down to 1500psi giving consistency.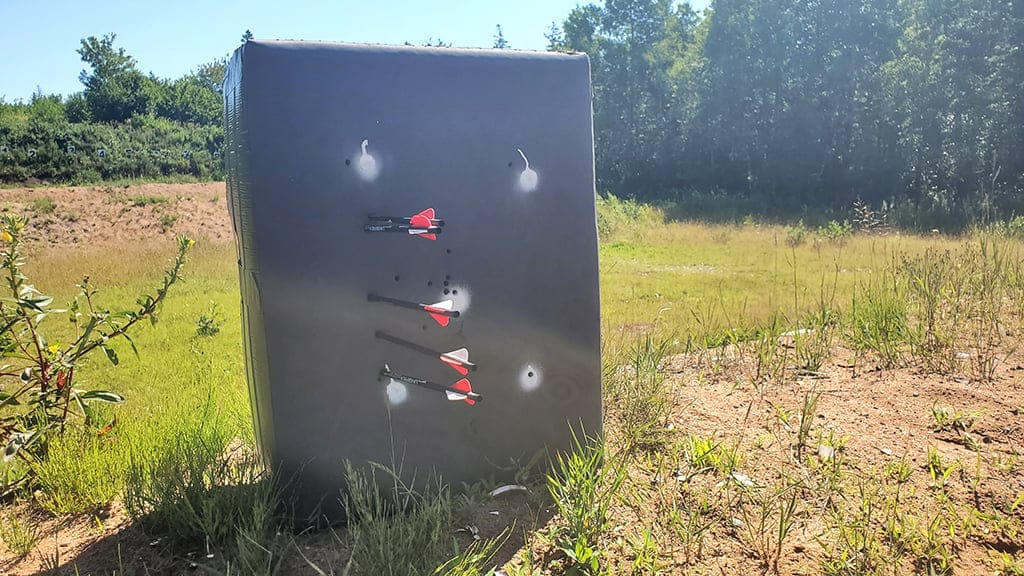 Accessories
We topped this rifle off with a Holosun HS503CU since the red dot complimented the space-age look of the rifle. What we found out was that it had just enough elevation to hit dead center at 25 yards but not further. Coming from crossbows, I had never actually purchased an optic for them since they all came with usable ones. We have since upgraded to an actual crossbow scope.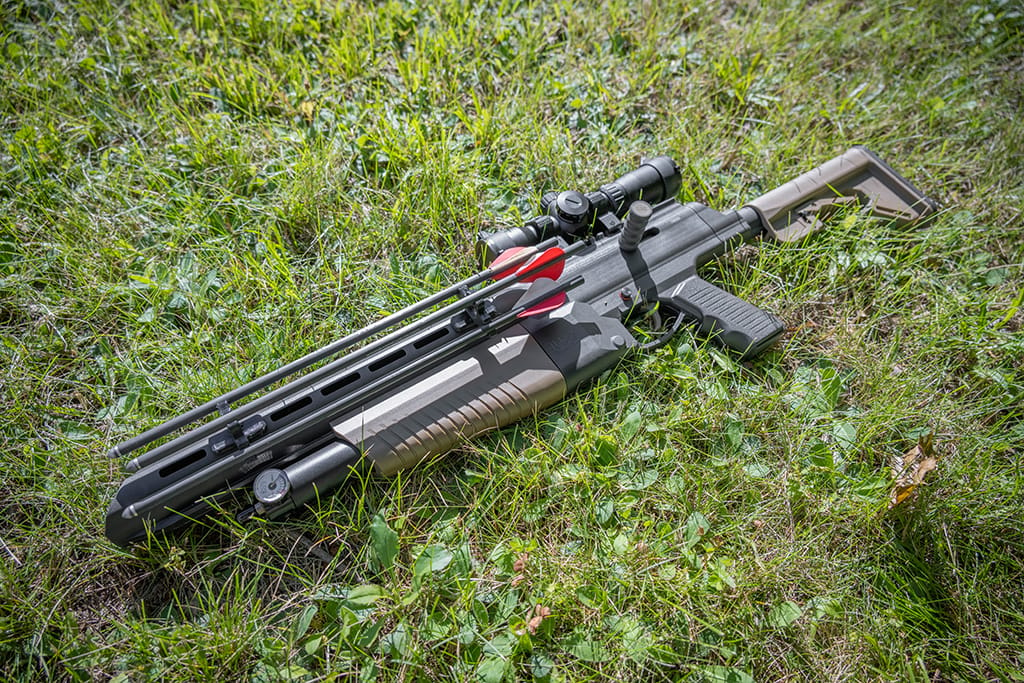 We wanted a way to hold 3 extra arrows on the Air Javelin so, after 15 minutes on Fusion 360 we had a design to 3D print in TPU. We also wanted to test the new flexible resin we got from Monocure to see if it would hold well enough, but that will take some balancing mixing in other resins, as it is too flexible on its own. The M-Lok compatible quiver is designed by installing it perpendicular to the slot and rotating it to lock it in. We put this file up on Thingiverse so if you have one of these you can make one for yourself.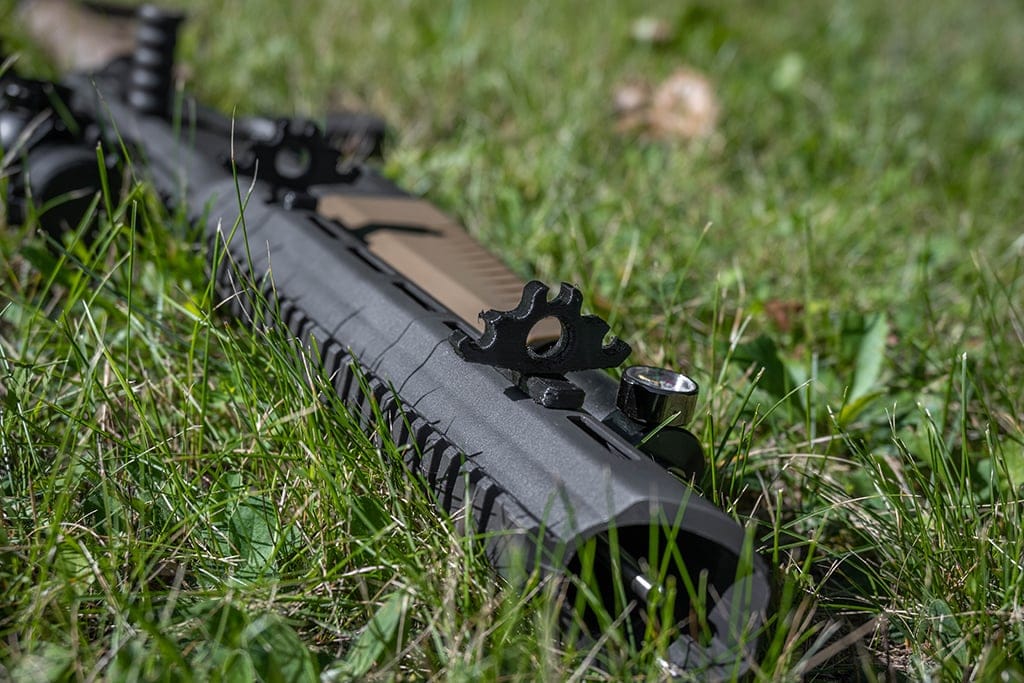 Performance
My last crossbow was a Horton Vision 175 and this rifle comes in at half the weight and is significantly skinnier than the already svelt reverse-limbed crossbow. This means standing and kneeling shots are far easier to achieve.
Speaking of shots you are going to want to shoot the different aiming points on your target or hold slightly off from the last shot because this gun is super easy to Robinhood an arrow. In our first air tank we managed to do it twice and have since learned our lesson to hold off or pick another aiming point.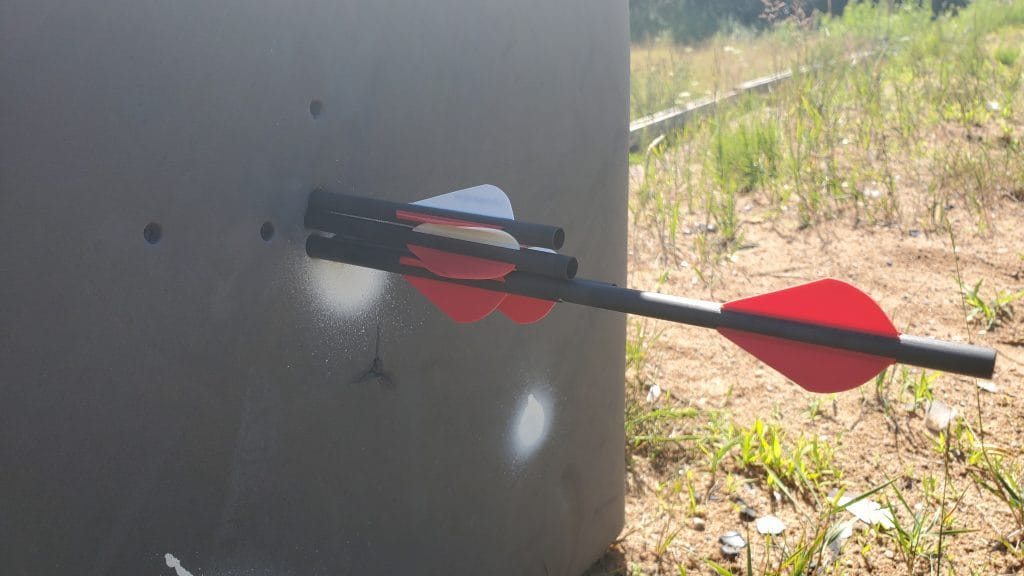 This air bow also hits with enough energy that you can hunt up to a deer with it, depending on where you are. Where I am from it is classified as a low-power airgun and is restricted to small game, sadly. We cant even hunt deer with .223 here.
My only major issue with the air javelin is the fairly long takeup in the trigger. However, I am spoiled and use TriggerTech in most things. That said the trigger has an obvious wall and was not a detractor to accuracy.
The smaller thing I would have liked to see was a slight chamfer on the M-Lok slots as they are a bit sharp from the flash. However, you don't hold this area so it isn't a huge issue. I would love to see a future model with an adjustable regulator that is able to send the arrows much harder, increasing the options for the game you can hunt. 
I was far more impressed with this handy package than I thought I would be. It has great accuracy, hits hard, and looks cool. If you are coming from a crossbow it also doesn't require you to manually cock it with a sled or your hands, which is a plus.