Safariland, a brand of The Safariland Group, a leading global provider of safety products designed for the public safety, military, professional and outdoor markets has announced its next generation in its expanding concealment holster line. The Safariland Species holster is an inside-the-waistband holster offering a timeless design coupled with retention capabilities and joins the Schema holster in Safariland's expanding low-profile concealed carry holster options.
Thank you for reading this post, don't forget to follow and signup for notifications!

The Species IWB holster features a SafariLaminate impact-resistant thermoformed construction, granting superior durability and longevity. In conjunction with the durable exterior, the suede-lined interior gives an enhanced fit while protecting the firearm's finish. An adjustable, passive trigger guard retention system allows for a personalized feel during drawing and reholstering. The inclusion of an integrated tension device allows for a tailored fit. The Species holster also adjusts for cant and vertical height, maximizing each individual wearer's comfort.

"Safariland continues to prioritize concealed carry for the responsible citizen," said Tim Drnec, VP of Marketing for Safariland. "Following the release of our Schema holster, Species is the next product in Safariland's new concealment lineup. The new offerings allow owners of today's newest and most popular firearms to use a holster with retention, great concealment, and comfort."
The Species IWB holster was designed for concealment and is compatible with red dot sights. It is available for the Sig Sauer P365/P365XL, Glock 43/43X, Springfield Hellcat, and Smith & Wesson Shield/Shield Plus and can comfortably fit standard 1.5″ (38mm) belt widths. The Species IWB holster has a price tag of $44.99.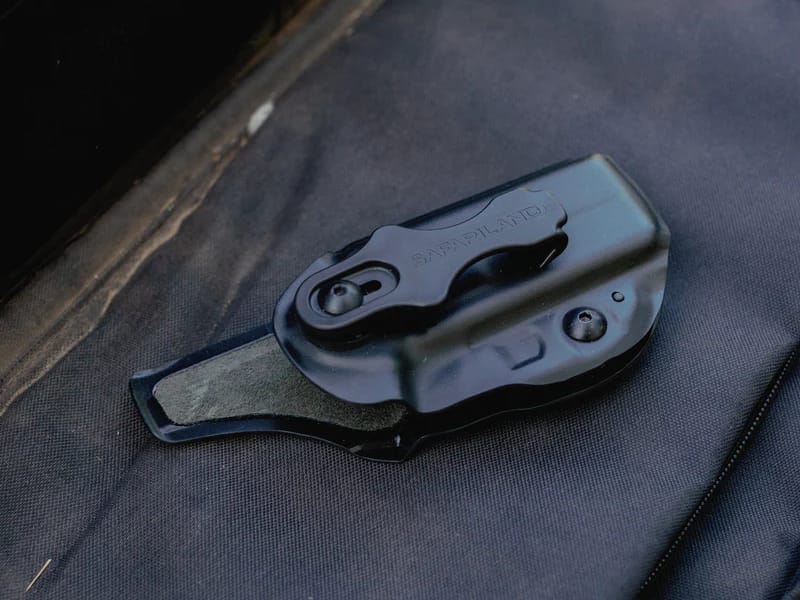 Species IWB Holster Features
SafariLaminate thermal-molded construction for superior durability and longevity
Suede lined for improved firearm fit while improving the handgun's finish
Integrated passive trigger guard retention allows for a personalized feel during the draw and reholstering.
Adaptable tension device allows for tailored firearm tension and fit in the holster
Fully cantable and vertically adjustable mounting clip for wear comfort
Fits standard 1.5" (38 mm) belt widths
Firearm model-specific design for ideal fit