NEW from Beretta USA comes a wide variety of A400 Xtreme Plus semi-auto shotguns in 20 Gauge!
Thank you for reading this post, don't forget to follow and signup for notifications!
The A400 Xtreme Plus has won a well-deserved reputation for being a workhorse of a shotgun that just won't quit. But now it is being offered in the smaller 20ga option! 
Further drawing from the competition world, the new A400 Xtreme Plus barrel features a step rib with an integral mid-bead and fiber optic front bead in order to ensure the proper fit and sight picture for all conditions.
Main Features:
Kick-Off® Mega Recoil Reduction
Soft Comb
New Adjustable Shim System/Reversible Safety
Oversized Charging Handle
New Pro Lifter (Included in 20 GA)
7×7 Stepped Rib
Rubberized Forend Grip
Steel Mid-Bead
Cross-Tube Piston
Steelium Plus Barrel
Fiber Optic Front Sight
Optima-Bore® HP Black Extended Choke (5 Included)
For better manipulation in the rain and cold, the A400 Xtreme Plus 20ga line also features an extended charging handle and bolt release.
The Beretta A400 Xtreme Plus 20 Gauge is now offered in Realtree MAX-7, Mossy Oak Bottomland, and Optifade Timber camo patterns and retails for an MSRP of $1,929.
Not sure if 12ga or 20ga is right for you? We covered this in a recent article with detailed information on the pros and cons of both sizes. It's not as simple as you might think, and the right shotgun for you may surprise you.
We're big fans of both 12ga and 20ga, so take a look and let's sort it out.
Either way, we're always excited to see great firearms offered in more options.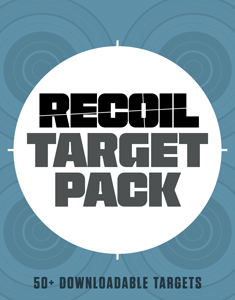 NEXT STEP: Download Your Free Target Pack from RECOIL
For years, RECOIL magazine has treated its readers to a full-size (sometimes full color!) shooting target tucked into each big issue. Now we've compiled over 50 of our most popular targets into this one digital PDF download. From handgun drills to AR-15 practice, these 50+ targets have you covered. Print off as many as you like (ammo not included).
Get your pack of 50 Print-at-Home targets when you subscribe to the RECOIL email newsletter. We'll send you weekly updates on guns, gear, industry news, and special offers from leading manufacturers – your guide to the firearms lifestyle.
You want this. Trust Us.