Thank you for reading this post, don't forget to follow and signup for notifications!
Over my lifetime, I have used well over a hundred different holsters of all types. And I've kissed a lot of frogs along the way. And even if you've only been shooting for a few years, you likely have a junk drawer or box that is collecting the "not quite what I was looking for" holsters. When it comes to a concealed carry holster, it is even more difficult to find that Goldilocks rig. Yes, I know I'm mixing my metaphors … creative license.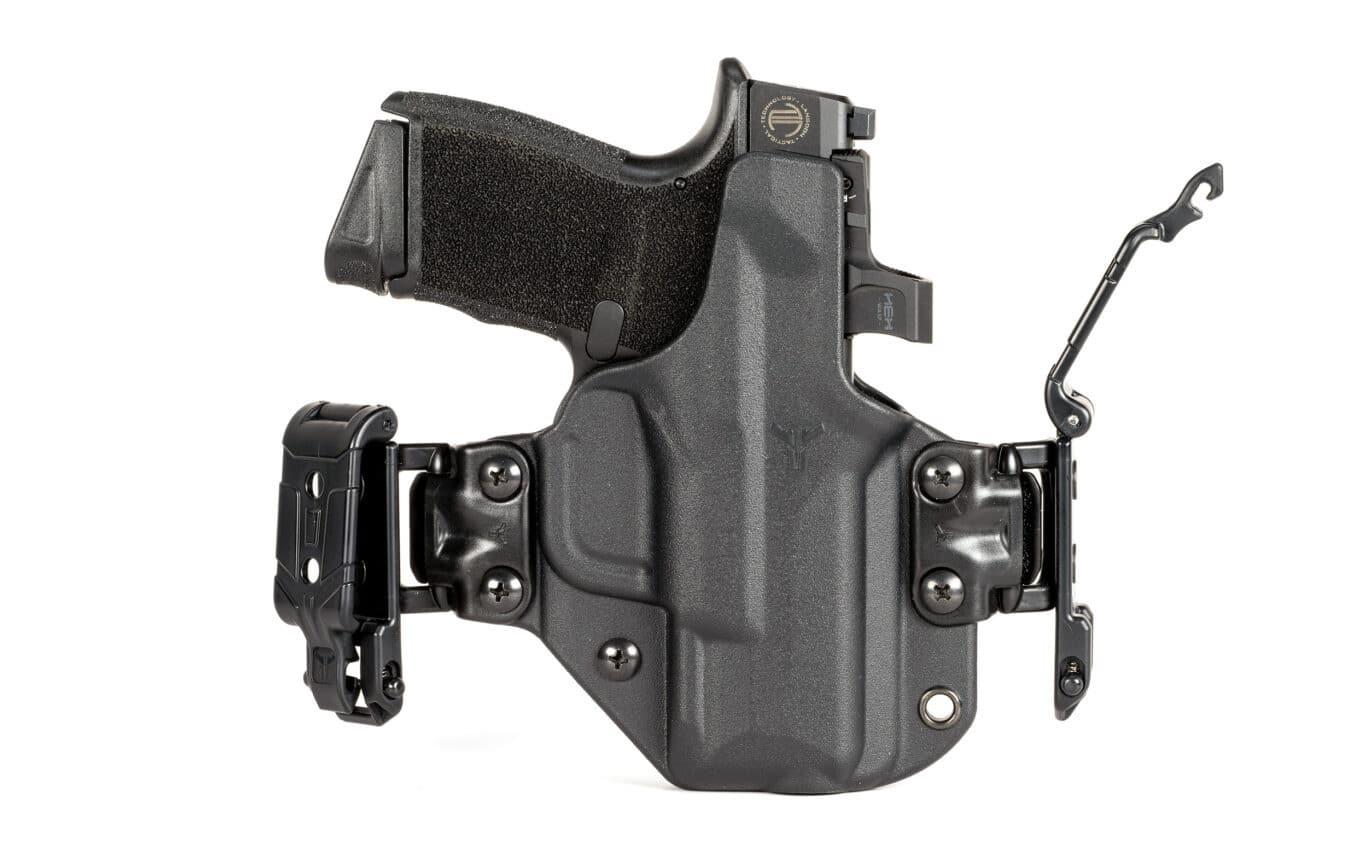 Over the years, I have developed a preference for tight-fitting OWB holsters that can be used for three seasons of the year. To meet my needs, they must be easy-on/easy-off because I'm not going to thread my belt in and out every time; it must ride fairly high so that minimal outer garment coverage is necessary; and it must hold the pistol snug and tight to the body.
And since I'm being such a pea-sensitive princess about it (whoops, there's another metaphor), wouldn't it be wonderful if this same holster could almost instantly be switched into a IWB rig for the summer and other times that more concealment is required?
The Solution?
Enter the Blade-Tech Total Eclipse 2.0. This system is made to be a switch-hitter, and is not only easily configured for either IWB or OWB, but also for right-hand or left-hand use.
Most of the changes to the holster are done easily and without the use of any tools. Blade-Tech uses the Mod-Lok system on the Total Eclipse holster, and has several optional "Mods" available. In addition to the IWB-MODS and OWB-MODS that are included, you can get additional mods that will change the loop size, width, and even one that instantly gives your holster an FBI cant. All of these mods are swapped easily without tools.
My personal favorite MOD is the OWB BELT-LOK MOD. The polymer loops are hinged at the top and snap securely closed at the bottom, so that you can put your holster on and take it off without removing your belt and threading and unthreading it through holster clips. If you've ever gone somewhere that requires you to first remove your sidearm, or if putting on your gun is what you do after you've dressed — not during, then you'll understand.
You simply slip the inner half of the polymer clip behind your belt in whatever position you prefer — then snap the outer half closed. To remove the holster, you locate and push two small spring-loaded tabs upward to unlock the clips. This superior design not only appeals to convenience, but also provides far more retention security than simple metal or polymer clips.
But wait, there's more! Not only is the OWB BELT-LOK MOD pure genius, it can be easily pivoted on the holster system to be worn inside or outside the waistband. "Wide mode" spreads the clips out to their standard overall width, which helps distribute the weight of your gun over a wider area and is perfect for IWB carry. But if you prefer — you can fold the clips in — behind the holster itself and have a snug-fitting OWB solution. I wear the Total Eclipse in this "narrow OWB mode" configuration most of the time.
My Choice
Using the Total Eclipse holster system with the Hellcat is a perfect fit. I've been carrying it for months and it is one of the most comfortable rigs I've ever carried. What I notice most is how little movement there is — no flop, no wiggle, no sliding around. It stays exactly where I want it. The dual sweat-guards on the holster protect your gun from your skin and vice-versa, and also accommodate a mounted red-dot sight and help protect it as well. Retention is a solid click-in that fits the Hellcat perfectly and is adjustable for personal preference.
Over the years, I have bought and used many Blade-Tech holsters, and I have never been disappointed with them. And they just keep getting better and better, with ground-breaking innovations such as the MOD-LOK technology. They fit the gun precisely and are made of high-quality polymers, with well thought ergonomics that put utility before fad and fashion. I have many Blade-Tech holsters, and you won't find any of them in my junk drawer.
Editor's Note: Be sure to check out The Armory Life Forum, where you can comment about our daily articles, as well as just talk guns and gear. Click the "Go To Forum Thread" link below to jump in!