You will need these best Canik TP9 upgrades and accessories to improve the pistol's performance.
Thank you for reading this post, don't forget to follow and signup for notifications!
Adding these parts will allow you to get the most out of this handgun, unlock its full potential, improve it, and become more enjoyable to shoot.
The parts mentioned below will work for all the variants and submodels of the Canik TP9. So no matter what version you have, you can upgrade it.
This article will cover the best Canik TP9 upgrades and accessories.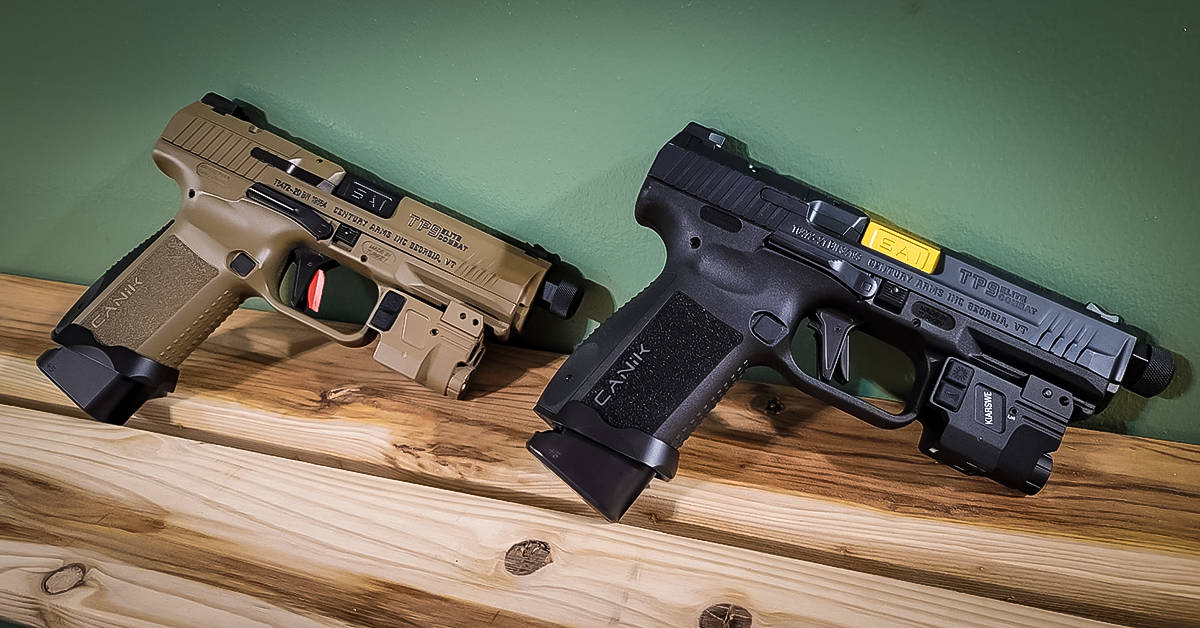 What Is The Canik TP9SFx?
The TP9 SFx was developed to serve as the premium version of the TP Series of Pistols with its 5.20-inch barrel. The SFx has many new modular features for the shooter to enjoy, mostly for target shooting.
This model enhances the shooter's control of the pistol through front serrations and an extended slide; while improving its sight picture with a fiber-optic front sight and a blacked-out rear sight.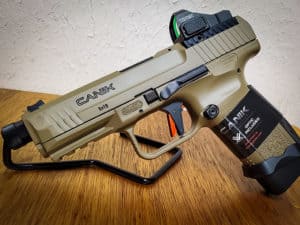 The tolerances are tightened, and the trigger, which has an integrated safety, comes with a shortened pull distance to allow increased firing rates.
An optic plate mount was introduced to facilitate the mounting of popular Red-Dot sights, it also allows the mounting of a cocking lever for smooth loading.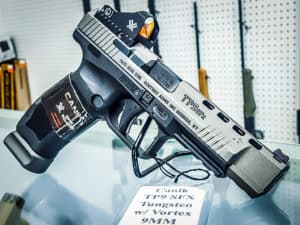 Thanks to the weight-reducing cuts on the slide, the weight of SFx is similar to that of the standard size TP Series Pistol, yet it allows the shooter to extend their capability and accuracy to reach targets further out on the range.
Where To Purchase A Canik TP9?
The Canik TP9 is very popular and affordable. It is one of the best options in its price range, so your local gun store will most likely carry them regularly and have them in stock.
The downside is they normally only carry the standard models. At least that is how it is at the gun stores by me.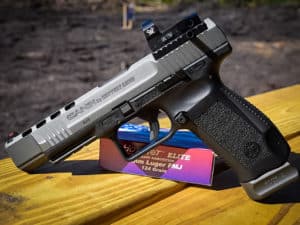 If you want the tactical version or any specific model, you will probably have to order one online and have it shipped to your local FFL Dealer.
Click Here to check the current prices and availability of the Canik TP9
CANIK TP9 CURRENT MODELS IN PRODUCTION
Click Here to view them on Canik's website
Click Here to download the owner's manual
Best Canik TP9 Upgrades & Accessories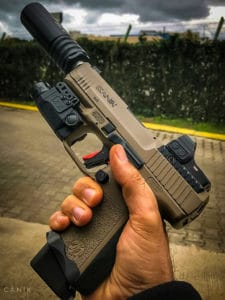 Depending on how you are starting out you may not need all of the parts and accessories I will mention. For instance, if you already have a red dot optic, you will not need to add one unless you want to upgrade what you already have.
Regarding the best Canik TP9 upgrades and accessories to add first, I recommend a red dot and a weapon light.
Being able to identify your target and accurately engage your target quickly is the primary purpose and reasoning behind upgrading the pistol. Then put as many rounds on target as fast as possible to eliminate the threat.
Even if you are setting this up as a competition or just a range gun, all of these parts mentioned below will make it a better shooting pistol.
RELATED ARTICLES
Best Glock Upgrades & Accessories (All Models)
Best M&P Shield Upgrades & Accessories
Best Canik TP9 Iron Sights
Upgrading the sights is a good place to start on this pistol. Canik does a great job of selling their gun with decent iron sights and even ships some models with a red dot.
I wish more manufacturers would take note. I still recommend upgrading the iron sights to suppressor height sights. These will allow you to co-witness your sights with a red dot optic, and if you add a suppressor down the road, you will already be set.
Warren Tactical Suppressor Sights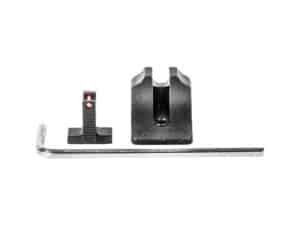 The Warren Tactical Suppressor Sights are the best option for swapping out and upgrading the existing iron sights on the Canik TP9.
These will co-witness with a red dot optic if you add one, and the increased height makes it quicker for your eye to pick up.
It has a fiber optic front sight that will gather any ambient light and make it easy for you to see. It comes with a red tube and a green tube, so you can see just what color works better for you.
The rear is a typical U-notch style which works great. It is easy to install with a sight drift tool or a proper vise and punch. I recommend putting a small drop of Loctite on the rear sight set screw.
The sights are made of steel and have a dark black finish.
Click Here to check the current prices of the Warren Tactical Suppressor Sights
Best Canik TP9 Red Dot
Adding a red dot on pistols has finally caught on mainstream, for a good reason. The benefits of a red dot are great.
A red dot will let you aim and shoot more quickly. You do not need to have proper sight alignment of the front and rear sight, and you do not need to focus on the front sight.
Instead, you can focus on your target and allow the red dot to hover over the threat. This is why I recommend a red dot on pistols.
There are three primary red dot optics I suggest for the Canik TP9
Vortex Viper
Trijicon RMR
Aimpoint ACRO P-2
Vortex Viper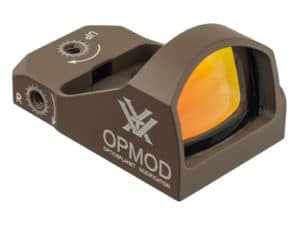 One of the go-to red dot optics for the Canik TP9 is the Vortex Viper. This one is inexpensive and works great.
It uses a 6 MOA dot size that is larger than ideal but still capable. It is a rock solid optic as far as reliability and holding zero. Optics mounted on pistol slides take a lot of abuse, and the Vortex Viper shines.
Vortex has the best warranty out of any company I have seen, not just optics. So if you have any issues, they will take great care of you.
The battery life demands the brightness setting you use but lasts long enough, in my experience.
I especially like the OPMOD version of this red dot because of the color. It looks great on the FDE Canik TP9.
Click Here to check the current prices of the Vortex Viper
Trijicon RMR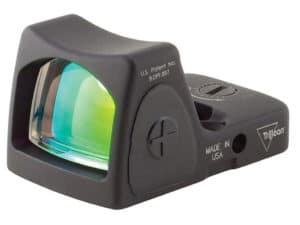 The Trijicon RMR is a red dot for pistols that you can never go wrong with and is legendary. If you want a great optic that you can rely on, this is the one.
They make several different optic versions, but I recommend the 3.25 MOA model.
This smaller red dot size allows you to make precise and accurate shots. It has insane battery life and is well known for being one of the best and original micro red dots for pistols.
These have been out on the market for some time and are in no way outdated, the good thing is that the prices have come down some, so now is a good time to pick one up.
The brightness is adjustable, and the Trijicon RMR is a great option for any pistol, especially the Canik TP9.
Click Here to check the current prices of the Trijicon RMR 
Aimpoint ACRO P-2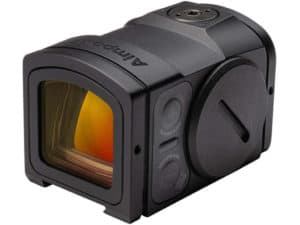 The final red dot I recommend is the pinnacle of modern pistol red dot technology and is one of the best Canik TP9 upgrades you can do.
The Aimpoint ACRO P-2 is revolutionary in its design because of its enclosed case and system.
A common problem with traditional pistol optics is that the red dot emitter is exposed to the elements and your environment.
Your red dot is distorted if moisture or debris gets on the emitter. This has always been a design flaw, but this isn't an issue with the Aimpoint ACRO P-2.
It uses a 3.5 MOA dot size with 50,000 hrs of battery life. It is made tough and is combat-ready.
The biggest downside to this red dot is the price. It cost just as much as the Canik TP9 itself, and most people are not ready to hand over that much money for a pistol red dot.
If you can afford it, I highly recommend this red dot.
Click Here to check the current prices of the Aimpoint ACRO P-2
Best Canik TP9 Weapon Light
In a defensive situation, you need to be able to identify the threat and a weapon light is how you accomplish that in the dark.
Most self-defense shootings happen a night, so no pistol is complete without a good quality light.
There are many good options for a pistol light, but this post is about the best Canik TP9 upgrades there is only one has stood the test of time, and I always equip it on my pistols.
Surefire X300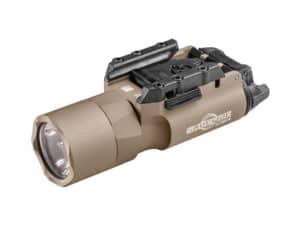 The Surefire X300 is the best and most popular pistol light by far. This flashlight is battle proven and is about as durable as it gets.
The output is bright as 1000 lumens, and two CR123 batteries last about one hour and fifteen minutes. The brightness fades as the battery loses its charge, which is expected.
Mounting the X300 is easy, and the mounting system is very robust. You do not have to worry about it falling off your pistol.
The controls are intuitive and ambidextrous.
If you have not yet had the pleasure of using a Surefire X300, it's time to finally bite the bullet and pick one up.
Click Here to check the current prices of the Surefire X300 
Best Canik TP9 Extended Magazine Release
Some people are comfortable with the factory stock magazine release, but adding an enlarged one makes a significant difference.
It allows you to reload faster and not break your shooting grip to hit the mag release.
Extended Mag Release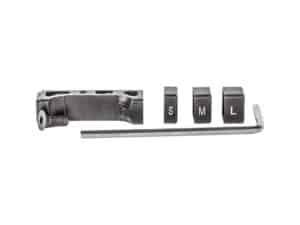 An inexpensive upgrade that makes a big difference is the Canik Extended Mag Release. It is compatible with all series of TP9 pistols and has three different size plates to customize your preferred thickness.
Installation is a pain in the ass, and you should have pliers and a skinny punch or flat head, and the texture on the button is comfortable and feels positive when pressed.
But overall, it is a good upgrade to your Canik and not very expensive.
Click Here to check the current prices of the Canik Extended Mag Release
Best Canik TP9 Extra Magazines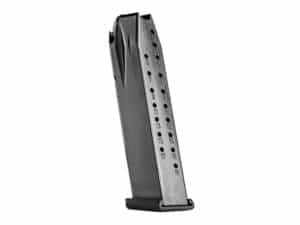 Another thing that you should always have enough of is Extra Magazines. I normally try to have at least 6 or 7 magazines for every firearm I own.
I always suggest getting a high-capacity magazine like a drum mag. They are always fun at the range, and anti-gunners hate them. So maybe pick up a couple.
Click Here to check the current prices of Extra Magazines
Best Canik TP9 Ammo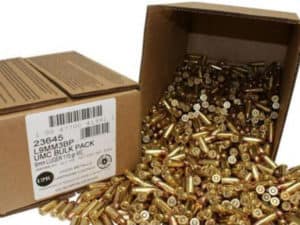 The final piece to the puzzle and something that you need to stockpile is 9mm Ammo.
Prices are still higher than normal, but you can find deals now and then and save a little if you buy in bulk.
Every time I'm at a gun store or any store that sells ammo, I try to pick up a few boxes. This way, I constantly replenish what I shoot. Also, I always have at least 1,000 rounds of every caliber of firearm that I own.
Click Here to check the current prices of 9mm Ammo
Complete List of Items Mentioned
(Click the links for the most up-to-date prices)
Canik TP9
Warren Tactical Suppressor Sights
Vortex Viper
Trijicon RMR
Aimpoint ACRO P-2
Surefire X300
Extended Mag Release
Extra Magazines
9mm Ammo
Have you added any accessories to the Canik TP9?
Did you initially start with a red dot?
Let me know in the comments below.
Further reading on Firstworldcrusader.com: Are you interested in learning more about guns and gear?
This list of the Best Red Dot Sights can help you choose the best optic for your rifle.
In addition, here are the Best AR-15 Upgrades & Accessories that can help you get more out of your primary battle rifle.
Here is our list of the Best Gun Deals on the internet, so make sure you check them out.